Last Updated: September 6th, 2023 by Kristen Douglas
Note: this article may contain affiliate links. If you make a purchase using one of these links, I may be paid a referral fee at no expense to you.
Globe Life Field is the new and improved home of the Texas Rangers. Built right next to their former home, this new stadium has a new, much needed feature, a retractable roof. Rain isn't really the issue, it's the sun! When the heat becomes unbearable in the summer, as it tends to do in Texas, fans and players are grateful for the break! Globe Life Field is smack dab in the middle of Arlington by some other big attractions making it easy to find but a challenge to get to in traffic. Whether you are familiar with the area or are visiting from out of town, it's pretty easy to get great tickets and enjoy the entire experience of a Rangers game at Globe Life Field if you plan ahead.
Things You Shouldn't Miss
The Rangers new stadium was designed to honor their past. There are great spots all over Globe Life Field starting with the plaza outside the North Entrance where you can take a selfie with the Nolan Ryan statue that was moved over from Globe Life Field. There are some incredible murals throughout the stadium perfect for group photos. Go up to the upper concourse to take photos with the giant bobbleheads of some other famous Rangers.
Within a 5 minute drive of the park, check out the Dallas Cowboys at AT&T Stadium or have a wild time at Six Flags over Texas . Globe Life is within walking distance of both.
Check out Texas Live! outside the stadium for some amazing restaurant and entertainment options before or after the game. Pudge's Pizza is a fan favorite here because its the restaurant of the Hall of Fame Catcher, Iván "Pudge" Rodríguez.
Ways To Save Money
Use rideshare like Uber instead of driving yourself and paying to park. Click here to get a free ride.
Bring in your own food and a bottle of water.
Stay close by and walk to the stadium. Click here to see our favorite hotel near Globe Life Field.
Click here to reserve a cheap parking spot in advance.
New stadium, new parking! However, there are still lots of parking options near and far, check out on SpotHero. Unlike other large metro areas like Washington D.C. or Philly, there isn't an easy public transit option that drops you at the stadium, which is a bummer. Parking can be expensive and a mess if you don't plan ahead. Make sure if you are driving yourself you leave ample time for traffic as well.
In this new stadium for the Texas Rangers, every seat feels close to the field! SeatGeek is a good place to start when looking for tickets to a Rangers home game. Prices are always changing but you can get tickets as low as $10!
Its a fact of baseball fan life that food inside the park is not cheap. You are held captive at that point and they know it. You can bring in your own food and a bottle of water but not a lot. Don't plan on packing a huge meal. The new stadium rules require that your food fit in a 1 gallon size plastic bag and your water bottle must be sealed and not bigger than a liter. It also has to be unflavored water, strangely enough. Another option is the All You Can Eat seats, which are a cool deal.
Wednesday home games this season are "Texas Chili Company Dollar Hot Dog" games. If you happen to get tickets on a Wednesday, pack the Tums and plan on getting dinner for $1!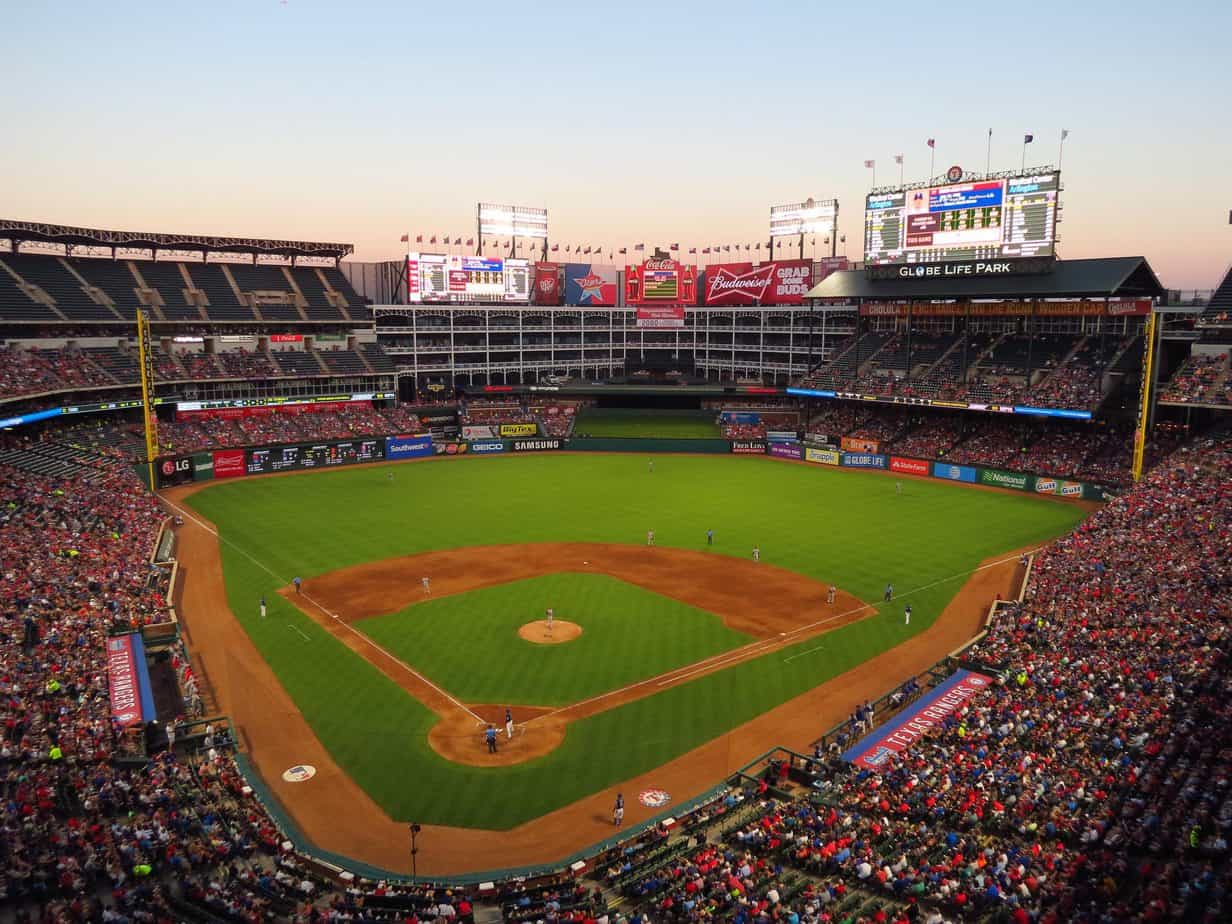 Globe Life Field Features a Working Office Building Instead of a Skyline View – via Flickr user Daniel Betts
Arriving at a Rangers Game
Alternative/Public Transportation to Globe Life Field
Instead, you are dependent on shuttles, buses, and Uber. If you've never used Uber, get your first ride free. If you use Uber or another rideshare service, the pick-up and drop-off zone is in the southbound lanes of Nolan Ryan Expressway between Randol Mill and Road To Six Flags. Use this zone! It will be so much easier to find your ride.
Another rideshare option for Globe Life Field is through a rideshare program sponsored by the city of Arlington called Via. Download the Via app to rideshare every day but Sunday. Just remember that this rideshare stops running at 9 pm so it really only works for day games. Traveling within the city, your fare will be as low as $3 and won't cost more than $5!
Try out Rally if you want to skip driving and parking. You ride on a pretty nice bus with other baseball fans to and from the game. This is a no-brainer and gives you one less thing to worry about.
Another option is the shuttles offered by certain hotels and restaurants in the area. Many different bars offer a free shuttle ride to the field including J. Gilligan's Bar, Maverick's Sports Grill, Grease Monkey Burger Shop and Social Club, and even First United Methodist Church.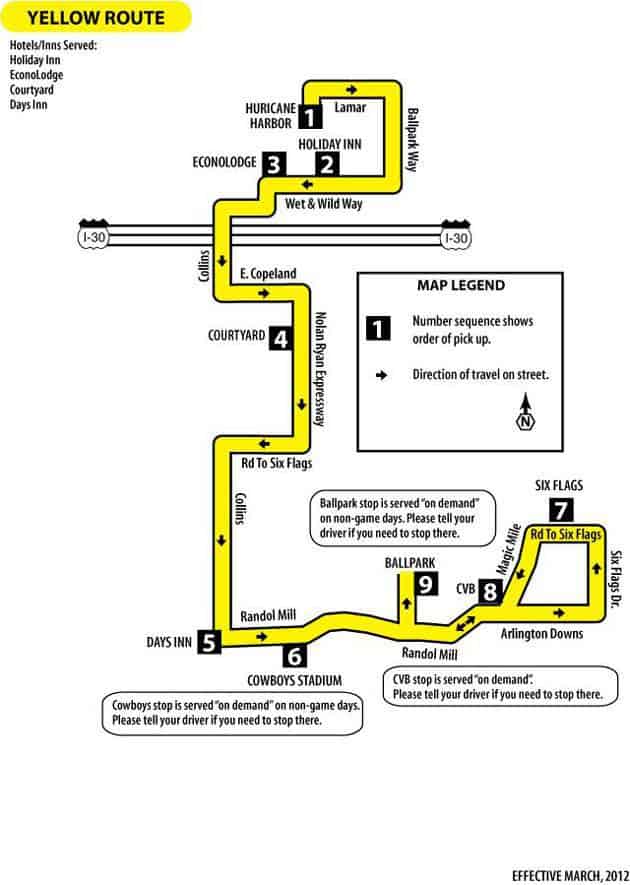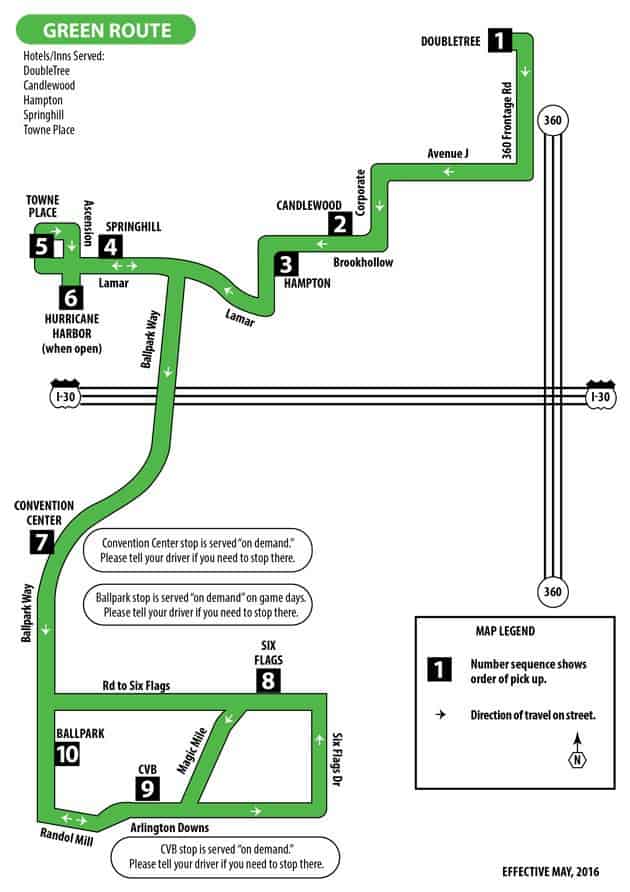 The Arlington Entertainment District Trolley Has Two Routes that Stop at Globe Life Field
There is a free and fun way to get to the game if you are staying at a participating hotel, The Arlington Trolley. Check the schedule or ask at your hotel when you can catch the red trolley to and from the game. Trolleys start running to the field about 90 minutes before a game starts and begin leaving Globe Life as soon as the game ends. The route on the trolley's green line straight to Globe Life only runs on game days. This is an extremely convenient way to commute to Globe Life Field for a Rangers game!
If you've never used Uber, get your first ride free.
Driving to Globe Life Field
*** WARNING: COWBOYS AND RANGERS DON'T MIX ***
One tip that I received is that you should plan on having a parking mess when the Cowboys are playing on the same day, or if there is a special event at Cowboy Stadium. Some of the parking overlaps and the traffic just becomes that much worse.
Lexus owners get free parking at Globe Life Field for Rangers games! If you are going to the game in your Lexus, just make sure to hit up a Dallas-Forth Worth Lexus Dealership before the game day for your free window decal and you can park your sweet ride in the Lexus lot located at 715 Stadium Drive, just east of Globe Life Field.
The Globe Life Field parking lots will fill up quickly but if you have a spot in one, the prices are not unreasonable. Depending on which lot you choose, Opening day will cost you $20-$40 and all games after that are only $15-$35. Buy your parking pass ahead of time for these lots here.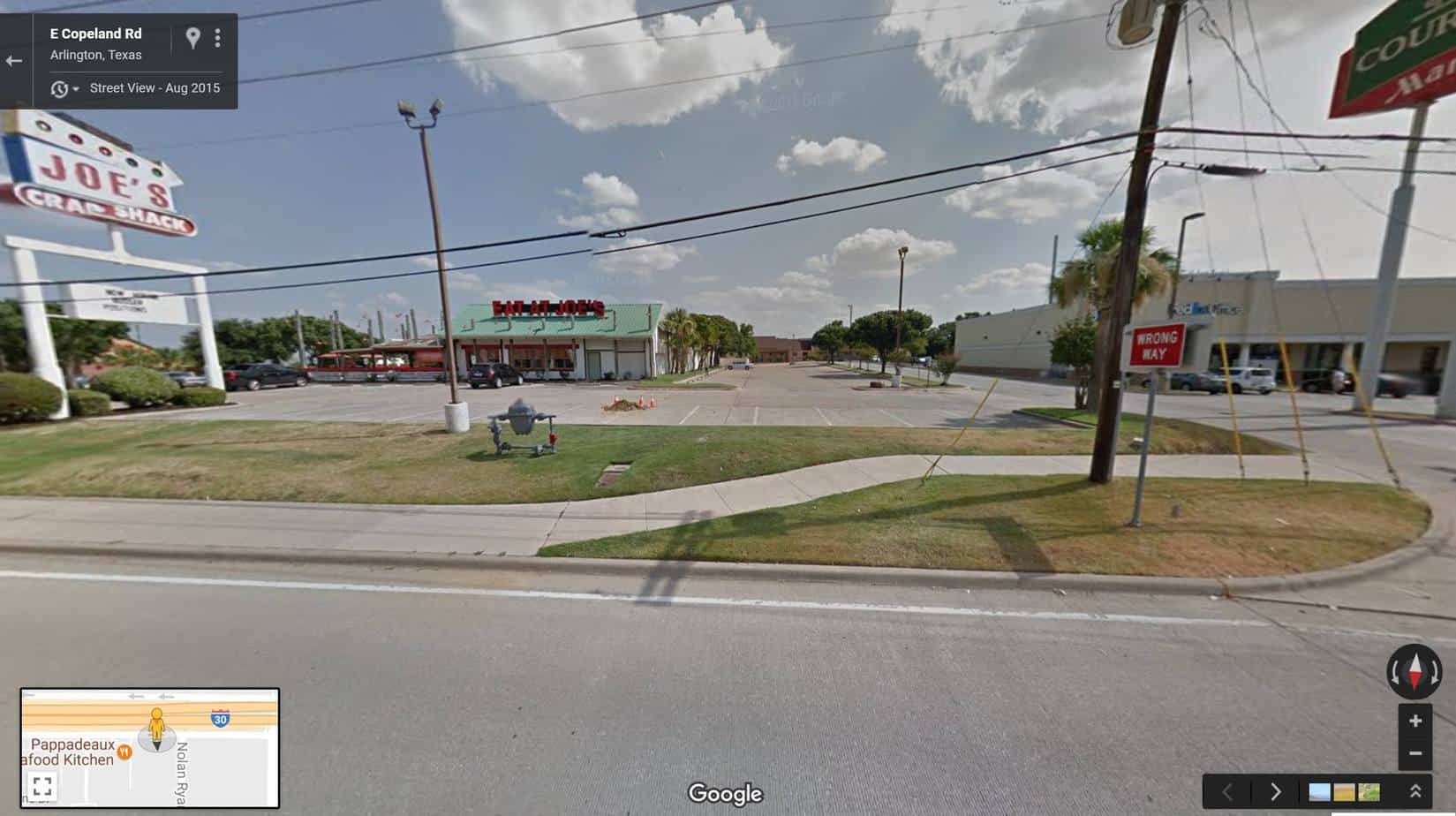 Several Businesses on Copeland Rd. Offer Massive Lots and Are a Reasonable Walk Away
Texas Live! has become an unofficial pregame and postgame hangout for Rangers fans. This spot is really fun with several great restaurants, a massive sports bar, one of my favorite shops, Baseballism, and more. On game days there will be live music and tons of stuff going on here. Get there early to enjoy the place and park there! Tundra Lot B or Rav 4 Lot J on Randal Mill Road is where you park for Texas Live!. If you are not in a hurry, go hang out after the game and then leave once traffic has eased up a bit.
Several businesses on Copeland Rd. offer massive lots and are a reasonable walk away. Finally, if you are a season pass holder to Six Flags, your pass likely includes free parking at their park. So you can pull into their lot and park on the side that is closest to the stadium, which will put you surprisingly close to Globe Life. Obviously, this strategy only works during times when Six Flags is open but it's a clever little trick. (Thanks to BallparkSavvy reader Ed for sharing)
Metered parking, if you can find it, is in effect until 7 pm unless otherwise noted in Arlington. That means if you are hunting for a metered spot you should be prepared to bring some quarters to pay your way until 7:00.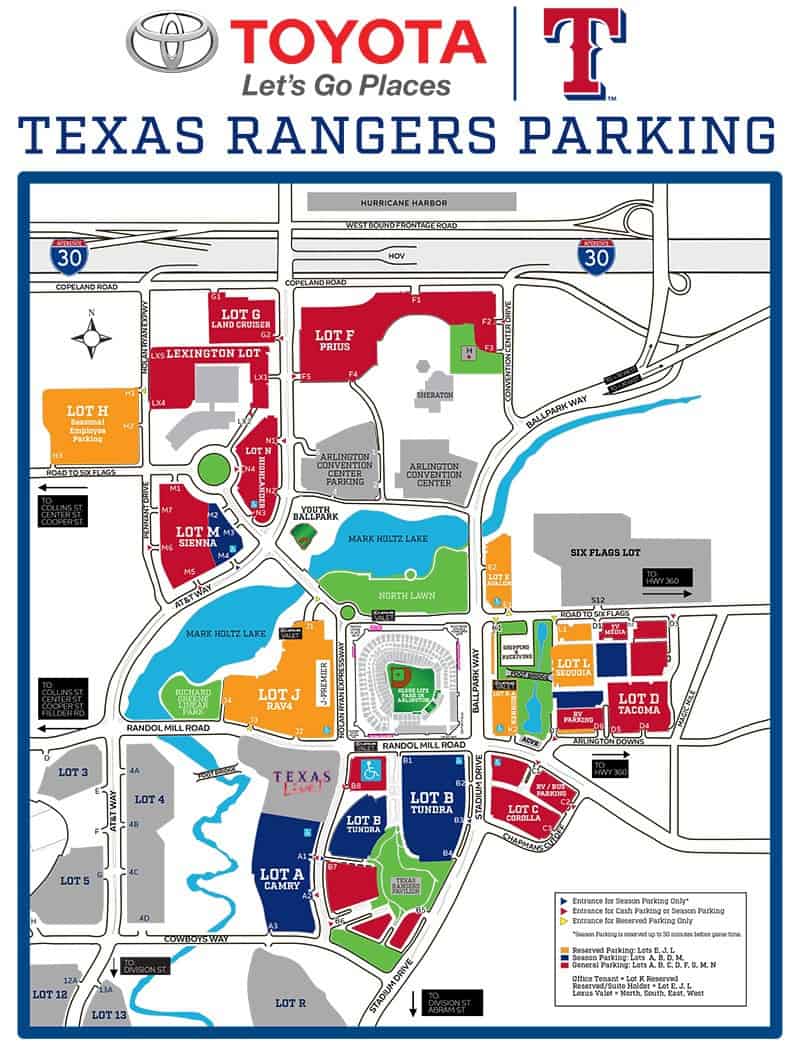 There Are Many Lots Nearby… But You May End Up Sharing with Other Events
One last parking tip! If you park in a garage farther away, try to park near an onramp so you can get back on the highway easily. If you thought the traffic was rough on the way in, it is worse when you leave. Every minute you save will help.
Food At & Near Globe Life Field
Save Money on Food
The Rangers have updated their outside food and drink policies. You can still bring in outside food, however, one clear gallon-sized Ziploc bag full of food. For drinks, you are allowed one sealed, unflavored water (sorry La Croix fans!). This water cannot be larger than 1 Liter and must be in a plastic bottle. Make sure whatever bag you carry in with your food, that it does not exceed 16x16x8 and that it is soft-sided. Backpacks are not allowed in the stadium no matter what the size!
You don't have to bring a sandwich in a baggie to save money on food at a Rangers game. My personal favorite way to eat at a game and still save money is to sit in the All You Can Eat Seats at Globe Life Field. The All You Can Eat sections are in Left Field, Sections 27-33.
This is becoming a more popular idea at stadiums around the country, and as Americans, we tend to love it. I don't always recommend sitting in the All You Can Eat Section of a baseball stadium but I can wholeheartedly say that you can sit here and have a great experience. There are a couple of reasons that The Rangers All Inclusive seats stand out from the crowd.
Above average selection. Most stadiums only include hot dogs, peanuts, popcorn and soda; but Texas includes nachos and grilled chicken sandwiches as well, which give good variety.
The Food is served in an enclosed restaurant type area with AIR CONDITIONING. Your seats are still outside in the blazing heat, but hey – how nice is it when you can get into the A/C for just a few minutes. I think that gives this a club level type benefit that is especially useful in Texas.
Food You Shouldn't Miss at Globe Life Field
Before I get into the details on the best and most unique food at Rangers home game, here is a big tip! The stadium is now CASHLESS. Do not try to buy a beer with that Hamilton you have had rolled up in your pocket all day. No one is touching that dirty $10 bill. Cards and touchless smartphone options only to pay for food and souvenirs! Speaking of smartphones, download the MLB Ballpark app. You can look up concession and restaurant locations in the stadium very easily on this app and see the menus before you go to place your order.
1. If you are working your way to every MLB park, why not try a local food the area is known for. If you are in Texas, you gotta try some barbecue! For barbecue found only inside the Rangers home field, get the Brisket Eggrolls. Those are really popular and they're popular because they are so good.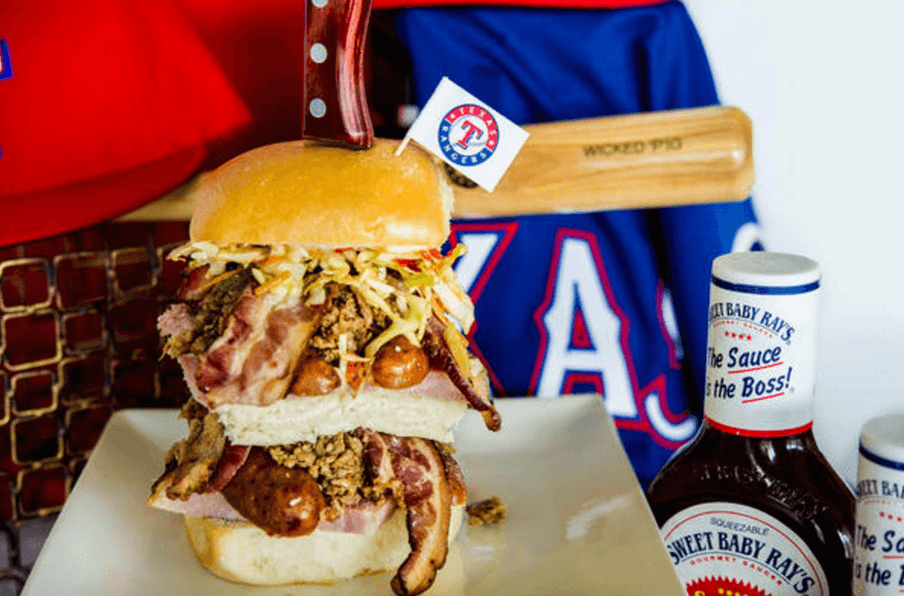 It's Not the Wicked Pig's Fault It's So Beautiful
2. Baseball Park food should be fun! Globe Life Field has an entree called "The Fowl Pole." This Two Pound, foot long chicken sandwich is as ridiculous as it sounds but so delicious and should definitely be shared. Not in the mood for chicken? Try the two foot long hot dog named the Boom Stick. For a normal sized hot dog, the famous Grit Dog created by Ryan Nolan is still available. This hot dog was beloved in the old stadium and fans would probably revolt if it wasn't available now!
3. Go to Abner Doubledog's for the wildest baseball food item I've ever heard of, The Rattler. The Rattler is a sausage sandwich, which sounds normal, but the sausage is legitimately made from rattlesnake and
4. If you took my advice and caught a ride to the game on a shuttle or rideshare, grab a drink or three at Barrel Up. YOu can get mixed drinks or cold draft beers here. For your cheapest beer options, get a 16 oz of something domestic like Budweiser or Mich Ultra. Try a local beer from one of the breweries served inside Globe Life, like Legal Draft, an Arlington brewery.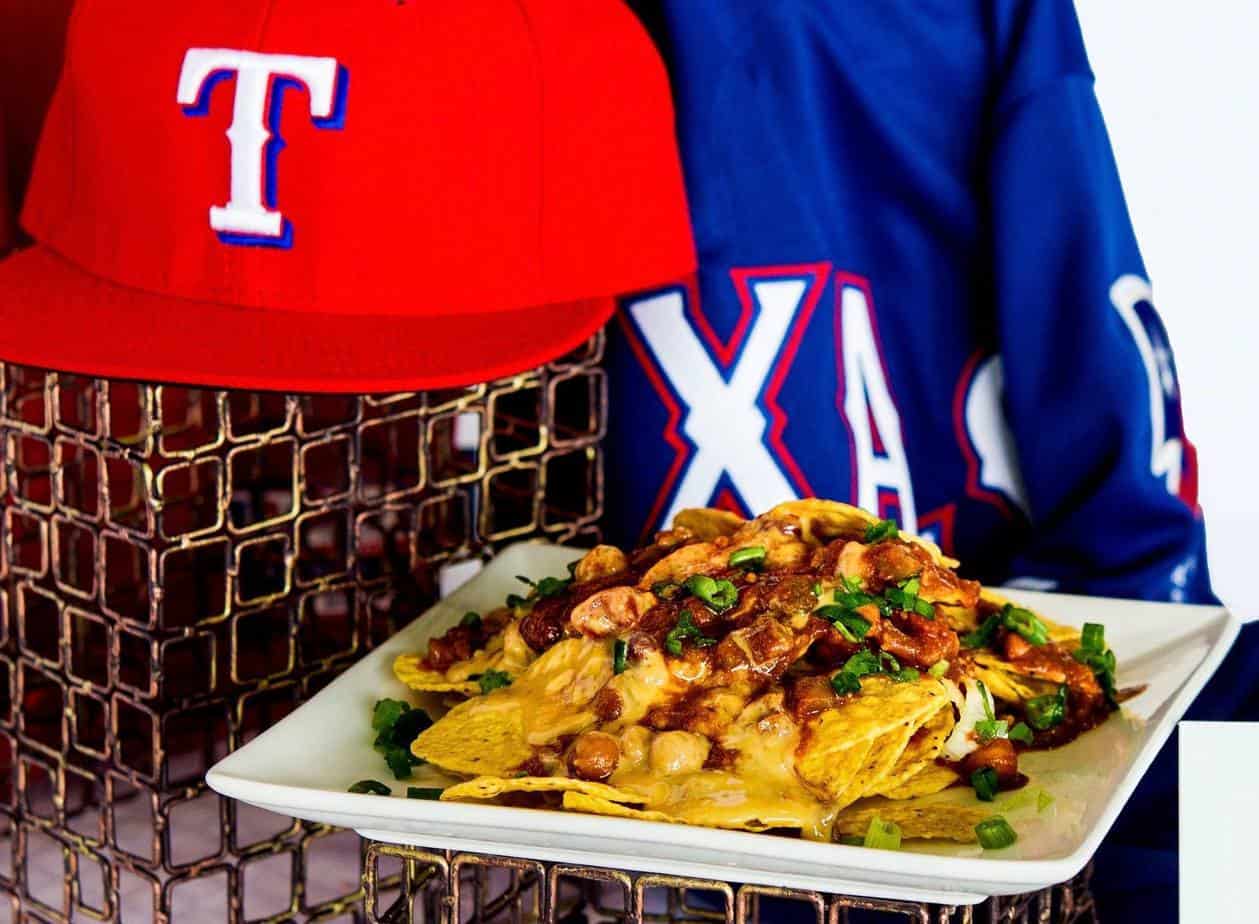 Enjoy Vegan Nachos! – via Dallas Vegan Roundup Facebook Page
Globe Life Field Seating Chart
We've created the seating chart of Globe Life Field above to help you better understand some of our recommendations below. Feel free to download this image and use it, we just ask that you credit Ballpark Savvy and link back to the page where you found the image.
Cheap Rangers Tickets
At this point, nearly every Major League team has some kind of variable pricing model where depending on how in-demand a game is, the ticket prices you'll pay at the gate may go up or down.
Sometimes pricing varies from day to day, other times it is a more formal "tiered" structure where when they are playing a big draw team like the Yankees, you'll pay a premium price compared to a perennial ​bottom-dweller who might be in the "budget tier."
So rather than focusing on specific prices and sections which tend to change fairly often, I want to talk about general rules and strategies for getting the best deals on tickets. ​
1. Compare 3rd Party Sites
Site SeatGeek is a big time ticket comparison site that lets you compare a bunch of different ticket brokers, marketplaces, etc. and find the best price for the game you want to go to. They also have a tool that projects whether ticket prices will go up or down – AKA whether you should buy now or wait.
Load more
Click here to view Rangers tickets on SeatGeek.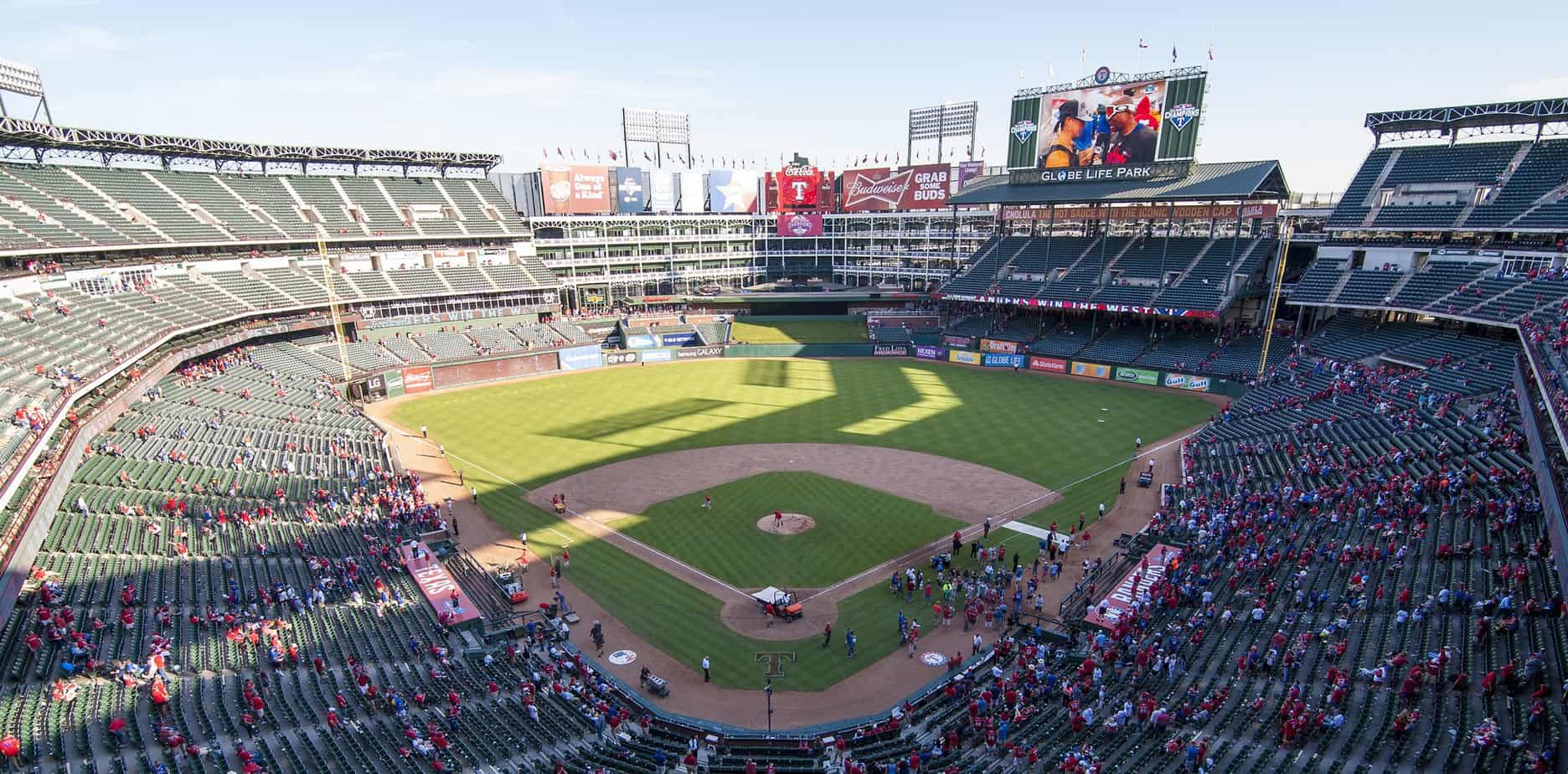 You Can Usually Move Forward Since Most Upper Sections Don't Fill – via Flickr user HyunJae Park
2. Buy Last Minute
If you've bought tickets online before, you've heard of StubHub. What you may not know however is that with the rise of print-at-home and tickets on your mobile phone via the Ballpark App that you can usually buy tickets right up to a couple of hours before game time.
Save $5 On Last Minute Tickets: I recently learned about the Gametime app and it's legit. Save BIG on last minute tickets. Click here to get the app and you'll get $5 off your first order.
As someone who has sold a fair share of tickets on StubHub, I also know that sellers are encouraged to set a declining price for their tickets. This means they'll set a starting price and then their lowest acceptable price, and StubHub will auto-magically lower the price of those tickets as the event date gets closer.
So in many cases, a game that isn't sold out will have plenty of below face value deals on StubHub that you can snatch at the last minute and then either print at home, or just use the App on your phone to get scanned into the game.
3. Avoid Craigslist
It's not to say that you can't find ticket deals on Craigslist, you can. It is just more of a peace of mind, safety issue. I'm a Craigslist kind of guy, but I also know it's easy to get screwed buying baseball tickets there.
Remember when I mentioned selling on StubHub? When you list tickets there, all you need to know is the barcode number from that ticket along with the other details on section, row, etc. – So when I sell tickets I never mail them to the buyer, they just print them at home and my actual tickets become void.
If I was a shady character, I could go sell those void tickets to an unsuspecting buyer on Craigslist for cash. The tickets look real, they are "real" in a sense – but what that buyer will find out is when they go to enter the stadium, the ticket scanner will say "thou shalt not enter thy game."
Don't be that buyer.
Stick to buying tickets from SeatGeek, StubHub, or directly from the team. You can still get deals and you never have to worry about being scammed.
Best Value Seats at Globe Life
Military servicemen, veterans, and first responders can buy discounted tickets to Rangers games but you have to register with GovX.com and get your tickets there. Take advantage of this well-deserved discount!
You can get 50 percent off tickets 50% off tickets in the Corner Mezzanine, Outfield Mezzanine, and Outfield Pavilion thanks to Coca-Cola Tuesdays! You have to buy these online with the discount code COKE50. Check the ticket special page for more information, as the coupon code changes from time to time.
If you want a great view, try the Infield Mezzanine, sections 108-120. You can see it all from this spot but you are not too high up. Section 325 is usually your best bet for the lowest ticket price. There is really only one bad spot in the whole park honestly. Some of the left field has partial views because of the support columns. If you sit in the Left Field Reserved Section, do not buy seats past row 7 and stay toward the aisles if possible.
Seats With Benefits at Globe Life Field
I get that not everyone wants the cheapest seats for every game. The newer stadiums, like Globe Life Field, are getting better at catering to fans who want VIP treatment. If this sounds more like your style, there are several options to skip the cheap seats and live a little at Rangers home game.
Upper Deck Seats Offer a Good View, Especially of Greene's Hill – via Flickr user Rich Anderson
Globe Life Field offers suite rentals for single games. There are upper and lower level suites. You watch the game with a group of friends or colleagues in a private space and your suite rental includes perks like parking passes, catering, and concierge services. You can rent suites directly from the stadium but you may save a little money on a suite rental if you go through SuiteHop to rent a luxury suite for a Rangers game.
Buy your seats in sections 15-20, which are on the first baseline and you have access to the StubHub Club. These are all-inclusive seats that give you access to a private club with food, drinks, beer, and wine. Sections 13 and 14 are behind home plate and give you access to the Balcones Speakeasy with all-inclusive food, drinks, domestic and craft beer, wine, and the specialty cocktail of the game.
Where to Stay While Visiting Globe Life Field
My favorite way to travel to a baseball game is to stay as close to the stadium as possible and walk or take an Uber so I don't have to fool with parking in a strange place. So many ballparks have great hotels within walking distance making it easy to stay nearby.
I use Tripadvisor to find a hotel with good reviews near any ballpark. I prefer this option over any other because I actually search for the park I am visiting and Tripadvisor gives me hotels, restaurants, and other attractions near there. Globe Life is located in Arlington, Texas and the city is packed with stuff to do and see.
Obviously, there are a lot of hotels in Arlington, but I can search for Globe Life Field here and get the 10 Closest hotels to Globe Life Field and then pick what I want based on ratings and prices. This saved me a lot of time and I didn't end up getting ripped off on the price or end up in a sketchy place where I didn't feel safe.
Sheraton Arlington Hotel – image via Marriott.com
The closest hotels do not always come with the lowest cost but you get what you pay for when it comes to accommodations. Remember that you aren't paying for parking or transportation.
Sheraton Arlington Hotel is very close to Globe Life and is a fun hotel to stay at on its own. The pool/outdoor area is amazing. Parking is free for guests (not always the case at all hotels) and it is family and pet friendly. You can relax here before and after the game and the walk to the game is easy!
Courtyard Dallas/Arlington Entertainment District is on Nolan Ryan Parkway about half a mile from Globe Life. This is a smaller hotel than the Sheraton. The price is great for staying in the entertainment district of Arlington and there is a little bistro/bar in the lobby.
Fan Experiences at Globe Life Field
Take a Pre-game tour. Take a 90 minute tour before the gates have opened and seen different spaces all around this new stadium that you otherwise would not see. End the tour watching batting practice from the two rows above the dugout! Tickets for the tour are available from the Rangers here.
Nolan Ryan is like a God to Texas Rangers fans. Go on an unofficial Nolan Ryan scavenger hunt around the stadium. There are nods to the Hall of Famer all over Globe Life. Outside the North Entrance, you are greeted by a famous statue of Ryan that was brought over from the old field. If you look into left field, there is a dimension marker for 334 feet, which is a tribute to Nolan's 34. While you can find photos and art of Nolan Ryan all around the park, the coolest spot is the staircase dedicated to him outside the StubHub Club. I think the coolest part of this staircase is the wall with the name of every player Ryan ever struck out on it, with a line through their name.
Autographs and foul balls are hot commodities in this park. For example, you can only ask players for autographs during batting practice but they are not allowed to sign anything after 45 minutes before the game starts. With netting all the way down both baselines, foul balls don't make it into the stands as much as they used to. If you want a souvenir from a game like this, go check out the Authentics Store on the Main Concourse by the Grand Slam Team Store. You can actually buy used collectibles from games and autographed gear from Rangers players.
Free Stuff at Globe Life Field
1. You can arrive two hours before a night game and 90 minutes before a day game to watch batting practice! Enter through the North gates to go straight to the outfield for this experience.
Nolan Ryan Salutes Fans From the Plaza – via IGN user andrew342678
2. If you love bringing your kids to the game with you but they get a little antsy before the seventh inning stretch, take a break at the Kids Zone on the Centerfield Upper Concourse near section 238. They can play for a little while on the mini ball field playground! There is also a Sensory Room that you can access if someone in your group has special needs and needs to decompress. Just ask Guest Services and they will take you to this room.
3. The Rangers have some of the best Promotion nights in Major League Baseball. Check the Promotions Schedule to make sure that if you have tickets to one of these games that you arrive early. The giveaways are first-come, first-served and they always run out because they are always hot collectibles, especially the Rangers Bobbleheads.