Last Updated: September 6th, 2023 by Kristen Douglas
Note: this article may contain affiliate links. If you make a purchase using one of these links, I may be paid a referral fee at no expense to you.
If you are planning a trip to the home field of the White Sox, also known as the South Siders, you are in for a fun time. "The Cell" is the best stadium in Chicago according to the South Siders. They celebrate with fireworks and honor their long, storied past that dates back to 1900, while offering a modern experience that keeps fans comfortable and entertained. Chicago is one of the few cities with two major league teams and while the other Chicago team might have stuck with their classic field, Guaranteed Rate Field is a fantastic place to take in a baseball game any day.
The White Sox Recently Put in Ivy for the Batter's Eye – via Flickr user Ken Lund
Things You Shouldn't Miss
The scoreboard explodes with 20 fireworks and sparks whenever a White Sox hits a home run. This is one of the biggest scoreboards in major league parks and as a nod to the past, they incorporated the classic pinwheels that were on the scoreboard in the Comiskey Park.
Check out the murals of great White Sox teams of the past behind section 158. Bonus points if you can spot the portrait of the 1919 Black Sox.
If you want to souvenir shop, check out Grandstand, Inc. right next to the park. Their selection is better than the park itself.
Ways To Save Money
Take Uber instead of parking. Click here to get a free ride.
Carry in a clear baggie of snacks and a bottle of water.
Stay close by and walk to the stadium. Click here to see our favorite hotel near Guaranteed Rate Field.
Click here to reserve a cheap parking spot in advance.
There are a lot of cheap parking options, as well as a few cheap bus shuttles and public transportation. If you are driving, save time by purchasing parking ahead on SpotHero. Uber is also a great option allowing you to enjoy some beers at the game without driving yourself.
Fridays and Saturdays are the toughest to find deals, but you can get excellent value on sites like SeatGeek or StubHub for a midweek game. Avoid the 500 level at all costs.
Not only are there decent food options in Guaranteed Rate Field, but there are some delicious options outside the park as well. You can always save money by bringing in your own food.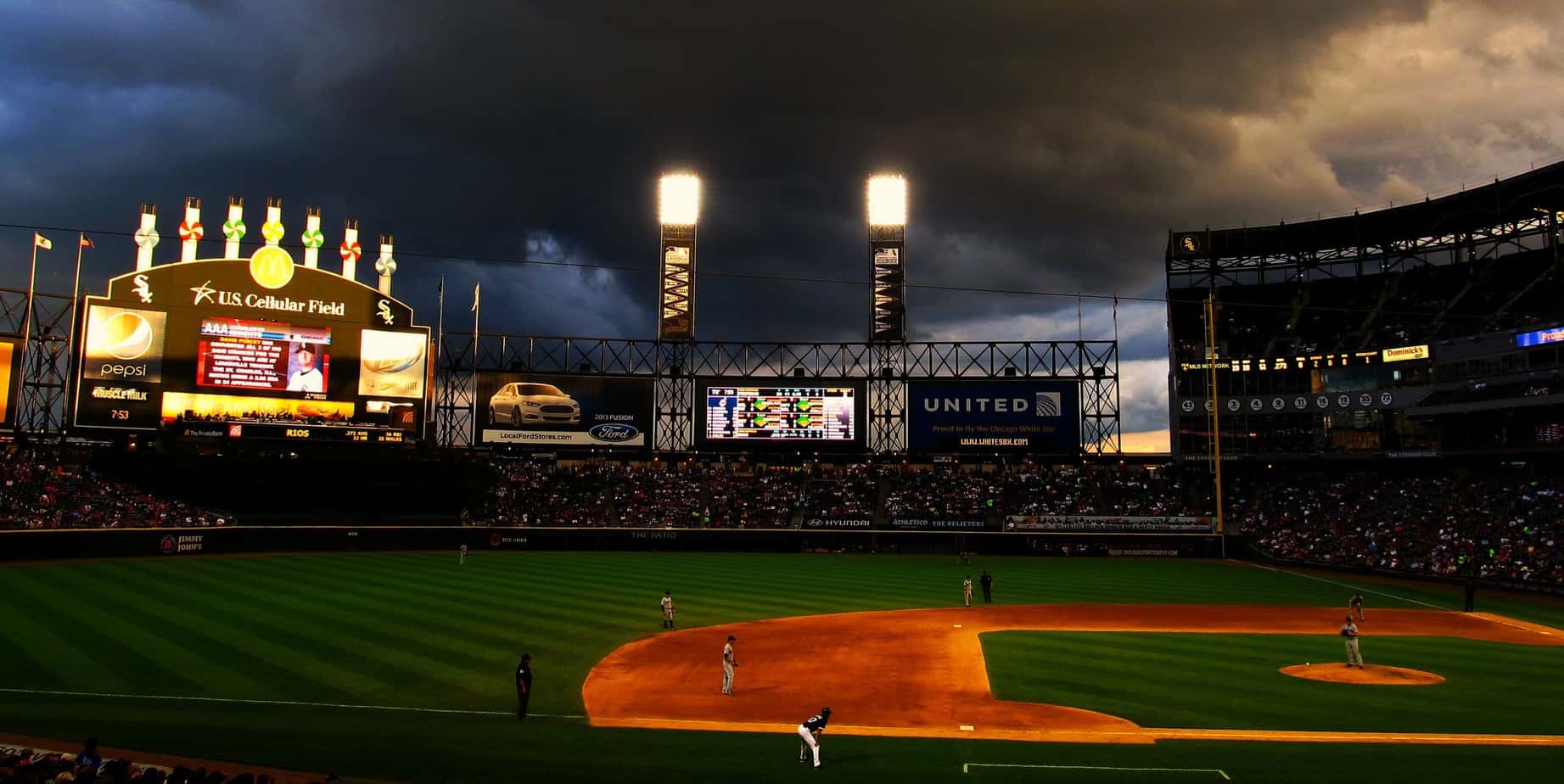 Stormy Nights for the White Sox – via Flickr user Ken Lund
Arriving at Guaranteed Rate Field
Alternative/Public Transportation to a White Sox Game
Guaranteed Rate Field is one of the major league stadiums that is easily accessible by public transportation. There are a couple of L-train options for Guaranteed Rate Field.
The Sox Station Honors the Team
The Red Line will drop you off the closest to the stadium at Sox/35th St. Station, so if you are coming from out of town it will be beneficial to find an AirBnB or hotel near the subway line. Alternatively, just another block away, the Green Line drops you off at 35th Bronzeville Station.
One very cheap option is the Pace Bus. They have six bus shuttles, all listed on their website, to Guaranteed Rate Field. Park for free in their lots, and then your bus ticket is less than the price of a beer at the park.
If you are staying close by, you can rent a bike from Divvy and park it at the stadium. You unlock these cool bikes all over the city and return them at any of their locations when you are done.
I have saved my best for last. Safe, free parking is available at the parking lot of Buffalo Wings and Rings which also provides a free shuttle to Guaranteed Rate Field. That is the best of both worlds; free parking and less traffic as you are actually driving to a location about 8 blocks away from the stadium. You will probably want to eat there first. I am not sure if they require it but you will save money compared to having dinner at the ballpark. This restaurant is also on Halsted, so it's pretty close to the ballpark.
Another option if you happen to be staying nearby is to avoid the crowded subway car and the stress of traffic and grab an Uber ride. The drop off/pick up area for rideshare services is located in Lot A on the Wentworth Avenue side. If you've never used Uber, click here and get your first ride free.
Driving to a White Sox Game
Parking for free at Guaranteed Rate Field can be difficult, and may not be worth it. There is metered parking available on/near Halsted St. which is a main road west of the stadium. Meters are only monitored until 6 pm in most cases, so be sure you read the signs. You should be good if you can get there prior to 6 in the evening. Some of the street parking can be less than safe in this area, so if you are from out of town you might be better served to take the final option.
The official lots have a scaled-down version of the Milwaukee tailgating experience, but nonetheless, if you are going to drive in and fork out the $25 to park, you should come early, bring a small grill, and eat and drink before entering the stadium. If you are local you know this, but the train is the best way to get to a White Sox game.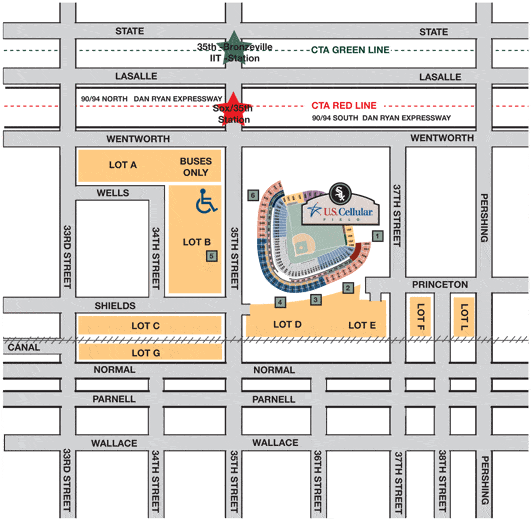 The Official Lots are Great for Tailgating
Another option worth mentioning is the ability to reserve a parking spot ahead of time.
SpotHero lets you do just that, and can provide some peace of mind if you don't feel like driving around in search of the best place to park.
Best Food At & Near Guaranteed Rate Field
Save Money on Food
I mentioned earlier the park and ride option at Buffalo Wings and Rings; you can really save money by not eating at the stadium. I have also talked about the tailgating atmosphere at Guaranteed Rate Field, so if you pay to park you can take a grill and some meat and have a good time on a budget. It is a fun time to hang out with the die-hard South Siders before the game.
Buffalo Wings and Rings Covers Both Food and Transportation
Guaranteed Rate Field also allows for you to take some food and snacks into the ballpark as long as it's in a clear plastic bag that fits underneath your seat. A ziplock bag is the best option for this. You cannot bring in coolers anymore. Pack snacks or a small meal in a ziplock for each person in your group and you will save a lot of money on food.
You can also take in sealed plastic bottles of water no more than 1 liter in size. Taking your own stuff from home is always a great way to save money at a White Sox game.
Food at Guaranteed Rate Field That You Shouldn't Miss
I will say that Guaranteed Rate Field has relatively reasonable concession prices. This is especially true for being in Chicago. They offer exceptional variety; including the weird stuff that has no place at a ballpark and decent pricing.
1. Elotes: This restaurant behind sections 104, 127, 142, and 529 serves delicious corn off the cob. Fresh, grilled, buttery, salty, savory… it's hard to explain why such a strange dish seems so right at a baseball game.
2. Comiskey's Confections: You wouldn't expect to find a boardwalk-style bakery and confectionary in a ballpark, but Comiskey's Confections offers outstanding pastries, candies, and soft-serve ice cream. Cupcakes, cheesecake, fudge, marshmallow, and creme-brulee entice everyone, and there are even gluten-free options.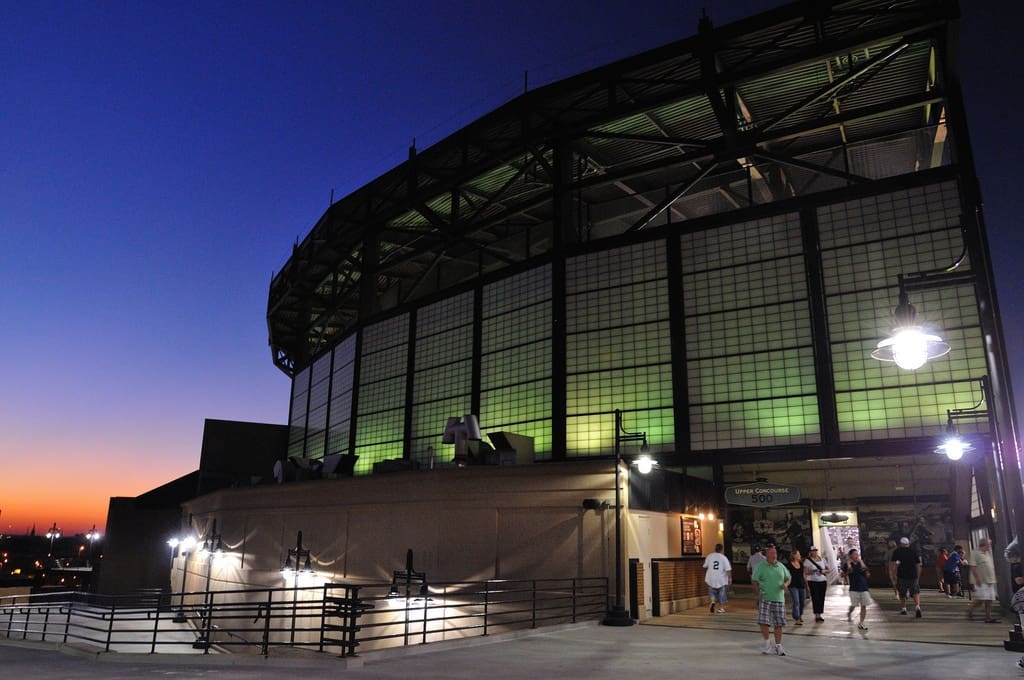 Guaranteed Rate Field Offers a Cool Vibe – via Flickr user Eric Ward
3. Craft Kave: Wander over between sections 107 and 108 to find the Craft Kave. It's a walk-in beer cooler to make the snobbiest of beer snob's dreams come true. There are75 different craft beers and a lot of them are from local microbreweries. You could drink a cheap draft beer but why? Try some new beers you would never try otherwise while you are in Chicago.
4. Chef's SIgnature Carvery Sandwiches – This spot in section 109 offers really yummy handheld sandwiches. Think way beyond a burger and try the California Turkey Club or the Italian Grinder. This makes fancy food baseball park friendly. If you're spending a ton of money, you might as well eat something extra delicious.
Guaranteed Rate Field Seating Chart
We've created the seating chart of the Guaranteed Rate Field above to help you better understand some of our recommendations below. Feel free to download this image and use it, we just ask that you credit Ballpark Savvy and link back to the page where you found the image.
Cheap White Sox Tickets
At this point, nearly every Major League team has some kind of variable pricing model where depending on how in-demand a game is, the ticket prices you'll pay at the gate may go up or down.
Sometimes pricing varies from day to day, other times it is a more formal "tiered" structure where when they are playing a big draw team like the Yankees, you'll pay a premium price compared to a perennial ​bottom-dweller who might be in the "budget tier."
So rather than focusing on specific prices and sections which tend to change fairly often, I want to talk about general rules and strategies for getting the best deals on tickets. ​
1. Compare 3rd Party Sites
SeatGeek is a big time ticket comparison site that lets you compare a bunch of different ticket brokers, marketplaces, etc. and find the best price for the game you want to go to. They also have a tool that projects whether ticket prices will go up or down – AKA whether you should buy now or wait.
Load more
Click here to view White Sox tickets on SeatGeek.
2. Buy Last Minute
If you've bought tickets online before, you've heard of StubHub. What you may not know however is that with the rise of print-at-home and tickets on your mobile phone via the Ballpark App that you can usually buy tickets right up to a couple of hours before game time.
Save $5 On Last Minute Tickets: I recently learned about the Gametime app and it's legit. Save BIG on last minute tickets. Click here to get the app and you'll get $5 off your first order.
As someone who has sold a fair share of tickets on StubHub, I also know that sellers are encouraged to set a declining price for their tickets. This means they'll set a starting price and then their lowest acceptable price, and StubHub will auto-magically lower the price of those tickets as the event date gets closer.
So in many cases, a game that isn't sold out will have plenty of below face value deals on StubHub that you can snatch at the last minute and then either print at home, or just use the App on your phone to get scanned into the game.
The Excitement Explodes When a Home Run is Hit – via Flickr user Ken Lund
3. Avoid Craigslist
It's not to say that you can't find ticket deals on Craigslist, you can. It is just more of a peace of mind, safety issue. I'm a Craigslist kind of guy, but I also know it's easy to get screwed buying baseball tickets there.
Remember when I mentioned selling on StubHub? When you list tickets there, all you need to know is the barcode number from that ticket along with the other details on section, row, etc. – So when I sell tickets I never mail them to the buyer, they just print them at home and my actual tickets become void.
If I was a shady character, I could go sell those void tickets to an unsuspecting buyer on Craigslist for cash. The tickets look real, they are "real" in a sense – but what that buyer will find out is when they go to enter the stadium, the ticket scanner will say "thou shalt not enter thy game."
Don't be that buyer.
Stick to buying tickets from SeatGeek, StubHub, or directly from the team. You can still get deals and you never have to worry about being scammed.
Best Value Seats at Guaranteed Rate Field
**WARNING: Level 500 Seats have Limited Access **
The 500-level seats at Guaranteed Rate Field should be avoided – they are incredibly high compared to other parks, and separated from other seats by an awkward cement wall. You also don't have access to the main concourses, meaning that you can't walk around the park and look at various views. Just pay a couple of bucks more and sit in the bleachers.
The big screen and scoreboard are located dead center in center field at Guaranteed Rate Field. I like that because you can get a decent view of it from almost anywhere. I typically prefer a view of the screen if possible because in modern stadiums it adds quite a bit to the experience. You get the benefit of player information and between inning entertainment. This scoreboard is particularly entertaining.
As far as being in the shade, which you may or may not want depending on the weather, you will be in the shade by game time on the first base side of the stadium.
Upper Deck Seats are Really High Up – via Flickr user FaceMePLS
In the summer you can have the setting sun in your face if you are sitting in the left field bleacher seats, which can be annoying in my opinion. These are just a couple more things to consider; do with what you want.
I feel like Columbo here, but just one more thing. There is also a Bullpen Sports Bar in Right Field. You can get there by going through gate 2, and you just pay a nominal fee to get in. So if you buy cheap seats that are pretty bad, you can grab a table at the sports bar. The tables go on a first come first serve basis. You actually have a decent view from right behind the right-field fence.
If you want a chance at being in foul ball territory try sections 12-14 and the first few rows of 119-120. Bring your glove and maybe you will get lucky.
Where to Stay While Visiting Guaranteed Rate Field
My favorite way to travel to a baseball game is to stay as close to the stadium as possible and walk or take an Uber so I don't have to fool with parking in a strange place. So many ballparks have great hotels within walking distance making it easy to stay nearby.
I use Tripadvisor to find a hotel with good reviews near any ballpark. I prefer this option over any other because I actually search for the park I am visiting and Tripadvisor gives me hotels, restaurants, and other attractions near there. Guaranteed Rate Field is located in Chicago and the city is packed with stuff to do and see.
Obviously, there are a lot of hotels in Chicago, but I can search for Guaranteed Rate here and get the 10 Closest hotels to Guaranteed Rate Field and then pick what I want based on ratings and prices. This saved me a lot of time and I didn't end up getting ripped off on the price or end up in a sketchy place where I didn't feel safe.
The closest hotels do not always come with the lowest cost but you get what you pay for when it comes to accommodations. Remember that you aren't paying for parking or transportation.
Hampton Inn Chicago McCormick Place is a brand new hotel in Chicago and it's close to the Sox. You are about 1.5 miles away here. The hotel is very nice with big rooms and free breakfast and the price is around $200 a night. Best Western Grant Park is closer to 3 miles away. It is a quiet hotel in a good location and there is a complimentary breakfast.
Free Stuff at Guaranteed Rate Field
1. Retired Statues – on the outfield concourse, the White Sox honored their many retired number players with statues. Check out Luke Appling, Nellie Fox, Minnie Minoso, Luis Aparicio, Billy Pierce, Harold Baines, Carlton Fisk, and Frank Thomas.
Check Out Fisk and Baines – via Flickr user Bryce Edwards
2. Hall of Fame – inside the gift shop on the first level, the Hall of Fame is actually pretty impressive. It does a good job of honoring both recent and distant players, as well as presenting Comiskey and Schorling's Park. The White Sox are one of the eight original charter teams in the American Team so they have a long history.
3. Champions Plaza – Outside the main gate is this monument to the 2005 World Series White Sox. Check out the neat statues and brickwork to learn more about this team effort.
Learn More About Recent Greats – via Flickr user Ken Lund
4. The White Sox have a really fun promotional schedule with fun, themed nights, lots of giveaways including bobbleheads, a summer shirt series, Family Sundays, and more. They also have post-game fireworks more than most teams!