Last Updated: September 6th, 2023 by Jake Cain
Note: this article may contain affiliate links. If you make a purchase using one of these links, I may be paid a referral fee at no expense to you.
When any baseball fan starts listing parks she wants to visit, Wrigley Field is sure to be near the top of the list. Wrigley Field is one of the last two true historic ballparks left standing. With so many giant modern ballparks now built, it is so rare to go to a baseball game in an intimate venue and the home field of the Chicago Cubs is one of the magical places that takes you back in time. Known as the "Friendly Confines", every true baseball fan should make a trip there at least once in their lifetime.
The Old Time League Scoreboard Keeps You Updated – via Flickr user Niklas Hellerstedt
Things You Shouldn't Miss
A fixture for Cubs fans, stop off across from Wrigley Field for a beer at Murphy's Bleachers. This bar has been around for around 80 years and is full of cool Cubs memorabilia. Hanging out at Murphy's really is part of going to a Cubs game!
Going to Wrigleyville Dogs to eat a Chicago dog is a quintessential Chicago baseball experience. If you don't know about the Chicago dog, you need one even more!
Don't miss the bleacher seats: it's an honor to sit by the ivy walls of a stadium that has been there since 1914.
Wrigley Field Tours are offered daily during baseball season. Buy tickets for this tour. It lasts 90 minutes and when you walk out to the field, you will not regret it. Tours on non-game days show you a little bit more so take an extra day if possible for that and you will get to go in the dugout.
The parking rates vary greatly depending on your flexibility, but cheaper lots are available via SpotHero. There is free street parking within a mile of Wrigley, but good luck on getting a space. You better show up really early and cross your fingers for luck! Pay attention to meters and street signs when parking.
Fridays and Saturdays are the toughest to find deals, but you can get excellent value on sites like SeatGeek or StubHub for a midweek game. If possible, splurge for better seats. You might even see celebrities like Eddie Vedder, Bill Murray, or Vince Vaughn.
Carrying your own food in isn't a bad idea at this park: the food options aren't great, and the prices are Windy City skyscraping.
And now that the curse has been lifted and Wrigley hosted the 2016 World Champions, tickets are all the more in demand.
Hosting the Cubs since 1914 – via Flickr user Sam Howzit
Arriving at Wrigley Field
Alternative/Public Transportation to a Cubs Game
There is a free shuttle option for Cubs games but it is only for weekend and evening games. Park at 3900 N. Rockwell Street near Revere Park. You will see like 15 school buses lined up. That's the shuttle! This is the best-kept secret of Cubs fans. This parking/shuttle option is totally free and safe. The drivers are friendly and get you to the game in about 15 minutes. Buses start running 2 hours before evening and weekend games and run for two hours after the game ends. Another option if you want to leave early or don't want to wait for a bus to leave is to Uber back to the lot. Your parking was still free!
Most people that go to the game take the "L" train, which is a great idea. You can take the Red line and be dropped off right next to the stadium at the Addison Street stop, without the hassle or cost of parking. IF you are coming from the northern suburbs, take the Yellow or Purple lines to Howard on game days, then connect to the Red line.
The Addison Stop and Surrounding Neighborhood – via Flickr user Michael Lehet
After the game, skip the rush of everyone trying to leave at the same time and stop by Sluggers Bar afterward for a cold one and a swing of the bat at their batting cages while the crowds disperse.
If this is your first Cubs game I am not exaggerating; crowded may be an understatement. I will say that you should have no fear of getting lost or missing your stop. The crowd is large, draped in blue, and easy to follow.
Rally bus is a great service to get to almost any major league game. Reserve a spot on a Rally to a Cubs game and they will drop you off and pick you back up on a pretty nice bus. You earn miles every time you ride that add up to a free ride in the future. So it is worth it to keep riding with Rally as you visit other parks.
Pace Bus Shuttles Come with Free Parking
Another option if you happen to be staying nearby is to avoid figuring out where you are going at all and the stress of traffic and grab an Uber ride. If you've never used Uber, click here and get your first ride free.
Driving to a Cubs Game
Parking at Wrigley Field can be a nightmare. That is one of the disadvantages of being in a residential setting, but the positives far outweigh the negatives. The big problem, if you are driving around residential streets, is all of the confusing street signs and laws. I did stumble across a website that helps decode some of that and can assist you in finding free parking near Wrigley Field Another option worth mentioning is the ability to reserve a parking spot ahead of time.
SpotHero lets you do just that, and can provide some peace of mind if you don't feel like driving around in search of the best place to park.
Best Food At & Near Wrigley Field
Save Money on Food
Like many other stadiums, Wrigley Field allows you to bring your own food into the stadium. You can also bring sealed bottled water in a soft sided cooler if you would like. No glass or cans. That is a great way for a fan on a budget to save a few bucks at a Cubs game. Just make sure your bag or soft sided cooler is NOT a backpack and is not larger than 16x16x8.
While you are outside the park, spend some time in Wrigleyville. There are always hawkers selling cheap sausages and beer, and prices are better than inside the park.
Fans will enjoy checking out Merkle's Bar, named after the NY Giant who gave the 1908 pennant to the Cubs with his error rounding the bases. Another way to eat and save money outside Wrigley is to check a site like Groupon for deals near the park. I love to do this when traveling to a new area. I end up finding places I otherwise would not have found on my own. This can be hit or miss but I like to live life dangerously!
Food at Wrigley Field that You Shouldn't Miss
Newer parks in the MLB have put a lot of focus on making amenities like food choices really amazing. Wrigley is not one of those parks. Food at the park is underwhelming. Even the deep dish pizza, a Chicago staple, is unimpressive. Eat in Wrigleyville before you come in. If you must, though, stick with what Chicago does best: sausages and dogs. You can't go wrong with this classic ballpark food in a classic ballpark.
1. Gilbert Craft Sausage: If you want to try a different approach to sausage, enjoy the creative and flavorful choices at Gilbert's.
Toppings are diverse and global, and you can choose from beef, pork, and chicken.
Wrigley Hosts a Century of History – via Flickr user Mr Hicks46
2. Hot Doug's: for those in the bleachers, this Wrigley staple features dogs named after Cubs players of the past. Their selection rotates and utilizes fun flavor combinations, making each experience unique.
3. Not a hot dog but still a predictable baseball food, order a North Side Twist pretzel. It is huge so you can share. If you want nachos, get the Big Slugger nachos. They come in an actual helmet so this doubles as a souvenir. It is not cheap but a helmet full of nachos is just fun and worth the price if you are hungry and have a sense of humor.
Wrigley Field Seating Chart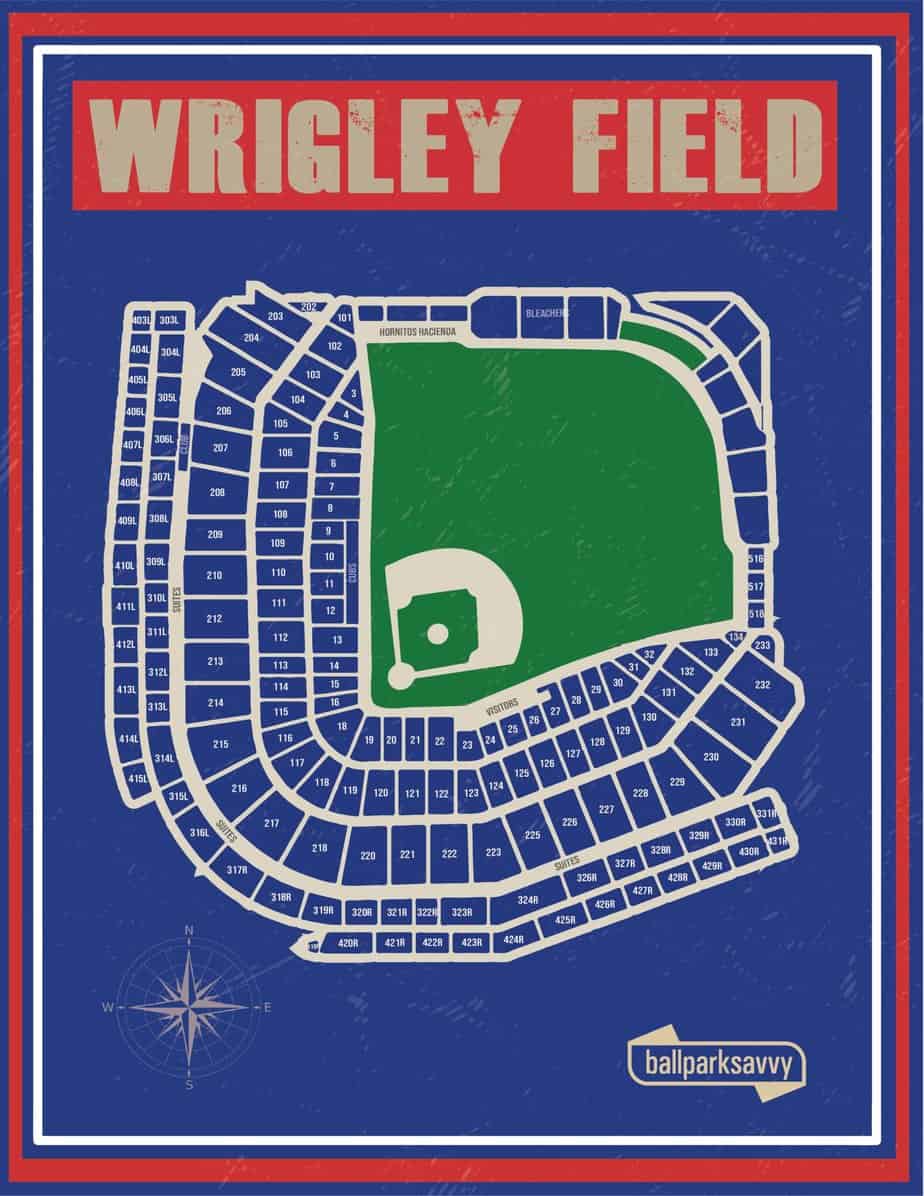 We've created the seating chart of Wrigley Field above to help you better understand some of our recommendations below. Feel free to download this image and use it, we just ask that you credit Ballpark Savvy and link back to the page where you found the image.
Cheap Cubs Tickets
At this point, nearly every Major League team has some kind of variable pricing model where depending on how in-demand a game is, the ticket prices you'll pay at the gate may go up or down.
Sometimes pricing varies from day to day, other times it is a more formal "tiered" structure where when they are playing a big draw team like the Cardinals, you'll pay a premium price compared to a perennial ​bottom-dweller who might be in the "budget tier."
So rather than focusing on specific prices and sections which tend to change fairly often, I want to talk about general rules and strategies for getting the best deals on tickets. ​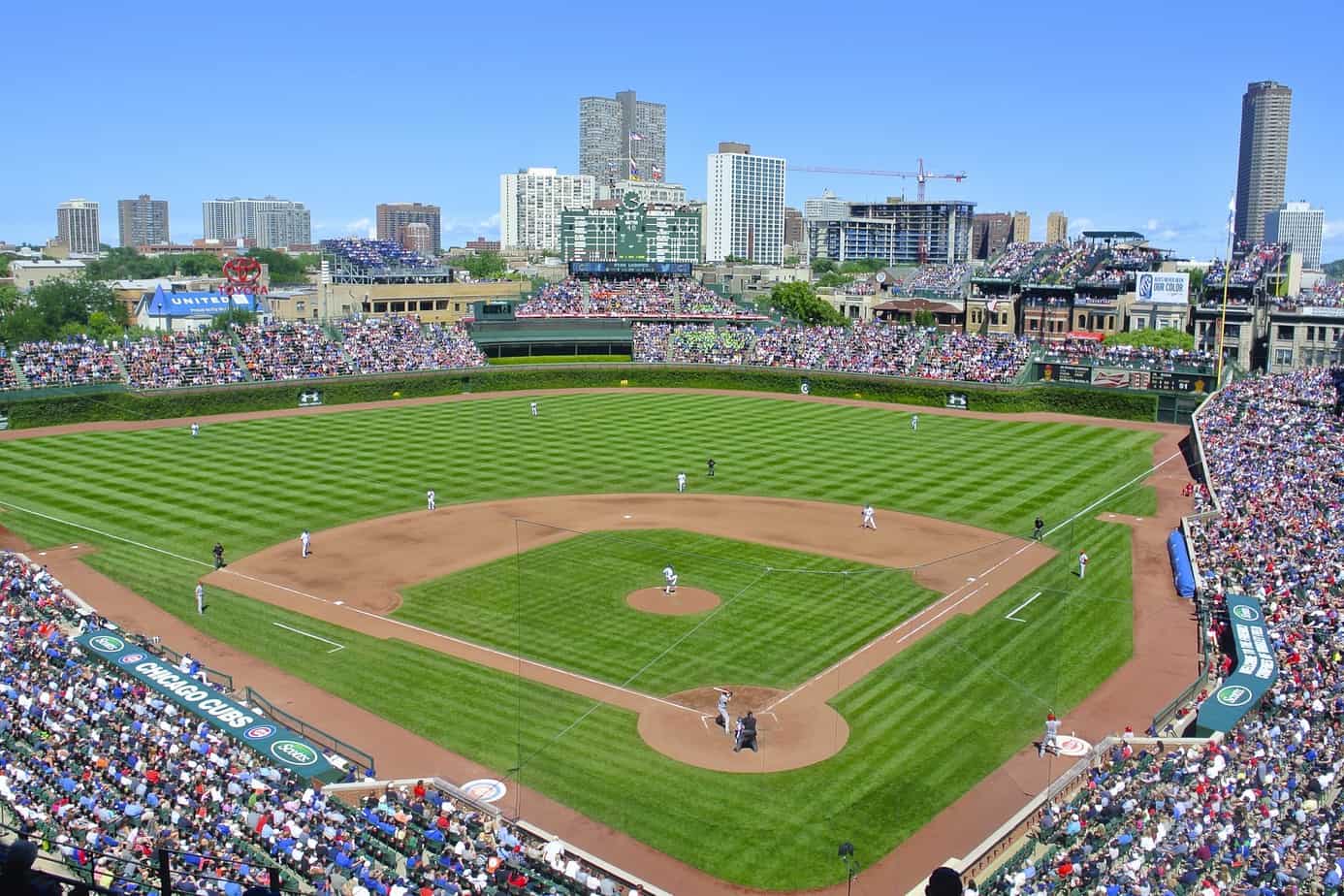 Wrigley Feels Like an Open Garden Amidst the City – via Flickr user Rex Hammock
1. Compare 3rd Party Sites
SeatGeek is a big time ticket comparison site that lets you compare a bunch of different ticket brokers, marketplaces, etc. and find the best price for the game you want to go to. They also have a tool that projects whether ticket prices will go up or down – AKA whether you should buy now or wait. 
Load more
Click here to view Cubs tickets on SeatGeek.
2. Buy Last Minute
If you've bought tickets online before, you've heard of StubHub. What you may not know however is that with the rise of print-at-home and tickets on your mobile phone via the Ballpark App that you can usually buy tickets right up to a couple of hours before game time.
Save $5 On Last Minute Tickets: I recently learned about the Gametime app and it's legit. Save BIG on last minute tickets. Click here to get the app and you'll get $5 off your first order.
As someone who has sold a fair share of tickets on StubHub, I also know that sellers are encouraged to set a declining price for their tickets. This means they'll set a starting price and then their lowest acceptable price, and StubHub will auto-magically lower the price of those tickets as the event date gets closer.
So in many cases, a game that isn't sold out will have plenty of below face value deals on StubHub that you can snatch at the last minute and then either print at home, or just use the App on your phone to get scanned into the game.
3. Avoid Craigslist
It's not to say that you can't find ticket deals on Craigslist, you can. It is just more of a peace of mind, safety issue. I'm a Craigslist kind of guy, but I also know it's easy to get screwed buying baseball tickets there.
Remember when I mentioned selling on StubHub? When you list tickets there, all you need to know is the barcode number from that ticket along with the other details on section, row, etc. – So when I sell tickets I never mail them to the buyer, they just print them at home and my actual tickets become void.
If I was a shady character, I could go sell those void tickets to an unsuspecting buyer on Craigslist for cash. The tickets look real, they are "real" in a sense – but what that buyer will find out is when they go to enter the stadium, the ticket scanner will say "thou shalt not enter thy game."
Don't be that buyer.
Stick to buying tickets from SeatGeek, StubHub, or directly from the team. You can still get deals and you never have to worry about being scammed. 
Best Value Seats at Wrigley Field
Cubs tickets are often difficult to get, simply because of the fact that they play in Wrigley. The fan base in Chicago is die-hard, they bleed Cubbie blue, and most games are packed to the rafters. Winning the 2016 World Series made the prices go up even more but its worth it to experience a baseball game in Wrigley. Its a religious experience.
Generally, the toughest tickets are Opening Day, White Sox, Cardinals, and any weekend in the summer. If you are planning your first trip to Wrigley Field, remember that it gets very cold in the shade. I have been to games where people in the bleachers had their shirts off and people in the shade were wearing Snuggies. Wherever you end up in the stadium, find out if you will be in the sunshine and dress accordingly. They don't call it the "Windy City" for nothing! If you really hate being cold and are coming to a game in October, here's a tip: there is heat underneath the scoreboard in centerfield!
Bleacher Seats at Wrigley Field
The Bleachers are generally thought of as the cheap seats in most ballparks, but in Chicago that' is far from 's not always true. You will often pay a premium per seat in the bleachers, and they are almost always packed.
My last trip to the bleachers was in June of 2023, and I paid $30 each for tickets (which is a bargain) by waiting until almost game time and buying them on the GameTime app mentioned earlier.
The bleachers at Wrigley are famous for a reason, they provide a great atmosphere for watching a baseball game. The bleachers are metal so bring a seat cushion if you want to be comfortable!
One thing worth mentioning, if you buy tickets in the bleachers you need to be scanned in and out in order to access the main part of the stadium (to do more exploring and walking around). You can enter through the main bleacher gate in center field, or you can enter through other stadium gates and walk through the concourses to get out to the bleachers.
In the 2016 update of Wrigley, all of the concourses and concession stands in the Wrigley Bleachers got an update, so you have many more food options than you once did.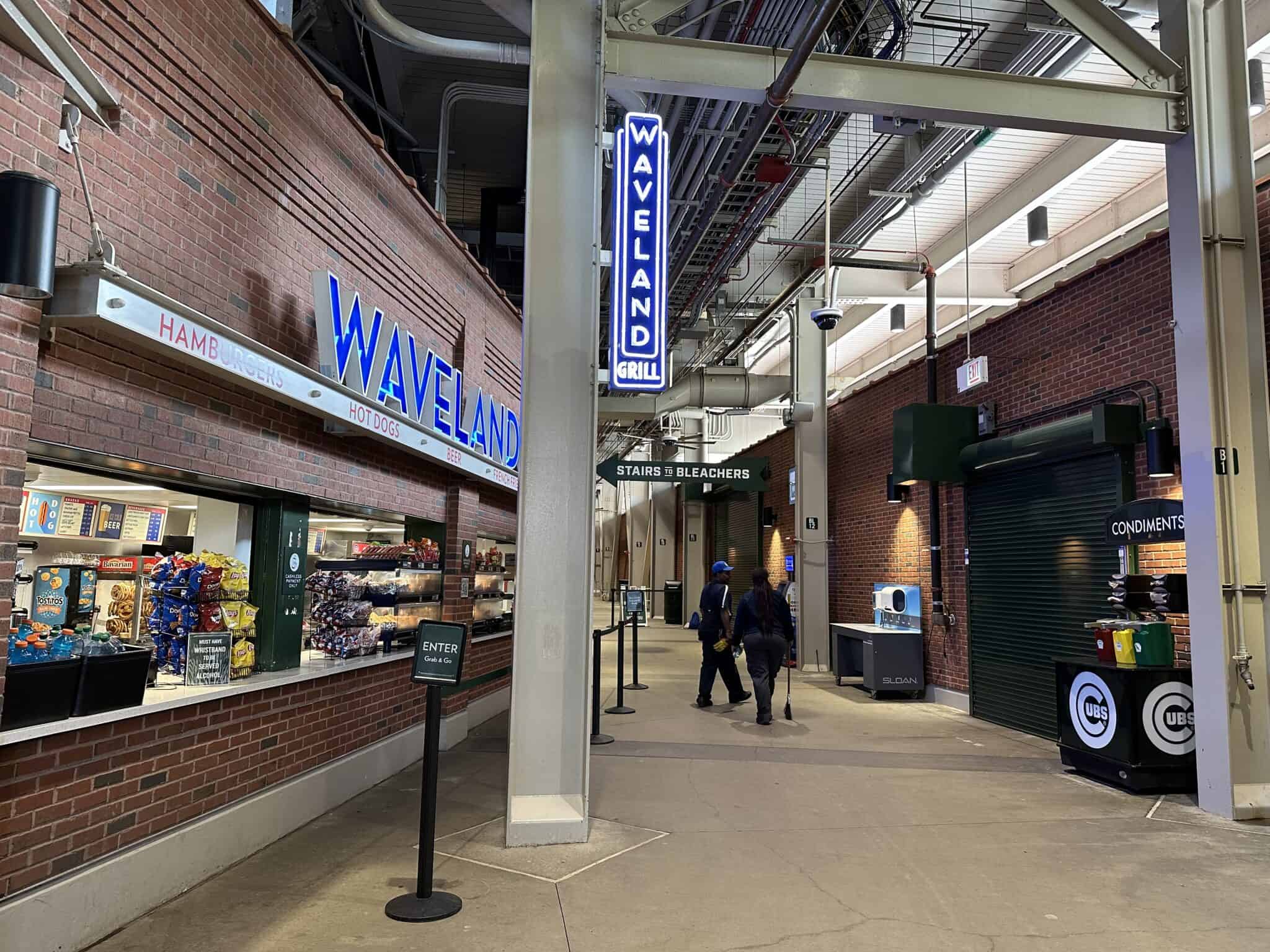 However, the only bathrooms are still located on the ground level of the stadium, so when you're sitting up in the bleachers plan on taking the stairs or the ramps down to take a leak. Plus, depending on the time of game, you might see a line like this:
One thing we learned when sitting in the bleachers is that you can get there early and grab a seat on the last row in left field, which gives you a fence to rest your back against. Personally, I loved the view from this section and enjoyed the fact that there weren't dozens of rows of seats down between us and the field.
Plus, an usher advised me that most of the season ticket holders sat in left field, so on this particular weeknight game vs. the Pirates, the crowd was very family friendly and not overly drunken and rowdy, which I'd heard the bleachers are known for.
We also made sure to arrive 90 minutes early and join the kids (and adults) roaming around the bleachers in search of a batting practice home run ball.
My wife was primarily concerned with not getting hit by a ball, but she almost ended up with one anyway. A long shot to left center landed right behind her, but unfortunately, a quick kid with a glove snagged the ball right before she could reach it.
Souvenir denied.
If you're coming with kids, I'd highly recommend getting to the bleachers for BP as there will be plenty of opportunities for a souvenir ball being hit or thrown into the stands. Bring a glove!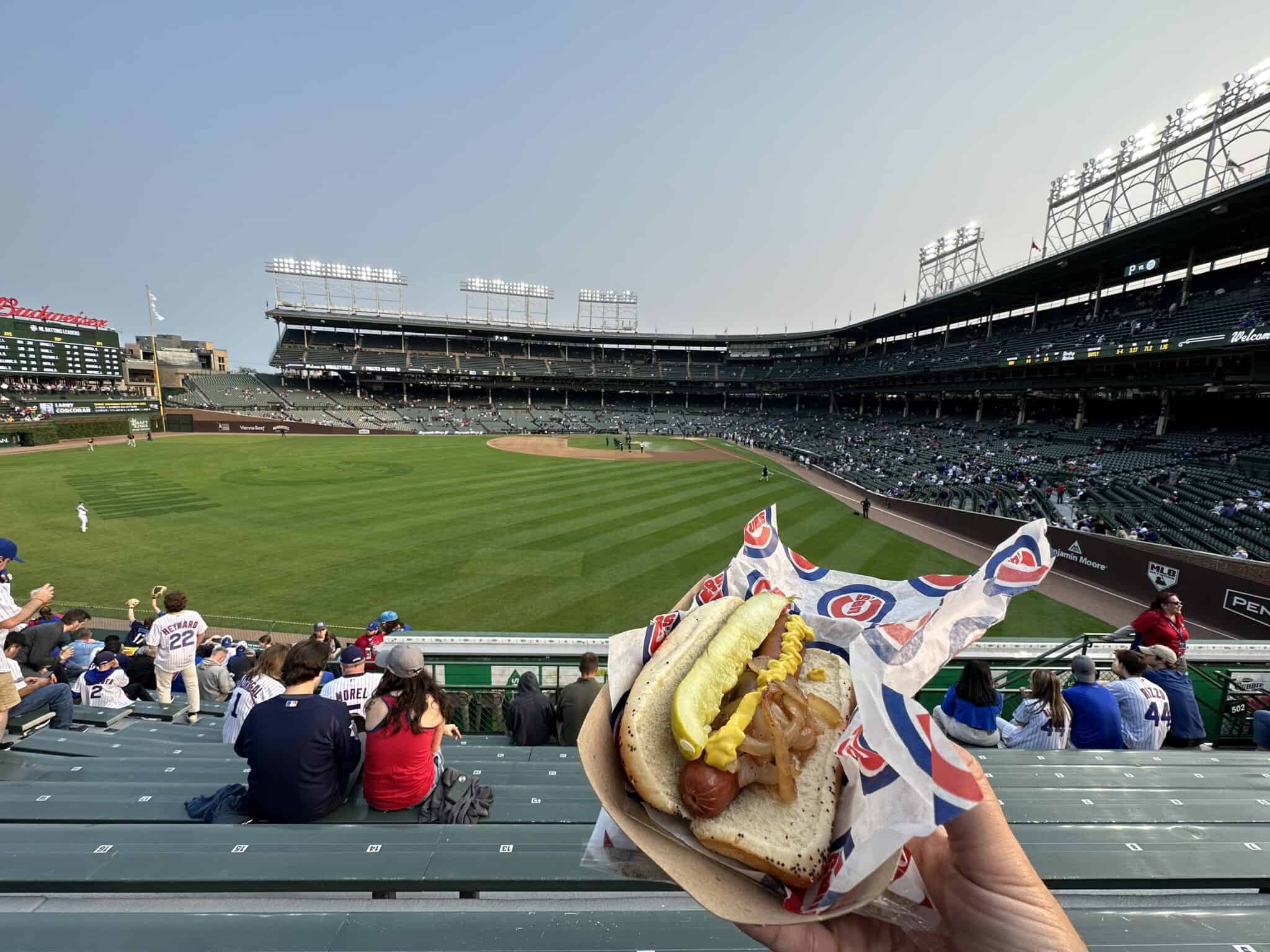 Also, in 2019, Wrigley Field implemented a new renumbering system for their seating. If this is not your first time at a Cubs home game, check your ticket and check the seating chart or signs inside Wrigley to find your spot. The renumbering is a good thing. They made the number of the sections and seats conventional so it actually makes sense now!
Another thing about Wrigley field is the potential of obstructed views. Much like Fenway Park, the old stadiums have those big steel beams blocking the views of fans in the grandstand. Before you buy the tickets – ask. Places like Ticket Network or StubHub are usually pretty upfront about obstructed views.
There are two main areas in Wrigley where you run into obstructed views because of the support beams: the terrace reserved seats and the upper deck reserved seats. Avoid row 6 in the Terrace sections to avoid the pole, except for on the third baseline. On the third baseline, you want to sit in rows 10 through 15. In the Upper reserved sections, do not buy tickets in the low numbered sections or the low numbered seats.
Seats with Benefits at Wrigley Field
While Wrigley Field does not have huge clubs and suites all over the park-like new fields, there are some premium seating options if you want to cheer on the Cubs in your fancy pants. You don't need a brand new suite here. That's not why you come to Wrigley!
If you do have a group you want to gather with, check out Wrigley Rooftops. These rooftop spots give you great views with the suite experience but you are not actually inside the park. The suites inside Wrigley have been updated as part of an improvement plan called the 1060 Project. The Cubs sell the suites for the entire season but you can buy suites for single games through SuiteHop.
Where To Stay While Visiting Wrigley Field
My favorite way to travel to a baseball game is to stay as close to the stadium as possible and walk or take an Uber so I don't have to fool with parking in a strange place. So many ballparks have great hotels within walking distance making it easy to stay nearby.
I use Tripadvisor to find a hotel with good reviews near any ballpark. I prefer this option over any other because I actually search for the park I am visiting and Tripadvisor gives me hotels, restaurants, and other attractions near there. Wrigley Field is located in Chicago and the city is packed with stuff to do and see.
Obviously, there are a lot of hotels in Chicago, but I can search for Wrigley Field here and get the 10 closest hotels to Wrigley Field and then pick what I want based on ratings and prices. This saved me a lot of time and I didn't end up getting ripped off on the price or end up in a sketchy place where I didn't feel safe.
The Chicago Hotel Collection Wrigleyville – image via Thechicagohotelcollection.com
The closest hotels do not always come with the lowest cost but you get what you pay for when it comes to accommodations. Remember that you aren't paying for parking or transportation.
Chicago is one of those cities that is just going to cost you no matter what you do. Plan accordingly. If you love to stay as close to the ballpark as possible, it is going to cost you around $250-$500. The Chicago Hotel Collection Wrigleyville is on the lower end of that price range and only .2 of a mile from the ballpark. This hotel is at the top of my list for a Cubs game because the whole place revolves around Wrigley!
Hotel Zachary is a little bit closer with views of Wrigley and is on the higher end of that price range.
Hotel Versey Days Inn by Wyndham Chicago is about a mile from Wrigley Field. This hotel features artwork from Chicago artists and has a funky feel to it. The rooms are super comfy and Chicago-themed. Any of these hotels near Wrigley are as unique as visiting the park itself making for a full Chicago experience.
Free Stuff At Wrigley Field​
1. Statues of the Greats – Around the magnificent perimeter of Wrigley are statues to three Cubs greats. Find "Mr. Cub" himself, Ernie Banks, cast in bronze. On another corner, Billy Williams is honored for his fifty-two years of service to the ball club. And you cannot miss the statue of one of the game's greatest broadcasters, Harry Caray, frozen in time reaching his arm out to the crowd to sing "Take Me Out to the Ball Game." Speaking of the famous seventh inning stretch serenade, be sure to see who is singing in the press box when you are there. Celebrities at the game have been known to jump in to lead the crowd now. Some favorites have been Bill Murray, Eddie Vedder, and Cookie Monster.
The Voice of Caray Changed Baseball – via Flickr user Slippy Slappy
2. The Bartman Seat – before 2016, it seemed like the Cubs would never shake their World Series curse. Cubs fans bitterly remember the 2003 NLCS against the Marlins, when fan Steve Bartman grabbed a foul ball before the Cubs' left-fielder had the chance. The Cubs went on to lose the game, the pennant, and their best shot at a ring.
Go spit on Aisle 4, Row 8, Seat 113 if you want to keep the curse at bay.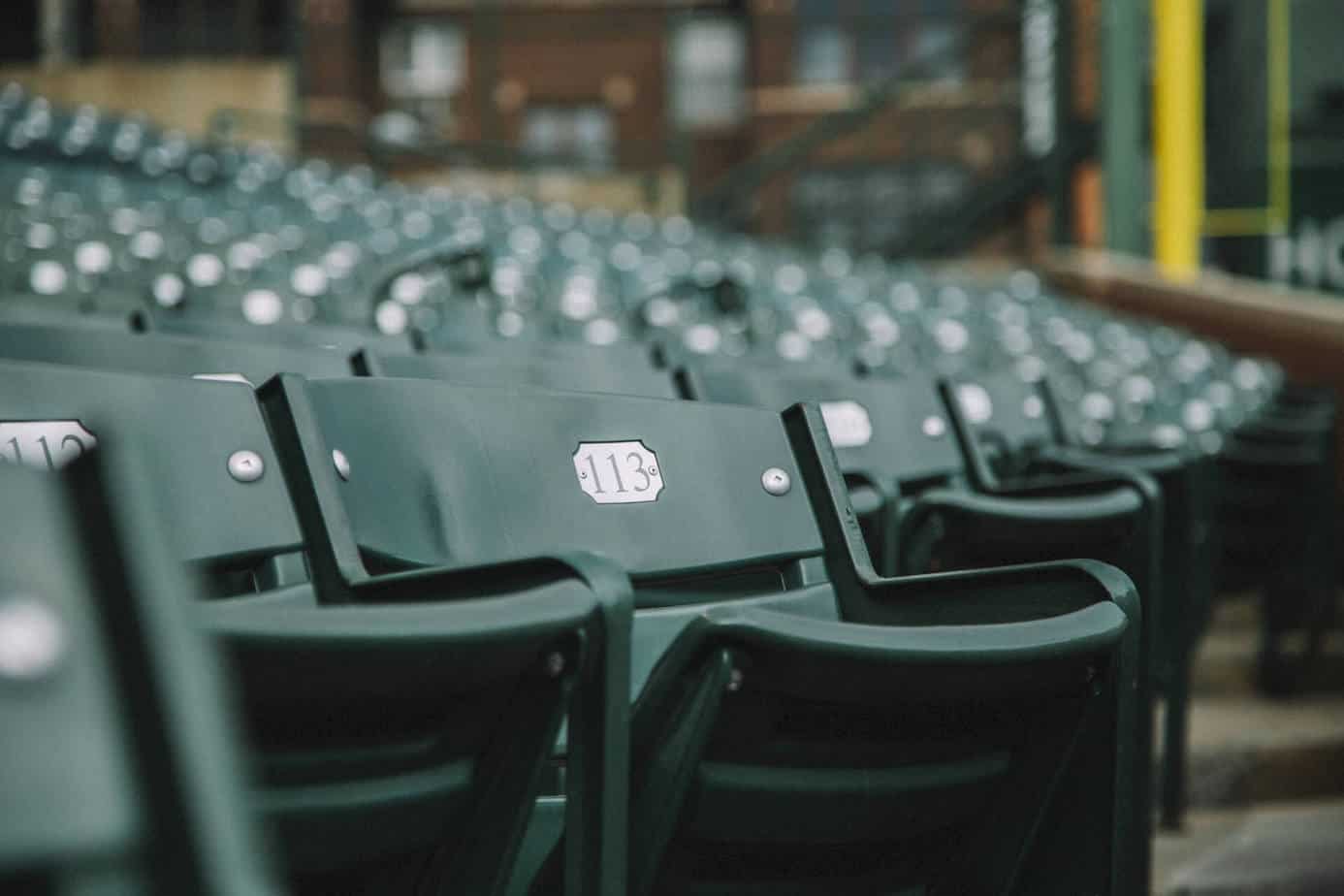 The Bartman Seat is the Stuff of Legends
3. Bring kids on Sunday. Sundays after the Cubs play, kids get to run the bases for free! However, your kids have to be able to run the bases on their own. Dad can't run his newborn around the diamond. Sorry!