Last Updated: September 6th, 2023 by Aaron Gwynn
Note: this article may contain affiliate links. If you make a purchase using one of these links, I may be paid a referral fee at no expense to you.
The San Francisco Giants opened what is now known as Oracle Park in 2000. It may have gone through a million names since then, but whatever you call it, the stadium is one of the most gorgeous on Earth. This fully privately-funded park has become part of San Francisco's skyline and boasts some of the best views of any ballpark anywhere.
Things You Shouldn't Miss
Get to the park early and spend time on the waterfront promenade behind Oracle. Kayak at the marina to catch balls smashed during batting practice, and take a picture next to the statue of Willie McCovey!
Go to Willie Mays Plaza for the statues and the ambiance! This is the main entrance and there are always little giveaways, interesting local vendors, and a whole host of other stuff.
The Kiddie Area behind the left field bleachers is one of the best in all of MLB.
Ways To Save Money
Take Uber instead of parking. Click here to get a free ride
Take a soft cooler of food & drinks with you
Stay close by and walk to the stadium. Click here to see our favorite hotel near Oracle Park.
Click here to reserve a cheap parking spot in advance.
Parking is so bad at Oracle Park that I would not recommend driving in without having pre-paid for a parking spot. Period. More here than anywhere else. SpotHero can save you massive money in San Fran.
Giants games are supposedly always "sold out", but that doesn't mean you can't get a great seat. Check out SeatGeek to find the best choices, especially for weekends.
Don't miss the Garlic Fries and unique veggie options. Beyond that, feel free to save some money by bringing food and drink into the park. San Fran prices will get you. If you are strolling from downtown, there are a number of great little pubs and cafes along 3rd Street that won't set you back too much, even if it's just simple diner food.
That all said, San Fran is a notoriously expensive city so finding value is a little tougher than just about every other city you'll visit, but Oracle Park is so magical and so beautiful that it's worth finding ways to pinch the pennies and get there.
Arriving at Oracle Park
Alternative/Public Transportation to a Giants Game
*** THE GOOD NEWS: It's Almost Too Easy to Use Public Transportation Here ***
Honestly though, there is more public transportation to Oracle Park than any other Major League stadium. Here is a rundown from ballparksavvy.com contributor, Dan Celenza:
If you are staying in San Francisco, you can take the Muni Metro. Lines N and T go directly to the ballpark and let you off at the 2nd and King St. station.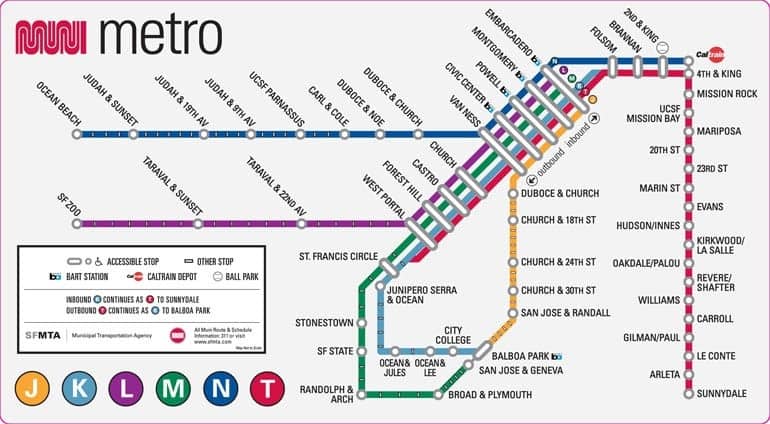 The Muni Metro Connects the Whole City of San Fran to Oracle Park
If coming from the Peninsula or the South Bay area, you can pick up CALTRAIN throughout Santa Clara and San Mateo and take it within one block of the ballpark. In addition, you can ride BART (Bay Area Rapid Transit) from Millbrae, SFO (Airport), South San Francisco, San Bruno, Colma, or Daly City to downtown San Fran and transfer to the MUNI METRO N or T @ Civic Center, Powell, Montgomery, or Embarcadero stations
You can ride various ferries to the park from other parts of the bay area as well. From the East Bay (Alameda, Oakland and Contra Costa County), you can take the Alameda/Oakland Ferry to the park. In addition, from the North Bay, the Lakespur Ferry will bring you to the park from the Marin and Sonoma areas. You can also take the Vallejo Ferry to many home games if you're coming from the Vallejo area. Oracle Park is its own stop on the ferry rides..
I would say that the Ferries are pretty cool because it's a unique experience, especially if you are from out of town. The fare is going to be a bit under twenty round trip per person, but you should always plan ahead and check the necessary company for schedules, parking, and pricing.
If you take advantage of some of the fun around the park, you may want to skip the stress of public transport. Uber is a great option for getting around San Francisco. If you haven't used Uber before, get your first ride free.
Driving to a Giants Game
*** THE BAD NEWS: It's Nearly Impossible to Park Cheaply ***
Most people, including the Giants themselves, recommend taking public transportation, and I can't disagree. It is generally more convenient and much cheaper to take the BART or another method of public transit.
If you prefer to drive, there are a few hacks that may allow you to get into the ballpark with a few extra bucks in your wallet.
There are two hot spots where you might be able to park for free if you arrive early, though you'll have to work for it.
The first is on Townsend Street between 5th and 6th. The second is near the UCSF Mission Bay campus around the intersection of 16th and 3rd. Both options would require you to walk about a mile. If you're up for the walk, it's definitely worth checking out.
Townsend Street Between 5th and 6th
Metered street parking near the stadium costs at least $7 per hour. PER HOUR. The meters shut off at 10 pm on game days, which means parking on the street for a game is just as expensive as an off street option. INSANITY.
Parking across San Francisco is in high demand, and the neighborhoods surrounding Oracle Park are no different. The parking garages or lots nearest to the stadium START well over what other cities top out at for Giants games, with a ceiling well over $50 range. Expensive, yes, but welcome to San Francisco.
Postseason parking? You don't even want to know.
One great option available for pre-purchase is a lot at 44 Perry St. A prepaid reservation costs about the price of a beer and puts you just 10 minutes walking away from the stadium. Pretty reasonable.
Parking is Available on Both Sides of Perry SpotHero allows you to purchase parking beforehand, practically mandatory in SanFran. They allow you to search for and reserve guaranteed parking spots ahead of time, which could be especially useful for Giants games. You can view where each parking garage or lot is located and how much it will cost, enabling you to select the most cost effective parking solution. You pay for parking ahead of time, they'll email you a parking pass, and you can drive to the stadium with peace of mind.
Check it out here or view all of their Giants parking options below:
Giant Mitt. And a Giant Coke – via Flickr user Mariko
Best Food At & Near Oracle Park
Save Money on Food
Like many other ballparks, if you are looking to save money at OraclePark you can bring your own food and drink. This includes pretty much any food and sealed plastic bottles with non-alcoholic beverages. You can take a small soft sided cooler, so pack some lunches from home or pick up something cheap on the way and you can easily save $40 vs. buying food for a family at Oracle Park.
Overall, Oracle park is one place you may want to splurge a little on food. They go waaaaay beyond the typical ballpark fare, and you could spend the whole night walking around to check the different options.
Food You Shouldn't Miss at Oracle Park
Two words: Garlic Fries.
1. Gilroy Garlic Fries: Everybody loves them, and if you are coming from out of town or you live in the Bay area but haven't tried them; you must. They will set you back about a tenner, but I would say it's worth it to splurge a little when you can. On the Club Level.
2. Crazy Crab'z: this establishment out behind center field is expensive. Period. But the chowder and the crab are what San Fran is known for. Get the Crab sandwich, on local sourdough, to feel like a real San Fran native.
Fans Love the Crazy Crab Sandwich on Sourdough
3. Ghirardelli Chocolate has the best hot chocolate and ice cream sundaes in the majors! (also check out the local classic CREAM ice cream sandwiches).
4. LOTS more:
Organic Coup for chicken sandwiches
Impossible Burgers for the vegans in your crew
Mission Street Taqueria
Poke bowls
Pita Gyros for Mediterranean food
Pier 44 Chowderhouse for Shrimp Po'Boys
the Garden Bar for endless local beer and drink options
there's even a full Wine Bar, what could be more San Francisco than that?
Oracle Park Seating Chart
We've created the seating chart of Oracle Park above to help you better understand some of our recommendations below. Feel free to download this image and use it, we just ask that you credit Ballpark Savvy and link back to the page where you found the image.
Cheap Giants Tickets
At this point, nearly every Major League team has some kind of variable pricing model where depending on how in-demand a game is, the ticket prices you'll pay at the gate may go up or down.
Sometimes pricing varies from day to day, other times it is a more formal "tiered" structure when the Giants are playing a big draw team like the Dodgers, so you'll pay a premium price compared to a perennial ​bottom-dweller who might be in the "budget tier."
So rather than focusing on specific prices and sections which tend to change fairly often, I want to talk about general rules and strategies for getting the best deals on tickets. ​
1. Compare 3rd Party Sites
SeatGeek is a big time ticket comparison site that lets you compare a bunch of different ticket brokers, marketplaces, etc. and find the best price for the game you want to go to. They also have a tool that projects whether ticket prices will go up or down – AKA whether you should buy now or wait.
Load more
Click here to view San Francisco Giants tickets on SeatGeek.
2. Buy Last Minute
If you've bought tickets online before, you've heard of StubHub. What you may not know however is that with the rise of print-at-home and tickets on your mobile phone via the Ballpark App that you can usually buy tickets right up to a couple of hours before game time.
Save $5 On Last Minute Tickets: I recently learned about the Gametime app and it's legit. Save BIG on last minute tickets. Click here to get the app and you'll get $5 off your first order.
As someone who has sold a fair share of tickets on StubHub, I also know that sellers are encouraged to set a declining price for their tickets. This means they'll set a starting price and then their lowest acceptable price, and StubHub will auto-magically lower the price of those tickets as the event date gets closer.
There Are Lots of Great Seats To Choose From
So in many cases, a game that isn't sold out will have plenty of below face value deals on StubHub that you can snatch at the last minute and then either print at home, or just use the App on your phone to get scanned into the game.
3. Avoid Craigslist
It's not to say that you can't find ticket deals on Craigslist, you can. It is just more of a peace of mind, a safety issue. I'm a Craigslist kind of guy, but I also know it's easy to get screwed buying baseball tickets there.
Remember when I mentioned selling on StubHub? When you list tickets there, all you need to know is the barcode number from that ticket along with the other details on section, row, etc. – So when I sell tickets I never mail them to the buyer, they just print them at home and my actual tickets become void.
If I was a shady character, I could go sell those void tickets to an unsuspecting buyer on Craigslist for cash. The tickets look real, they are "real" in a sense – but what that buyer will find out is when they go to enter the stadium, the ticket scanner will say "thou shalt not enter thy game."
Don't be that buyer.
Stick to buying tickets from SeatGeek, StubHub, or directly from the team. You can still get deals and you never have to worry about being scammed.
Best Value Seats at Oracle Park
As far as best value seats in the ballpark, I would recommend the upper deck behind home plate. Tickets are a good value for San Fran, and you get a majestic view of the game and the Cove. Ideally you should shoot for something in or around section 315 and as close to row 1 as possible.
If you are going to a game with kids, you may think the left field bleachers are a better value. The prices are about the same as above, but Oracle Park has an awesome wiffle ball stadium behind the left field section where kids can play during the game. I like when kids watch the game and enjoy it, but if they are bored it's better to have an option to entertain them than to be annoyed to death. There is also a slide inside the giant Coke bottle, which is a nice novelty as well.
Left Field Upper Deck Seats Offer Great Views of the Water – via Flickr user Mikol
Keep in mind all of the outfield seats are bleachers with no back, including left field. The last row of the section will allow you to lean up against a brick wall behind you, which is preferable in my opinion. If you sit in 139, ask for row 26 and get a little back support and a closer walk to concessions and entertainment spots. Some sections have 29 rows and some 26, so just ask or check the Oracle Park website.
The big scoreboard and jumbo screen are in dead center field. I wouldn't advise sitting in the center field bleachers for this reason. I think the modern game gets so much added to the experience by seeing the information and entertainment on the big screen.
Where to Stay While Visiting Oracle Park
My favorite way to travel to a baseball game is to stay as close to the stadium as possible and walk or take an Uber so I don't have to fool with parking in a strange place. So many ballparks have great hotels within walking distance making it easy to stay nearby.
I use Tripadvisor to find a hotel with good reviews near any ballpark. I prefer this option over any other because I actually search for the park I am visiting and Tripadvisor gives me hotels, restaurants, and other attractions near there. Oracle Park is located in San Francisco and the city is packed with stuff to do and see.
Obviously, there are a lot of hotels in San Franciso, but I can search for Oracle Park here and get the 10 closest hotels to Oracle Park and then pick what I want based on ratings and prices. This saved me a lot of time and I didn't end up getting ripped off on the price or end up in a sketchy place where I didn't feel safe.
Hyatt Place San Francisco Downtown – image via Hyatt.com
The closest hotels do not always come with the lowest cost but you get what you pay for when it comes to accommodations. Remember that you aren't paying for parking or transportation.
The closest hotels are really expensive. Downtown San Francisco is just like that. If you do want to stay right by the park, Hyatt Place San Francisco Downtown is amazing. Breakfast is included so pack a snack for later on your way out. Your walk to the game will only be 5 minutes and your room here will be modern and comfy.
You can stay about 3.5 miles away at the Travelodge by Wyndham Presidio San Francisco for under $200. That distance is just right for an easy commute in an Uber. This hotel is also extremely close to the Golden Gate Bridge so if you are a tourist in San Franciso, it is a cool location.
Free Stuff at Oracle Park
1. Willie Mays Plaza: outside the main entrance is the Willie Mays Plaza, a lovely place to wait before heading in. There's often fun and vendors hanging out in the area, but you'll want to make sure you find the outstanding statue of Willie Mays. Mays is captured in a moment of pure action, after hitting one of his 660 bolts out of Candlestick.
The Great Willie Mays – via Flickr user dannymac15_1999
2. Statues of the Greats: Besides Willie, other famous Giants are honored with statues around the park. Find 1958 RoY Orlando Cepeda outside the 2nd Ave entrance, crazy-kicking Dominican pitcher Juan Marichal can be found outside the 3rd Ave entrance, and follow the Giants History walk to McCovey cove to find Willie McCovey in all his glory.
McCovey Stands Watch at His Stunning Cove – via Flickr user Owen Bryne
3. Pretty Little Quirks: Oracle Park is one of the most charismatic parks because of all the little touches. When a Giant hits a home run, a cable car near center field dings its bell. Balls that fly out past right field splash in the McCovey cove behind the park. There are no bullpens, like old parks. (CUT, no longer true) Flags for all the teams fly around the top of the stadium, while banners honor various champion Giants teams. Advertisements for companies that helped fund the park are hidden all over the stadium.
4. Art! San Francisco might have become a haven for rich techies, but the stadium sticks to the city's roots with a number of murals, paintings and sculptures throughout the park.
5. Great memorabilia at the Giants History walk located on the Portwalk.
6. The Designated Driver program offers a chance to sign up for a free drink by heading to Visit Guest Services behind home plate on the Promenade Level.
7. Wifi! The stadium is one giant hotspot with over 1,600 connection points, so take advantage and save that data!