Last Updated: September 6th, 2023 by Kristen Douglas
Note: this article may contain affiliate links. If you make a purchase using one of these links, I may be paid a referral fee at no expense to you.
Fenway Park is the park that all other parks want to be when they grow up. It opened in 1912, the same week the Titanic sank. Unlike the Titanic, Fenway has thrived and continues to draw in fans from all over the world. If you are ready to yell "Go Sox" and sing Sweet Caroline in the home park of the Boston Red Sox, here is everything we know to make you have the best time ever.
Fenway: the park that all other parks want to be when they grow up.
The One and Only Green Monster – via Flickr user Kyle James
Things You Shouldn't Miss
"So Good! So Good! So Good!" Fenway fans know to rise and brace their drunken selves against each other while belting out Neil Diamond's Sweet Caroline in the middle of the 8th.
The Green Monster is both a memorable seating location and a mascot with a bunch of sass. Kids will demand a stuffed doll, and you will gladly give in.
In an era with massive electronic scoreboards, Fenway's hand-operated scoreboard is a beautifully nostalgic nod to a simpler past.
Ways To Save Money
Take Uber instead of parking. Click here to get a free ride
Eat outside the park, on Jersey Street, or beyond.
Stay close by and walk to the stadium. Click here to see our favorite hotel near Fenway Park.
Click here to reserve a cheap parking spot in advance.
It is all but impossible to find cheap parking near Fenway without using SpotHero. Take the T or use an Uber. Or just walk – Fenway is so centrally located, it's almost too easy to get there!
Because it's such a tourist destination, it is never easy to get cheap tickets at Fenway. And before you buy, do your homework: there are many obstructed-view seats in this ancient park.
The food and drink options are nothing to write home about. But Yawkey way is a festival not to be missed, and the area around Fenway is packed with great Fenway's Rich History.
Fenway's Rich History is Around Every Corner – via Flickr user Eric Kilby
Fenway has been home to the Boston Red Sox since 1912, and is the oldest baseball park in Major League Baseball. More than any other stadium, Fenway is a tourist destination in its own right. No baseball fan can be taken seriously unless they've visited this living museum.
Arriving at Fenway Park
Alternative/Public Transportion to a Red Sox Game
Most locals will select from the various public transport options available for Fenway Park , avoiding the congestion of driving in downtown Boston. Best bet: ride the T like a local.
The cheapest option available is to ride the T to the KENMORE stop. You would think that you want the Fenway stop, but you don't. The Kenmore stop is a hub for the Green B, C, and D lines. Signs clearly direct you to Fenway.
Also on the T, the Red line connects at Park Street, and the Blue line connects at Gov't Center, linking to train stations and the airport.
Another convenient feature with the T is to park at an MBTA garage farther away and ride the T downtown.
PRO TIP TO BEAT THE CROWD HOME: If you are heading downtown by the T after the game, come out of the park but do not take the steps down into the Kenmore Subway. Instead, turn left/west up Commonwealth Ave and walk up one stop to Blanchard St. The stop is above ground. The train will be mostly empty and you can grab a seat or comfy spot. Then, when the train pulls into its next stop, Kenmore, the crowd will pack on around you.
Buses from Allston (57), Chestnut Hill (60), and other parts of Boston stop in Kenmore. The buses use the same Charlie Cards for payment as the T.
Driving to a Red Sox Game
Even though you've read all about Boston, you've talked to your friends in Boston, and you've studied this site, you have still decided to drive to the Red Sox game. Just hype? Perhaps. But when even stubborn Bostonians won't bring a car within a 4 block radius, you should take the hint.
There are legends of free street parking in the Fens area, right around the park. These are lies. Even if you could create a magical spot out of nothing, do you think you will be able to drive away when the massive crowds spill out of Fenway?
However, after 5 pm on weekdays/Saturdays, and all day Sunday, there is free metered parking throughout Boston University's campus, just 3 blocks from Fenway. Check along Bay State Road and its connecting side streets.
Bay State Road and the Boston University Campus Offer Some Metered Parking
Paying for a parking spot at the lots and garages nearest to Fenway is is going to cost you. The Red Sox website does a great job of laying out all of the nearby options, but they also make it clear exactly how shockingly expensive they can be. Take a look here if you so dare.
Click here to learn more about how to park and ride to Fenway.​ With easy connections to the T, this is a great option for your car.
Honestly, if you must park in the area, plan ahead and utilize SpotHero. This lets you find a spot ahead of time and reserve it, so you know exactly where you are going before you ever leave your house. Here is a list of upcoming games, just click the date you need to find the cheapest spots:
Best Food At & Near Fenway
Save Money on Food
Many ballparks give you the opportunity to bring your own food or snacks into the stadium to save money – unfortunately, that is "technically" not the case at Fenway. The rules state you can bring sealed bottles of water, 16 ounces or smaller. No glass, no cans, as always.
However, I heard from a fan that is a season ticket holder and has been to hundreds of games that takes food in virtually every time without an issue. This isn't something he hides in a coat either, he said they just allow you to carry food in. That is great news! But if you get stopped and have to throw out your sandwich, don't say I didn't warn you.
​In Kenmore Square, just a block from the park, you can find a Mcdonald's, a Dunkin Donuts, and a Qdoba. All are open late after games, but bathrooms are for patrons only. There are also convenience stores and a 7-11 available to buy snacks and sodas.
For something different than your regular baseball grub, Kenmore Square also includes India Quality, the city's best Indian restaurant, and some of the best food in Boston. Prices are extremely reasonable, flavors are authentic and rich, and they feature a slew of Indian beers. This is, without a doubt, the best place to eat after an afternoon game if you want something unique.
India Quality Offers a Different Flavor to Your Roadtrip
Cask & Flagon is a standout among the many baseball restaurants and sports bars in the streets immediately surrounding the park. Many die-hard fans end up at the Cask if they fail to score tickets, and the atmosphere during games is electric.
Cask & Flagon offers a perfect slice of Boston sports
Other notable local bars include Game On, The Lansdowne, and Tony C's. They all offer drink and food deals. Shop around to find the shortest line or best promo. Compared to most other baseball parks, the area around Fenway offers great food variety within 5 minutes or less of walking.
The Bleacher Bar, which opened in 2008, is actually located inside the Green Monster but is open year round. There is a garage door with a view of the outfield. You need reservations to get in here.
Food in Fenway You Shouldn't Miss
Jersey Street, (called Yawkey Way until 2018) is the pedestrian street between Gates A and D, and features a variety of street vendors selling food and beverages. During summer evenings, this area is packed with excited folks enjoying a drink before cramming in the tiny park. Keep your eyes out for the numerous sausage vendors: prices outside the park are slightly lower than just a few meters inside.
Yawkey Way and the Championship Banners – via Flickr user dannymac15_1999
Lansdowne Street runs behind the Green Monster. Like Jersey Street, there are a number of cheap, handheld food options available. Just make sure to keep an eye out if you're there during batting practice, as balls sometimes make their way out.
Fenway Park Seating Chart
We've created the seating chart of Fenway Park above to help you better understand some of our recommendations below. Feel free to download this image and use it, we just ask that you credit Ballpark Savvy and link back to the page where you found the image.
Cheap Red Sox Tickets (the Real Curse of the Bambino)
Tickets to Opening Day, Yankees games, and any other marquee match-ups are difficult to find. A couple of years ago, any tickets were difficult to find. As of now, you can buy tickets directly from the Red Sox for most games, without paying second-hand mark-up. Summer can be more difficult if you wait until the last minute.
**WARNING: OBSTRUCTED VIEW AT FENWAY MEANS "SERIOUSLY BLOCKED VIEW."**
SPECIAL RED SOX WARNING: Always check to be sure your seats are not obstructed BEFORE you buy. This applies when you buy direct from the Red Sox, but is especially true when buying third party. Not everyone listing on a third party site is honest about obstructed seating.
At this point, nearly every Major League team has some kind of variable pricing model where depending on how in-demand a game is, the ticket prices you'll pay at the gate may go up or down.
Sometimes pricing varies from day to day, other times it is a more formal "tiered" structure where when they are playing a big draw team like the Yankees, you'll pay a premium price compared to a perennial ​bottom-dweller who might be in the "budget tier."
So rather than focusing on specific prices and sections which tend to change fairly often, I want to talk about general rules and strategies for getting the best deals on tickets. ​
1. Compare 3rd Party Sites
SeatGeek is a big time ticket comparison site that lets you compare a bunch of different ticket brokers, marketplaces, etc. and find the best price for the game you want to go to. They also have a tool that projects whether ticket prices will go up or down – AKA whether you should buy now or wait.
Load more
Click here to view Red Sox tickets on SeatGeek.
2. Don't Buy Last Minute If You Don't Have To…
Sometimes it feels like Fenway is a tourist destination in downtown Boston almost as much as it is a working ballpark. As a result, tickets are hard to find, and tourists pay high prices (especially for marquee games) on the second-hand market.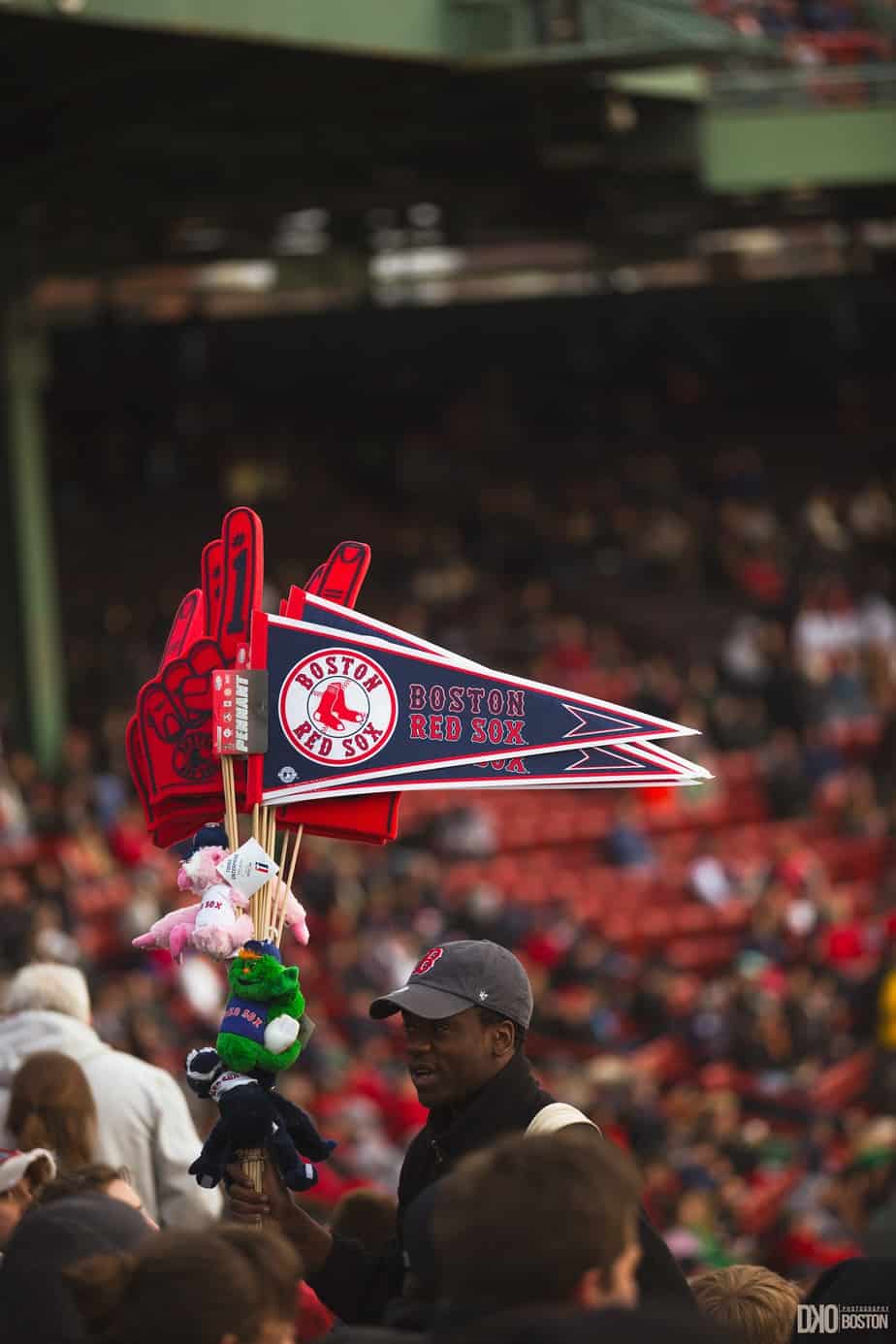 The Greatest Standing Ballpark – via Flickr users Dylan O'Dowd and Mr. Littlehand
If you've bought tickets online before, you've heard of StubHub. What you may not know however is that with the rise of print-at-home and tickets on your mobile phone via the Ballpark App that you can usually buy tickets right up to a couple of hours before game time.
As someone who has sold a fair share of tickets on StubHub, I also know that sellers are encouraged to set a declining price for their tickets. This means they'll set a starting price and then their lowest acceptable price, and StubHub will auto-magically lower the price of those tickets as the event date gets closer.
So in many cases, a game that isn't sold out will have plenty of below face value deals on StubHub that you can snatch at the last minute and then either print at home, or just use the App on your phone to get scanned into the game.
Save $5 On Last Minute Tickets: I recently learned about the Gametime app and it's legit. Save BIG on last minute tickets. Click here to get the app and you'll get $5 off your first order.
3. Avoid Craigslist
It's not to say that you can't find ticket deals on Craigslist, you can. It is just more of a peace of mind, safety issue. I'm a Craigslist kind of guy, but I also know it's easy to get screwed buying baseball tickets there.
Remember when I mentioned selling on StubHub? When you list tickets there, all you need to know is the barcode number from that ticket along with the other details on section, row, etc. – So when I sell tickets I never mail them to the buyer, they just print them at home and my actual tickets become void.
Empty Fenway – via Flickr user Eric Kilby
If I was a shady character, I could go sell those void tickets to an unsuspecting buyer on Craigslist for cash. The tickets look real, they are "real" in a sense – but what that buyer will find out is when they go to enter the stadium, the ticket scanner will say "thou shalt not enter thy game."
Don't be that buyer.
Stick to buying tickets from SeatGeek, StubHub, or directly from the team. You can still get deals and you never have to worry about being scammed.
Worst Value Seats at Fenway
**WARNING: OBSTRUCTED VIEW AT FENWAY MEANS "SERIOUSLY BLOCKED VIEW."**
It's rare to see me write a "worst seats" section because modern parks are built to avoid complete blockages and "bad views". Well, Fenway is not a modern ballpark. Out-of-towners often arrive to find massive disappointment at their seats.
Fenway's Fantastic Obstructed Views – via Tripadvisor
Another thing you might want to check before buying your seats: are they made of wood? The grandstand is also infamous for the navy blue wooden seats that have been in place since 1933. These wooden seats are extremely narrow and have virtually no leg room. You are now warned.
Fenway's Iconic Wooden Seats – via Flickr user Stewart Dawson
In fact, our tour guide said that one reason they are hesitant to replace the old seats with newer stadium seats is that Fenway Park would lose about 4,000 seats. That is incredible. All Grandstand seats, sections GS1 – GS33, are made up of small wooden seats. I guess it might add to the historical feel of your experience; just plan on being snuggled up with your neighbors in the stands.
Best Value Seats at Fenway
The Red Sox usually offer General Admission, AKA Standing Room Only tickets. I will tell you right now that not all "SRO" tickets are created equal. If you just buy the standard SRO tickets, you are wasting your money. Because of the large number that are sold, you can end up standing in a line of people on the lower level, with not much room to maneuver.
You are much better off buying SRO tickets on the Pavilion level, and there is a difference. Jake got Standing Room tickets on Stubhub in the Right Field Pavilion for $60 each, which was a little more than double face value.
Fenway holds fewer than 38,000 fans – via Flickr user ChrisDag
While tickets can be expensive for the Green Monster, the team offers promotions regularly. It's an experience worth planning ahead to afford. My husband and father sat in the Green Monster and ended up on the game broadcast when a ball was hit right at their seats. You are really high up but closer than you realize to the action.
The corner of the Grandstands near the Green Monster also feature great views for discount prices, especially in sections GS32 – GS33. These sections are not covered, which is unfortunate during rain, but it also means that the original seats long deteriorated due to weather. The result is comfy plastic seats at a reasonable price. These two sections, however, are "family sections," meaning that alcohol cannot be consumed.
Where to Stay While Visiting Fenway
My favorite way to travel to a baseball game is to stay as close to the stadium as possible and walk or take an Uber so I don't have to fool with parking in a strange place. So many ballparks have great hotels within walking distance making it easy to stay nearby.
I use Tripadvisor to find a hotel with good reviews near any ballpark. I prefer this option over any other because I actually search for the park I am visiting and Tripadvisor gives me hotels, restaurants, and other attractions near there. Fenway is located in Boston and the city is packed with stuff to do and see.
Obviously, there are a lot of hotels in Boston, but I can search for Fenway Park here and get the 10 Closest hotels to Fenway and then pick what I want based on ratings and prices. This saved me a lot of time and I didn't end up getting ripped off on the price or end up in a sketchy place where I didn't feel safe.
The closest hotels do not always come with the lowest cost but you get what you pay for when it comes to accommodations. Remember that you aren't paying for parking or transportation.
My favorite way to travel to a baseball game is to stay as close to the stadium as possible and walk or take an Uber so I don't have to fool with parking in a strange place. So many ballparks have great hotels within walking distance making it easy to stay nearby.
Boston hotels are wicked expensive. However, The Verb Hotel is super close and has great prices. rock and roll themed. This is actually the closest hotel to Fenway. My husband and my dad stayed here when they spent a weekend going to Red Sox games and they said this hotel was perfect.
The Eliot Hotel is half a mile from Fenway. It is a historical hotel and NOT budget friendly. Not a lot in Boston is budget friendly so I have it here in case you want to go for the old school Boston experience still near Fenway.
Hilton Boston Back Bay is not much more of a walk from The Eliot and it costs less for sure. This is a more modern hotel with great amenities and is centrally located. You are really only about 3 blocks from the park here.
Free Stuff at Fenway
1. Jersey Street – Just hang out here before the game and enjoy the atmosphere. It is part of being at a Sox game. It feels old school like everything else at Fenway.
2. Autography Alley, located in Yawkey Way off the Official Team Store, hosts at least one former Red Sox player or member of the organization before each game. Wait in line and get a free autograph! With so many parks not allowing autographs of any kind right now, this is super cool.
3. Red Sox Hall of Fame – While not impressive for a team of such stature, it includes plaques to notable players. The hall is located in the Dell EMC Club hallway on the lower level behind home plate.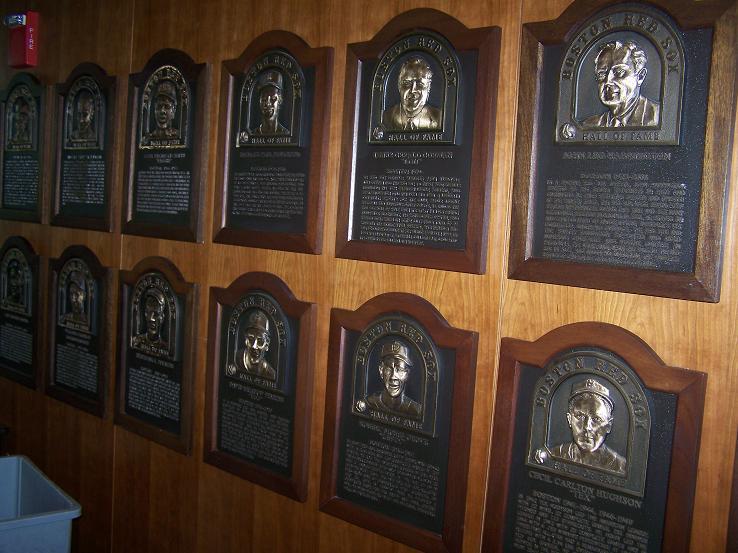 The Red Sox Hall of Fame – via Flickr user Jamie Baker
4. Throughout Fenway, there are many historical or hidden easter eggs. Look for the inspirational Ted Williams statue outside the right-field gate, where he puts his cap on a young fan after a game. Check out the original ticket booths which sit, unmanned, inside Gate A. Murals of old team logos and historic teams decorate the brick walls. True Boston fans will hunt for the stairwell which hosts framed theatrical posters of all the movies which feature scenes filmed in Fenway. Scan section 42 for the lone red seat, the site of the longest home run in Fenway history. Even the foul poles have names and plaques telling their stories.
Ted Williams and the Red Sox Greats Guard the Park – via Flickr user Jennifer Boyer
5. Take the Tour at Fenway – This is NOT FREE. But seriously, this is the coolest ballpark tour of all. Buy a ticket. See inside the scoreboard. You get to experience the view from the Green Monster even if you couldn't snag Green Monster tickets. The baseball history here is amazing and if you are a baseball fan, you will geek out during this tour.