Last Updated: September 6th, 2023 by Aaron Gwynn
Note: this article may contain affiliate links. If you make a purchase using one of these links, I may be paid a referral fee at no expense to you.
Dodger Stadium is situated in the beautiful Chavez Ravine and hosts a very well-paid team that has become the dominant force in the MLB in recent seasons. It's worth dodging the traffic for a glimpse of Hollywood's team. However, if you arrive for the opening pitch, you might be the only person in your section as the LA-set tend to show up in the 5th inning once they've completed all of their extremely important business.
The Symmetry of the Park is Magnificent, as are the Views of the Ravine – via Flickr user Josh McConnell
Things You Shouldn't Miss
Think Blue – or at least that's what the Blue Crew hopes, with letters reminiscent of the Hollywood sign out past the parking lots.
Keep an eye out for super-sized Bobbleheads, sometimes outside the park, sometimes in the kid's area.
Each tier of seating has its own color, creating a neat rainbow effect if you come early before everyone sits down.
All the different kinds of fans! I was in LA a few years back for the World Baseball Classic, and it was truly remarkable to see all the people rooting for their home countries. At a typical Dodgers game, you'll have the chance to speak about 20 languages, ¡so take advantage para practicar tu español y más!
Ways To Save Money
Take Uber instead of parking. Click here to get a free ride.
Take a soft cooler of food & drinks with you.
Stay close by and walk to the stadium. Click here to see our favorite hotel near Dodger Stadium.
Click here to reserve a cheap parking spot in advance.
There are a lot of parking options you can find on SpotHero around the stadium that are relatively cheap, and some free parking options further afield. Traffic, though.
I cannot overemphasize it. TRAFFIC.
There is not a bad seat in the house, which is a good thing, because you'll want the cheap seats. With 56,000 good seats to be had, focus on what's available rather than what isn't. Nonetheless, the resale market is crazy, and for big games (and Giants games), try SeatGeek to keep prices reasonable.
You can bring in your own food, which is great, because prices are Hollywood high, but you will probably end up buying a Dodger dog, just so you can take a side in one of baseball's most persistent debates.
Keep in mind that since the pandemic, Dodgers stadium has gone totally cashless, so bring those cards!
Dodger Stadium is the third oldest park, and has seen its share of history. It also does a decent job of representing the franchise, so the stadium serves as its own baseball history.
Think Blue with the Blue Crew of Hollywood – via Flickr user woo
Los Angeles is famous for many things and it is infamous for traffic and being over-priced. The traffic may be tough to avoid, but going to a Dodger game doesn't have to be that pricey.
Arriving at Dodger Stadium
Alternative/Public Transportation to a Dodgers Game
All public transport options to Dodger Stadium first require you to get to Union Station. In some way or another, all Metrolink subway lines connect to Union Station, as do the LAX shuttles and Amtrak trains from further afield.
Union Station is the Transport Hub for Your Trip – via Flickr user Paul Sullivan
From Union Station, you go directly to the game for free via the Dodger Stadium Express.
The shuttles leave from Union Station every 10 minutes starting 90 minutes before the game and they return continuously from the same drop-off point up to an hour after the game. You do have to show your ticket to the game in order to get the shuttle ride for free (it's a couple of bucks if you don't have a ticket yet). Plus, they are wheel-chair accessible!
Then, from Union Station, you go directly to the game for free by the Dodger Stadium Express Shuttle.
Some people hate public transportation, and LA's isn't the best. And sometimes the pain of sitting behind the wheel in traffic is too much to bear. Uber is incredibly popular for Dodgers games, so much so that the stadium opens up Sunset Gate A to Ubers and other car services, and has a pick up spot for passengers in Lot 12. This makes it easier to get in your Uber and make your get-away. If you haven't used Uber before, get your first ride free.
Driving to a Dodgers Game
Keep in mind when driving to the game that you have to factor in LA traffic. If you are from out of town you may underestimate this because you live somewhere normal. I have a reader that recently took my advice and found free parking, but they had about a half hour trip turn into a 2 hour trip because of traffic. You have been warned.
My number one choice if going to Dodger Stadium would be searching for free parking. One such spot is in front of the hospital on Stadium Way, which is just outside the Elysian Park Ave. entrance to Dodger Stadium.
The Parking Lot of the Small Barlow Respiratory Hospital is Empty Most Evenings
Another good free parking opportunity at a Dodger game is down on Sunset Ave. You'll have a little bit of an uphill walk, but you may want to stop by a convenience store on the way and pick up some snacks and drinks to take in with you. This is the ol' 2 birds with one stone method – save on parking and food at the same time.
An additional benefit to parking for free a little bit farther away is the lack of parking lot traffic after the game. You can also park for free near Dodger Stadium at Academy Rd. which is right off of the 110 Freeway. The curb parking is just past Park Rd. and North of Solano Canyon.
There are tons of Free Curb Parking on the Winding Roads around Solano Canyon North of the Stadium.
A third place to look for free parking at Dodger Stadium is on Academy Way just off of Interstate 5. In my opinion that may be your safest option because you are right next to the Police Academy and there is a decent amount of free parking to be had.
Finally, there are Street Parking Options and Open Lots Near the Police Academy.
That being said, there is a ton of parking around Dodger Stadium, and some of it is very, very reasonably priced. You can prepay through the Dodgers themselves. Or prepay your parking and shop for the best prices by using SpotHero, which allows you to compare prices and locations. This could be of massive importance if you want to plan an escape route before you go to avoid traffic.
Best Food At & Near Dodger Stadium
Save Money on Food
If you want to save some money you can take food and sealed plastic bottled beverages into the park. The Dodgers have this policy and it is a great way to save money – ballpark food prices are insane in LA.
Same basic rules as other parks: only soft coolers up to a certain size, no cans or glass, no sharp objects. And you can't bring in alcohol.
Don't Try to Deny That You Want to Be a Part of It All – via Flickr user Bryan Kemp
More likely than not, you are gonna spend at least a few bucks on the relatively cheap, ubiquitous, and famous Dodger Dog. Dodger stadium is of course famous for the Dodger Dog, even though it is of questionable superiority to other generic dogs. If you are going from out of town or visiting the ballpark for the first time, you should probably try one just so you can weigh in on the debate.
Food You Shouldn't Miss at Dodger Stadium
Don't worry, though – if Dodger Dogs aren't for you, there are a number of delicious options at Dodger Stadium. They come, of course, at Hollywood prices though, so you've been warned.
1. Think Blue BBQ: this BBQ joint in the Left Field Pavillion area is worth ignoring the dogs for. The BBQ Wing Deal is reasonably priced, and gives you 15 of some of the best dark and smoky wings in all of baseball. The pulled pork sandwich with onions on a potato roll also can't be denied. The best sausage in the park is their Shock Top pork sausage with peppers.
The Left Field Pavillion Offers Many Food Options, Including Great BBQ
2. LA Taqueria – Every LA venue has to have good Mexican food, and you can find the Dodgers near sections 13, 46, and 167. Vegetarians can enjoy the light and flavorful Salsa Verde Nachos with fresh cotija cheese. The chili topped beef tamales will make you feel a little guilty that you enjoyed that much cheese at a ballpark, but the champion is the Carne Asada fries, layering with spicy beef and cheese over fries in the mini-souvenir batting helmet. Other Mexican specialties include horchata and micheladas for those hot summer days.
3. Veggie food galore. Dodgers stadium is absolutely one of the best stadiums in the MLB if you're vegetarian, vegan, or just hoping to clog your heart valves slightly less while at the game. Options include veg sausages, veg Dodger dogs, esquite, cheese fries, and a portobello mushroom burger.
4. Taco Tuesdays are highly recommended with special offerings and cheaper prices so you can get the legit-Los Angeles experience while at the game.
5. They have garlic fries too . . . maybe not as good as the ones in San Francisco, but that's just another piece of the rivalry.
Dodger Stadium Seating Chart
We've created the seating chart of Dodger Stadium above to help you better understand some of our recommendations below. Feel free to download this image and use it, we just ask that you credit Ballpark Savvy and link back to the page where you found the image.
Cheap Dodgers Tickets
At this point, nearly every Major League team has some kind of variable pricing model where depending on how in-demand a game is, the ticket prices you'll pay at the gate may go up or down.
Sometimes pricing varies from day to day, other times it is a more formal "tiered" structure where when they are playing a big draw team like the Yankees, you'll pay a premium price compared to a perennial ​bottom-dweller who might be in the "budget tier."
So rather than focusing on specific prices and sections which tend to change fairly often, I want to talk about general rules and strategies for getting the best deals on tickets. ​
1. Compare 3rd Party Sites
SeatGeek is a big time ticket comparison site that lets you compare a bunch of different ticket brokers, marketplaces, etc. and find the best price for the game you want to go to. They also have a tool that projects whether ticket prices will go up or down – AKA whether you should buy now or wait.
Load more
Click here to view Dodgers tickets on SeatGeek.
2. Buy Last Minute
If you've bought tickets online before, you've heard of StubHub. What you may not know however is that with the rise of print-at-home and tickets on your mobile phone via the Ballpark App that you can usually buy tickets right up to a couple of hours before game time.
Save $5 On Last Minute Tickets: I recently learned about the Gametime app and it's legit. Save BIG on last minute tickets. Click here to get the app and you'll get $5 off your first order.
As someone who has sold a fair share of tickets on StubHub, I also know that sellers are encouraged to set a declining price for their tickets. This means they'll set a starting price and then their lowest acceptable price, and StubHub will auto-magically lower the price of those tickets as the event date gets closer.
The Park is Beautifully Situated in the Ravine – via Flickr user Corona
So in many cases, a game that isn't sold out will have plenty of below face value deals on StubHub that you can snatch at the last minute and then either print at home, or just use the App on your phone to get scanned into the game.
3. Avoid Craigslist
It's not to say that you can't find ticket deals on Craigslist, you can. It is just more of a peace of mind, safety issue. I'm a Craigslist kind of guy, but I also know it's easy to get screwed buying baseball tickets there.
Remember when I mentioned selling on StubHub? When you list tickets there, all you need to know is the barcode number from that ticket along with the other details on section, row, etc. – So when I sell tickets I never mail them to the buyer, they just print them at home and my actual tickets become void.
If I was a shady character, I could go sell those void tickets to an unsuspecting buyer on Craigslist for cash. The tickets look real, they are "real" in a sense – but what that buyer will find out is when they go to enter the stadium, the ticket scanner will say "thou shalt not enter thy game."
Don't be that buyer.
Stick to buying tickets from SeatGeek, StubHub, or directly from the team. You can still get deals and you never have to worry about being scammed.
Best Value Seats at Dodger Stadium
Los Angeles Dodgers tickets are fairly affordable compared to other large market teams. You can sit in the upper deck for less than twenty bucks, which is cheaper than many upper deck tickets in smaller markets.
There are some stadiums where I would suggest ponying up the cash to get some better seats than the upper deck, because the value trade-off isn't worth it. Dodger Stadium is not one of those places. In fact, the upper deck views from behind the plate are some of the best you can find. You will have a breath taking view of the surrounding hills, trees, etc. as well as the gorgeous SoCal sunset.
Upper Deck Views Can Be Outstanding, and the Rainbow is Great Before People Take Their Seats – via Flickr user Eric Kilby
I personally like some nose bleed seats when it enhances your view of the surrounding area, Chavez Ravine is clearly one of those ballparks – a bargain seekers dream in my opinion.
For the same amount of money you can sit in the pavilion, but it might not be as smart of a move. If there are obnoxious fans at Dodger Stadium, they tend to sit in the outfield pavilion seats, and Dodger Stadium is famous for its ugly fan behavior. The park has instituted new security measures to prevent violence. You won't by any means be overwhelmed by these trash-talkers, but we have all been there when you happen to get seats right next to a jerk – it ruins the game. Added to this, I've sat in those bleachers many-a-time, and by the end of the game, the metal bench-style seating can really do a number on your back! Dodgers stadium doesn't have great views when you're not in your seat, so it pays to be comfy from the 1st inning.
The Ballpark Sits Just Outside the Cityscape – via Flickr user Ron Reiring
Where to Stay While Visiting Dodger Stadium
My favorite way to travel to a baseball game is to stay as close to the stadium as possible and walk or take an Uber so I don't have to fool with parking in a strange place. So many ballparks have great hotels within walking distance making it easy to stay nearby.
I use Tripadvisor to find a hotel with good reviews near any ballpark. I prefer this option over any other because I actually search for the park I am visiting and Tripadvisor gives me hotels, restaurants, and other attractions near there. Dodgers Stadium is located in Los Angeles and the city is packed with stuff to do and see.
Obviously, there are a lot of hotels in Los Angeles, but I can search for Dodgers Stadiums here and get the 10 Closest hotels to Dodgers Stadium and then pick what I want based on ratings and prices. This saved me a lot of time and I didn't end up getting ripped off on the price or end up in a sketchy place where I didn't feel safe.
The closest hotels do not always come with the lowest cost but you get what you pay for when it comes to accommodations. Remember that you aren't paying for parking or transportation.
Super 8 Los Angeles Downtown is the closest and while it is nothing fancy, it has good reviews and you can walk to the ballpark from here. It also comes with free breakfast and I love free food.
The Doubletree by Hilton Los Angeles Downtown is about two miles away. Take an Uber if you want to stay at this hotel with much nicer rooms and amenities. This hotel is centrally located if you have other plans in town and not far from the airport either.
Free Stuff at Dodger Stadium
1. Dodger Stadium Tours: First off, this *isn't* free stuff. At every other ballpark in the entire MLB, the Hall of Fame/Memorabilia Area (if they have one) has been free to ticket-holders on game-days. The Dodgers charge you for EVERYTHING. So you have to go on a paid tour of the stadium to see the museums and exhibits.
However, the hallways full of trophies alone are worth the tour ticket price. The exhibits on Jackie Robinson and countless other Brooklyn and LA Dodgers are worth the tour ticket price, but man. It is sad and frustrating to see the Dodgers charge for everything. Even the Yankees share their history for free, Blue Crew. I guess someone has to pay for those crazy salaries??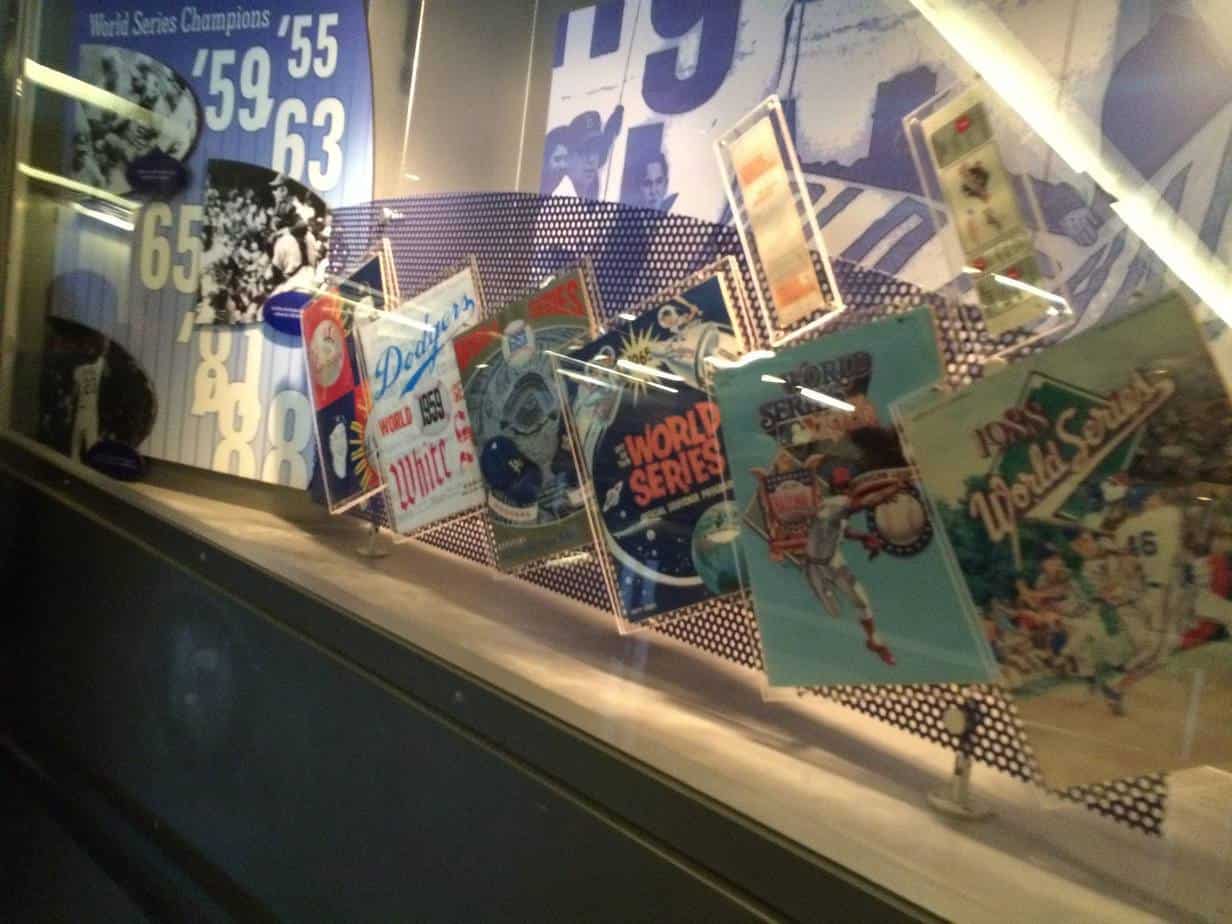 You'll Be Glad You Went, Just Annoyed You Had to Pay – all images via Flickr user Josh McConnell
2. Kids Club: Many ballclubs charge admission into their "kids' club", but becoming a Jr. Dodger is free for any kid 14 and under. In order to find the next Vin Scully, they have a really cool Jr. Broadcaster program that gives kids some great opportunities to call ballgames or conduct interviews.
3. Special Numbers: Outside the park, find the statues of oversized retired numbers of Dodger Hall of Famers. Those same numbers are hanging up past the outfield at the Pavilion level. You can also find lots of other significant Dodgers numbers hidden around on the outfield walls: 104 (stolen bases by Willis in 1962); 382 (strikeouts by Koufax in 1965); '59 (first World Series win), etc.
Check Out the Retired Numbers Outside and Inside the Stadium – via Flickr users Josh McConnell and Ken Lund
4. The Jackie Robinson Statue: no other player has had more impact on the game than Jackie Robinson, a Brooklyn Dodger. beginning his career in 1947. His statue was unveiled on Jackie Robinson day on April 15, 2017 and is the only player statue in all of Dodger Stadium.
5. Fireworks! After nearly every Friday night game, there is a free fireworks show. When I'm in town, I always aim to get tickets for those nights for some bonus entertainment.