Last Updated: September 6th, 2023 by Kristen Douglas
Note: this article may contain affiliate links. If you make a purchase using one of these links, I may be paid a referral fee at no expense to you.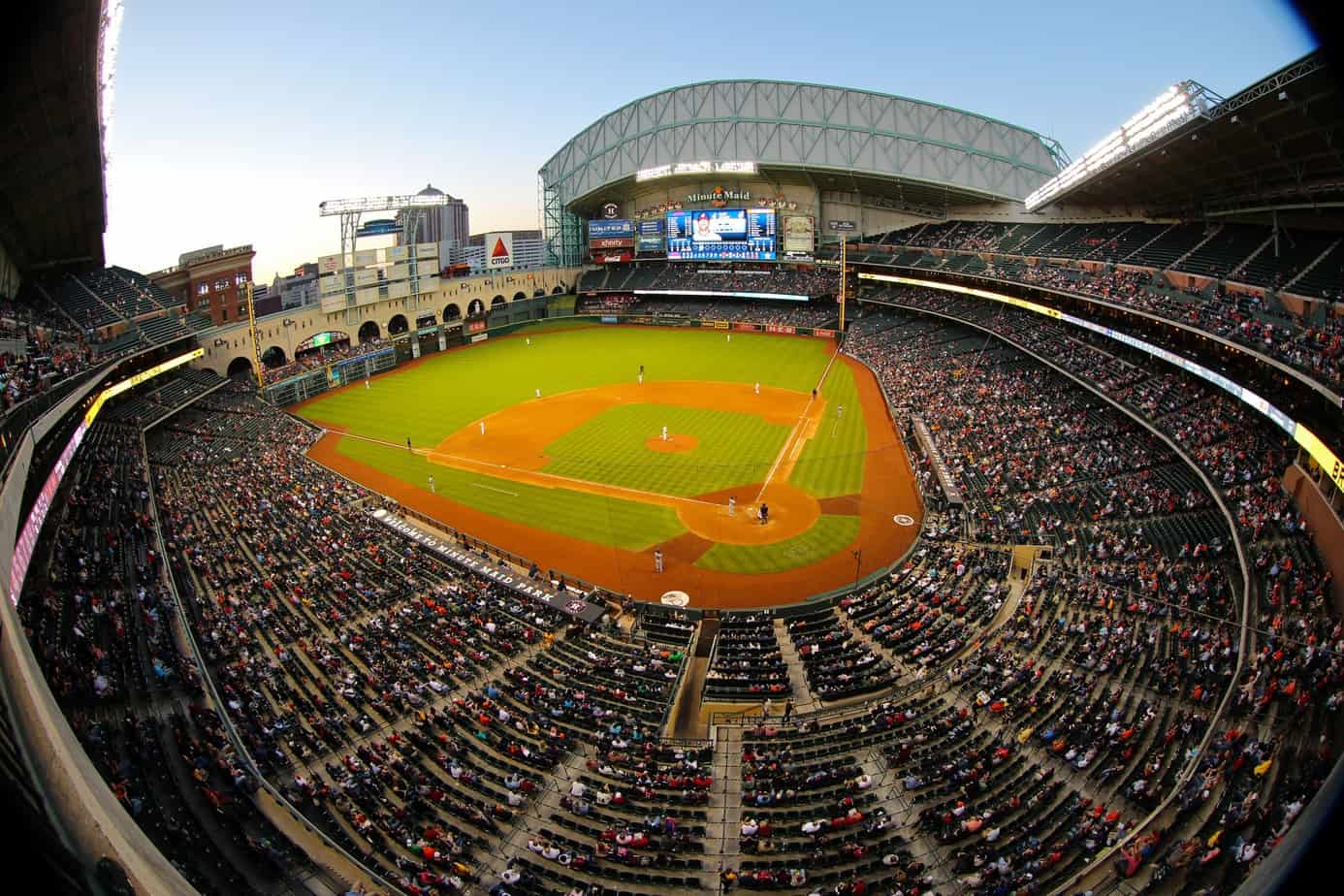 When Open, the Roof Creates a Strange Skyline for the Park – via Flickr user Roy Luck
Minute Maid Park is the home field of the equally loved and loathed, Houston Astros. This retractable roof stadium is pretty big and you can check out an Astros game without breaking the bank. Check out these tips and tricks to see the Astros at home in downtown Houston without spending more than you have to spend and save time planning your visit to Minute Maid Park as well.
Things You Shouldn't Miss
No other park features its own train , running from center field to left. It's even conducted by an actual person. This train is a replica of a 19th century locomotive and was put in the park as a nod to the importance of the railroad in creating the city of Houston.
Keep an eye out for Orbit, the Astros' mascot. He's well known by fans around baseball for his antics and dance skills.
The Light Rail is not super convenient, so parking is important. But there are tons of street parking options and extremely cheap parking lots, best reserved through SpotHero. When parking, look out for signs or banners with the baseball "P" that designates public parking. There are tons of parking garages and businesses that offer affordable parking as well.
The cheap seats are shockingly cheap and not too bad, so save the cash for food and concessions. Check out SeatGeek for Opening Day and big games against the Rangers.
This is one of those rare parks where you can't bring in your own food. So either enjoy some food before you arrive, or plan to pay at the park. There are some great food options in the park, especially on the club level.
Choo-choo! – via Flickr user Eric Kilby
Arriving at Minute Maid Park
Alternative/Public Transport to an Astros Game
Another option depending on which direction you are coming from is the light rail system . Houston's light rail has various park and ride locations where you can park for free or really cheap, and then pay a couple of bucks to ride into downtown. The stop you are looking for is Main Street which is about 6 blocks from the stadium.
The purple and green lines both stop at the Convention District Capitol light rail station. This is the closest station. If you are riding the red line, Preston Station is the closest to the "Juice Box", but it's still a 6 block walk after.
Something else worth considering if you want to park for free at the Astros game is the free shuttle to Minute Maid park from Ninfa's. This is a Mexican place that does a free park and ride for patrons to Astros games and Rockets games.
Ninfa's Offers Great Mexican Food and a Free Shuttle Service
Rally is a national shuttle company and you can take a rally bus to Astros games by yourself or with a group of friends or family. Their buses are super nice and you can leave the driving to someone else.
If you want to skip public transportation, but don't want to drive, Uber is a great option. The best place to meet your uber is the taxi stand located on Avenida de las Americas near Texas Avenue, just one block South of Minute Maid Park. If you have never used Uber, get your first ride free here.
Driving to an Astros Game
Street parking is a cheap option. There are metered spots right next to Minute Maid Park which you should avoid, these spots will tow after 6pm on a game night because of their proximity to the stadium. Your best bet is to shoot for parking meters at least a few blocks away. If you get there around 5 pm (or 2 hours early) you should be able to feed the meter a buck or two to get you past 6 o'clock, at which point you are good.
If you are planning on paying a little bit to park, you can definitely do it for about the price of a beer. I would still recommend sticking to the plan of arriving early, because not all parking is created equal. One great lot with a pretty limited availability sits on Avenida de las Americas right next to the Convention Center.
The Parking Garage on Avenida de las Americas Across from the Convention Center
Either way, there are an estimated 25,000 spots within walking distance, so I would look on the street first, and then drive some blocks in search of cheapo lots. I would say that greater than 80% of the time you can get it done for a beer or less.
Another solid option for Astros parking is using SpotHero. This site lets you pre-pay for a space in various garages/lots so you don't have to stress about where to park. It is a pretty cool concept and you can find some cheap deals for sure. It is especially helpful when you are going to a game that is supposed to be a big crowd.
Here are reservable parking spots available for upcoming games, just click the date you need:
Best Food At & Near Minute Maid Park
Save Money on Food
The fan favorite and most simple way to save money on food is to carry in your own food. In the past, you could not bring in outside food here but this park is much more family-friendly allowing fans to bring in food that fits in a clear gallon-sized bag (Ziplock). For drinks, you can only carry in a sealed bottle of water that is one liter or less. One bag of food and one bottle of water per guest is allowed. Concession prices are always ASTROnomically high at Minute Maid Park, but there isn't a shortage of bars and restaurants around the stadium which can save you some money before or after the game.
More Likely Than Not, You're Stuck with Ballpark Grub – via Flickr user M&R Glasgow
There are some options to stick to a budget in the stadium. For example, Tuesdays are $1 Hot Dog Night. Buy a domestic beer instead of the local microbrews. We all have to choose our sacrifices. You can also purchase the Coca Cola Ballpark Bundle for games on Monday through Thursday. For $21 your ticket includes a hot dog, soda, and a popcorn.
More Likely Than Not, You're Stuck with Ballpark Grub – via Flickr user M&R Glasgow If you search the area and find a place you want to try, I would give them a call beforehand to see if they have parking or a free shuttle to the game as some places in the area do.
Minute Maid Park is cashless, most parks are now. Bring credit/debit cards or use google or apple pay.
Food You Shouldn't Miss at Minute Maid Park
1. You need BBQ: You're in Texas. Eat Texas BBQ. This seems obvious. What doesn't seem as obvious is that you will want to focus all your attention on the BBQ brisket-topped baked potatoes. Check them out by section 306. Killens BBQ in Section 224 serves up pork belly on a stick!
2. Get Some Tex Mex: You're not too far from the border, so enjoy the delicious, authentic flavors of the southwest. Try El Real Tex Mex by section 215 or on the main concourse near section 125. Make sure you try the towering nachos with their marinated chicken or beef. Also, try El Tiempo Cantina on the Mezzanine for a ridiculous margarita and sizzling fajitas.
El Real Tex Mex is a Local Favorite in Houston
3. Club Level Restaurants: If you are looking to splurge and have tickets for the club level, check out some of the options. The Urban Bistro at section 226 offers a wide variety of high-end gastro-pub food to help you forget you are at a ballpark. Bake and Scoop by section 219 has delicious baked goods and high quality, creamy ice cream, but you go there for the cinnamon buns and just deny it later.
Minute Maid Park Seating Chart
We've created the seating chart of Minute Maid Park above to help you better understand some of our recommendations below. Feel free to download this image and use it, we just ask that you credit Ballpark Savvy and link back to the page where you found the image.
Cheap Astros Tickets
At this point, nearly every Major League team has some kind of variable pricing model where depending on how in-demand a game is, the ticket prices you'll pay at the gate may go up or down.
Sometimes pricing varies from day to day, other times it is a more formal "tiered" structure where when they are playing a big draw team like the Yankees, you'll pay a premium price compared to a perennial ​bottom-dweller who might be in the "budget tier."
So rather than focusing on specific prices and sections which tend to change fairly often, I want to talk about general rules and strategies for getting the best deals on tickets. ​
1. Compare 3rd Party Sites
SeatGeek is a big time ticket comparison site that lets you compare a bunch of different ticket brokers, marketplaces, etc. and find the best price for the game you want to go to. They also have a tool that projects whether ticket prices will go up or down – AKA whether you should buy now or wait.
Load more
Click here to view Astros tickets on SeatGeek.
2. Buy Last Minute
If you've bought tickets online before, you've heard of StubHub. What you may not know however is that with the rise of print-at-home and tickets on your mobile phone via the Ballpark App that you can usually buy tickets right up to a couple of hours before game time.
Save $5 On Last Minute Tickets: I recently learned about the Gametime app and it's legit. Save BIG on last minute tickets. Click here to get the app and you'll get $5 off your first order.
As someone who has sold a fair share of tickets on StubHub, I also know that sellers are encouraged to set a declining price for their tickets. This means they'll set a starting price and then their lowest acceptable price, and StubHub will auto-magically lower the price of those tickets as the event date gets closer.
So in many cases, a game that isn't sold out will have plenty of below face value deals on StubHub that you can snatch at the last minute and then either print at home, or just use the App on your phone to get scanned into the game.
The Park Feels Awkward with its Roof Closed – via Flickr user Roy Luck
3. Avoid Craigslist
It's not to say that you can't find ticket deals on Craigslist, you can. It is just more of a peace of mind, safety issue. I'm a Craigslist kind of guy, but I also know it's easy to get screwed buying baseball tickets there.
Remember when I mentioned selling on StubHub? When you list tickets there, all you need to know is the barcode number from that ticket along with the other details on section, row, etc. – So when I sell tickets I never mail them to the buyer, they just print them at home and my actual tickets become void.
If I was a shady character, I could go sell those void tickets to an unsuspecting buyer on Craigslist for cash. The tickets look real, they are "real" in a sense – but what that buyer will find out is when they go to enter the stadium, the ticket scanner will say "thou shalt not enter thy game."
Don't be that buyer.
Stick to buying tickets from SeatGeek, StubHub, or directly from the team. You can still get deals and you never have to worry about being scammed.
Best Value Seats at Minute Maid Park
The cheapest seats at Minute Maid Park are cheaper than a beer, which is pretty good. Personally, I think the rest of the ticket prices shoot-up pretty quickly from there. So those cheap seats may not be so cheap for a special event like Opening Day or a big series during the year. I have said plenty of times that the best value is not always the cheapest seat, but in this case I think it is.
If you are going with the cheapest seats, I would go for sections 405 – 407 in left field. Those last few sections are wrapping around the edge of the stadium and provide a nice view of the action. You also get an easy view of the scoreboard and the big screen, which I love. The jumbo trons provide so much good information and fun between innings that you can really miss a lot if you don't see it during a game, so for me its a must have.
Make Sure You Get Those Left Field Seats to See the Scoreboards – via Flickr user Eric Kilby
If you sit in the outfield seats in right, all of that is behind you which is inconvenient. Another cool thing from here is a view of the train behind left field which is a unique feature of Minute Maid Park.
This is also one of those stadiums where you can eventually move down to empty seats closer to the field. Just don't get too cocky and try to roll up on the front row. You will get stopped trying to pull that off.
Seats with Benefits at Minute Maid Park
Sometimes you just want a VIP experience and if you have the budget for it, here are your premium options for Minute Maid Park. There are four incredible Club seating areas at Astros games. Check out the Insperity Club used to be for media only. Now you can sit here directly behind home plate with in-seat wait service that includes food and drinks. All the Club level seating and suites in this park are top of the line. You are going to pay for it but you won't regret it!
Where to Stay While Visiting Minute Maid Park
My favorite way to travel to a baseball game is to stay as close to the stadium as possible and walk or take an Uber so I don't have to fool with parking in a strange place. So many ballparks have great hotels within walking distance making it easy to stay nearby.
I use Tripadvisor to find a hotel with good reviews near any ballpark. I prefer this option over any other because I actually search for the park I am visiting and Tripadvisor gives me hotels, restaurants, and other attractions near there. Minute Maid Park is located in downtown Houston and the city is packed with stuff to do and see.
Obviously, there are a lot of hotels in Houston, but I can search for Minute Maid Park here and get the 10 Closest hotels to Minute Maid Park and then pick what I want based on ratings and prices. This saved me a lot of time and I didn't end up getting ripped off on the price or end up in a sketchy place where I didn't feel safe.
The Westin Houston Downtown – image via Marriott.com
The closest hotels do not always come with the lowest cost but you get what you pay for when it comes to accommodations. Remember that you aren't paying for parking or transportation.
The Westin Houston Downtown is right next to Minute Maid Park but you are going to pay for it. If this place is within your budget, get a room here. It is the best place to stay if money isn't an issue. Minute Maid Park is in the heart of downtown Houston so the hotels are not budget-friendly within walking distance. That's alright, you can still stay farther away and commute to the game if you need to. Days Inn and Suites Houston Hobby Airport is 20 miles away but super cheap with free breakfast. If you are flying in for the game, you are close to the airport. There is a Holiday Inn Downtown that is under $200 for a room and they have a shuttle to and from Minute Maid Park, which is only about a mile away. This one also has a nice pool to cool off from the Houston heat.
Free Stuff at Minute Maid Park
1. Crawford St. Plaza: This area outside the Crawford St. gate, honors the memorable players with plaques, banners, and statues. Find Jeff Bagwell and Craig Biggio in bronze putting together a double play. Also, check out the neat baseball brickwork laid into the sidewalks around the plaza and the large concrete balls that line all the entrances.
2. Home Run Porch: Head out to the left-field deck and take home a free souvenir, if you can catch one. Even if you can't, find the old-fashioned Phillips 66 gas pump that keeps a running tally of every Astros home run hit at Minute Maid Park since 2000.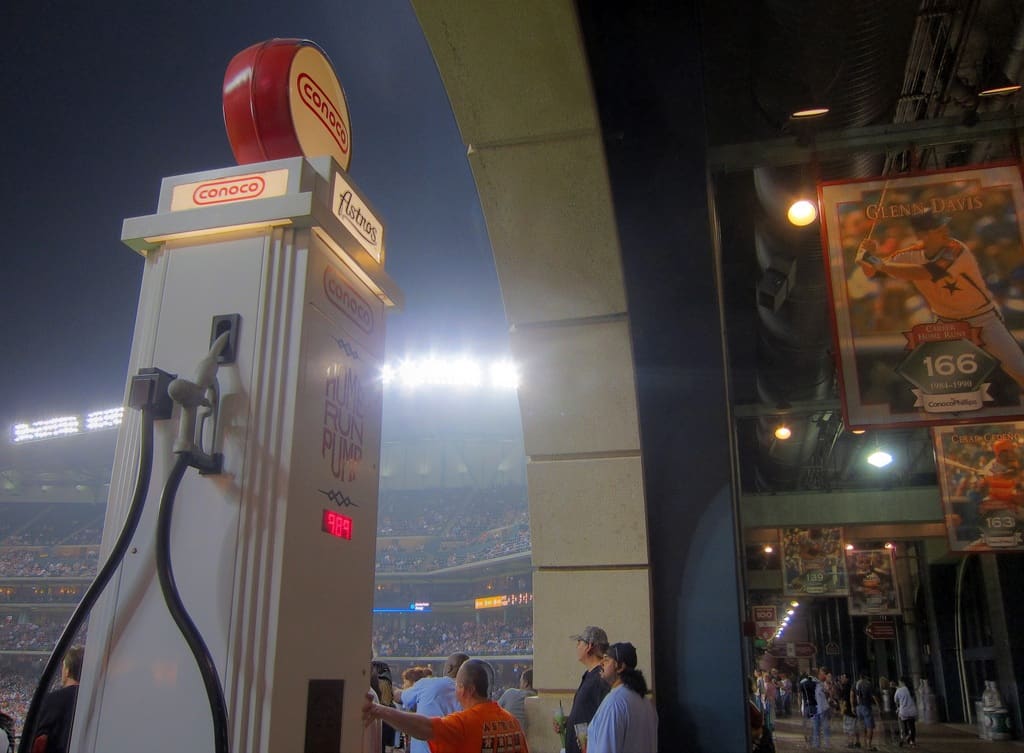 Adding the Home Runs Up Since 2000 – via Flickr user joevare
3. Gates open two hours before game time. Arrive early and you can watch batting practice for free. Bring a glove and you may be able to catch a ball!