Last Updated: September 6th, 2023 by Kristen Douglas
Note: this article may contain affiliate links. If you make a purchase using one of these links, I may be paid a referral fee at no expense to you.
Known as "The K," Kauffman Stadium is home to the Kansas City Royals. Thanks to some huge improvements to the tune of $250M in 2008-2009, Royals fans love this park. Actually, most ball fans who come here for a game love it because it is such a beautiful park. Kauffman Stadium has hosted the World Series twice and the MLB All-Star game. See below for tips on how to save money at Kauffman Stadium.
Day Games Allow for Serene Views Past the Fountains – via Flickr user reedracer
Things You Shouldn't Miss
You can't miss the scoreboard, several stories tall and shaped like the Royals' crest. The iconic fountains inside Kauffman Stadium are probably the most unique feature with changing colors and a waterfall. Occasionally fans get a little too excited and jump in but don't try this. It is not allowed and it won't end well for you.
Don't miss the statues of greats Frank White, Dick Howser, and George Brett on the outfield plaza.
Baseball buffs must make a side trip to the profound and well-curated Negro League Baseball Museum.
Ways To Save Money
Take Uber instead of parking. Click here to get a free ride.
Bring a ziplock bag of food and a sealed bottle of water in with you.
Stay close by and walk to the stadium. Click here to see our favorite hotel near Kauffman Stadium.
Use SpotHero to reserve a cheap parking spot in advance.
Either you drive and park, or you take an Uber. Those really are your only choices, unfortunately. Let SpotHero help with the parking situation.
Most weekday games are completely affordable. Fridays and Saturdays are the toughest to find deals, but you can get excellent value on sites like SeatGeek or StubHub.
If you want to save money, you can bring food that fits in a gallon size ziplock bag. Coolers, soft-sided or not, are not allowed anymore. All bags coming in with you have to be clear and the rules require the ziplock bag of individually portioned food when bringing in your own. Whether you eat it in the park or outside, you've got to try BBQ in Kansas City. I've heard it's a law.
Report this ad
Report this ad
Arriving at Kauffman Stadium
Alternative/Public Transport to a Royals Game
There really aren't public transportation options for Kauffman. There are buses, but they don't bring you that close to the park. This is a pretty huge inconvenience.
There aren't really any shuttles either. There used to be a Royals shuttle, but that's been discontinued. It seems one of the few options is Rally Bus, a fun choice. Rally has nice buses and if you use Rally when you visit other stadiums, your miles add up to earn credit for free rides.
You also have the option of using Uber, which allows you to enjoy drinks at the game. If you have never used Uber before, click this link to get your first ride free. The drop-off and pick-up area for rideshare services are in Lot A.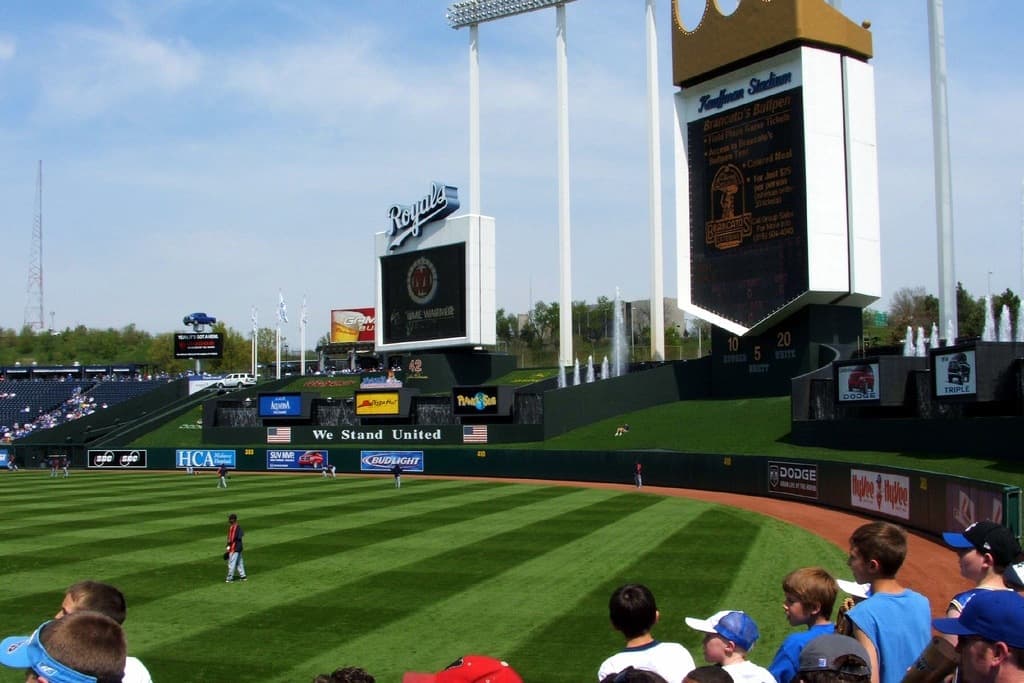 Report this ad
Report this ad
Kauffman Can Boast a Clean, Rural Look – via Flickr user Kelly
Driving to a Royals Game
Let's be honest, free parking around Kauffman Stadium is slim pickings. I know of people who go park at the Drury Inn and then walk to the stadium. I am sure by doing this you can be towed if the person working happens to notice and calls somebody.
However in my experience for similar situations is if people aren't abusing it, they won't notice or care. If you pull in and the lot is full and you get the sense that a lot of them are going to the game, you might want to use your judgment. Again, people who are big on free parking tend to live on the edge a little anyway, so if that is you give it a shot! I am curious if any of you have tried that.
Now that I am getting older by the day, I don't mind dropping some cash for parking and peace of mind. Whether you are a die-hard park for free guy, or if you don't mind paying but you want a good spot, I think I have you covered.
To those who don't mind paying, but you want to have the shortest walk possible, here are the options for the official lots. There are 8 General lots available. If you are coming from I70, you want to try to get to Lot C. Lots A and B are usually reserved for season ticket holders but Lot C is wide open for average schleps like me and you.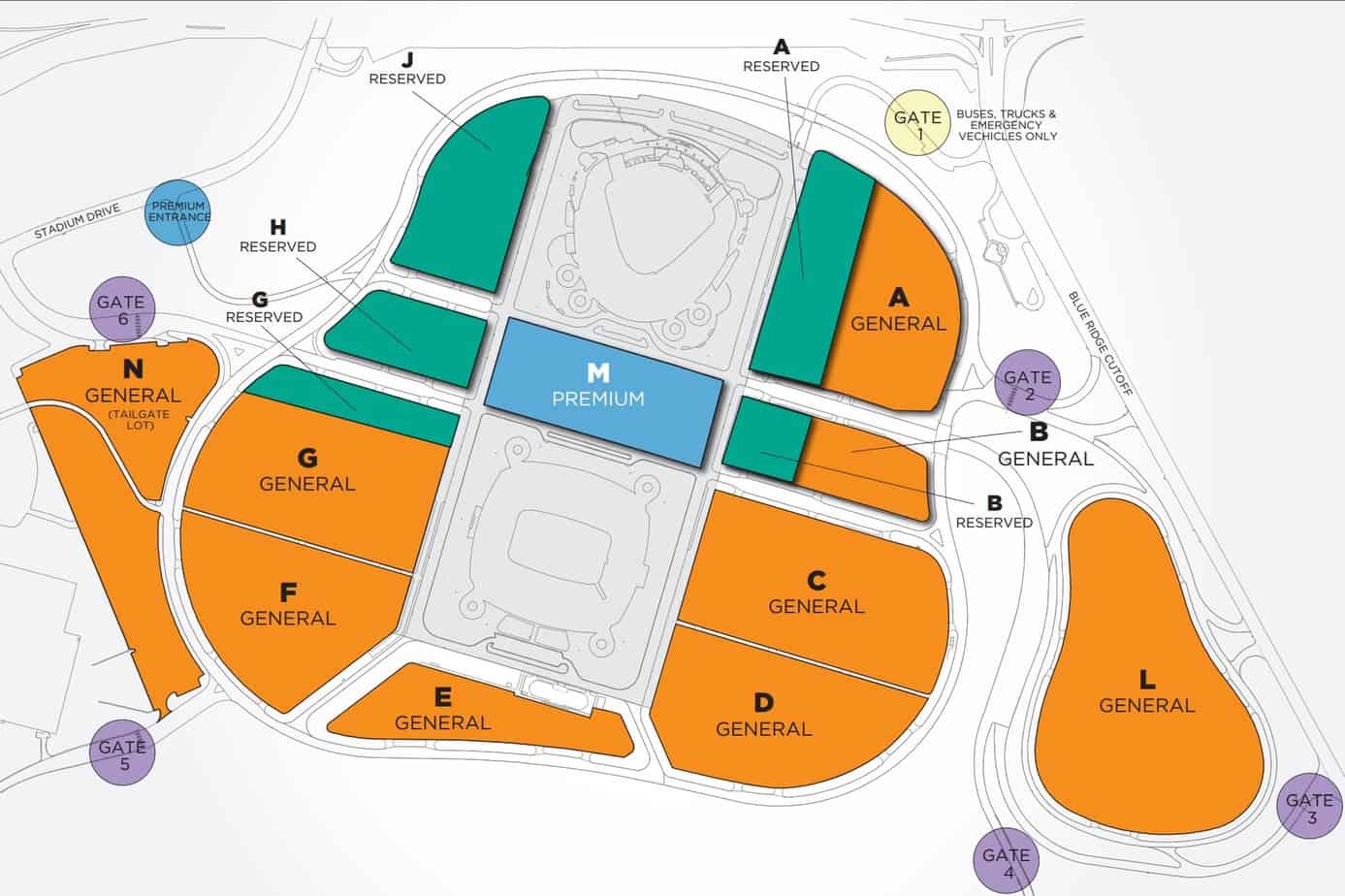 Report this ad
Report this ad
Most of Your Parking Will Be Directly Around the Stadium
Buy your parking pass for these lots in advance. Download the MLB Ballpark App and your pass will be on the app. When you pull up the gate at the lot you have your pass ready to go!
Depending on police direction you may have a hard time getting to Lot C, but here is your best shot. Stay in the furthest right lane as you approach the stadium. If the police make you go left, you will probably end up in Lot L in which case you might want to bring a Camelbak and some non perishable food items. It's not a guarantee this will work, but if you are paying $12 for official parking, this is your best shot to get close. Remember, stay right.
The best way to avoid stressing over parking is the use SpotHero. They let you compare all the prices in the area and pay ahead of time, leaving you to focus on the game. Remember that pretty much everyone is driving to the Royals game and traffic is a guarantee. Leave with plenty of time. THe gates open at least 1.5 hours before the game and there is a lot to see and experience so get there early to enjoy it all and skip the stress of being stuck on the highway when the game starts.
Report this ad
Best Food At & Near Kauffman Stadium
Save Money on Food
Kauffman Stadium has a very liberal policy on bringing food into the stadium. So bring your own peanuts and even pick up a fast food dinner to eat at the game. If Kansas City is like Cincinnati, you undoubtedly have fans who complain about "ballpark prices."
If you want to protest the high prices, bring your own food. The only catch is you do have to fit your food in a gallon ziplock bag. Clear bags are the standard in most stadiums now and so is the gallon bag for outside food. You can also bring in sealed bottles of water.
But you're in Kansas City – if you don't eat some BBQ, you haven't done right by the city. There are several Gates BBQ locations around the city, and you owe it to yourself to visit. They been putting out real deal for Kansas City BBQ for over 60 years.
Report this ad
Gates BBQ is a Delicious Duty to Any Visitor to Kansas City
If you are looking for a good cheap meal near Kauffman Stadium, check out Lobito's Steakburger and Mexican. It is affordable, delicious, and close to the ballpark.
Food You Shouldn't Miss at Kauffman Stadium
Remember we are talking about value, so this will cost you a little more but if you are going to buy something, don't spend 5 bucks on crap if 10 bucks can get you a flavor explosion. Do you know what I am saying?
1. Foodie Fans – for those who love big-name chefs, Andrew Zimmern of Bizarre Foods has two eating options in Kauffman Park. Check out Andrew Zimmern's Canteen Skewers by section 249 for kebabs of all sorts of meats. Andrew Zimmern's Canteen Links is a mobile take on the hot-dog stand, offering high-quality toppings and sides for a ballpark favorite.
2. Craft and Draft: out by section 301, this stop offers one of the best beer selections in all of MLB. Local brews, as well as international options, are available by the bottle and on tap, and there's so much variety that there's something for everyone.
3. Kansas City BBQ – There are two smokers continuously slow-cooking meat inside the stadium so all the vendors can keep serving up that BBQ everyone loves. There are lots of options like Nachos with brisket from the Miller Lite Fountain Bar, a brisket grilled cheese from Melt, Burnt End Mac 'n' Cheese from Sweet Baby Ray's, or a Classic BBQ sandwich from Rookie Sandwich.
Kauffman Stadium Seating Chart
We've created the seating chart of Kauffman Stadium above to help you better understand some of our recommendations below. Feel free to download this image and use it, we just ask that you credit Ballpark Savvy and link back to the page where you found the image.
Cheap Royals Tickets
At this point, nearly every Major League team has some kind of variable pricing model where depending on how in-demand a game is, the ticket prices you'll pay at the gate may go up or down.
Sometimes pricing varies from day to day, other times it is a more formal "tiered" structure where when they are playing a big draw team like the Yankees, you'll pay a premium price compared to a perennial ​bottom-dweller who might be in the "budget tier."
So rather than focusing on specific prices and sections which tend to change fairly often, I want to talk about general rules and strategies for getting the best deals on tickets. ​
1. Compare 3rd Party Sites
SeatGeek is a big time ticket comparison site that lets you compare a bunch of different ticket brokers, marketplaces, etc. and find the best price for the game you want to go to. They also have a tool that projects whether ticket prices will go up or down – AKA whether you should buy now or wait.
Load more
Click here to view Royals tickets on SeatGeek.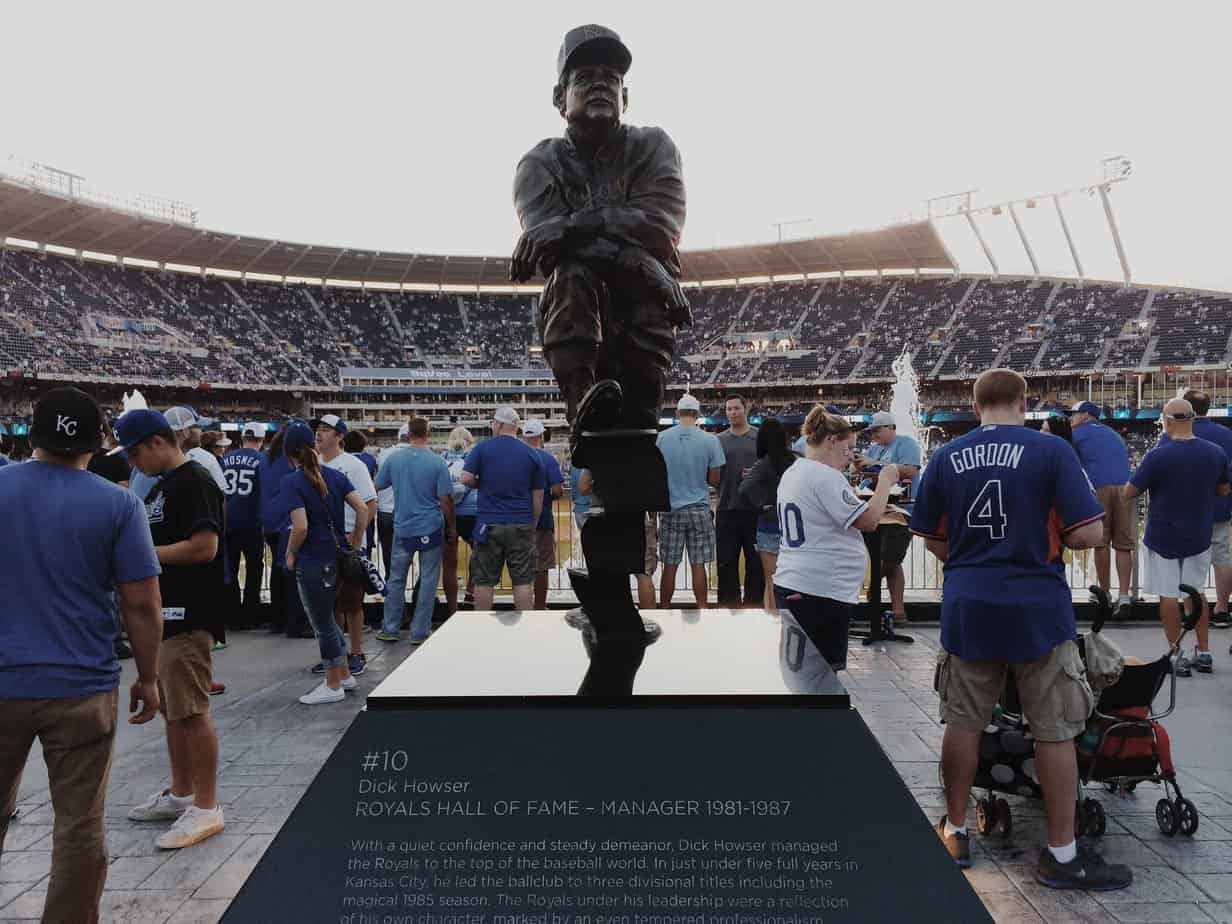 Dick Howser Protects the Park – via Flickr user Douglas LeMoine
2. Buy Last Minute
If you've bought tickets online before, you've heard of StubHub. What you may not know however is that with the rise of print-at-home and tickets on your mobile phone via the Ballpark App that you can usually buy tickets right up to a couple of hours before game time.
Save $5 On Last Minute Tickets: I recently learned about the Gametime app and it's legit. Save BIG on last minute tickets. Click here to get the app and you'll get $5 off your first order.
As someone who has sold a fair share of tickets on StubHub, I also know that sellers are encouraged to set a declining price for their tickets. This means they'll set a starting price and then their lowest acceptable price, and StubHub will auto-magically lower the price of those tickets as the event date gets closer.
So in many cases, a game that isn't sold out will have plenty of below face value deals on StubHub that you can snatch at the last minute and then either print at home, or just use the App on your phone to get scanned into the game.
3. Avoid Craigslist
It's not to say that you can't find ticket deals on Craigslist, you can. It is just more of a peace of mind, safety issue. I'm a Craigslist kind of guy, but I also know it's easy to get screwed buying baseball tickets there.
Remember when I mentioned selling on StubHub? When you list tickets there, all you need to know is the barcode number from that ticket along with the other details on section, row, etc. – So when I sell tickets I never mail them to the buyer, they just print them at home and my actual tickets become void.
If I was a shady character, I could go sell those void tickets to an unsuspecting buyer on Craigslist for cash. The tickets look real, they are "real" in a sense – but what that buyer will find out is when they go to enter the stadium, the ticket scanner will say "thou shalt not enter thy game."
Don't be that buyer.
Stick to buying tickets from SeatGeek, StubHub, or directly from the team. You can still get deals and you never have to worry about being scammed.
Best Value Seats at Kauffman Stadium
Kauffman Stadium boasts that there is not a bad seat in the house. When it was originally designed over 38 years ago the owner made sure every seat pointed directly toward second base. This was to ensure that nobody was sitting at an awkward angle. For those of us who have watched a baseball game at an awkward angle before, you can really appreciate this. So wherever you sit, have no fear of a neck cramp.
This site is dedicated to not necessarily finding the cheapest of everything, but finding the best bang for the rapidly declining buck. In this case, the cheap seats are pretty awesome. The HYVEE level seats start at around the price of a beer and provide a great bird's eye view along with what one team official described as a "delicious" breeze.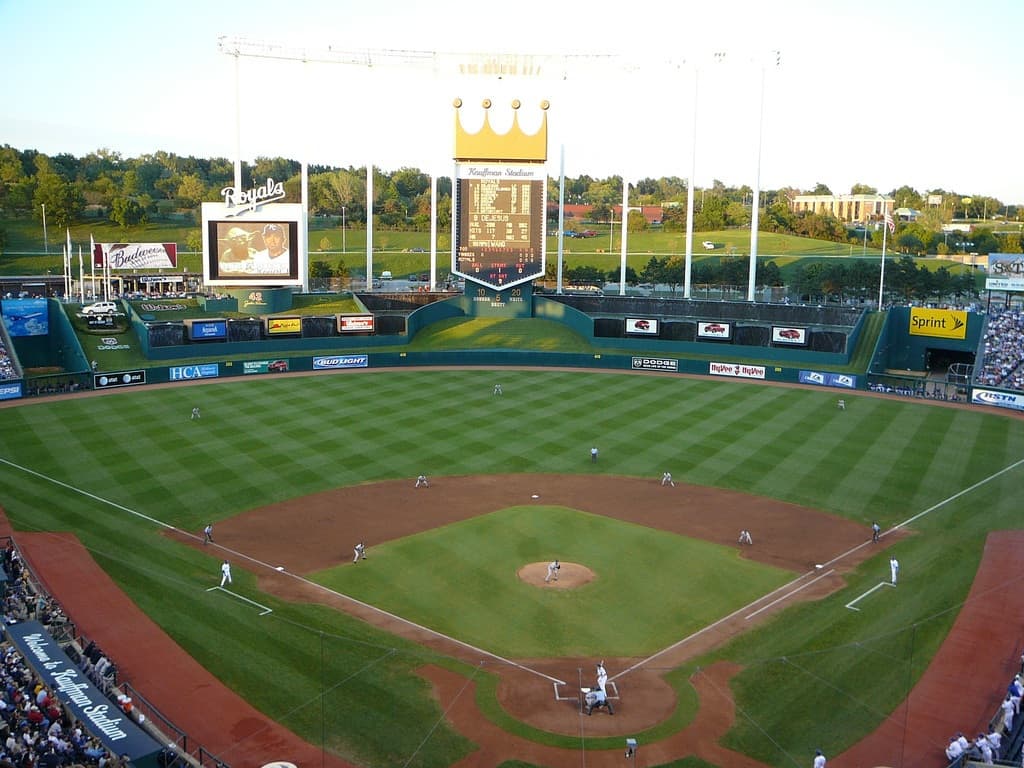 Upper Level Seats Admire the Tall Scoreboard and Rolling Fields Beyond – via Flickr user jimcchou
This is a matter of opinion, but I love to spread out when I can and take in a great view. The upper deck of Kauffman Stadium is one of those places where you can do this. Another nice spot is out in left field.
If you like bringing your glove to the game to try and catch a foul ball, 111-115 or 140-144 are your best best bet.
Kauffman Stadium is famous for the waterfalls and you can sit by the fountsins. Fountain seating is in sections 201, 202, and 203. These seats are a little pricier, but it's a truly unique perspective. Where else can you sit near fountains and watch some baseball? Also the fans in left field tend to be a little more laid back than what you might experience in the inner bowl, so if that is your style; go for it.
I want to now discuss another angle to think about for tickets to a Royals game. Are you going to a day game or a night game? If you are going to a day game and you plan to sit in the upper deck, wear sunscreen! The upper deck fans bake until golden brown at afternoon affairs in Kauffman Stadium.
I like a good deal, but I hate being miserable. If you are going to a summer day game, I would splurge for something in the 200 level, which will put you in the shade. Another cool option for a day game is to sit in the previously mentioned seats by the fountains. These fans get treated to a nice mist during the game which is just plain awesome.
Where to Stay While Visiting Kauffman Stadium
My favorite way to travel to a baseball game is to stay as close to the stadium as possible and walk or take an Uber so I don't have to fool with parking in a strange place. So many ballparks have great hotels within walking distance making it easy to stay nearby.
I use Tripadvisor to find a hotel with good reviews near any ballpark. I prefer this option over any other because I actually search for the park I am visiting and Tripadvisor gives me hotels, restaurants, and other attractions near there. Kauffman Stadium is located in Kansas City and the city is packed with stuff to do and see.
Obviously, there are a lot of hotels in Kansas City, but I can search for Kaufmann here and get the 10 Closest hotels to Kauffman Stadium and then pick what I want based on ratings and prices. This saved me a lot of time and I didn't end up getting ripped off on the price or end up in a sketchy place where I didn't feel safe.
Hotel Lotus – image via Lotuskcmo.com
The closest hotels do not always come with the lowest cost but you get what you pay for when it comes to accommodations. Remember that you aren't paying for parking or transportation.
Hotel Lotus is super close and you can have a room with a view of Kauffman Stadium. This hotel has an outdoor pool and free breakfast. WoodSpring Suites Kansas City Stadium is also incredinly close to Kauffman Stadium and also very budget-friendly. The suites here include small kitchens so you can prepare your own meals in your room if you really want to save money on food as well.
Free Stuff at Kauffman Stadium
1. The Water Works: Kauffman hosts the greatest water show at any sports venue. The fountains project water hundreds of feet into the air. The 10-foot waterfall is incomparable across the league. Though many have tried to match it, there is nothing that can compare to Kauffman Stadium's centerpiece – the largest publicly funded fountain in the world.
At Night, the Fountain Display is Colored with Lights – via Flickr user Minda Haas Kuhlmann
2. Hall of Fame: The Royals Hall of Fame is part of the free Outfield Experience, located inside Gate A on the west side of the ballpark. Groups of up to 40 fans will be allowed into the Royals Hall of Fame every 15 minutes from the time the Outfield Experience opens through the top of the eighth inning.
The Royals Hall of Fame is a Must Visit
3. The Outfield Experience: Check out the rest of the Outfield Experience for a great time for kids. Similar to Comerica, kids can enjoy a carousel, but this area also includes a playground, mini-golf course, and stage for shows. Kids will tire themselves out playing in the mini-baseball field and real batting cages. Also, if this is your first time visiting the K, with or without kids, you can get a certificate commemorating the occasion.