Last Updated: September 6th, 2023 by Kristen Douglas
Note: this article may contain affiliate links. If you make a purchase using one of these links, I may be paid a referral fee at no expense to you.
Nationals Park Largely Lacks the Retro Vibe, Instead Featuring Modern Styling – via Flickr user rsmdc
Nationals Park is one of the newer stadiums built with classic baseball stadium design in mind and is home to the 2019 World Series Champions, the Washington Nationals. Since its completion in 2008, the area around the park has developed quite a bit thanks to the continued success and popularity of the Nats. This is a modern stadium with lots of options for a great baseball fan experience. Although D.C. is an infamously expensive city, you can go watch the Nats for a pretty reasonable price and have a unique experience that only Washington D.C. can provide while you are in town.
Things You Shouldn't Miss
Enter through Home Plate Gate to walk backward through DC baseball history, with displays dedicated to the Nats, Senators, and Homestead Grays.
Find the second deck facade behind home plate. Check out some of the retired Expos numbers, and the honored names of great Senators and Homestead Grays.
If you are visiting in the first month of season, check out the cherry blossom trees in the Center Field Plaza. These trees look just like the world famous ones around the Tidal Basin by the Jefferson Monument but you are at a baseball game, so that's even cooler.
From the Upper Deck there are views of the U.S. Capitol, and the National Cathedral depending on your seats.
Ways To Save Money
Take Uber instead of parking. When you are ready to catch an Uber after the game, walk about a block away from the stadium to make it easier for your Uber driver to find you!
Take a soft cooler of food & drinks in the park with you. Harris Teeter is a great grocery store found in DC and surrounding suburbs to pick up snacks and drink to carry in with you.
Stay close by and walk to the stadium. Click here to see our favorite hotel near Nationals Park.
Nationals Park is in the Navy Yard neighborhood of DC. There are a number of different parking options at various pricing tiers. Free parking is out there, but SpotHero also provides a lot of affordable parking choices. I would not recommend relying on finding a free parking spot. Use SpotHero or buy parking from the stadium to save yourself the stress if you really want to drive yourself to Nationals Park.
With the recent World Series win in 2019, Nationals tickets are becoming more expensive. Look for deals from the team if your dates are flexible, or SeatGeek if you need a specific date.
You can bring food into the park, which is a good idea considering the prices. There are a few restaurants right outside the park and if you are feeling brave, you can always grab a hot dog from a street vendor before entering.
Nationals Park is also a certified Green stadium, which really makes me feel better about seeing a game there. I can hardly watch the Reds from the upper deck in Cincinnati due to the pollution.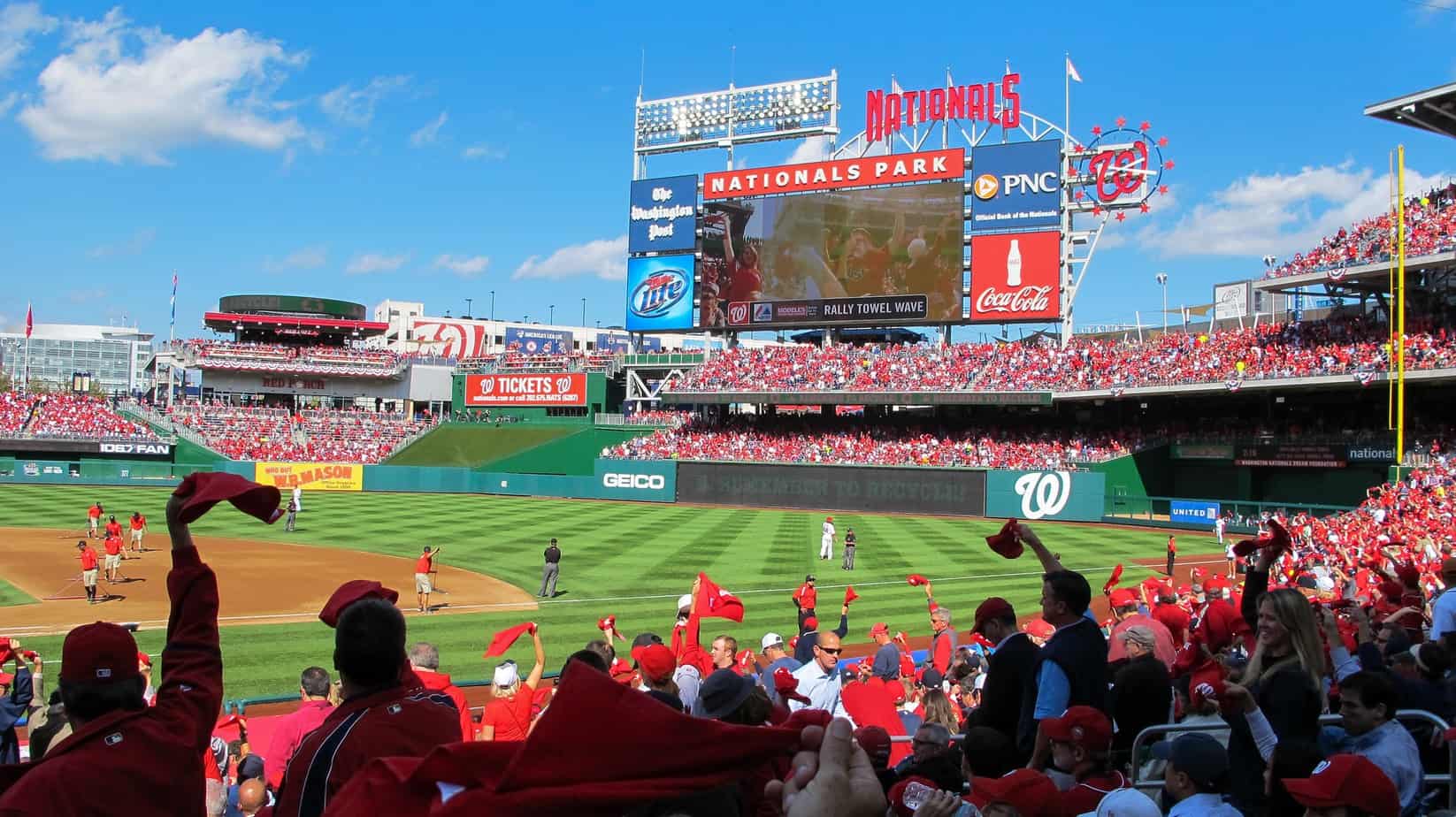 Feel Good About Your Footprint While Having a Great Time – via Flickr user Keith Allison
Arriving at Nationals Park
Alternative/Public Transportation to a Nationals Game
With DC laying claim to one of the largest metro-rail transit systems in the country, getting to Nationals Park on public transit is easy and affordable if you are staying at the many AirBnB rentals available across the area.
If you're not from the area, reference this quick planning tool for getting to and from the game on Metro. The Metro app is also very helpful for schedules and maps on this system.
Locals will absolutely tell you to take the metro to the game. It really is easy! Metro services most suburbs in the DC area and its " Navy Yard-Ballpark Station " stop delivers you right outside of the stadium via the Green Line. There are some parking fees at their "park and ride" stations, but you should still come out ahead vs. driving to the game considering the cost of parking in the lots and garages in the area. The park and ride option with the Metro also let's you skip the crazy game day traffic.
DC's Metro Connects the Park to All Parts of the Capitol – via Flickr user RJ Schmidt
DC's Metro Connects the Park to All Parts of the Capitol – via Flickr user RJ Schmidt Try the locally owned "Ballpark Bus" that will pick you up from a couple of local restaurants and take you to the game and then back to your car after the game. It's a fun alternative to driving that you can check out here.
Go for a drink at The Ugly Mug before the game and they will drop you off at the park on a golf cart with proof of purchase! This cool little tavern is only about a mile away with good food.
You can also ride your bike to this green park! Don't have a bike with you? No problem! D.C. has a very popular Capital Bikeshare program where you can rent bikes and there are two bike stations within walking distance from the park and a station at the closest Metro stop!
Another option if you happen to be staying nearby is to avoid waiting for the Metro and the stress of traffic and grab an Uber ride. Walk a block away from the stadium to make pick up easier. ​If you've never used Uber, click here and get your first ride free.
Driving to a Nationals Game
If you're driving to the game, the possibility of finding a metered street parking spot exists, but it is confined to a small section just north of the stadium. Additionally, the street parking rates for this area are adjusted during game days such that it doesn't really make sense to circle the block for a high demand space. For four hours of parking, you're looking at around $20 total. This was done to reduce congestion and encourage people to take public transit.
Here is a rundown of street parking regulations around Nats Park if you want to get a headache. ​
I'm in the business of giving away my secrets, so I'll let you in on a little parking gem I know about near Nats Park. There's a parking lot right across the street from the stadium at 1620 S. Capitol St that only charges just over $20 for regular season games. It's the best bang for your buck for Nats games.
You can even reserve a guaranteed spot there through a service called SpotHero. Don't say I never did anything for you, Savvyites.
Parking at 1620 S. Capitol St.
SpotHero is a cool service that's really popular in DC. They allow you to pay ahead of time for guaranteed parking spots. You can drive to the stadium knowing exactly where you're going to park, how much it will cost, and that a spot will be waiting for your arrival. Pick a spot that works for you, complete the checkout process, and they'll email you the parking pass. The SpotHero app allows you to find parking all over DC without ever touching a meter.
For others who are unconcerned with price and simply interested in convenience, the area is saturated with parking lots and garages that would be happy to take your money. Some of the Nationals official lots are right next to the stadium but will run you nearly $50 on game day. These official lots are convenient for those who like to plan ahead. You can purchase your parking pass ahead of time for Nationals Park here.
Best Food At & Near Nationals Park
Save Money on Food
A great way to save money at Nationals Park is by taking your own snacks and food with you. You can take in a soft-sided cooler no bigger than 16x16x8. Backpacks are NOT allowed. Don't test this rule out. Trust me. You can also take sealed plastic bottles of water with you into Nationals Park. No glass, no cans, no metal. The size limit on this is one liter or less. Also, you can't bring in your own alcohol.
Kids under 12 eat free! Just sign your kids up for the Junior Nationals Kids Club BEFORE you go to the game. There are other cool promotions with this free club as well like BOGO tickets and Running the Bases.
Directly outside the park, there are a handful of new restaurants including, The Bullpen, a restaurant with a beer garden, a hipster Mexican restaurant, and a ramen place. The wait for these places is long right before a game though so don't plan on this being a fast-food experience.
Food You Shouldn't Miss at Nationals Park
By far, the best bite in Nationals Park is found at Ben's Chili Bowl, found in sections 110 and 141. Their chili-cheese-dog flavor-explosion-mess is really just an opportunity to feature Ben's famous "half-smoke" chili. The dark, burned, heavy smoke is especially great on late night fall games with a cider or sweet ale.
If you want a beer or cocktail, Nationals Park has some incredibly unique selections. Get a popular Adult Juice Box from District Coolers in Section 118 to cool off during a summer game. Choose from craft cocktails created by four local distilleries at the Distilleries of the DMV stands. These are drinks you cannot get anywhere else.
Try a Baltimore favorite, Jimmy's Famous Seafood, in sections 114, 140, and 306. Get an authentic Maryland crabcake without leaving the ballpark!
The prices are typically outrageous, but they have some common favorites like Shake Shack, Jammin' Island BBQ, and El Verano Taqueria.
One really cool feature inside Nationals Park is you can order all your food ahead of time on your phone. Skip waiting in line and missing the game. Order concession on the MLB Park App with the Mobile Order feature.
There are a Number of Fun Food and Drink Options Behind Center Field – via Flickr user Mr.TinDC
Nationals Park Seating Chart
We've created the seating chart of Nationals Park above to help you better understand some of our recommendations below. Feel free to download this image and use it, we just ask that you credit Ballpark Savvy and link back to the page where you found the image.
Cheap Nationals Tickets
At this point, nearly every Major League team has some kind of variable pricing model where depending on how in-demand a game is, the ticket prices you'll pay at the gate may go up or down.
Sometimes pricing varies from day to day, other times it is a more formal "tiered" structure where when they are playing a big draw team like the Yankees, you'll pay a premium price compared to a perennial ​bottom-dweller who might be in the "budget tier."
So rather than focusing on specific prices and sections which tend to change fairly often, I want to talk about general rules and strategies for getting the best deals on tickets. ​
1. Compare 3rd Party Sites
SeatGeek is a big time ticket comparison site that lets you compare a bunch of different ticket brokers, marketplaces, etc. and find the best price for the game you want to go to. They also have a tool that projects whether ticket prices will go up or down – AKA whether you should buy now or wait.
Load more
Click here to view Nationals tickets on SeatGeek.
Enjoy the Wide Open Feeling of Nationals Park – via Flickr user Rudi Riet
2. Buy Last Minute
If you've bought tickets online before, you've heard of StubHub. What you may not know however is that with the rise of print-at-home and tickets on your mobile phone via the Ballpark App you can usually buy tickets right up to a couple of hours before game time. Save $5 On Last Minute Tickets: I recently learned about the Gametime app and it's legit. Save BIG on last minute tickets.
Save $5 On Last Minute Tickets: I recently learned about the Gametime app and it's legit. Save BIG on last minute tickets. Click here to get the app and you'll get $5 off your first order.
As someone who has sold a fair share of tickets on StubHub, I also know that sellers are encouraged to set a declining price for their tickets. This means they'll set a starting price and then their lowest acceptable price, and StubHub will auto-magically lower the price of those tickets as the event date gets closer.
So in many cases, a game that isn't sold out will have plenty of below face value deals on StubHub that you can snatch at the last minute and then either print at home, or just use the App on your phone to get scanned into the game.
3. Avoid Craigslist
It's not to say that you can't find ticket deals on Craigslist, you can. It is just more of a peace of mind, safety issue. I'm a Craigslist kind of guy, but I also know it's easy to get screwed buying baseball tickets there.
Remember when I mentioned selling on StubHub? When you list tickets there, all you need to know is the barcode number from that ticket along with the other details on section, row, etc. – So when I sell tickets I never mail them to the buyer, they just print them at home and my actual tickets become void.
If I was a shady character, I could go sell those void tickets to an unsuspecting buyer on Craigslist for cash. The tickets look real, they are "real" in a sense – but what that buyer will find out is when they go to enter the stadium, the ticket scanner will say "thou shalt not enter thy game."
Don't be that buyer.
Stick to buying tickets from SeatGeek, StubHub, or directly from the team. You can still get deals and you never have to worry about being scammed.
Best Value Seats in Nationals Park
Probably the best bang for your buck is in the Infield Gallery. Sections 321-314 have great views of the skyline but get a lot of hot sun in the summer. Sections 313-306 have a bit more shade but lose the view. Both have a great view of the strike zone.
A great value ticket at Nationals Park is upper RF Terrace 222. I love these for a few reasons. You are down the first baseline, with an excellent view of the entire field. Secondly, these tickets are much closer to the field than the upper deck tickets down the left field line, but they have a lower price. In my opinion you can't go wrong in this section.
Nationals Park Enjoys a Wide, Open Feel – via Flickr user Dave Newman
The cheapest seats are outer left field upper deck seats. The seats aren't terrible, but I think you will be much happier shelling out an extra few bucks for something like the seats I mentioned above.
You may have hipster friends in DC who tell you the "Red Porch" (section 100) is the place to sit. While the outfield view isn't bad, it's not worth the price tag unless you also take advantage of the food discount at the Red Porch Restaurant. But what really kills this area is the attitude – this is more of a singles bar than a baseball game.
D.C. summers are hot! If you want a seat in the shade, get seats down the third-base side. That area will get shade first in the late afternoon. Pick a higher section for a breeze and view of the river!
Welcome to the Red Porch – via Flickr user m01229
Be warned: sections 136 and 137 have some seats that are obstructed by the foul pole.
Seats with Benefits in Nationals Park
If you aren't looking for the best value, but instead want some extra perks, you need club seats for a Nationals baseball game! Terra Club and PNC Diamond Club seats include a private entrance to the park where you sit at the 100 level behind home plate with in-seat food and beverage service throughout the game! If this wasn't enough, you are also entitled to dining in the indoor club that includes two bars.
Did I mention that the food, drinks, beer, and wine are all inclusive? You can sit behind home plate and never get up, ordering all you can eat brought straight to your seats and never take out your wallet. Fair warning, once you experience a baseball game like this, you might never want to sit anywhere else again.
Where to Stay While Visiting Nationals Park
My favorite way to travel to a baseball game is to stay as close to the stadium as possible and walk or take an Uber so I don't have to fool with parking in a strange place. So many ballparks have great hotels within walking distance making it easy to stay nearby.
I use Tripadvisor to find a hotel with good reviews near any ballpark. I prefer this option over any other because I actually search for the park I am visiting and Tripadvisor gives me hotels, restaurants, and other attractions near there. Nationals Park is located in DC and the city is packed with stuff to do and see.
Obviously, there are a lot of hotels in Washington DC, but I can search for Nationals Stadium here and get the 10 Closest hotels to Nationals Stadium and then pick what I want based on ratings and prices. This saved me a lot of time and I didn't end up getting ripped off on the price or end up in a sketchy place where I didn't feel safe.
Hampton Inn & Suites Washington DC Navy Yard – image via Hilton.com
The closest hotels do not always come with the lowest cost but you get what you pay for when it comes to accommodations. Remember that you aren't paying for parking or transportation. Hampton Inn & Suites Washington DC Navy Yard is right next to Nationals Park and is pretty reasonable as far as DC hotels go. You also get free breakfast here and there is a rooftop bar.
Cambria Hotel is across the street from the Nationals and you should be able to get a room for around $200. It has a really cool restaurant called RowHouse that serves local food and beers. I love the rooftop bar here for the views of the city. Both these hotels are worth the $200 price tag since they get you out of commuting in DC on the metro or in a car at all. No traffic, no maps, no parking, no extra expenses.
Nationals Park Fan Experiences
To have the best chance at catching a home run ball, get seats behind the visitors' bullpen or in the Red Porch area. It should be less crowded in these spots and home runs get hit out there pretty frequently. A lot of the deck in the right field is covered so it is harder to snag a homer there.
Autographs are a little more challenging to get now with new rules and regulations throughout the MLB. There is a net around the dugouts in all MLB stadiums. However, past the dugouts in Nationals Stadium, you may have some luck getting a few autographs in the area with the low railing before the game starts.
If authentic memorabilia is what you are after, you don't have to just beg for autographs or try to out run kids for foul balls. During the Nationals game, visit the Authentics Store located in Section 114 for unique Nationals items like actual gear worn and signed by the players, the bases used during the game you are attending, and more. It's not cheap but it is so freaking cool.
Take your kids to the Right field concourse area to play in the PenFed Kids Fun Zone. Baseball games can be kind of long and this break for kids 10 and under to slide and play is perfect for their short attention spans. If you are at a Nationals Sunday home game, kids get to run the bases after the game!
Free Stuff at the Nats Game
1. The Washington Nationals have promotions during their home games a lot. Make sure you get there early because any promotional giveaways, like bobbleheads, is limited. Check the Official Team Schedule to see if there is a promotion during your planned visit.
2. Statues of the Greats – take selfies by statues of the city's best players at the Centerfield Plaza. You can find the greatest hitter in the history of the sport – Negro League Star Josh Gibson. Next to him, find one of the most intimidating pitchers ever, Walter "Big Train" Johnson, depicted with a motion statue. If you dare, pose by the "Capital Punisher", outfielder Frank "Hondo" Howard.
Find the Greats – via Flickr user Gareth Milner, William F. Yurasko, and Wally Gobetz
3. Plan to arrive early because when Nationals Park opens to watch batting practice. You can enter through Center Field Gate 90 minutes before the game starts.
4. If this is your first baseball game or you catch a foul ball or home run you can make these momentous occasions official. Go to Guest Services located behind Sections 103, 131 and 320 to get a free certificate!
Little Gnome Fact: Check the Promotionals Schedule for Free Gifts – via Flickr users m01229 and Lorie Shaull
3. GEICO Presidents Race takes place during the middle of the 4th inning and features George Washington, Tom Jefferson, Abe Lincoln, Teddy Roosevelt and Bill Taft. After their race, the Presidents appear in their photo station in the Family Fun Area to pose for free photos with fans. The GEICO Gecko is there for photos as well.
Go Go Geico Presidents! – via Flickr user Kelly