Last Updated: September 6th, 2023 by Kristen Douglas
Note: this article may contain affiliate links. If you make a purchase using one of these links, I may be paid a referral fee at no expense to you.
The Diamondbacks of Arizona call Phoenix home. Since opening in 1998, filling the stands to cheer on the D-backs has become a popular activity for Phoenix natives and tourists. Arizona is beautiful in the Spring, especially for the Cactus League of Spring Training. During the regular season, it is an over-100 degree slice of hell. If Chase Field wasn't air-conditioned, the poor guy in the Baxter costume would pass out on the field every game. Although that might be more exciting than the D-Backs in the post-Randy Johnson era.
At least they have a pool. A really nice pool.
Seriously. Who Doesn't Want to Be in the Pool? Beautiful Day and Night – via Flickr users Nick Bastian and Ryan
Things You Shouldn't Miss
There's a pool on the edge of right field. You and 34 of your friends can rent it for a game, along with a hot-tub and the jealousy of nearby fans.
To cool off more cheaply, make sure you pass through the misting sprays at the main gate.
The plaza outside the Chase Field gate has food, games, radio broadcasts, live performances, and of course, food and drink vendors.
Ways To Save Money
Take Uber instead of parking. Click here to get a free ride.
Bring your own food and bottle of water in with you.
Stay close by and walk to the stadium. Click here to see our favorite hotel near Chase Field.
Click here to reserve a cheap parking spot in advance.
Parking on the street is cheap, easy, and plentiful. All that matters for parking is how far you are willing to walk in the terrible heat. Spot Hero ensures you get a close enough spot.
Weekend tickets can sometimes get a little expensive, but you can find an excellent value on sites like SeatGeek. The good thing about well-thought-out parks like Chase Field is that the cheap seats aren't too terrible.
Food is a bit pricey, but you can always bring in food and drink in with you. You just have to carry it in a clear plastic bag. You can also try some of the hefty sandwiches available that are big enough to split, especially with kids.
Chase Field is well planned out for one reason: the retractable roof. Perhaps no other place begs for an air conditioned ballpark more than Arizona. They've saved you. Now let's look at some ideas to save money at Arizona's ballpark.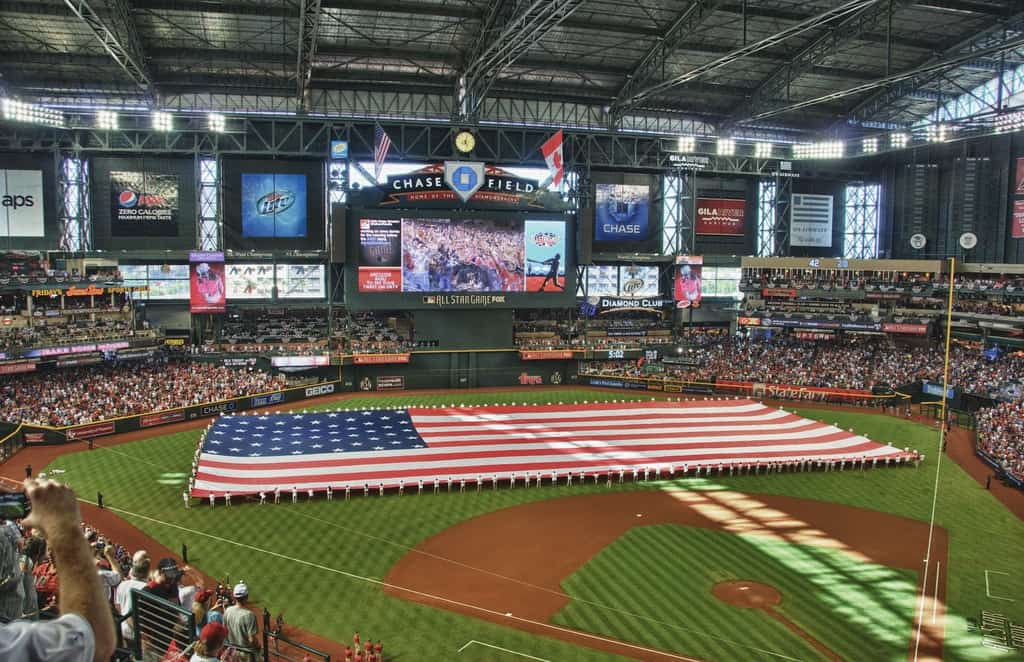 With Its Roof Closed, Chase is Cool and Cooler – via Flickr user Eric Kilby
Arriving at Chase Field
Alternative/Public Transportation to a Diamondbacks Game
There is the option of public transportation to save money getting to Chase Field. Arizona has a Light Rail system that covers much of the surrounding area. Get off at the 3rd St/Washington stop. The best choice is the all-day pass, so you can hop on and off easily because it's going to be too hot to walk around all day. Here's a link to the Light Rail page – don't use the one listed on the D-Backs' website, since it's not always stable. Another great thing about Light Rail is you can use one of their Park-N-Ride locations to leave your car and then take the train into the game.
​But it's hot. Your car is gonna be a furnace when you get back into it. Public transport is going to be sardines in a sauna on busy days. Why not save your sanity and let Uber do the driving for you? If you haven't used Uber before, get your first ride free.
Driving to a Diamondbacks Game
You can park for free near Chase Field, but as usually is the case, you will probably need to arrive early. The metered parking around the ballpark is only in effect up until 5 pm, after that point you can park there for free. As you might imagine you will want to get there around 5 pm if possible to find one of these, or load the meter before you head inside Chase Field
If you are there that early, you can afford to swing around the blocks surrounding the stadium a few times and look for an open spot. You may have about a 5 – 10 minute walk. Gauge how you feel about that with the heat. You will want to focus on the streets running east and west with Presidential names. If you can't parallel park, you may want to search for a cheap lot.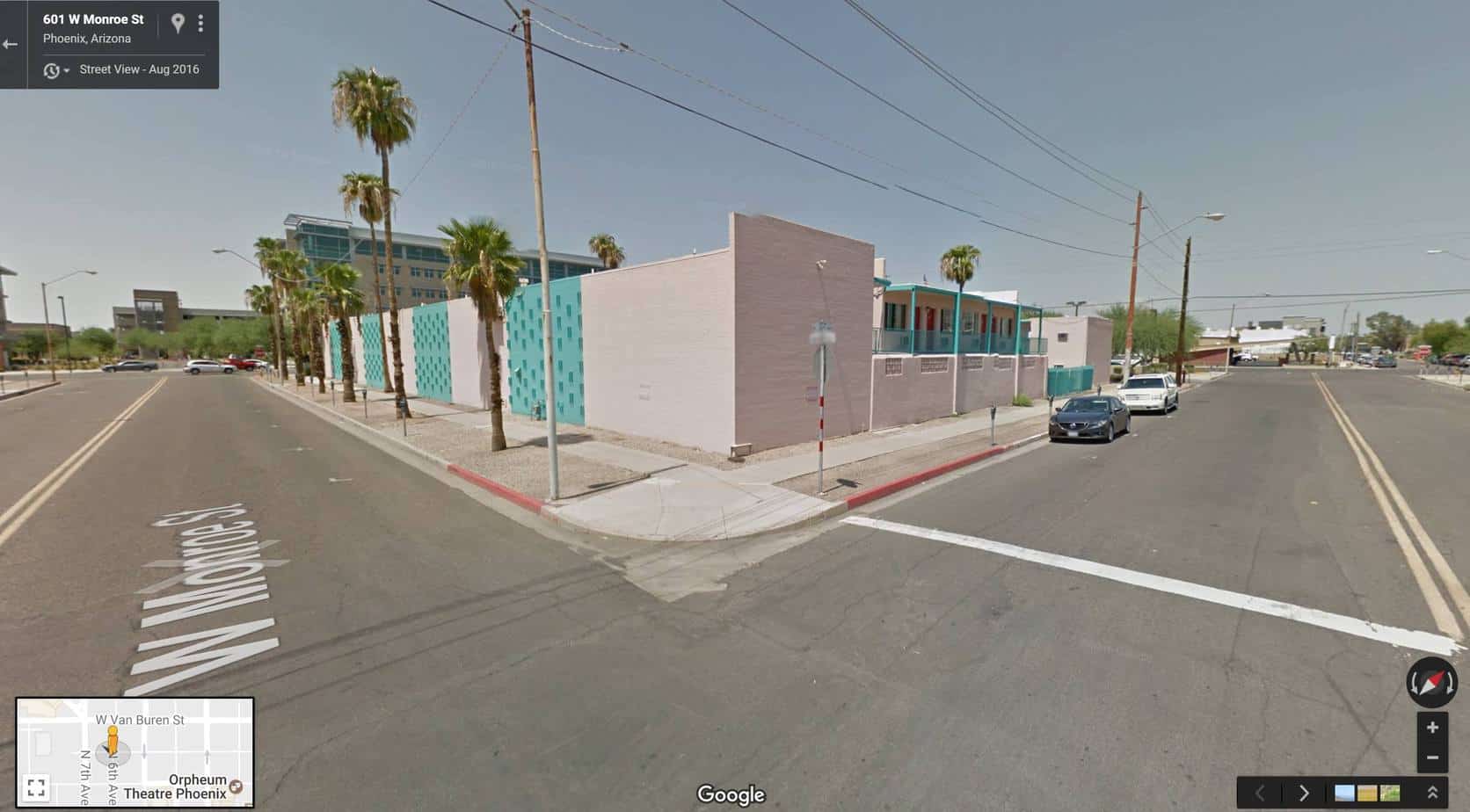 Lots of Cheap, Metered Parking on the "Presidential" Streets Nearby
There are also a good amount of private lots in the area where you can park for less than the cost of a beer. The D-backs games don't usually sell out, so most of the smaller private lots have an easy in and easy out after the game. You shouldn't have a problem finding a cheap lot no matter which direction you come from, most of which are a couple of blocks from the stadium.
Another nice option for parking at Chase Field is Spot Hero. This website lets you pre-pay and reserve a spot ahead of time so you can cut out some of the stress and guesswork when it comes to finding a spot. This is a stress-free option.
Here are spots for upcoming games:
Best Food At & Near Chase Field
Save Money on Food
You are allowed to take food into a Diamondbacks game at Chase Field. Pack your snacks in a clear plastic bag. This is becoming the standard for parks that still allow outside food. The days of the soft-sided cooler are gone. Concession prices are always expensive, so save big money by taking your own snacks and dinner to the game. This can mean packing or picking up something at a drive-thru on the way to the game.
You can also take sealed bottled water or an EMPTY plastic bottle into Chase Field.No glass, no cans. The empty plastic bottle is a great idea since you can refill it with water throughout the game. Even if you like buying ballpark food, paying $5 for a bottle of water always sucks.
Baseball isn't really a tailgating sport like football and no one is tailgating in Arizona in the summer anyway. However, you can hang out with your friend before a D-backs game at one of the restaurants or bars near Chase Field. Try Mrs. White's Golden Rule Cafe, Crown Public House, Cooper Blues, or Willie's Taco Joint.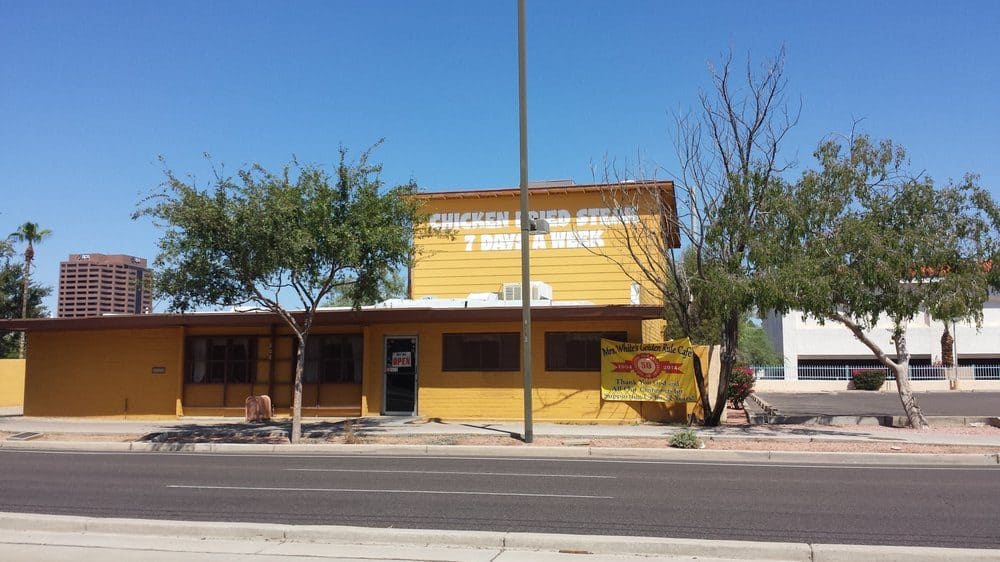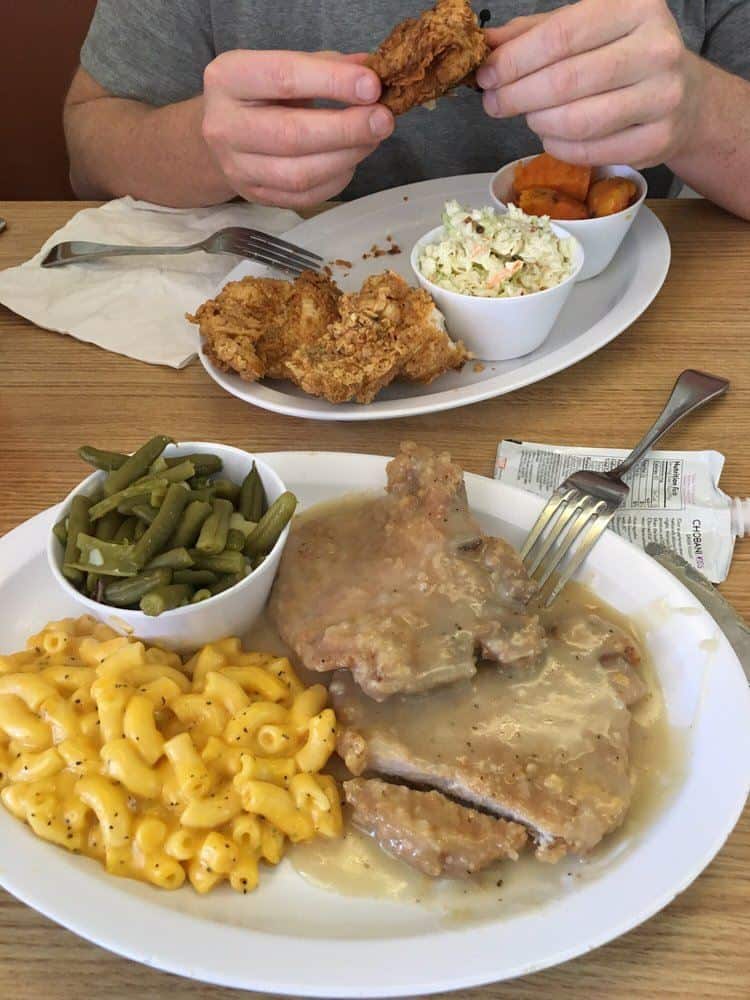 Follow the Golden Rule: Recommend Deliciousness Unto Others As You Want Recommended to You
Food You Shouldn't Miss at Chase Field
1. Hungry Hill Sandwichs – you can find Hungry Hill all over the park (sections 112, 122, 315, and 326), and these loaded gems are meaty gifts from the D-Backs to you. The sausages are phenomenal, and the meatball parm is a taste straight out of Italy. Carnivores can't miss it.
2. Churro Dog – take a Long John chocolate-glazed doughnut. Split it, put in a hot, cinnamony Churro, top the whole thing with fro-yo, chocolate, caramel, and a sprinkling of calories and unicorn tears. It'll kill you, I'm sure, but you will not care in the least because it is a work of art. Delicious art. Look for the lines at sections 114 and 123.
Because When Else Can You Consume 1,100 Calories in One Dessert?
3. Lo-Lo's Chicken and Waffles – if you want a little bit of both sweet and meat, come to this stand by section 141. Lo-Lo's is a Pheonix institution, and they bring their delicious fried and baked treats to the ballpark. The fried green tomatoes are straight out of the South, and the spicy corn fritters feel authentically southwestern.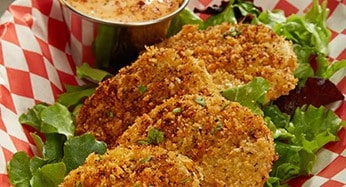 Fried Green Tomatoes, Made Crispy by a Local Favorite
4. Taste of Chase – Go to Section 130 and order the Buffalo Chicken Sidewinder. One of the ingredients is Hot Cheetos dust. How can you not order something that has Cheetos dust on it?
Chase Field Seating Chart
We've created the seating chart of Chase Field above to help you better understand some of our recommendations below. Feel free to download this image and use it, we just ask that you credit Ballpark Savvy and link back to the page where you found the image.
Cheap Diamondback Tickets
At this point, nearly every Major League team has some kind of variable pricing model where depending on how in-demand a game is, the ticket prices you'll pay at the gate may go up or down.
Sometimes pricing varies from day to day, other times it is a more formal "tiered" structure where when they are playing a big draw team like the Yankees, you'll pay a premium price compared to a perennial ​bottom-dweller who might be in the "budget tier."
So rather than focusing on specific prices and sections which tend to change fairly often, I want to talk about general rules and strategies for getting the best deals on tickets. ​
1. Compare 3rd Party Sites
SeatGeek is a big time ticket comparison site that lets you compare a bunch of different ticket brokers, marketplaces, etc. and find the best price for the game you want to go to. They also have a tool that projects whether ticket prices will go up or down – AKA whether you should buy now or wait.
Load more
Click here to view D-Backs tickets on SeatGeek.
2. Buy Last Minute
If you've bought tickets online before, you've heard of StubHub. What you may not know however is that with the rise of print-at-home and tickets on your mobile phone via the Ballpark App that you can usually buy tickets right up to a couple of hours before game time.
Save $5 On Last Minute Tickets: I recently learned about the Gametime app and it's legit. Save BIG on last minute tickets. Click here to get the app and you'll get $5 off your first order.
As someone who has sold a fair share of tickets on StubHub, I also know that sellers are encouraged to set a declining price for their tickets. This means they'll set a starting price and then their lowest acceptable price, and StubHub will auto-magically lower the price of those tickets as the event date gets closer.
So in many cases, a game that isn't sold out will have plenty of below face value deals on StubHub that you can snatch at the last minute and then either print at home, or just use the App on your phone to get scanned into the game.
There are Many Photo-Ops Outside the Park, But Everyone Goes for the Bats – via Flickr user Alan Stark
3. Avoid Craigslist
It's not to say that you can't find ticket deals on Craigslist, you can. It is just more of a peace of mind, safety issue. I'm a Craigslist kind of guy, but I also know it's easy to get screwed buying baseball tickets there.
Remember when I mentioned selling on StubHub? When you list tickets there, all you need to know is the barcode number from that ticket along with the other details on section, row, etc. – So when I sell tickets I never mail them to the buyer, they just print them at home and my actual tickets become void.
If I was a shady character, I could go sell those void tickets to an unsuspecting buyer on Craigslist for cash. The tickets look real, they are "real" in a sense – but what that buyer will find out is when they go to enter the stadium, the ticket scanner will say "thou shalt not enter thy game."
Don't be that buyer.
Stick to buying tickets from SeatGeek, StubHub, or directly from the team. You can still get deals and you never have to worry about being scammed.
Best Value Seats at Chase Field
When looking for ticket values at Chase Field, you can buy tickets for cheaper than a beer from the team. These will get you outfield reserve seats, which are a little far away but you can move to a different section if you would like. If you are trying to move to better seats at a ballpark, you probably shouldn't get greedy. Be happy with moving to upper deck seats behind the plate, which get you a much better view but don't generally have people checking tickets.
My personal vote for the best bang for your buck at Chase Field is the bullpen reserve section in 108 and 136. These are about half the price of the next section over, with virtually the same view. There are specific seats here that are better than others. Certainly, if you can get to row one that would be ideal, but as close as you can will do. Notice in the image below that part of the section actually runs down by the field, in front of the foul pole. The low rows will put you down there, which is where you want to
The bleacher seats aren't bad either; they do have seatbacks, unlike some bleachers. These are very affordable, and a good way to get close to the action without spending a lot of money. If you have kids, this is a great way to splurge because you are in home run territory and are within earshot of the outfielders who will occasionally toss up a ball if they get the final put-out.
Some kids can quickly get disinterested sitting far away in the upper deck. Keeping them close to the field might buy you some time to actually watch the game for a few minutes between bathroom and concession breaks. Why pay for upper deck behind the plate when you could pay the same and potentially be hanging over the outfield wall? That is just one man's opinion. It's also hotter the higher up you go, and kids will notice.
Seats at the Very Upper Deck are Cheap But Can Be Too Distant for Kids – via Flickr user Clintus
A couple of other things I want to mention about the best seats at Chase Field. They have a good portion of the seats down the line which sit at a funny angle. If you have no idea what I am talking about, some modern stadiums turn seats at an angle to face the pitcher's mound. I know many people, including me, who don't really like those seats. They feel more cramped in my opinion, and they can get a little uncomfortable for your back. It just feels odd. I don't have a comprehensive list about which sections to avoid, but staying somewhere in the infield or in the bleacher seats will definitely keep you facing straight on.
Sections 221-223 at Chase Field are a good value because they include your food. These sections are All-You-Can-Eat Seats. You get normal baseball food like hot dogs, popcorn, and peanuts and can keep on eating until the 7th inning.
Where to Stay While Visiting Chase Field
My favorite way to travel to a baseball game is to stay as close to the stadium as possible and walk or take an Uber so I don't have to fool with parking in a strange place. So many ballparks have great hotels within walking distance making it easy to stay nearby.
I use Tripadvisor to find a hotel with good reviews near any ballpark. I prefer this option over any other because I actually search for the park I am visiting and Tripadvisor gives me hotels, restaurants, and other attractions near there. Chase Field is located in Phoenix and the city is packed with stuff to do and see.
Obviously, there are a lot of hotels in Phoenix, but I can search for Chase Field here and get the 10 Closest hotels to Chase Field and then pick what I want based on ratings and prices. This saved me a lot of time and I didn't end up getting ripped off on the price or end up in a sketchy place where I didn't feel safe.
The closest hotels do not always come with the lowest cost but you get what you pay for when it comes to accommodations. Remember that you aren't paying for parking or transportation.
Courtyard by Mariott Phoenix Downtown is just under a half-mile from Chase Field so you can walk. For a COurtyard, this is a pretty sweet hotel. Everything is brand new and you can get rooms with views of the mountains.
Residence Inn by Marriot Phoenix Downtown is also within a 10-minute walk, which is about my max in the Phoenix heat. The Residence Inn includes breakfast and has a swanky indoor pool.
Your lowest-priced place that is less than a mile distance from the ballpark is the Hampton Inn Phoenix Downtown. Hampton Inn hotels are always family-friendly with a good free breakfast.
Free Stuff at Chase Field
1. Phoenix Children's Hospital Sandlot – This awesome kids area, on the Upper Concourse, offers activities for kids while bringing attention to a great local cause. Kids can take batting practice at the Futures Field. Or they may want to swing by during the 4th inning, when D-Backs mascot Baxter the Bobcat hangs out at his den.
There's Tons of Fun for the Kids! – via Flickr user Nick Bastian
2. Rotunda Murals – upon entering the main gate, stop for a moment in the first level concourse. Around the exterior is the stunning mural depicting the history of the sport, moving from ancient times to the formation of the Diamondbacks in 1998. Upper levels also feature murals of important Arizonan historical and cultural themes.
3. APS Solar Pavillion – If you enter through the western entrances, check out the APS Solar Pavillion. It looks like a big awning for shade, and while you will be grateful for the shade, it is so much more. The panels generate 75 kilowatts of solar power. It is cool to see green initiatives like this at baseball games.