Last Updated: September 6th, 2023 by Kristen Douglas
Note: this article may contain affiliate links. If you make a purchase using one of these links, I may be paid a referral fee at no expense to you.
Target Field is the gem of a baseball stadium for the Minnesota Twins. Located in the Warehouse District of downtown Minneapolis, this open-air ballpark is exactly what fans wanted after years of hating the Metrodome. Now let's be clear; I love being outdoors and I love baseball games. However, did you forget that you live in Minnesota? The Twins are no strangers to October baseball, and I would have to imagine that those games will be played in freezing temperatures. I am a southern baseball fan so I guess the moral of the story is to bundle up, grab a Snuggie and go enjoy some baseball.
An Overview of Target Field – via Flickr user Chris Evans
Things You Shouldn't Miss
Over the Batter's Eye, find the giant Twins emblem shaped like Minnesota. The Twins are shown – Minnie and Paul (for Minneapolis and St. Paul, the Twin Cities). This iconic feature lights up when a Twins player hits a home run.
Book a Pre-game Target Field Tour. Pre-Game Tours wrap up with you watching batting practice from the Thomson Reuters Champions Club seats behind home plate.
Ways To Save Money
Take Uber instead of parking. Click here to get a free ride
Take a soft cooler of food & drinks with you
Stay close by and walk to the stadium. Click here to see our favorite hotel near Target Field.
Click here to reserve a cheap parking spot in advance.
There are a ton of parking meter options around the park, but you take the risk of missing out if you get there late. To book a spot ahead of time, check out SpotHero.
It's pretty easy to get cheap Twins tickets, and the team does some great promotions. Check out SeatGeek for tickets to big games and popular give-away days. Heads up that all tickets are delivered digitally now and scanned through the MLB Ballpark App.
The Warehouse District around the park is a fun place to grab a bite before you come in. But find the State Fair favorites inside to get a unique taste of Minnesota. Be sure to download the MLB Ballpark app before you head to a Twins home game. This app is super helpful inside Target Field. You will use it to order food from your seat so you can pick it up at the restaurant or concession stand without waiting in line. It also connects to Apple Pay or Google Pay allowing you to purchase things touch-free.
Now let's be clear; I love the Twins' fans and the Twins' fans love me. However, did you forget that you live in Minnesota? The Twins are no strangers to October baseball, and I would have to imagine that those games will be played in freezing temperatures. I guess the moral of the story is to grab a Snuggie and go enjoy some baseball.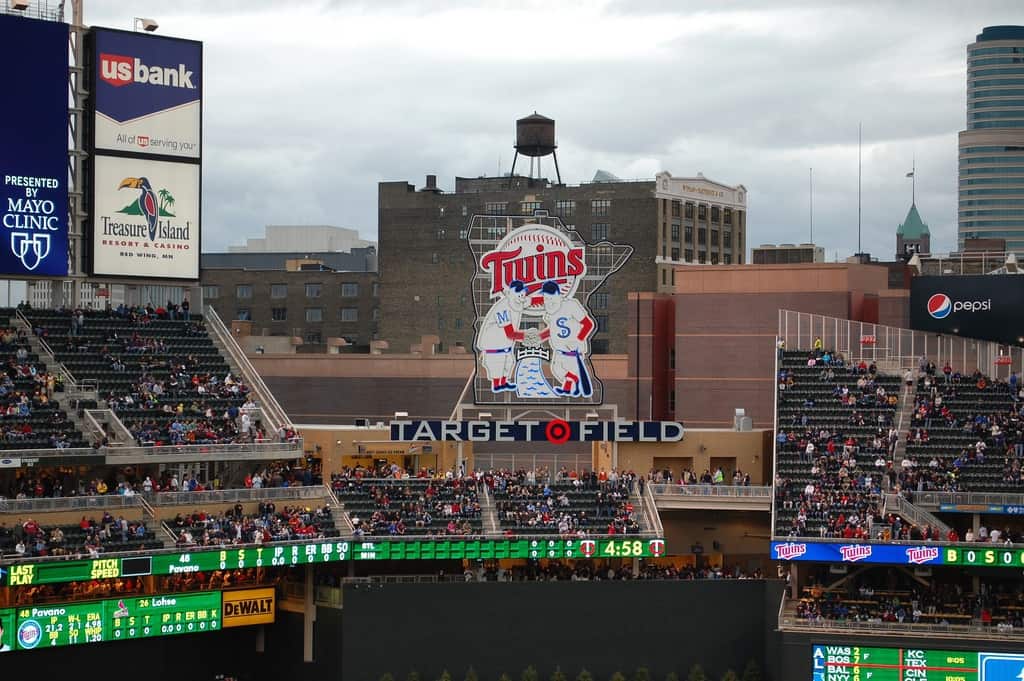 Minnie and Paul Anchor the Outfield of Target Field – via Flickr user gutenfrog
Arriving at Target Field
Alternative/Public Transportation to a Twins Game
I prefer someone else to drive me to a baseball game, especially in an unfamiliar city. Traffic before a game gets worse as it gets closer to the first pitch but after the game traffic is always a nightmare since everyone is leaving at the same time. If I don't have to drive, that is a win for me.
Blue Green lines drop you off right at Target Field. These connect you to many parts of Minneapolis and St. Paul, so you can either get an AirBnB along their routes or park for free anywhere along the lines. Rides from downtown Minneapolis are less than a dollar, and even longer rides are very cheap.
Or, if you are staying out in the burbs, consider the Northstar Train, which runs several times daily and extra trains on game days.
The Northstar Train Drops You Off Very Close – via Flickr user Jerry Huddleston
The Mall of America is a big tourist draw for Minnesota and it is not that far from Target Field. If you are staying at one of the Mall of America hotels or just want to visit there first and then head to a game, there is a tram that leaves directly from MOA and arrives at Target Field in about 45 minutes.
If you want to be green, it is very easy to walk to Target Field from downtown Minneapolis. If you do stay downtown, you can walk or bike in on the Cedar Lake Trail which connects to Target Field. And if you want to bike in, there are a number of free parking areas available for bikes right near the park. Nice Ride Minnesota makes it easy to rent a bike for the day.
If you want a place to hang out after the game, take the shuttle from Elsie's. For only $6 you get a shuttle to and from the Twins game and after the game, that same ticket gets you a rail drink or a beer!
There are a lot of great drinking options at Target Field, and so be responsible, plan ahead, and remember that Uber is a great option to and from the park. If you haven't used the service before, get your first ride with Uber free here.
Driving to a Twins Game
One of the easiest ways to save a few dollars during your trip to the game is to find cheap or even free parking. If you've read a few of my guides, you'll know that finding free street parking is the holy grail of stadium parking options. While that may not be entirely possible near Target Field, the savviest of fans headed to a Twins game should be able to come away with minimal parking expenses. As always, expect traffic and plan to arrive early. The field opens two hours before game time and with plenty to see around and inside the park, why not get there early?
The streets surrounding Target Field, and downtown Minneapolis itself, are ripe with metered parking options. The city of Minneapolis provides a handy interactive online map that allows you to view street parking rates and hours for any street in the downtown area. Our guide highlights the best spots available, but click here to check it out for yourself and dig deeper.
On that map, you'll see that the city has established "Target Field Event Zones" for metered parking on certain streets nearest the stadium. You can park in these zones for special event rates on an hourly basis for up to three hours before the start of the game, and one hour after. The closest zones charge a couple of bucks per hour, while ones further away are a little cheaper.
The other obvious street parking destination is Avenues 2 – 5 in the heart of downtown Minneapolis. Meters on these streets only operate until 6 pm each night. If you arrive early, you should be able to find a spot on these streets, feed the meter until 6 pm, and then walk to the ballpark. The walk is a bit further, but with hourly rates at only a couple of dollars an hour in this part of town, you could park for virtually nothing. Not saying that we're geniuses around here…but we're pretty good.
Street Parking Along Third Avenue
Street Parking Along Third Avenue Two quick keys to metered parking. One, arrive early to find a space. Simple enough. The second is to always pay attention to signage in the area to make sure nothing has changed and that you're not going to be ticketed or towed.
If you're like my Dad and more inclined to just suck it up and pay for parking at a lot or garage (or "ramp", as they say in lovely Minnesota), there are a ton of reasonable options for you.
The first would be the "ABC Ramps", which are all located right across the street from the stadium and connected to Target Field via skyway. Parking here for a Twins game costs up to $15, and spaces are available on a first-come, first-served basis.
Another great way to do parking for a Twins game is through a service called SpotHero. This website and app allows you to reserve guaranteed parking ahead of time. You can compare available options in the area, pay for a ramp that works for you, and they'll email you the parking pass. You can drive to the game knowing exactly where you're going to park, how much you paid, and that a space will be waiting for you. This is the easiest way to park at Target Field and still won't cost you a ton of money. Check it out in the window below.
Best Food At & Near Target Field
Save Money on Food
While the food options inside Target Field are great, they are not budget-friendly. Thankfully, you can bring some food inside with you. Just make sure to follow the rules. Sealed water bottles no larger than 32 oz are allowed in. You cannot bring in other drinks like sodas or Gatorade. Outside food is also ok but it must be in a soft-sided bag that is otherwise ok to bring in. Don't be rude and take your outside food into a stadium restaurant, that is not allowed. Eat your own food at your seats. Any food that could be dangerous if thrown (i.e., apples) should be sliced.
Inside the park, hot dogs are only $1 on Wednesdays! There are also concessions stands that offer hot dog kids meals for $8 and on Sundays they are only $4. Order one for yourself. You left the kid at the seats, right? No one is checking.
Food You Shouldn't Miss at Target Field
1. Andrew Zimmern Canteen – celebrity chef Andrew Zimmern is a Minnesota native, so consider this tasty stop an example of "local boy does good". Visit behind section 119 to enjoy meaty dishes featuring creative flavor mash-ups and lots of flair.
This Celeb Chef Offers Great Variety at the Park
2. Home Grown Healthy Choices – I know you don't think healthy when you think ballpark food but Roots for the Home Team, near Section 101 serves incredible specialty salads using local ingredients. Anytime a ballpark offers local and fresh, that's pretty cool.
Kramarczuk's Offers All the Best Ballpark Sausages
3. State Fair Classics – this stand located near section 133 serves up food featured at the Minnesota State Fair including cheese curds, BBQ pulled pork, corn dogs, smothered fries, deep-fried pickles, pork chops on a stick, and other rotating options. This is Minnesota at its most down-home decadent.
4. If you like craft beer, be sure to try Summit Brewing Pub or Drafts at 34 for lots of beer choices, including ones unique to Minnesota.
Target Field Seating Chart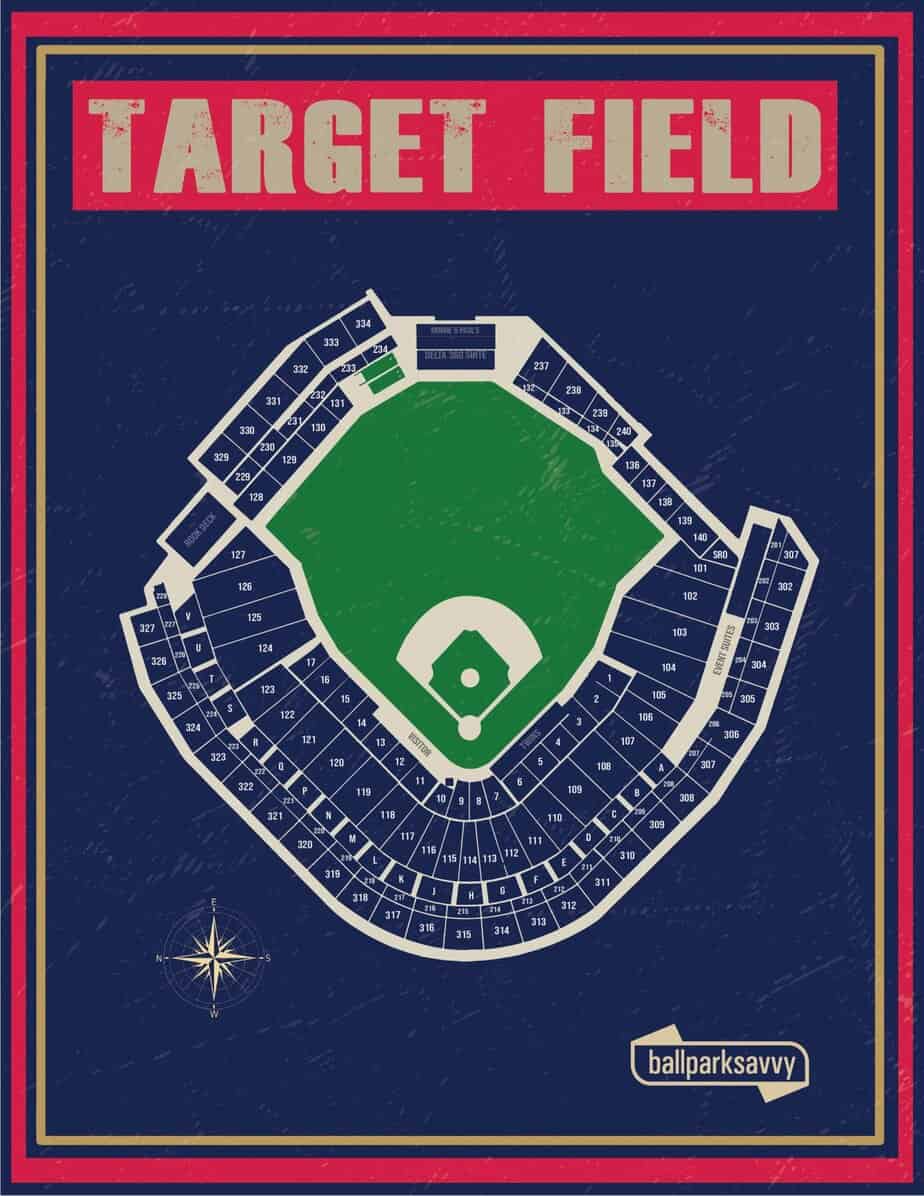 We've created the seating chart of Target Field above to help you better understand some of our recommendations below. Feel free to download this image and use it, we just ask that you credit Ballpark Savvy and link back to the page where you found the image.
Cheap Twins Tickets
At this point, nearly every Major League team has some kind of variable pricing model where depending on how in-demand a game is, the ticket prices you'll pay at the gate may go up or down.
Sometimes pricing varies from day to day, other times it is a more formal "tiered" structure where when they are playing a big draw team like the Yankees, you'll pay a premium price compared to a perennial ​bottom-dweller who might be in the "budget tier."
So rather than focusing on specific prices and sections which tend to change fairly often, I want to talk about general rules and strategies for getting the best deals on tickets. ​
1. Compare 3rd Party Sites
SeatGeek is a big time ticket comparison site that lets you compare a bunch of different ticket brokers, marketplaces, etc. and find the best price for the game you want to go to. They also have a tool that projects whether ticket prices will go up or down – AKA whether you should buy now or wait. 
Load more
Click here to view Twins tickets on SeatGeek.
2. Buy Last Minute
If you've bought tickets online before, you've heard of StubHub. What you may not know however is that with the rise of print-at-home and tickets on your mobile phone via the Ballpark App that you can usually buy tickets right up to a couple of hours before game time.
Save $5 On Last Minute Tickets: I recently learned about the Gametime app and it's legit. Save BIG on last minute tickets. Click here to get the app and you'll get $5 off your first order.
As someone who has sold a fair share of tickets on StubHub, I also know that sellers are encouraged to set a declining price for their tickets. This means they'll set a starting price and then their lowest acceptable price, and StubHub will auto-magically lower the price of those tickets as the event date gets closer.
So in many cases, a game that isn't sold out will have plenty of below face value deals on StubHub that you can snatch at the last minute and then either print at home, or just use the App on your phone to get scanned into the game.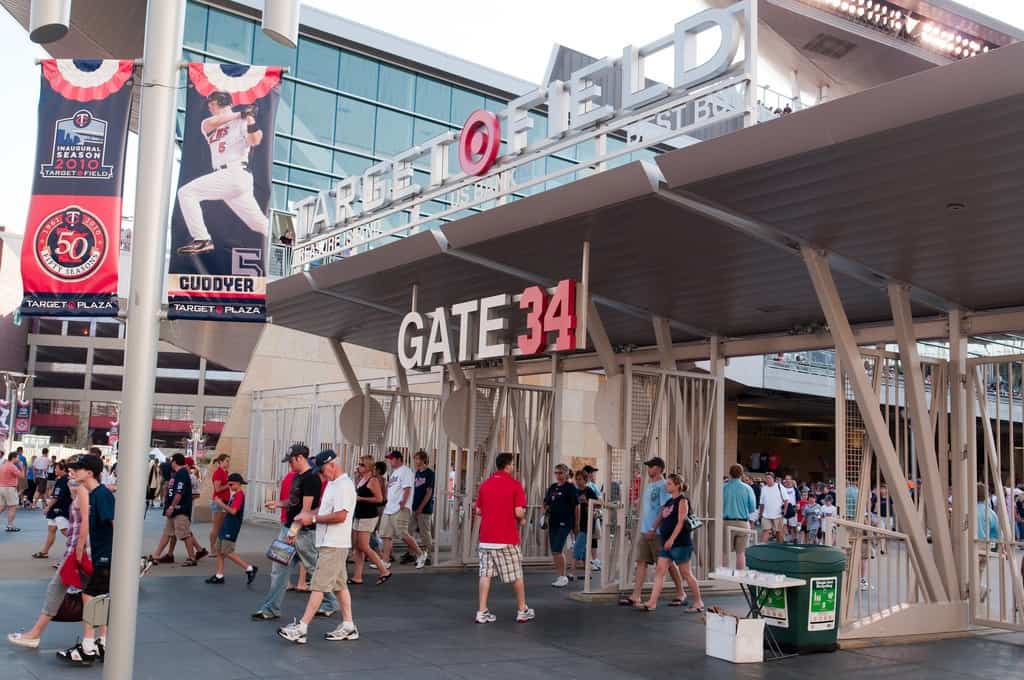 The Gate Numbers are Retired, Not in Order – via Flickr user Eric Kilby
3. Avoid Craigslist
It's not to say that you can't find ticket deals on Craigslist, you can. It is just more of a peace of mind, safety issue. I'm a Craigslist kind of guy, but I also know it's easy to get screwed buying baseball tickets there.
Remember when I mentioned selling on StubHub? When you list tickets there, all you need to know is the barcode number from that ticket along with the other details on section, row, etc. – So when I sell tickets I never mail them to the buyer, they just print them at home and my actual tickets become void.
If I was a shady character, I could go sell those void tickets to an unsuspecting buyer on Craigslist for cash. The tickets look real, they are "real" in a sense – but what that buyer will find out is when they go to enter the stadium, the ticket scanner will say "thou shalt not enter thy game."
Don't be that buyer.
Stick to buying tickets from SeatGeek, StubHub, or directly from the team. You can still get deals and you never have to worry about being scammed. 
Best Value Seats at Target Field
The seating capacity of Target Field is 39,504, which is about 15,000 less than the old Metrodome. The concourses are wider and the seats are more spacious with more leg room. If we are all going to squeeze together for hours at a time for a baseball game, there is nothing wrong with being a little more comfortable! As a ballpark patron, I see both of these as big benefits to Target Field. There really are no bad seats in the house but you can get picky and pinpoint exactly what you want.
Upper deck seats went up just a few dollars in general, and I see great value in the cheapest seats in the house. The field view seats are not bad at all in right, specifically Sections 306 and 307. These range from $11 to $16 depending on the game, and it seems as if you will have no restrictions on your view, and you're not on the very outer part of the stadium.
You should be able to look to your right for the "skyline view" and the plate will be to your left. Keep in mind, that if you are looking for aisle seats, I recommend sitting on the aisle furthest from home plate in the section. Try to visualize this, if you are sitting on the aisle closest to home plate in section 306, all the late comers, concession goers, and people eager to take advantage of the extra bathrooms will be going in and out right next to you. This will obstruct your view of home plate and most of the infield.
If you sit on the aisle furthest from the plate in the same section, all of the foot traffic will be directly to your right and will not block your view of the action on the field. This is a best practice anywhere in my opinion.

The View from Right Field – via Flickr user Eric Kilby
When the Twins are good, they will sell out pretty frequently, which has led to the team making standing room only tickets (SRO) tickets available. The price will vary based on the popularity of the specific game. If you are stuck with SRO tickets, make the best of it.
There are several spots on the main level of the stadium where standing bars are available, and these are ideal for SRO tickets. This gives you the opportunity to lean on something while setting down your food and drink. For sold-out games, these areas will fill up quickly so it is best to be early. The best spots are near the right field foul pole and just to the foul ball side of the left field foul pole.
The two areas I mention have an advantage because there is really no overhang in your sight. There are The two areas I mention have an advantage because there is really no overhang in your sight. There are other standing room sections with the standing bar area, but you can't really track fly balls or see many scoreboards because of the second level overhead. Other sections with a standing bar nearby are 131, 121, dead center field, and 106.
Finally, there has been some discussion of restricted view seats at Target Field. The team is pretty open about it, and after reading some information sent to me by my favorite blogger at the Star Tribune, Howard Sinker, I think it is much ado about nothing. Here are the Twins descriptions of these so called restricted view seats.
Granted I haven't sat in these seats, but after reading the descriptions I never really thought of these as "restricted views". My recommendation would be to visit Fenway Park and then go back and enjoy the immaculate views from Target Field. You know what I mean?
Let me make one final point. With the way Target Field is positioned, for an evening game, the sun is going to set behind home plate. The reason you should care is that if you are sitting in certain spots of the outfield, you are likely to have the sun setting in your face in the middle of summer. This can get really annoying, and may be new to you Twins fans just getting a taste of open air baseball.
On second thought, maybe when the temps are in the 40's in Minnesota in July, this could be a good thing.
Any seats in the infield for a night game will give you the advantage of not battling the sun through the first few innings. Keep that in mind.
Seats with Benefits at Target Field
Not everyone goes to a baseball game looking to maximize their budget. Some people want to maximize their experience and their budget is pretty high. If you are reading this and nodding your head, then you want premium seating at Target Field.
There are suites on different levels of Target Field and they vary in size for different groups. Another option is the Delta 360 Club which offers VIP seating, an indoor restaurant and lounge area, and food and drinks are all-inclusive. Sometimes you can purchase individual seats to this club. Check out after-market suite sales on SuiteHop for deals on premium seats. A season pass holder to one of the clubs or suites may sell their tickets to one Twins game and you can get a good deal.
Where to Stay While Visiting Target Field
My favorite way to travel to a baseball game is to stay as close to the stadium as possible and walk or take an Uber so I don't have to fool with parking in a strange place. So many ballparks have great hotels within walking distance making it easy to stay nearby.
I use Tripadvisor to find a hotel with good reviews near any ballpark. I prefer this option over any other because I actually search for the park I am visiting and Tripadvisor gives me hotels, restaurants, and other attractions near there. Target Field is located in Minneapolis and the city is packed with stuff to do and see.
Obviously, there are a lot of hotels in Minneapolis, but I can search for Target Field here and get the 10 closest hotels to Target Field and then pick what I want based on ratings and prices. This saved me a lot of time and I didn't end up getting ripped off on the price or end up in a sketchy place where I didn't feel safe.
Hampton Inn & Suites Minneapolis/Downtown – image via Hilton.com
The closest hotels do not always come with the lowest cost but you get what you pay for when it comes to accommodations. Remember that you aren't paying for parking or transportation.
Hampton Inn & Suites Minneapolis Downtown is a short walk to Target Field, especially since this hotel is connected to the Skyway. You get breakfast included with your stay. You know we love saving money on food during a baseball trip! Embassy Suites Minneapolis Downtown is also very close to the ballpark. This is a fairly new hotel but it is in a historic building, making it unique. They have a pool, free breakfast, and are connected to the Skyway. Both these hotels should have rooms for under $200.
Free Stuff at Target Field
1. Target Plaza and Statues – Target Plaza hosts a variety of statues to Twins greats. Pose for selfies with Kirby Puckett, Rod Carew, Tony Oliva, and Harmon Killebrew. There is also a giant golden glove in honor of, well, all the Golden Gloves won by Twins players like Jim Kaant, Kirby Puckett, and Torii Hunter.
Kirby Puckett Cheers Us Onward – via Flickr user Jeramey Jannene
2. Tradition Wall – other ballparks have memorials to star players, but the Twins Tradition Wall between the Carew and Puckett gates takes a different approach. All players ever to wear a Twins uniform in a major league game are listed on hanging pennants. There are other inscriptions, including quotes from organization greats.
3. Kids Run the Bases – Make sure to get tickets to a Sunday Twins game if you are bringing your kids. On Sundays kids 12 and under get to run the bases after the game ends. Kids can get their picture taken with T.C., the Twins' mascot, at the 3rd inning of every game. Just go to T.C.'s Line up at T.C.'s Clubhouse. Head over there early and let the kids burn some of that extra energy at the playground there. It is all near section 229.