Last Updated: April 4th, 2023 by Jake Cain
Move aside, peanuts and Cracker Jacks! We have the inside scoop on the best quality ballpark food, including some tasty new offerings for this season. Bring your appetite and let's check out some can't-miss stadium eats.
Coming to a Stadium Near You…
It looks like plenty of MLB stadiums have stepped up their food games this year. Whether you're a plant-based eater or eager to chow down on an all-beef burger, you'll find something to cheer about in this year's new food offerings and ballpark culinary experiences.
Don't forget your phone, because you'll want a selfie with some of these over-the-top and Instagrammable treats. Of course, if you'd rather sit down and savor the flavor while you watch your favorite players at work, we understand that, too.
Best New Ballpark Foods
Now for the part we've all been waiting for, here's our list of the most exciting new food experiences of the season.
Sundae Donuts Milkshake – Citi Field
It's sweet, it's salty, it's gargantuan, and it's oh-so-Instagrammable. Meet the Sundae Donuts Milkshake, available this year at Citi Field. This milkshake is topped with sprinkles and a glazed donut, then finished off with your choice of popcorn or Oreo crumbles.
A spokesperson for the brand called this shake "a dessert and a meal in one," and we have to agree! Kids and adults alike will go crazy for this treat mountain, and we expect to see tons of photos popping up all over social media.
Wear your stretchy pants to your next Mets game – you're going to need them.
New at Citi Field is this dessert masterpiece: Milkshake, topped with a glazed donut, topped with popcorn. Courtesy of Sundae Donuts pic.twitter.com/8t7YOTumT5

— Matt Monagan (@MattMonagan) March 23, 2023
99 Burger – Yankee Stadium
A hamburger is a classic American treat, but this is no diner burger! As of 2023, Yankee Stadium is introducing the 99 burger, which features two Waygu beef patties, pickles, caramelized onion, a secret, special sauce, and cheese.
It's an elevated version of a favorite meal, and we expect this burger to be a popular and highly satisfying stadium bite.
Yankee Stadium will only sell 99 of these burgers each game, so don't sleep on this meal, named for the Yankee's own Aaron Judge.
Skyline Chili Nachos – Great American Ballpark
As any Cincinnati native will tell you, Skyline chili is a local staple. New this year, the Skyline locations in sections 115 and 418 of GABP will offer Skyline Chili nachos – tortilla chips topped with Skyline Chili, nacho cheese sauce, and shredded cheddar cheese.
Chili, cheese, and chips – it's a simple but classic combination, and executive chef Gary Davis is sure this twist on a local favorite will take off in 2023.
First look at the @Skyline_Chili Chili Nachos!!! pic.twitter.com/l8eGwiiCpg

— Sara Elyse (@SaraElyse128) March 23, 2023
Crab Fries- Oracle Park
The garlic fries at the home of the San Francisco Giants are a long-standing favorite, but as of 2023, they're not the only french fry game in town. This year, fans can find a new deep-fried treat at Murph's Pub on the Promenade level or in the Field Club: crab fries.
These tasty morsels haven't been simply sprinkled with Old Bay and tossed out to the fans. No, these fries are topped with real, fresh Dungeness crab, a lemon-garlic aioli, and even a wedge of fresh lemon. We think they'd make a great companion to Oracle Park's famous Crazy Crab sandwich.
New concession offerings in 2023 include crab fries, Italian beef sandwiches and churwaffles—as the name suggests, a hybrid between a churro and a waffle. https://t.co/X5krKQkp4w

— The San Francisco Standard (@sfstandard) March 24, 2023
Gonzo Garbanzo Sandwich – Guaranteed Rate Field
Plant-based baseball fans can bring their appetites to the game at Guaranteed Rate Field, where you'll find the new-for-2023 Gonzo Garbanzo Sandwich.
This thick, hearty sandwich contains seasoned chickpeas, red pepper hummus, avocado, arugula, and tomato. It's all sandwiched between two thick pieces of wheatberry bread for a flavorful meal that's sure to please health-conscious fans.
This sandwich is available around the concourse from White Sox concessions vendor Delaware North. Leave your foam finger behind while you're roaming the park – you'll want to eat this hefty sammie with both hands.
New food offerings for White Sox games include "gonzo garbanzo" sandwich and pan-seared pierogi with Polish sausage.

📷 @smadison_photo https://t.co/BbkPe4AEfT pic.twitter.com/hKG63xrTEk

— Chicago Tribune Sports (@ChicagoSports) March 23, 2023
The Boomstick Burger – Globe Life Field
Everything is bigger in Texas, y'all, and this burger has been built to Lonestar State standards. This two-foot (yes, two-foot) hamburger is a Texas-sized serving of meat and cheese topped with jalapenos, chili, and onion rings. Be sure to bring a few friends to help you tackle this giant meal!
The Boomstick Burger is the companion to Globe Life Field's old favorite, a 2-foot hotdog known as the Boomstick.
🚨 New Texas-sized treats at the ballpark 🚨 pic.twitter.com/3L0N7Wveyh

— Texas Rangers (@Rangers) March 27, 2023
Don't Forget These Old Favorites!
While many ballparks are serving up fresh new foods this season, we're not ready to cast aside these old favorites. These delicious stadium eats caught our eyes when they were new, and they're still at the top of our must-taste list when we visit each of these ballfields.
This helmet comes loaded down with some seriously tasty nachos. Get ready to share and get your hands messy, because between the chipotle chicken, guac, beans, cheese, pico, and pickled jalapeños, you and your game buddies are going to have your hands full with this stuffed helmet.
You can find this one on the traveling Tostitos Nacho carts around the stadium. Just try not to squabble over who gets the helmet or the last chip.
Reuben Some Dirt On It Dog & S.I. Cover Dog—Chase Field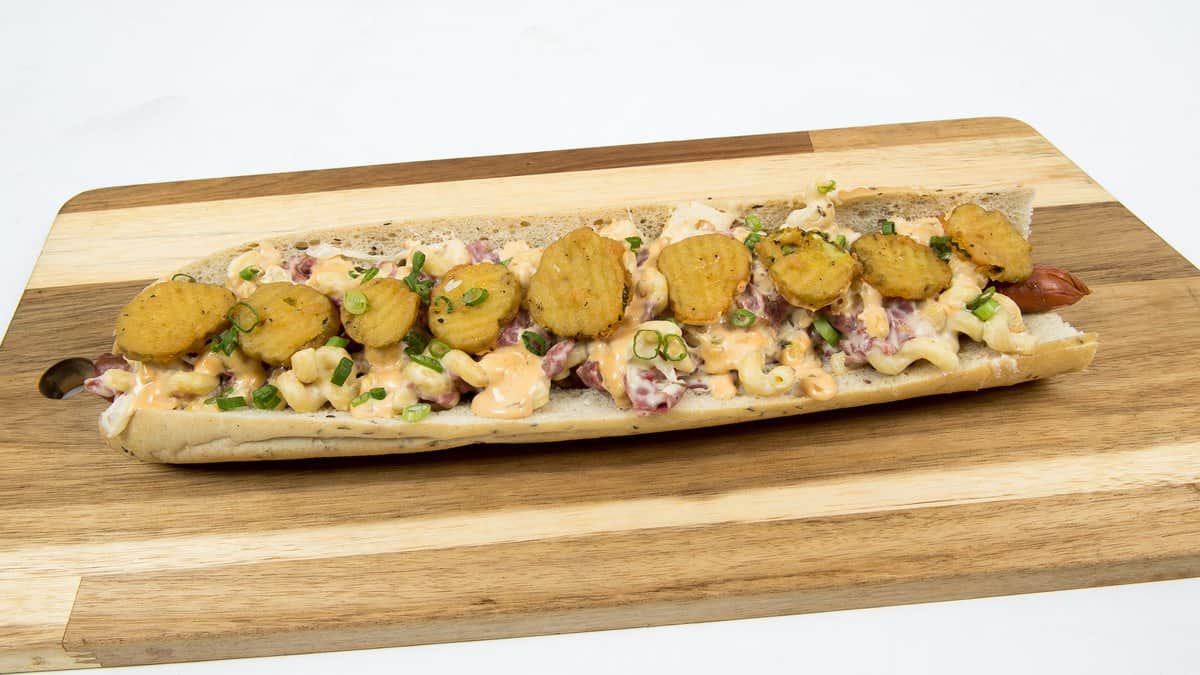 These two seasonal dogs are worth every cent of their $30 price tags. Each of these dogs is 18-inches long, with a Schreiner's hot dog and bratwurst respectively. The Reuben is wrapped in a rye bun and smothered with mac and cheese, fried pickles, and green onions, topped off with a secret sauce to create something truly, delectably horrific for your doctor.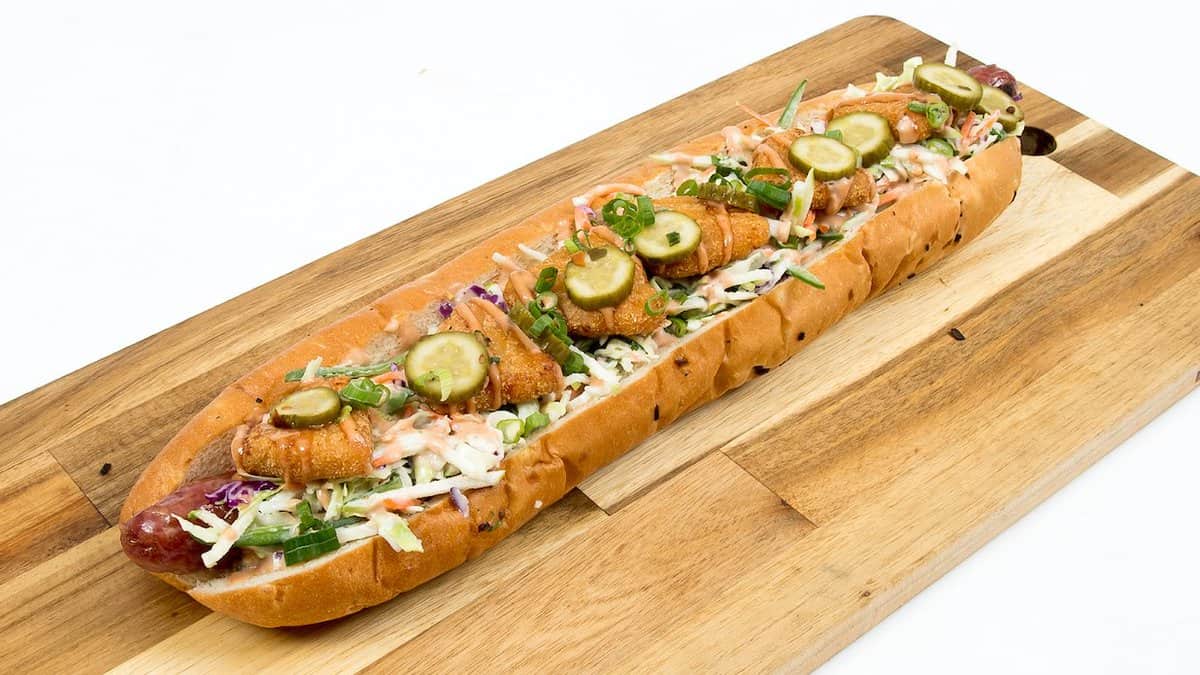 On the other hand, the SI Cover dog has an onion bun, and the mac on this one is fried. Its beautifully layered flavor is rounded out by jalapeño-granny smith apple coleslaw, barbecue aioli, house-cured beer pickles and green onion.
The Reuben dog is only available from June to July and the S.I.'s only sticking around from August to September, so you won't want to miss your chance. Find these offerings at Big Dawgs.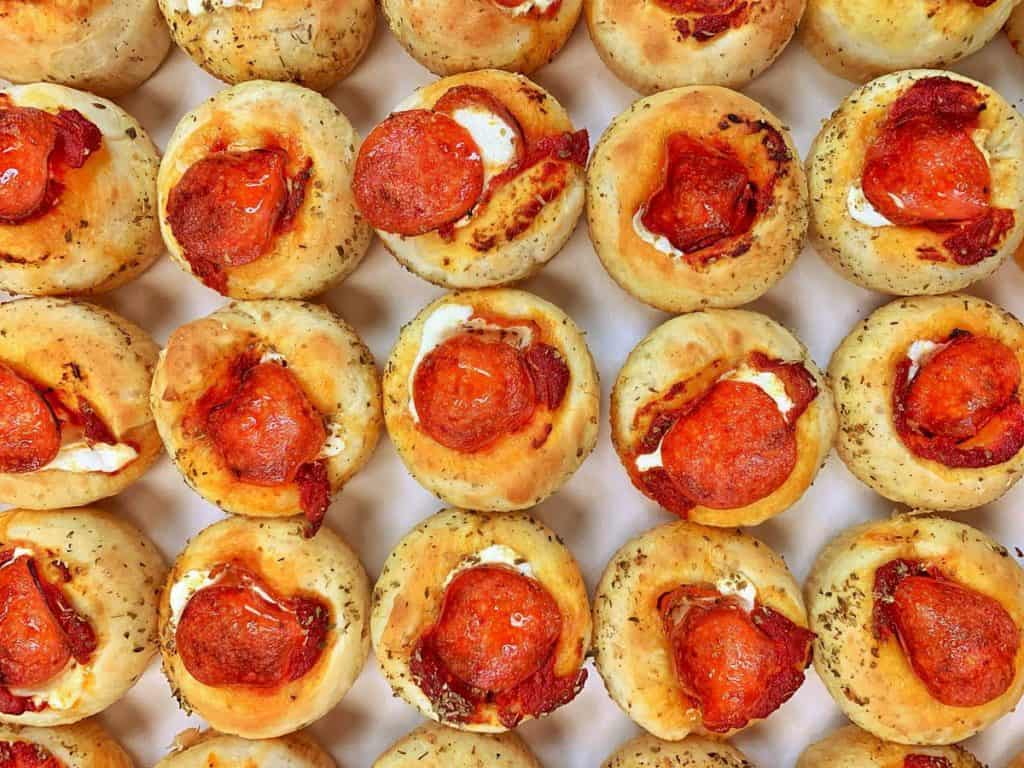 Fan-favorite Citi Field vendor Smorgasburg brought their A game with these pizza-inspired cupcakes. Whether you pair your mozzarella and tomato with oregano for a Margherita pizza or with pepperoni for a tried-and-true classic, you can now get your savory fix in sweet bite-sized portions.
Check these little treats out at the Jim Beam Highball Club on the Promenade.
Are the pizza cupcakes not sweet enough for your sweet tooth? We get it; that's why we've included this perfect balance of sweet and savory for you to check out: the Donut Burger.
Though it might sound absurd at first, this bacon cheeseburger situated atop a fluffy glazed donut and slathered with spicy pepper jam is the perfect marriage of classically sweet and savory flavors. Honestly, it's a must-try. Keep an eye out for it in left field at Boardwalk Eats.
Garden Salad Jars and Coney Dog Egg Rolls— Comerica Park
Comerica has both its health-conscious and indulgent fans in mind this year. If the idea of managing your regular salad in a stadium seat has you cheating on your diet, fear no more; the Garden salad jars have you covered.
Comerica's Grab 'N Go section is now serving up fresh, spring-mix salads with cheese, grains, veggies, and occasionally chicken in manageable screw-top jars. Just shake them up and go to town.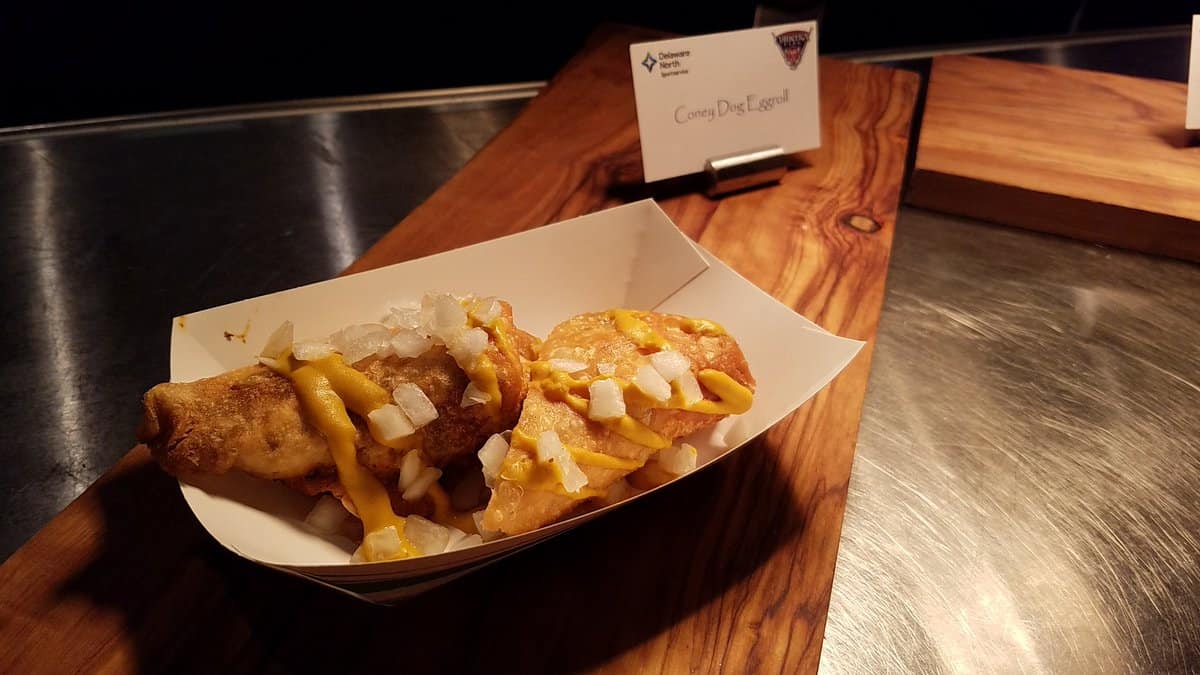 If salad really isn't what you're looking for at a ball game, don't worry. As a new twist on the iconic Coney Island pizza, the Coney dog egg roll is sure to be a new fan favorite. The crispy roll adds an exciting fresh crunch to the ol' dog.
We told you to keep an eye out for Japanese-inspired flavors; here's one of our favorite takes on the new trend. Dodger Stadium offers a twist on both the traditional baseball bowl and the California roll. This dish includes a tasty combination of imitation crab, sriracha aioli, edamame, carrots, and cucumbers, all served on a lovely pile of sushi rice.
Globe Life Park has taken the "go big or go home" platitude to heart with this offering. The "RWB" Dog is a loud and proud tribute to the old red, white and blue. It includes a Gherkins relish of Best Maid pickles, dyed red and blue, alongside a strip of white onions.
The sausage underneath rounds out the savory-sweet-spicy combo with its Texas chili flavor. Plus, they didn't forget about the salt; this dish is served with Lays chips. Find this dog at the Eat More Dawgs stand near section 36, and both American Dog Stands.
If the Red, White, and Blue Dog isn't extravagant enough to excite you, the Fowl Pole goes the extra mile. This hefty, 2lb chicken strip is truly something to behold.
Composed of eight chicken breasts wrapped together, this hand-battered, fried concoction is accompanied by waffle fries, honey mustard, and ranch. Trust us, this one won't disappoint. Check it out at Budweiser Bowtie Plaza's Flew the Coop stand at section 50.
Combining two popular food trends, Guaranteed Rate Field's Levy Restaurants has fans jazzed about their new vegetarian-friendly, Asian-inspired offering: The Impossible Asian Appetizer Duo.
The plant-based protein isn't holding this duo back one bit. The pan-fried pot stickers are served with a soy chili dipping sauce and include a mouth-watering combination of ginger, scallions, cabbage, and sesame.
Additionally, their partner in crime, the crispy spring roll, is served with a Chinese hot mustard sauce and showcases the wonders of Napa cabbage with green onions and ginger jalapeño marmalade.
Find this killer combo in the Diamond Suites.
Red Curry Bowl and Boozy Popsicles— Oakland Coliseum
Constantly have a hankering for Thai food? Never thought you'd find it at a baseball field? Look no further than Oakland Coliseum's Nourish stand at The Farm behind the right-field flagpoles. Among their smattering of exciting new food, their Red Curry bowl with grilled chicken, bell peppers, and egg noodles has us swooning.
But that's not the only exciting addition at the Coliseum, you should also keep an eye out for Party Pops' boozy popsicles. With an impressive variety of frozen cocktails in ergonomic popsicle form, this is really something you don't want to miss. The Blueberry Mania is a fan favorite, but they also offer a Moscow Mule flavor and much more.
Quinoa Blueberry Salad— PNC Park
While there have been a plethora of new health-conscious options this year, this has to be one of our favorites. Rather than just offering your run-of-the-mill salad, the Market at PNC Park is offering this colorful mix of spinach, blueberries, cucumbers, hearts of palm, carrots, and sunflower seeds. All are served on top of a bed of red quinoa and topped with balsamic dressing.
Check out this exciting new option behind section 118!
Buzz Margarita and Magenta Mojo Cocktail— Safeco Field
While most of these have been new food options, a couple of Safeco's new drink options had to be mentioned. First up is the Buzz Margarita. The already unique mix of Mezcal, szechuan buttons, and edible flowers is topped with toasted grasshoppers. Talk about an adventure! Check it out at Edgar's Cantina in the 'Pen.
If grasshoppers are too much bug for the buzz, try out Safeco's new cocktail honoring their recent partnering with T-Mobile: the Magenta Mojo. The pink flavors match the company's branding with a mix of grapefruit, rose, and hibiscus. Pick up one of these refreshers, which can also be found in the 'Pen.
The Boomstick and Peanut Butter n' Jelly Candied Bacon Sandwich— Target Field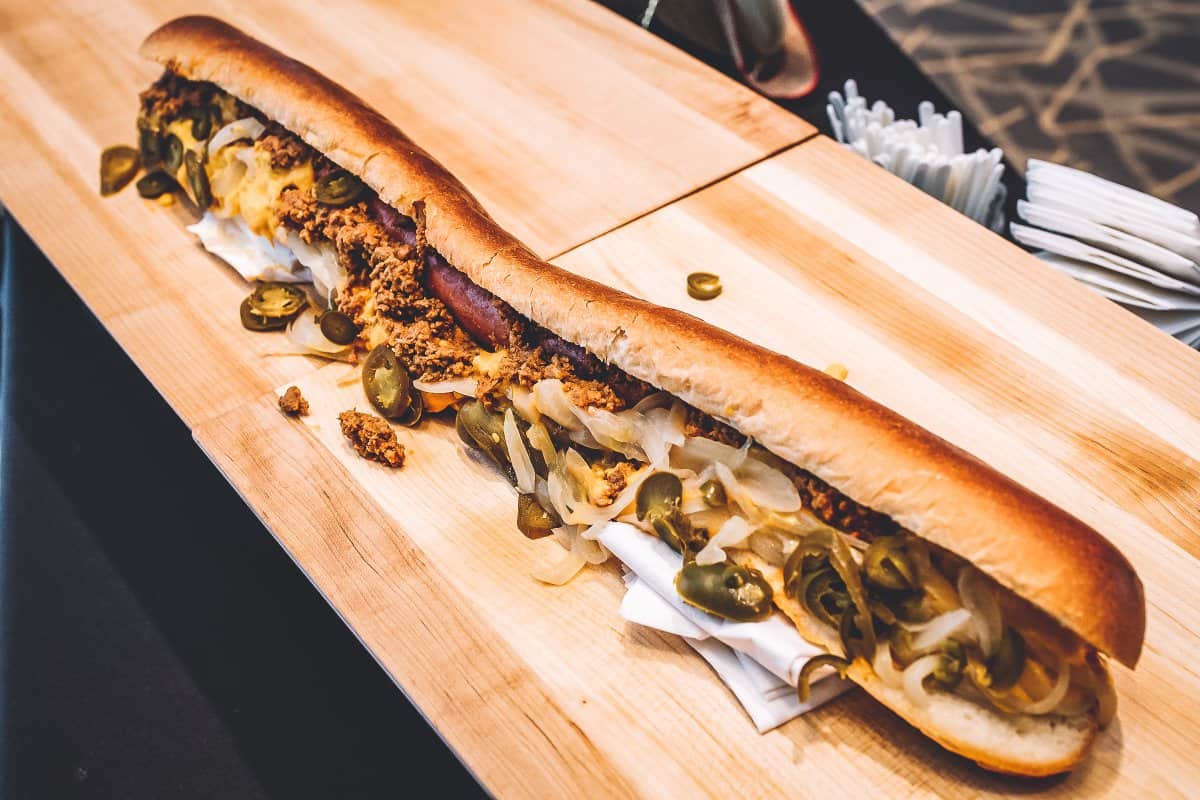 Looking for something so classically decadent that it might actually stop your heart? Look no further than Target field's Boomstick. This hoagie is gas-station food 2.0 (in the best way).
Nestled in a thick, carb-packed bun is an astounding 2 foot-long hotdog slathered in a combination of chili, nacho cheese, jalapeños, and frilled unions. Swing by Section 127 to get one of these for yourself (or your whole crew).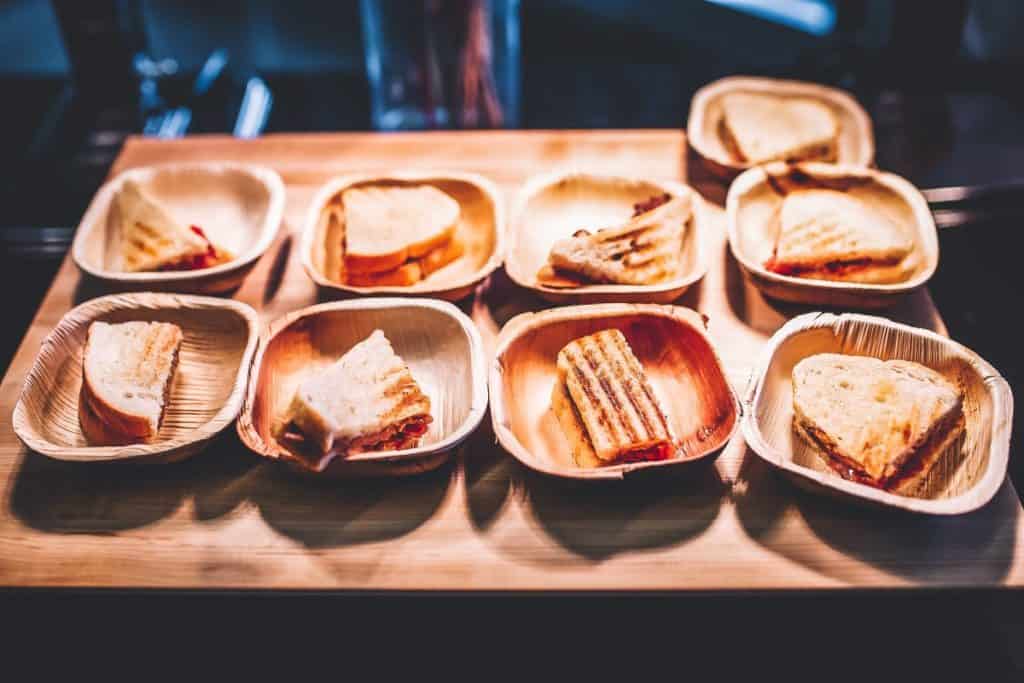 Continuing with the classic flavor trend, Target Field also stepped up another tried-and-true. Forget that boring PB&J from grade school, these bad boys have introduced candied bacon to the mix. And that has made all the difference.
The smooth peanut butter and lightly sweet jelly encase the perfectly crisp bacon of your dreams, all inside a pair of grilled sourdough slices. Don't forget to pick one of these up in Section 114.
Honestly, we just couldn't decide between Tropicana Field's three new meat-packed dishes: freshly smoked ribs, short rib grilled cheese, and ropa vieja bowl.
If this trio sounds too good to be true, think again. First, the dry-rubbed ribs are smoked on site and are available at the Budweiser Smoke and Pour in the Third Base Food Hall.
Not looking for straight, meaty goodness? Temper it by getting the grilled cheese version. Sourdough bread bravely contains a mountainous helping of Budweiser-braised short rib, accompanied by caramelized onions, horseradish cream, and THREE cheeses (swiss, cheddar, and fontina). Find this one at Melted on the Budweiser Porch.
The last, but certainly not the least, of these additions is the Ropa Vieja Bowl. This one trades out the ribs for a delectable, slow-roasted brisket, perfectly paired with white rice, plantains, as well as sautéed pepper and onions. Grab this meal at Cubanos in the Third Base Food Hall.
Only available in the Scout's Club, the new Big Red Machine burger will have you ready to take a nap after you're done eating it.
Topped with a split Big Red Smokey, Sauerkraut, Beer Cheese, and Grippo's Potato Chips on a Servatii's Pretzel Bun – you'll get a smattering of Cincinnati favorites like Grippo's and Servatii's in one oversized sandwich.
This guy will cost you about $12.50 – but you probably won't need to eat again for 48 hours, so it could end up being a great value.