Last Updated: September 12th, 2023 by Kristen Douglas
Note: this article may contain affiliate links. If you make a purchase using one of these links, I may be paid a referral fee at no expense to you.
Opened in 2001, Bud Selig's Miller Park, now called American Family Field, has been an exciting home for the Brewers. Its retractable roof is closed a bit too often, but it is salvation from Milwaukee's cold snaps. The Brew crew thrills their fans who are loyal and love to tailgate. Going to your first Brewers game is truly a unique experience thanks to the traditions, the midwestern food, and the fans.
Miller Park is a Cosy Little Home for the Brewers – via Flickr user Bryce Edwards
Things You Shouldn't Miss
During the Seventh Inning Stretch, join the locals in singing "Roll Out the Barrel" while the ushers dance.
Around the park, find the "Home of Heroes" murals which mix baseball greats with images of Wisconsin's many proud industries – brewing, paper-making, manufacturing, farming, and more.
While in the bathrooms, keep an ear open for the radio broadcast and the excellent voice of Bob Uecker, Brewers' announcer since 1971.
Ways To Save Money
Take Uber instead of parking. Click here to get a free ride
Take a soft cooler of food & drinks with you
Stay close by and walk to the stadium. Click here to see our favorite hotel near American Family Field.
Click here to reserve a cheap parking spot in advance.
There are a lot of free shuttles serving the local restaurants, so there's always that option. But tailgating is serious business in Milwaukee, so it may be worth the parking for the fun.
Parkwhiz takes the stress out of finding a spot, letting you focus on the brats.
You can always find cheap Brewers' tickets as long as the Brew Crew isn't playing the Cubs. Tickets against the Cubs are higher priced and more popular on the secondary market, so try out SeatGeek if you are looking to see that particular match up.
There are some delicious Midwestern options to eat at the park, but those looking to bring in their own snacks can bring in a few small things like a sandwich or a small bag of pretzels. No coolers are allowed anymore so don't try packing a big picnic for the whole family! Don't skip the beer though; Bernie Brewer will haunt you if you try.
Still, with its little 'tips of the hat' to Milwaukee culture in the art, mascots, music, and food, this park is a fine host on behalf of the city. And since it's a pretty cheap park, there's a lot to enjoy for not a lot of money.
Check Out the Racing Sausages, the Original Racers – via Flickr user Benjamin Lipsman
Arriving at American Family Field
Alternative/Public Transport to a Brewers Game
Two bus lines run close to American Family Field, the GoldLine on Wisconsin Avenue and Route 18 on National Avenue. If you want to take the bus, get the Umo App to plan and pay for your trip. That will simplify things a little. However, the bus is not the simplest way to get to the park. With so many free shuttles, it's hard to see why you'd bother navigating the bus system.
One alternative is to combine your pregame beer and food with a free shuttle to the game. Here is a recent list of bars, hotels, and restaurants that offer shuttles to Brewers games. This is a fantastic way to save money and support local businesses!
Many Nearby Bars and Restaurants Connect to Miller Park by Free Shuttle
If you want your own ride to the game, or if you don't want to bother parking, you can always use a rideshare service like Uber. Get an AirBnb close by and you won't have far to go! The designated spot for rideshare drop off and pick up at the stadium is in Gantner Lot across the Center Field Pedestrian Bridge.
If you haven't used Uber before, click here to get your first ride free.
If you are close by and want a green way to get to the game, rent a Bublr Bike. There is a Bublr Bike parking/charging station near the rideshare lot.
Rally is an easy and comfortable option to get to and from American Family Field. You will be picked up in the same bus that drops you off. This is a great way to travel with a group and Rally has rewards for their riders based on miles booked on Rally buses. If you are park hopping, book a Rally bus wherever you go!
Driving to a Brewers Game
First of all, parking can be a mess at American Family Field. The biggest problem isn't necessarily the tenner you would pay for the general lots, but getting out afterwards is a nightmare for crowded games.
If you're looking for free parking, your best bets are between 51st and 54th streets and also Wisconsin Ave (though these are all quite a hike from Miller). Parking may be hard to find on these streets in particular, but they have a good number of side streets around them where you can park. The earlier you get there the better. Obviously, you need to pay attention to the parking signs on that given street. Don't email me if you get a ticket! Wisconsin Ave. has free parking but it's a bit of a hike.
Wisconsin Ave. has Free Parking But It's a Bit of a Hike
Milwaukee may be one place where paying for parking has its benefits. The Brewers fans are known for tailgating outside of American Family Field. Their pregame party rivals those of football games. Arrive early and park close to the stadium and your nose will be dancing to the smell of sausage. Tailgating will be happening in all the official stadium lots except for the employee parking lots and the rideshare lots. If you are coming from out of town it may be worth paying for parking just to experience this unique pregame atmosphere. The lots open three hours before the game starts. If you are going to tailgate, be aware of the rules and be a good guest.
If you do want to purchase a spot at American Family Field, do it in advance. They make it too easy not to! Get the MLB app and you can have your digital parking pass saved right there on your phone to make entry simple. Depending on the day of the week, the opponent, and the lot, prices range from $13 to $40 for Official Brewers parking and you can buy your spot here.
Whether tailgating or not, finding a spot in the various parking lots around American Family Field can be a little stressful. Using a service like Parkwhiz allows you to save money and save time by finding your perfect parking lot and booking ahead of time.
Best Food At & Near American Family Field
Save Money on Food
The best way to save money at American Family Field is to bring your own food in. While this is limited, it does help with the budget. The rules do not allow for coolers full of food and drinks anymore but you can bring in individual-sized items, think snacks or sandwiches. The key is that whatever you are bringing in fits in one small clear bag like a gallon zip lock. Always check the rules for bags and outside items at every stadium because they seem to be changing annually. Clear bags are becoming necessary at most parks now and that is the case here with limited exceptions. If you want to bring in a drink, it has to be in a sealed plastic bottle and non-alcoholic. Buy your beer inside!
Another way to save money (if you are driving to the park) is to park at a nearby restaurant that does a food and parking combo. Then, eat and drink at the hotspot you've chosen and take the shuttle over to American Family Field. Check City Lights Brewing and Gene's Unicorn Pub.
Food You Shouldn't Miss at American Family Field
The food at Brewers home games really is good. If you are going to eat at the game, do yourself a favor and download the MLB app. American Family Field is one of the parks that allows you to order concessions from your seat with the app. Skip the long lines! Also, cash is NOT king here. The park is cashless. Plan to pay with a card or app! The food here is all about the meat and cheese, you are in Milwaukee after all. There is actually a race between famous sausages during the game that has been happening since the 90s. Brat, Hot Dog, Chorizo, Italian Sausage, and Polish Sausage face off for a sprint every game. You can find all these sausages around concessions in the park and a whole lot more!
1. Brats: You can get them all over the park, and they are simply better than the sausages at other parks. The snap snaps harder, the juice is juicier, the flavor is more flavorful. These are the sausages you dream about when you feel nostalgic for the ballpark in mid-January. They also come with Secret Sauce. Who cares what the secret is, it's just that good.
Go Jumbo and Fulfill a Baseball Fantasty
2. Nachos… on a Stick: You never thought they existed. Once you've had them, you'll never believe you lived in a world without them. Beef and beans are cooked, wrapped on a stick, and then rolled in crushed Doritos. Then the whole corn dog-doppelganger is deep fried and served with melty cheese sauce, sour cream, and salsa. You can buy them by the pair near sections 106, 129, 208, 232, and 413. You're welcome.
3. More Cheese! Apparently, Christian Yelich prefers his grilled cheese a particular way. You can order the Yeli Melt at ballpark stand 129. The Twisted Cheese Fry isn't just fries with a little cheese sauce. These fries are smothered in Sargento cheddar and cheese curds!
American Family Field Seating Chart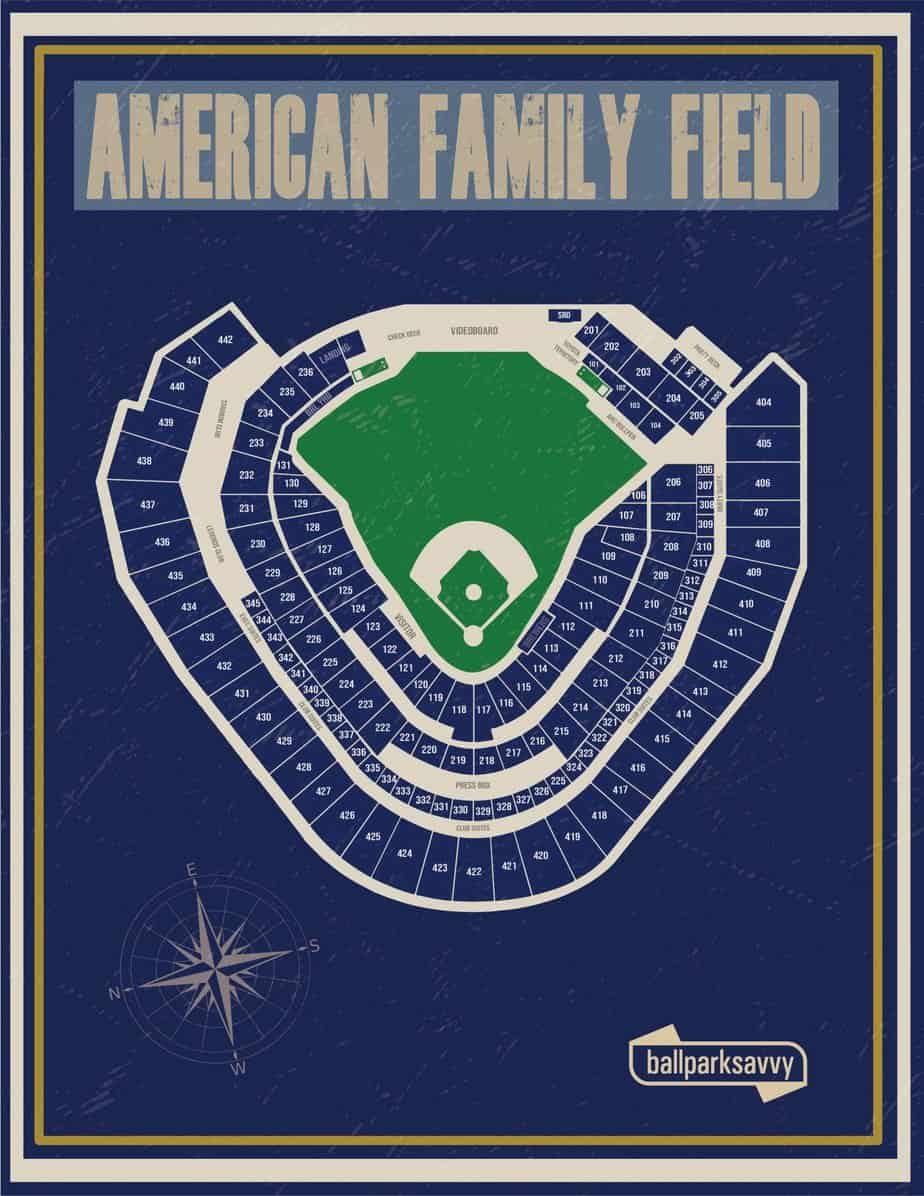 We've created the seating chart of American Family Field above to help you better understand some of our recommendations below. Feel free to download this image and use it, we just ask that you credit Ballpark Savvy and link back to the page where you found the image.
Cheap Brewers Tickets
At this point, nearly every Major League team has some kind of variable pricing model where depending on how in-demand a game is, the ticket prices you'll pay at the gate may go up or down.
Sometimes pricing varies from day to day, other times it is a more formal "tiered" structure where when they are playing a big draw team like the Yankees, you'll pay a premium price compared to a perennial ​bottom-dweller who might be in the "budget tier."
So rather than focusing on specific prices and sections which tend to change fairly often, I want to talk about general rules and strategies for getting the best deals on tickets. ​
1. Compare 3rd Party Sites
SeatGeek is a big time ticket comparison site that lets you compare a bunch of different ticket brokers, marketplaces, etc. and find the best price for the game you want to go to. They also have a tool that projects whether ticket prices will go up or down – AKA whether you should buy now or wait.
Load more
Click here to view Brewers tickets on SeatGeek.
The Retractable Roof Gives American Family Field a Strange Shape – via Flickr user Barrel Man Sammy
2. Buy Last Minute
If you've bought tickets online before, you've heard of StubHub. What you may not know however is that with the rise of print-at-home and tickets on your mobile phone via the Ballpark App that you can usually buy tickets right up to a couple of hours before game time.
Save $5 On Last Minute Tickets: I recently learned about the Gametime app and it's legit. Save BIG on last minute tickets. Click here to get the app and you'll get $5 off your first order.
As someone who has sold a fair share of tickets on StubHub, I also know that sellers are encouraged to set a declining price for their tickets. This means they'll set a starting price and then their lowest acceptable price, and StubHub will auto-magically lower the price of those tickets as the event date gets closer.
So in many cases, a game that isn't sold out will have plenty of below face value deals on StubHub that you can snatch at the last minute and then either print at home, or just use the App on your phone to get scanned into the game.
3. Avoid Craigslist
It's not to say that you can't find ticket deals on Craigslist, you can. It is just more of a peace of mind, a safety issue. I'm a Craigslist kind of guy, but I also know it's easy to get screwed buying baseball tickets there.
Remember when I mentioned selling on StubHub? When you list tickets there, all you need to know is the barcode number from that ticket along with the other details on section, row, etc. – So when I sell tickets I never mail them to the buyer, they just print them at home and my actual tickets become void.
If I was a shady character, I could go sell those void tickets to an unsuspecting buyer on Craigslist for cash. The tickets look real, they are "real" in a sense – but what that buyer will find out is when they go to enter the stadium, the ticket scanner will say "thou shalt not enter thy game."
Don't be that buyer.
Stick to buying tickets from SeatGeek, StubHub, or directly from the team. You can still get deals and you never have to worry about being scammed.
Best Value Seats at American Family Field
Most of the time the Brewers leave their retractable roof closed, some fans say too often. So there aren't many times in the summer when you are baking in the sun at American Family Field. That being said you can still find some decent ticket values at American Family Field. I think the best view for the money is something in the Terrace Box sections between 419 – 425. You are going to pay a reasonable price per seat, and I think the view is better than some of the other seats that are close to double that price. If you are trying to set yourself up to catch a foul ball, the most foul balls in this park end up down the third base line. Pick seats in sections 121-123.
No Matter Where You Sit, Day Games Will Feature Weird Shadows – via Flickr user Sara
One thing to keep in mind if you only go to a couple of games per year is that the Brewers designate some games as premium games, and those tickets cost more. A good number of these premium games are Cubs games. The reason for that is because Cubs fans travel so well, and American Family Field is just a stretch down the road from Chicago.
Here is my recommendation; if you are just a casual fan, don't go to these games. Cubs fans are generally obnoxious and really take away from your ballpark experience overall. But from a value perspective, I think the view to price ratio is probably best in the sections I mentioned above. Watch the Brewers website for deals, like this Flash sale page.
Seats with Benefits at American Family Field.
This is a fairly affordable major league stadium to visit however, you can always spend more if you want to and upgrading to premium seating will give you some sweet perks at a Brewers home game. Club seats in American Family Field are all-inclusive meaning that you get food and drinks, and your seat is in one of the best spots in the stadium. There are 5 club areas to choose from if you are buying individual tickets.
If you want to come to a Brewers game with a group, you can rent a private suite and watch the game like a true VIP. There is no such thing as a cheap suite but annual suite owners sometimes rent their suites out for individual games on sites like SuiteHop for a lower price.
Where to Stay While Visiting American Family Field
My favorite way to travel to a baseball game is to stay as close to the stadium as possible and walk or take an Uber so I don't have to fool with parking in a strange place. So many ballparks have great hotels within walking distance making it easy to stay nearby.
I use Tripadvisor to find a hotel with good reviews near any ballpark. I prefer this option over any other because I actually search for the park I am visiting and Tripadvisor gives me hotels, restaurants, and other attractions near there. American Family Field is located in Milwaukee and the city is packed with stuff to do and see.
Obviously, there are a lot of hotels in Milwaukee, but I can search for American Family Field here and get the 10 closest hotels to American Family Field and then pick what I want based on ratings and prices. This saved me a lot of time and I didn't end up getting ripped off on the price or end up in a sketchy place where I didn't feel safe.
Sleep Inn & Suites Airport – image via Choicehotels.com
The closest hotels do not always come with the lowest cost but you get what you pay for when it comes to accommodations. Remember that you aren't paying for parking or transportation. The best value you can get is the Sleep Inn & Suites Airport. However, it is 5 miles from the park so Uber to the game. Breakfast is included and Sleep Inn hotels actually have a pretty good free breakfast with hot options and not just stale bagels and pastries.
Best Western Plus Milwaukee West is one of the closest and doesn't cost much more than the Sleep Inn. Breakfast is also included and it has a swimming pool and updated rooms. The Fairfield Inn is the closest at about a half-mile from the park. This hotel is new and has a great hot free breakfast.
Free Stuff at American Family Field
1. Bernie Brewer's Wild Slide – In days past, Bernie Brewer, the team's drunken mascot, would slide down a flume from his chalet into a vat of beer out past center-left field. But today, the slob's been cleaned up a bit, and he now slides down a yellow child's slide onto a platform. The effect feels less triumphant than you'd hope for but still worth seeing once if the Brewer's can manage it. While it is not free, you can book a tour that includes a ride down the slide yourself with photos of the experience!
Bernie Twirls His Moustache While Sliding – via Flickr user Jeramey Jannene
2. Statues of the Greats – outside of the main gate stand three statues to Miller greats. Hammerin' Hank Aaron, one of the sport's most important players, stands guard while Rockin' Robin Yount takes a swing, his muscles bulging in bronze. There is also a state of former team owner Bud Selig, who is immortalized for bringing baseball to Milwaukee, not for his antics as commissioner of baseball. Inside the park, see if you can find Bob Uecker immortalized.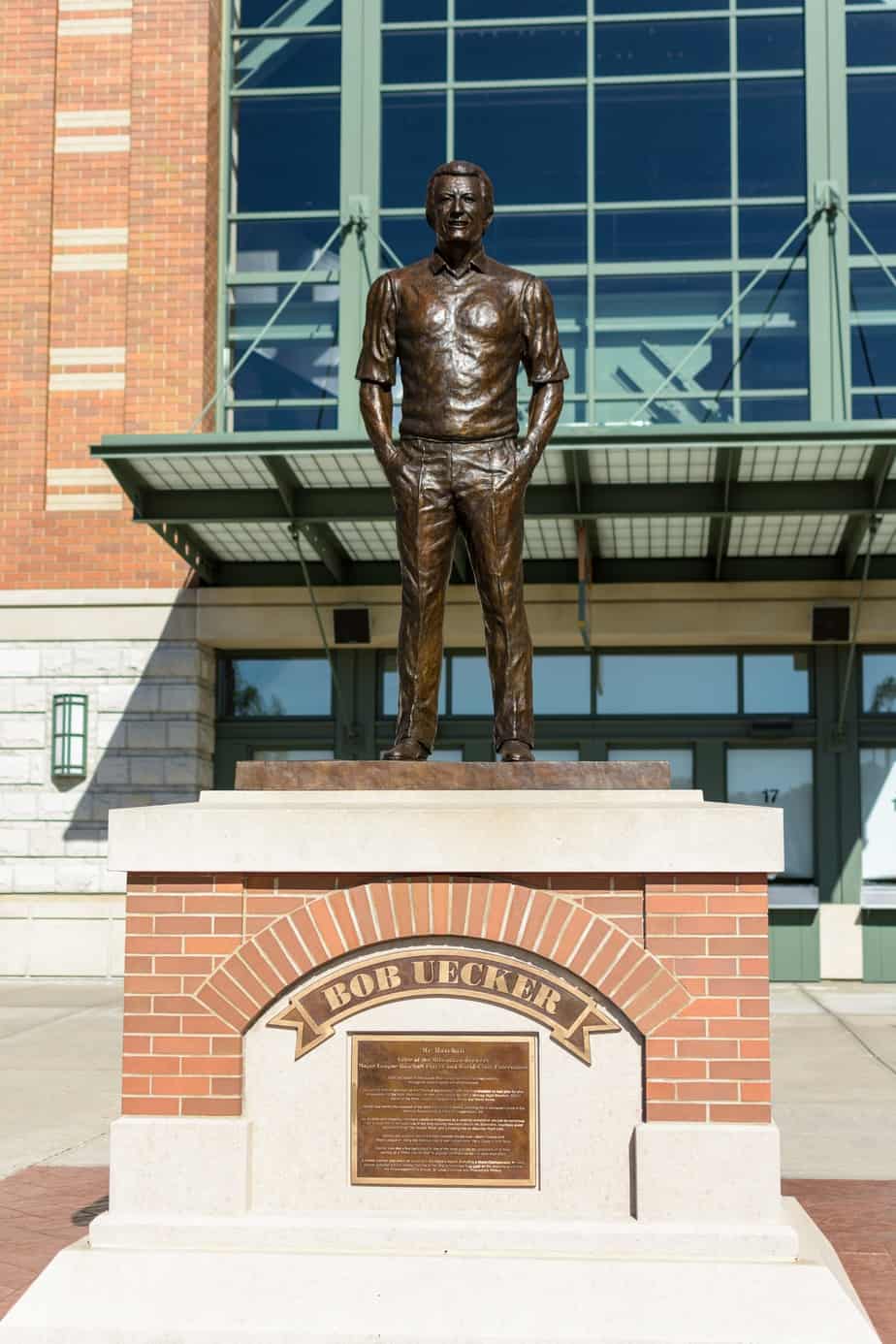 The Voice, Bob Uecker – via Flickr user Jeremy T. Hetzel
3. The Hot Corner – along the third-base line is a concourse that offers a number of shops, restaurants, and bars. Find the Walls of Honor which pay homage to Negro Leaguers and the All American Girls' Professional Baseball Players (the only monument to these ladies at an MLB park). Also check out Autograph Alley, which features thousands of autographs from baseball greats and famous Brewers' fans.
4. Batting Practice – Arrive early and you can watch batting practice for free. This is a good time to try and snag a ball hit into the stands. Gates open 90 minutes before game time so get there to catch all of batting practice and explore the stadium for the rest of the history and fun inside.