Last Updated: September 6th, 2023 by Kristen Douglas
Note: this article may contain affiliate links. If you make a purchase using one of these links, I may be paid a referral fee at no expense to you.
Comerica Park took over for the classic Tiger Stadium in 2000. It is a well-designed baseball stadium with great views and unique features like a Ferris wheel, a celebratory fountain, and a carousel. It makes for a pretty cool ballpark and is worth a trip from out of town. The Tigers are usually a fun team to watch and their home field offers something for everyone whether you love baseball or you are just along for the ride.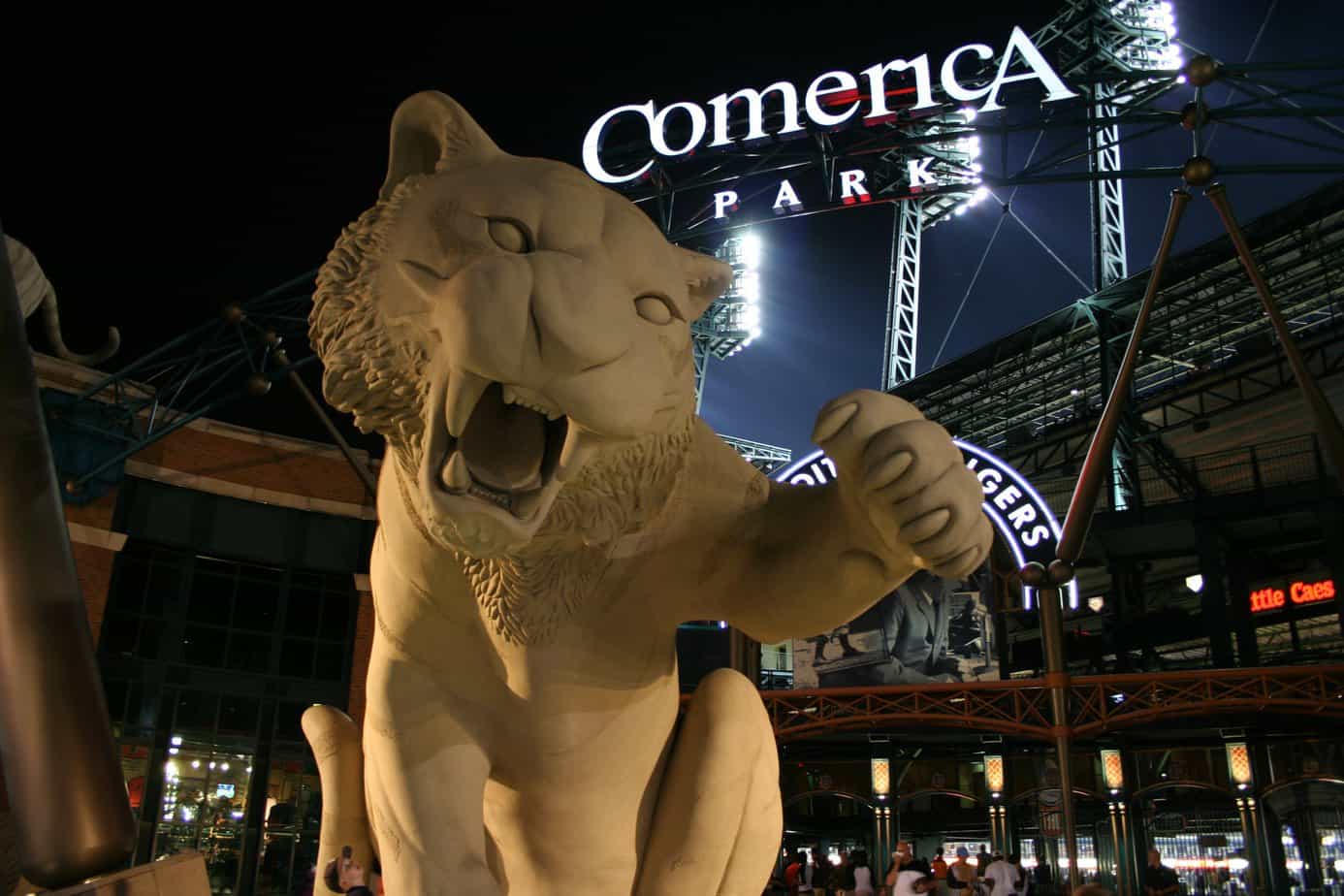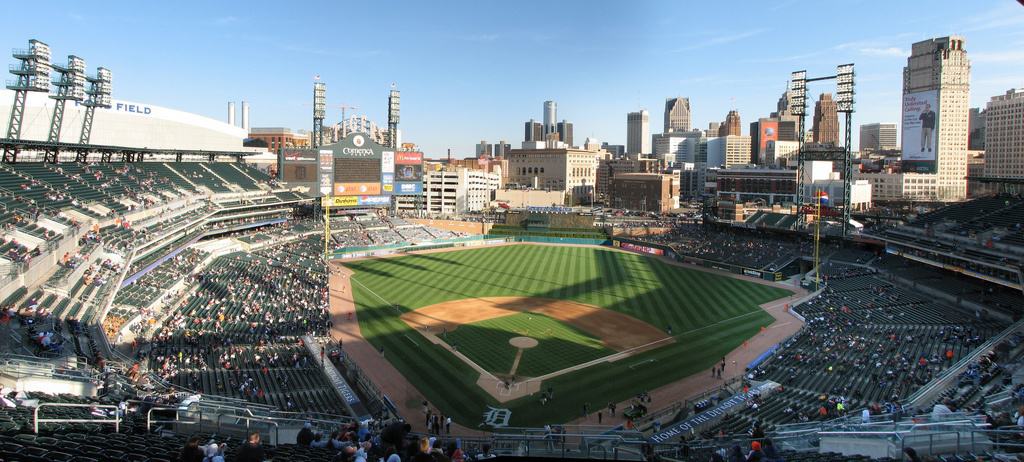 ROAR! The Tigers Welcome You to a Proud Park – via Flickr user Kevin Ward
Things You Shouldn't Miss
Comerica arguably has the best main entrance. The drain spouts are topped with tigers chomping balls. Giant bats frame the gate, and massive tigers greet you in the plaza.
The tigers reign – check out the pair prowling on the huge scoreboard. Their eyes light up for a Tigers' home run.
Don't miss Tigers' history on display. Along the first level concourse, wander the walking museum presenting each decade of Tigers' story. And you cannot miss the glorious, lifelike statues of many Tigers' greats atop the left field pavillion.
Head North to tour the oldest baseball diamond in the world at Labatt Park in nearby London, ON
Ways To Save Money
Take Uber instead of parking. Click here to get a free ride
Bring in a sealed bottle of water to drink.
Stay close by and walk to the stadium. Click here to see our favorite hotel near Comerica Park.
Click here to reserve a cheap parking spot in advance.
There aren't really public transport options, so you need to take a shuttle, an Uber, or park nearby. SpotHero helps take away the stress of finding a spot.
Tickets are always available at SeatGeek at reasonable prices. This might even be a time to splurge and go to the Tigers Den seats right behind the dugouts.
There are a number of delicious food options in Comerica and great drink choices throughout the park. You will not regret trying out the Greek food at a ballpark.
Another wonderful thing for the budget-conscious fan is that the Tigers offer some incredible values in just about every aspect of coming to a game. This guide will summarize some of the discounts that they offer and some more clever ways to save money when going to Comerica Park.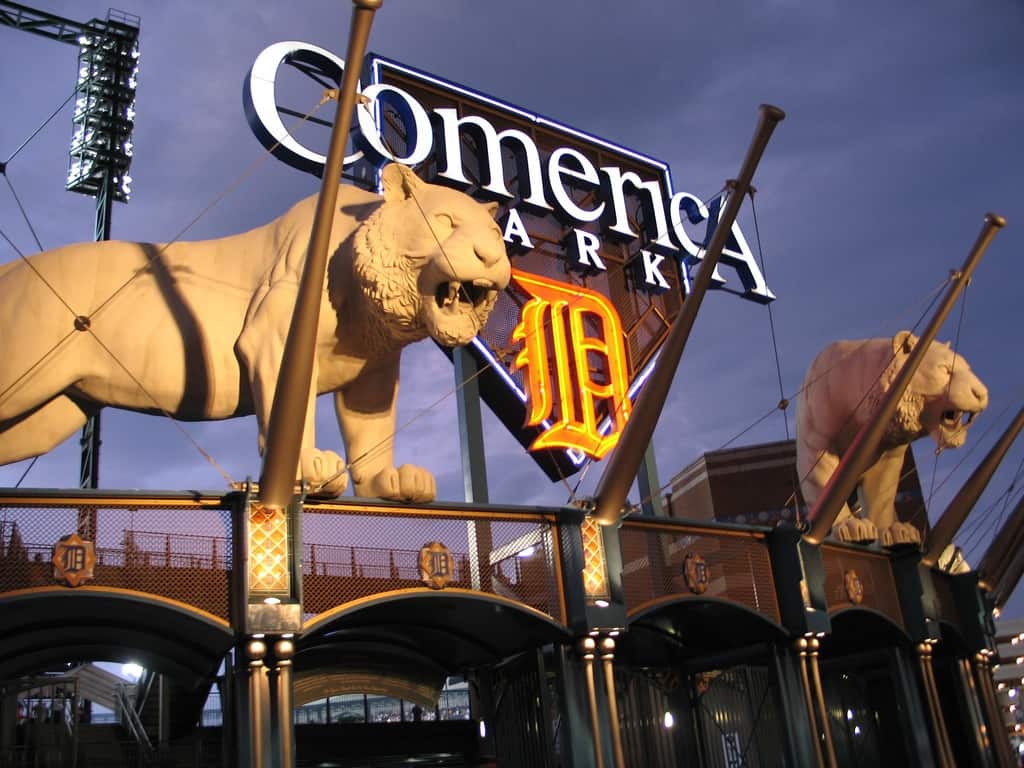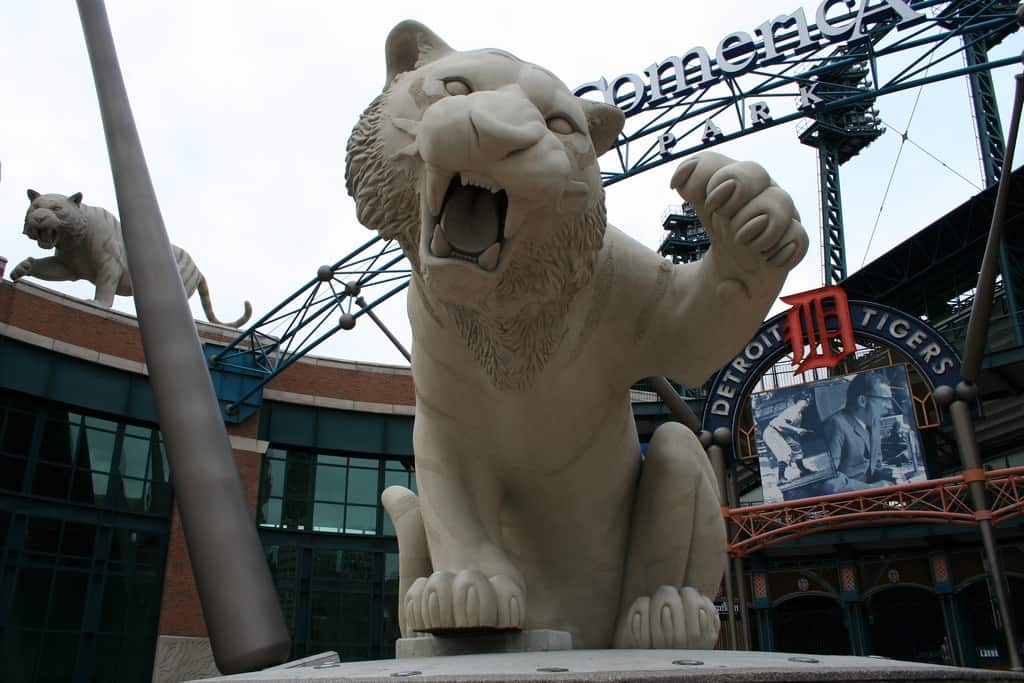 The Fun Ambiance is Matched by Fierce Tigers – via Flickr users Grangernite and Kevin Ward
Arriving at Comerica Park
Alternative/Public Transportation to a Tigers Game
You can take the bus to Comerica Park. But I usually don't recommend buses, and I'm certainly not going to recommend them in Detriot.
One cheap option is to park at a sports bar which offers a free shuttle to the game.
Nemo's Bar is one such place where you can park for less than the price of a beer, and they will take you on a shuttle to Comerica Park.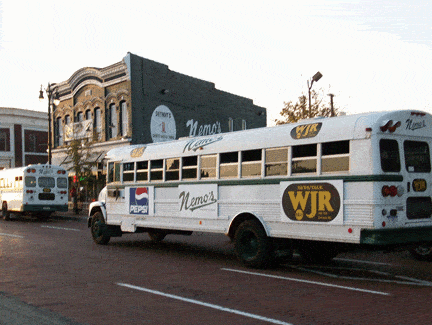 Nemo's Shuttle is More Like A Tiger Party Bus of Awesome
This place was voted the #3 sports bar in America by Sports Illustrated back in the day, so you can definitely grab some drinks and food before or after the game. You will pay less than ballpark prices, and you will save on parking and traffic.
Several other restaurants and bars offer deals for parking with a free shuttle to the game.
Harry's Detroit requires you eat at the bar beforehand.
Sweet Water Tavern is within walking distance, but also provides a free shuttle to the game.
Sindbad's offers seafood and a great view at the dock before or after you take the shuttle to the game.
The reality is that getting to the game without your own car isn't easy. Shuttles may be the way to go. Or, with so many tasty drink options at the park, it's worth considering an Uber to get you there and all the way back home.
If you haven't tried Uber, get your first ride for free.
Driving to a Tigers Game
One free parking option near Comerica Park is behind the condos on Woodward, just north of I75. There are side streets behind them where you can park for free without issue. The best part is you are only about 5 or 6 blocks from the park.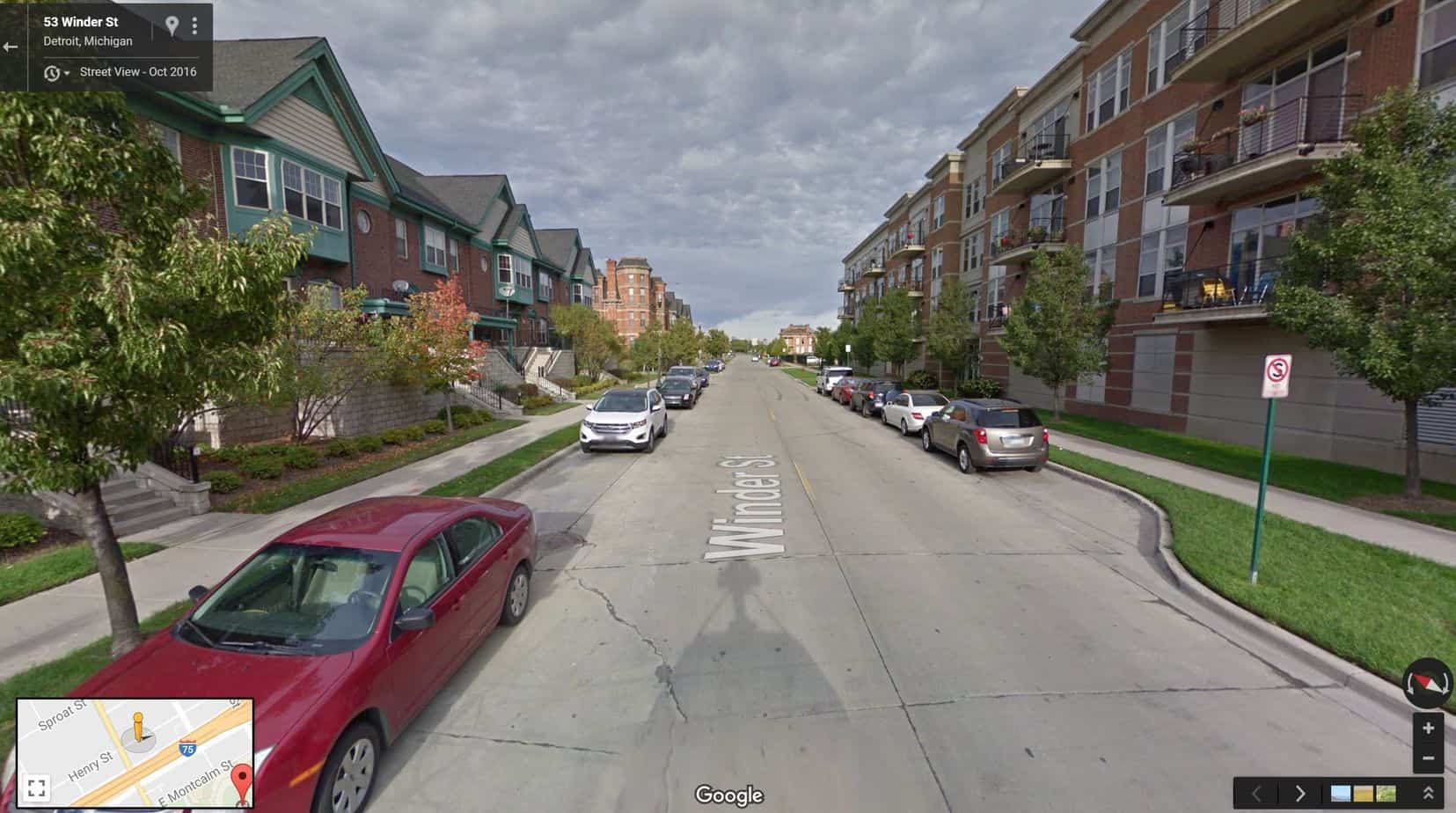 The Condos Near Woodward Offer Free Street Parking
There are a number of parking options in the lots near Comerica, but they can become quite pricey. These can be reserved via SpotHero.
The Lots Near to Comerica Park Can Be Convenient But Pricey
There is $5 parking at the Corner of Grand River and West Elizabeth Street. This is also 5 blocks from Comerica Park.
The official Comerica Park lots are in the $20 range but they are as close as you can get to the game. You pay for the convenience. You can buy your spot in advance from them here.
The most stress-free choice for affordable parking at the Tigers game is using SpotHero. This lets you find a spot ahead of time and reserve it, so you know exactly where you are going before you ever leave your house.
Best Food At & Near Comerica Park
Save Money on Food
The rules regarding food and drinks are always changing, especially in this post-pandemic world we now live in. As I am writing this, Comerica Park does not allow any outside food or drink. The only refreshment you may carry in is one sealed bottle of unflavored water per guest. No alcohol or soda can be brought into Comerica Park. Concession prices are pretty typical at a Detroit Tigers game but there are some good choices and some pretty good deals to be found. You can always eat before the game or plan on having a meal after.
Some cheap eats within walking distance from Comerica Park include Mom's Spaghetti and Mr. Dips. The Detroit Beer Co. is another nearby place worth checking out, with pub food. I think the name speaks for itself.
No Park Celebrates Their Mascot Better – via Flickr users Anna Fox and Kevin Ward
Food You Shouldn't Miss at Comerica Park
1. Greektown Stand: No one comes to a baseball game saying, "I'm going to eat some great Greek food tonight!" Well, you should. In Big Cat Court, the Greektown Stand offers an outstanding gyro of lamb, tzatziki, and warmed pita, with Grecian fries to pair. Their Smokehouse fries are also fantastic.
2. Michigan Craft Beers: This pub by section 104 offers all the best – beer, burgers, fries, wings, onion rings, and more. While not cheap, the portions are hearty and the selection of local beers is worth a visit.
3. Big Cat Court: Besides Greektown, Big Cat Court as so many options. Walk all the way around here and check out all the fun. There is carnival food, Little Caesars, Mexican, Greek, different styles of hot dogs, a daiquiri stand and more. All your options here surround the Carousel. I hear the elephant ears are one of the best desserts in the park. You can't go wrong with fried dough.
Comerica Park Seating Chart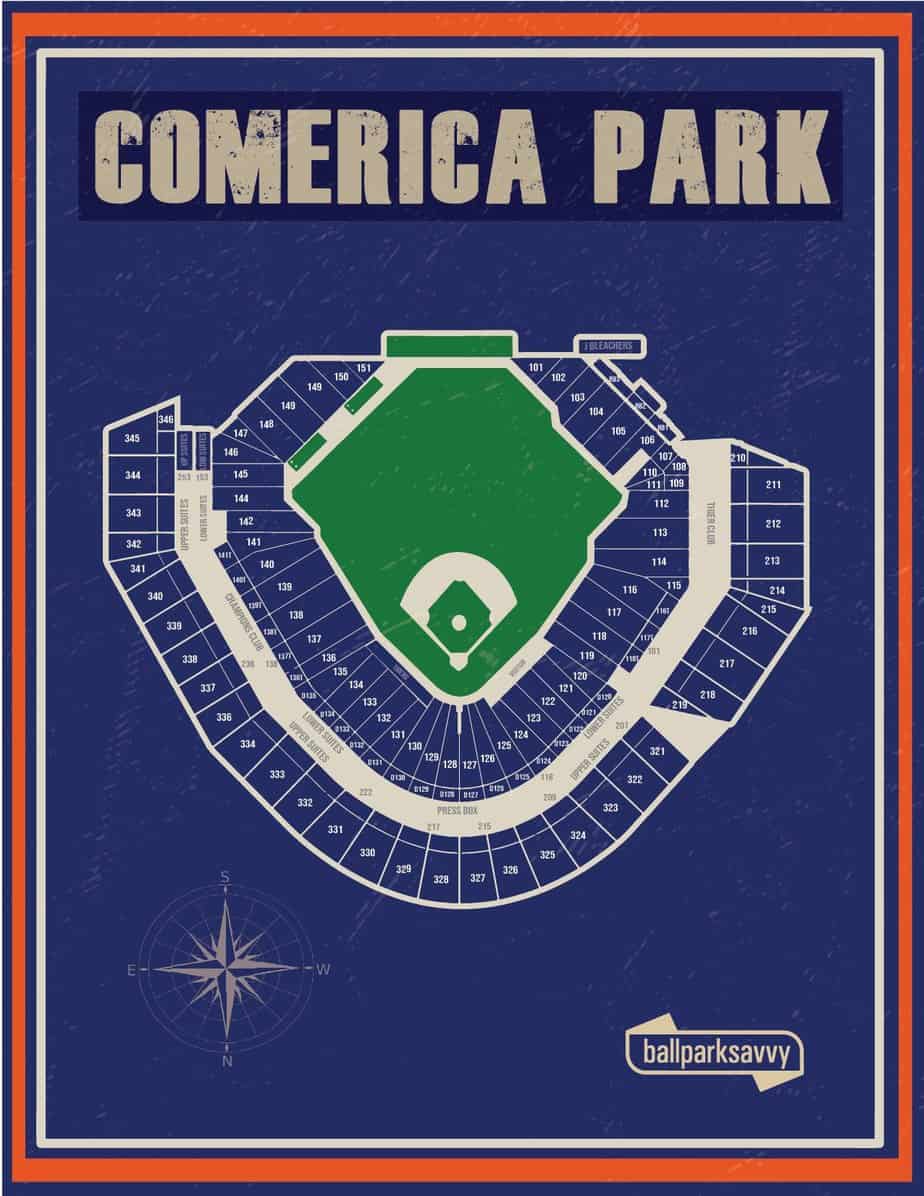 We've created the seating chart of Comerica Park above to help you better understand some of our recommendations below. Feel free to download this image and use it, we just ask that you credit Ballpark Savvy and link back to the page where you found the image.
Cheap Tigers Tickets
At this point, nearly every Major League team has some kind of variable pricing model where depending on how in-demand a game is, the ticket prices you'll pay at the gate may go up or down.
Sometimes pricing varies from day to day, other times it is a more formal "tiered" structure where when they are playing a big draw team like the Yankees, you'll pay a premium price compared to a perennial ​bottom-dweller who might be in the "budget tier."
So rather than focusing on specific prices and sections which tend to change fairly often, I want to talk about general rules and strategies for getting the best deals on tickets. ​
1. Compare 3rd Party Sites
SeatGeek is a big time ticket comparison site that lets you compare a bunch of different ticket brokers, marketplaces, etc. and find the best price for the game you want to go to. They also have a tool that projects whether ticket prices will go up or down – AKA whether you should buy now or wait.
Load more
Click here to view Tigers tickets on SeatGeek.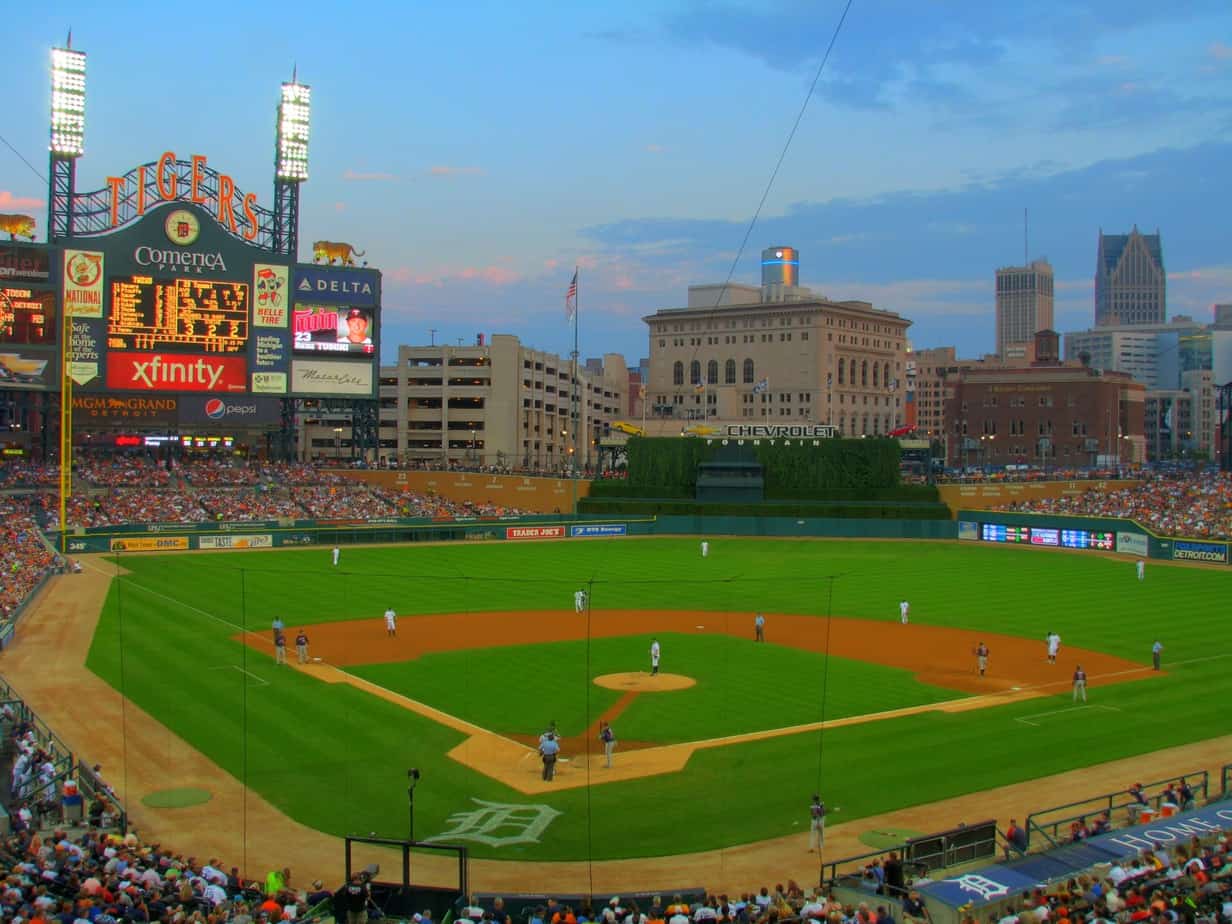 The Tigers of the Scoreboard Watch Over the Field – via Flickr user Dave Hogg
2. Buy Last Minute
If you've bought tickets online before, you've heard of StubHub. What you may not know however is that with the rise of print-at-home and tickets on your mobile phone via the Ballpark App that you can usually buy tickets right up to a couple of hours before game time.
Save $5 On Last Minute Tickets: I recently learned about the Gametime app and it's legit. Save BIG on last minute tickets. Click here to get the app and you'll get $5 off your first order.
As someone who has sold a fair share of tickets on StubHub, I also know that sellers are encouraged to set a declining price for their tickets. This means they'll set a starting price and then their lowest acceptable price, and StubHub will auto-magically lower the price of those tickets as the event date gets closer.
So in many cases, a game that isn't sold out will have plenty of below face value deals on StubHub that you can snatch at the last minute and then either print at home, or just use the App on your phone to get scanned into the game.
3. Avoid Craigslist
It's not to say that you can't find ticket deals on Craigslist, you can. It is just more of a peace of mind, safety issue. I'm a Craigslist kind of guy, but I also know it's easy to get screwed buying baseball tickets there.
Remember when I mentioned selling on StubHub? When you list tickets there, all you need to know is the barcode number from that ticket along with the other details on section, row, etc. – So when I sell tickets I never mail them to the buyer, they just print them at home and my actual tickets become void.
If I was a shady character, I could go sell those void tickets to an unsuspecting buyer on Craigslist for cash. The tickets look real, they are "real" in a sense – but what that buyer will find out is when they go to enter the stadium, the ticket scanner will say "thou shalt not enter thy game."
Don't be that buyer.
Stick to buying tickets from SeatGeek, StubHub, or directly from the team. You can still get deals and you never have to worry about being scammed.
Best Value Seats at Comerica Park
The Tigers offer tickets to Comerica Park for $10 even to premium games. This is only for one section in the outermost part of the left field upper deck, and I guess it provides the view you would expect for $10.
Don't get me wrong $10 is a good bargain to see a Major League game, but I would say that the best value seats at Comerica Park are in the Kaline's Corner. This is sections 107-111. This again is just spot in the park, but its on the field level behind the right field foul pole. These are only about $18 a piece and if you get down in the lower rows you are very close to the field.
The other nice thing is these seats don't sit at an awkward angle as you are facing straight ahead to home plate. The outfield box seats right next to you cost nearly double, and do sit at an angle that is not as comfortable in my opinion; especially if you are a 'plus sized' individual.
Bleachers and Pavilion seats also provide pretty good value. Bleachers are in right field, and pavilion is in left. The bleachers, as you might guess, are a big bench, but they do have a seatback. The pavilion has more traditional individual seats. However, if you can secure a lower row, you can really get close to the action and have a fair shot at a home run ball. These prices are similar to the Kaline Corner seats.
Most Seats Offer Great Views and Fun – via Flickr user Kari
All in all, Comerica Park tickets offer pretty solid value. Most of the tickets better than the bleachers start jumping up in the $20 range. Because of that, you might want to splurge a little more and go for the club seats right behind the plate in the upper deck. The seats are a little wider and there are only a few rows in each section. The lack of rows provides another great advantage; people aren't constantly walking in front of you. That annoys the crap out of me at a game, and I would certainly sit in the Comerica club seats before I paid more for anything on the lower level.
One final thought that I typically mention for these ballparks is to remember that the jumbo tron is in left field. So if you sit in the outfield seats in left, you will have the screen and scoreboard behind you which can be a little inconvenient. This is especially true if you are taking a family. You should probably go for something with a good view of the scoreboard which provides a lot of between-inning entertainment.
Check Out the Statues to the Greats – via Flickr users Ken Lund and Aaron Webb
Where to Stay While Visiting Comerica Park
My favorite way to travel to a baseball game is to stay as close to the stadium as possible and walk or take an Uber so I don't have to fool with parking in a strange place. So many ballparks have great hotels within walking distance making it easy to stay nearby.
I use Tripadvisor to find a hotel with good reviews near any ballpark. I prefer this option over any other because I actually search for the park I am visiting and Tripadvisor gives me hotels, restaurants, and other attractions near there. Comerica Park is located in Detroit and the city is packed with stuff to do and see.
Obviously, there are a lot of hotels in Detroit, but I can search for Comerica Park here and get the 10 Closest hotels to Comerica Park and then pick what I want based on ratings and prices. This saved me a lot of time and I didn't end up getting ripped off on the price or end up in a sketchy place where I didn't feel safe.
The closest hotels do not always come with the lowest cost but you get what you pay for when it comes to accommodations. Remember that you aren't paying for parking or transportation.
Aloft Detroit at The David Whitney is a luxury hotel right next to the Tigers home field. It is the closest you can get and it is such a ridiculously cool hotel. It is all modern in a historic building and staying here is an experience by itself. It is not cheap though.
The Hilton Garden Inn Detriot Dowtown is also pretty centrally located. You are not too far from Comerica Park and can get to casinos or Little Caesar's Arena quickly as well. It is a no-frills kind of place but it is safe and in a good spot for going to the game.
Free Stuff at Comerica Park
1. Tiger Town for Kids: Comerica Park has the undisputed best kids' zone, paws down. Behind the home plate concourse, take a ride on the 50-ft Ferris wheel, or wander through and check out the mini-games. Even adults should visit to ogle the magnificently painted tigers on the Tiger Carousel. The Ferris wheel and Carousel are only free on Sundays. However, it is only $2 a ride on other days which is still very reasonable. The carousel at my local mall is $5 and it is not even tigers themed!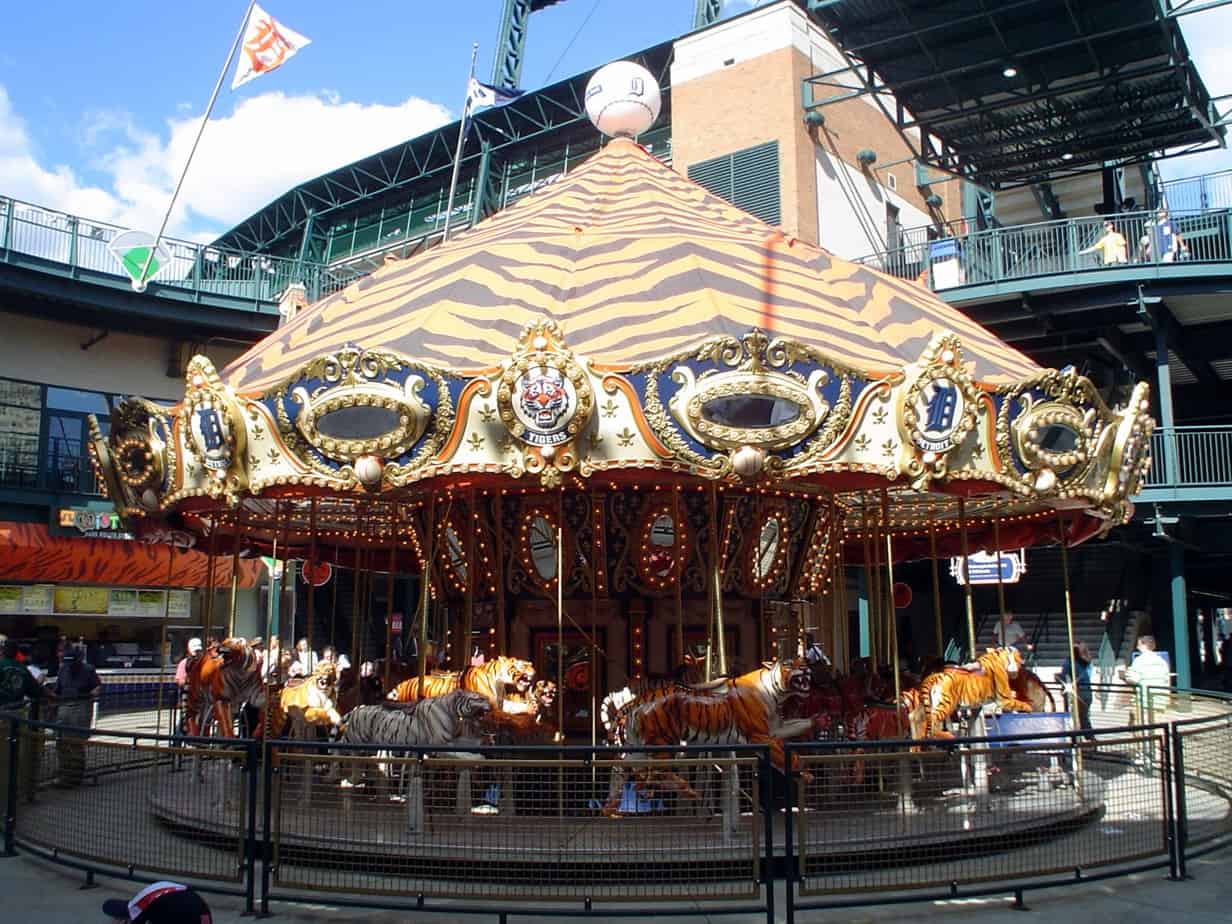 The Carousel is an Absolute Piece of Magic – via Flickr user Aaron Webb
2. De-mistify at the Batter's Eye: In a nod to Wrigley, the batter's eye at Comerica is covered with ivy. When a Tiger hits a home run, water spurts out of the batter's eye like a fountain. There's also a walkway behind the batter's eye that mists you during hot summer games, and allows a great sneaky peek into center field.
3. A Really Free Visit: For those on an extremely limited budget, you can take advantage of the fact that the stadium is sunken below street level. There are a number of spots behind the left-field pavillion on Adams Street that allow a view of the field, flanked by the statues of Tigers' greats. It's not the worst option if you can't get in.
From Adams Street, You Can Get a Free Peak at the Game