Last Updated: September 6th, 2023 by Kristen Douglas
Note: this article may contain affiliate links. If you make a purchase using one of these links, I may be paid a referral fee at no expense to you.
T-Mobile Park is the home of the Seattle Mariners, who are the best franchise to have never made it to the World Series. Built in 1999, this park offers great skylines and great views of the field. T-Mobile Park is in the SoDo neighborhood of Seattle, the same neighborhood as the Starbucks headquarters and a lot of great local businesses you can visit before or after a Mariners game. This MLB park has something for every budget and the odds that you will see some legitimately good baseball played while you are there are very high.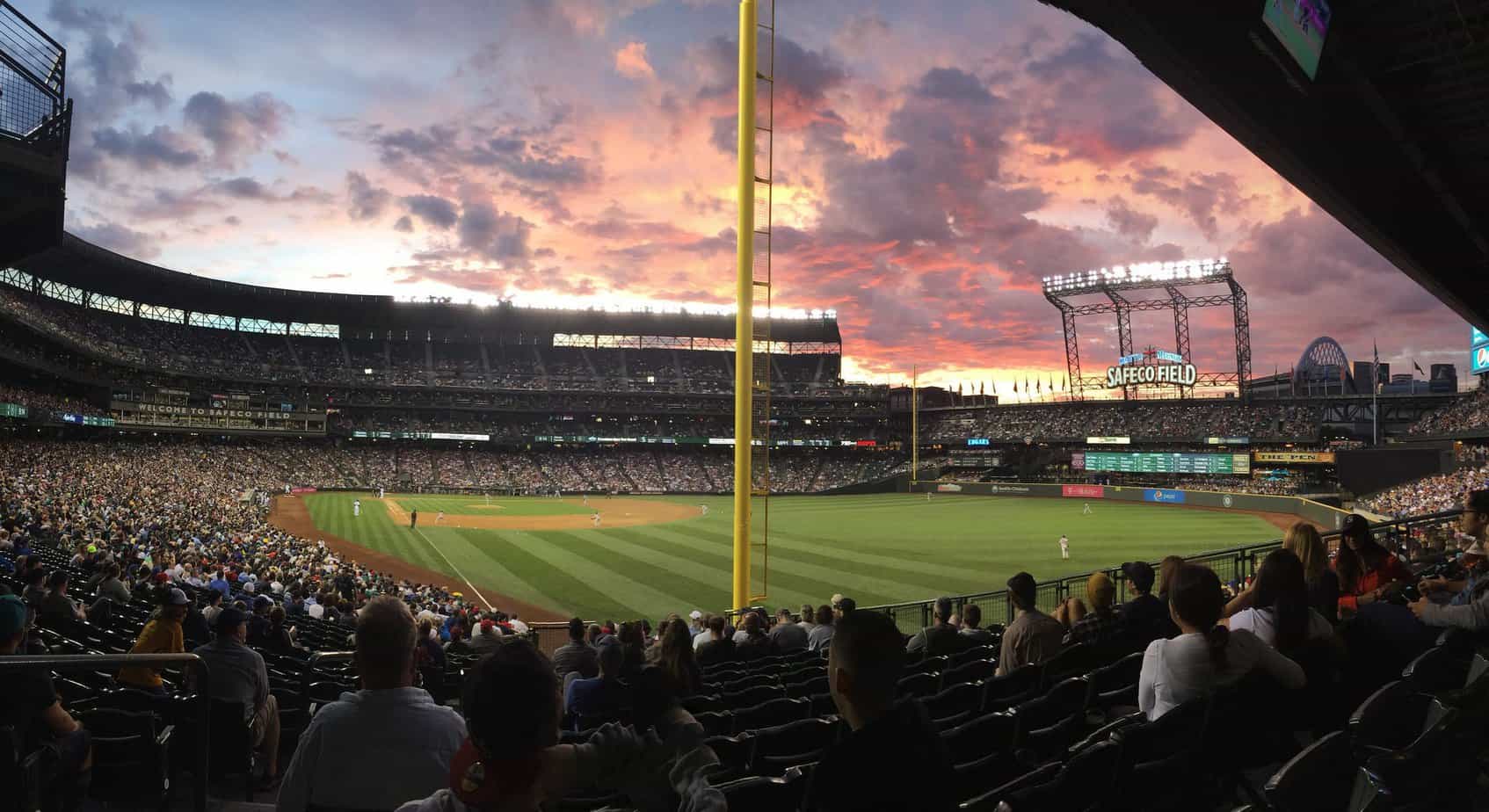 When the Roof is Down, the Sky is Phenomenal – via Flickr user Elias Gayes
Things You Shouldn't Miss
Before arriving, check out Ebbets Field Flannels, 2 blocks from T-Mobile Park. They sell vintage jerseys, tees, and caps from, well, every baseball team ever. It's almost like a museum just to wander through.
Each gate features plaques with quotes from books about baseball. There is also a ton of art scattered around the park. Go by the Children's Hospital Wishing Well and toss in some coins and make a wish for the kids in the hospital. This is a sweet tradition at T-Mobile Park and everyone can participate. Donations tossed into the well are actually matched and it all goes to the local children's hospital.
Legendary broadcaster Dave Niehaus is honored with a statue. His 33 years of play-by-play are immortalized by section 105.
Ways To Save Money
Take Uber instead of parking. Click here to get a free ride
Take a soft cooler of food & drinks with you
Stay close by and walk to the stadium. Click here to see our favorite hotel near T-Mobile Park.
Click here to reserve a cheap parking spot in advance.
There are a few public transport options, but there is also a lot of free parking. If you want a spot in a closer lot, though, prepay online because cash rates on game day are much higher.
SpotHero is a great way to reserve a spot and save money before you go.
Tickets are never too expensive, and the cheap seats aren't awful. There are also a lot of great standing areas to enjoy the game. For evening games, its worth getting a good view of the sunsets.
You can bring in your own snacks and food into the park, though not drinks. Empty bottles are fine though, and you can fill them up there. Save money on food this way, as the selection in the park isn't as impressive as at others. When you do purchase food and drinks, remember that T-Mobile Park is cashless so make sure you are prepared to pay with a card or pay app on your phone.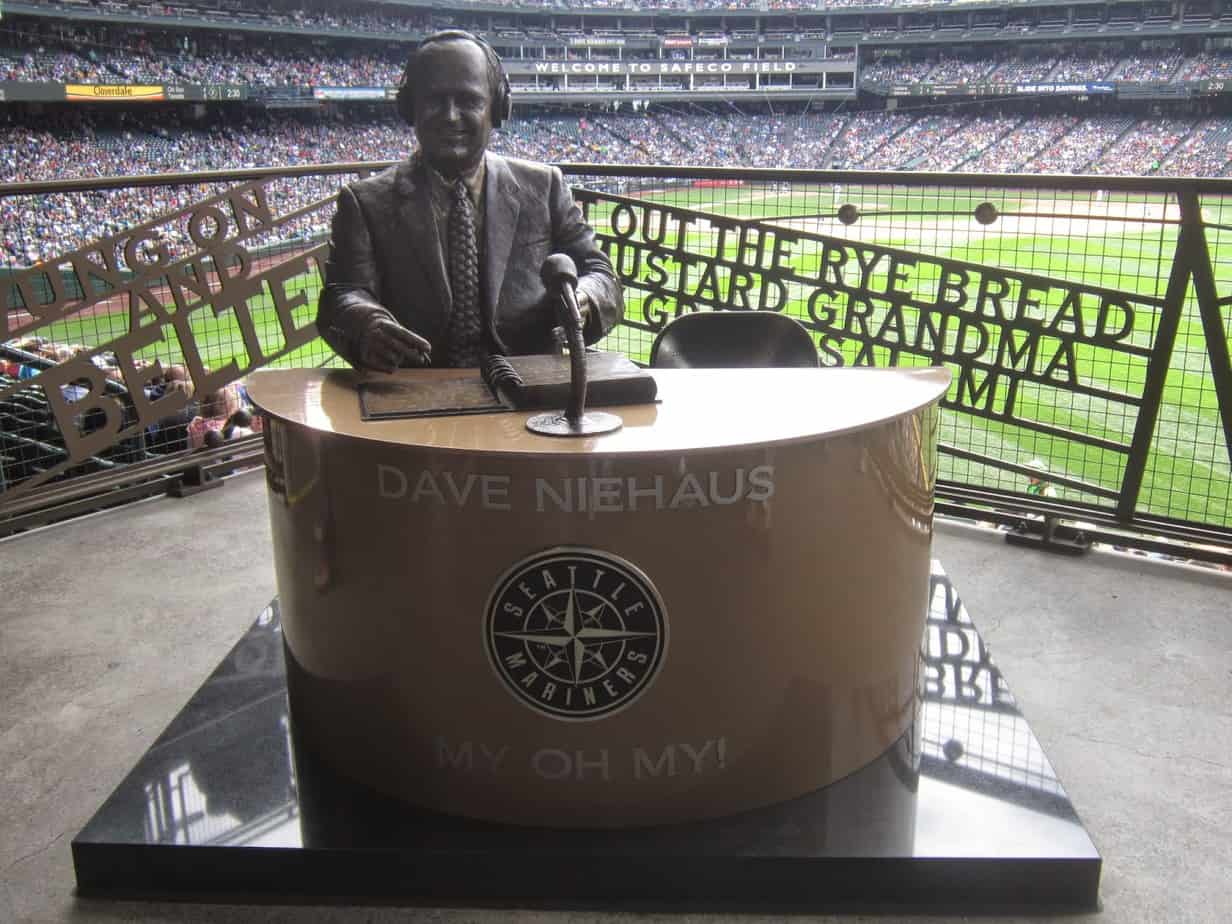 Dave Niehaus is Honored with One of the Most Touching Statues in Baseball
Arriving at T-Mobile Park
Alternative/Public Transportation to a Mariners Game
There are a few public transportation options, with the Light Rail being a great option. Since parking is a bit of a pain, public transport isn't the worst idea.
Light Rail, which runs from the University of Washington to Angle Lake. It also stops at SeaTac Airport. Get off at the aptly named Stadium stop and just walk toward the dome. If you want to use the light rail, park for free at Angle Lake or Tukwila International Boulevard Link light rail stations.
One choice within downtown Seattle is to ride the Seattle Streetcar. Use the First Hill route for the 5th & Jackson or the Occidental Mall stop.
One awesome summer option is to take water transports to the piers, which are less than a mile walk on flat ground. On a summer afternoon, this is a lovely choice. The Washington State Ferry stops at Pier 52. The King County Water Taxi stops at Pier 50.
It is free to park a bicycle at T-Mobile Park and there are 150 bicycle spots in the garage on Edgar Martinez Drive east of Occidental Avenue. Visiting from out of town and want to borrow a bike? Try Pedal Anywhere. They even hybrid bike rentals that include a helmet.
Sometimes you want to just relax and let someone else do the driving – Uber is there for you. If you haven't used Uber before, click here and get your first ride for free.
Driving to a Mariners Game
There are free parking opportunities in the area surrounding T-Mobile Park. The setting is a little bit of an industrial type area, so most of this parking is near local businesses.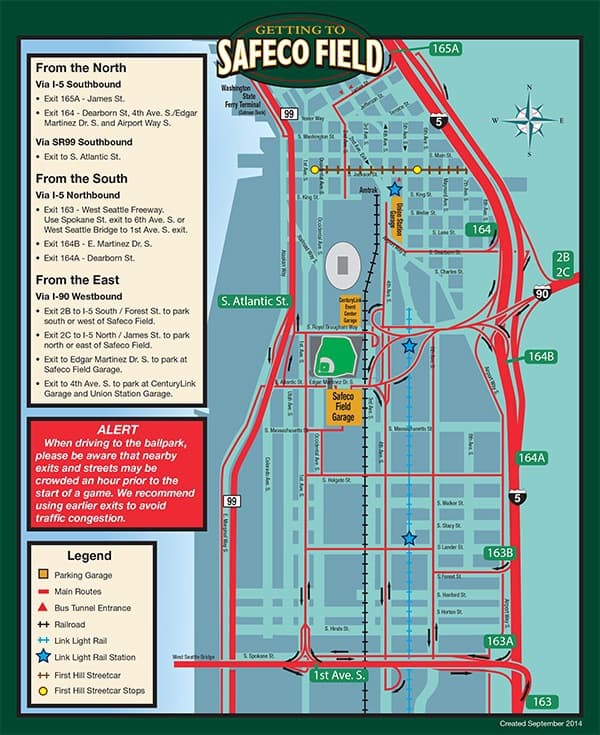 The Mariners Provide Some Lovely Maps
There are a lot of businesses around where you can snag free parking, like the Paper Zone. You can also find free parking in front of the Mojo Market, which is a little North of T-Mobile, and very much near Qwest Field. These spots are all on Occidental Ave. S. so you can look for spots on the street near Qwest Field, or in front of Mojo Market. You will need to arrive pretty early to land one of these spots as it is great free parking just steps from the Mariners home field.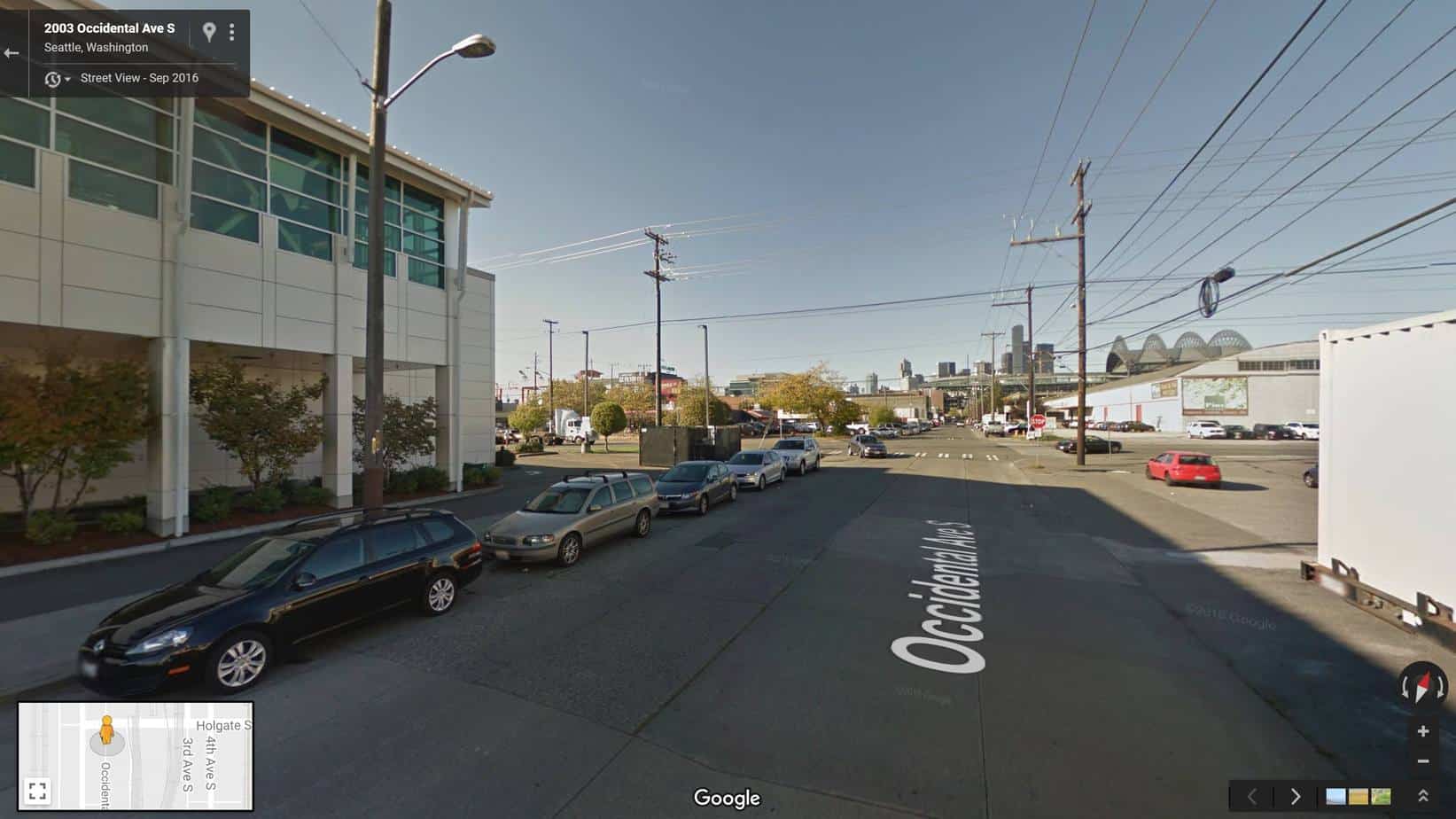 On Occidental Ave S, Just South of Safeco, Has Many Businesses with Street Parking or Open Lots
On Occidental Ave S, Just South of T-Mobile, there are many businesses with street parking or open lots That being said, you may not feel like trying to drive down and find one of the free parking spots. Personally, I would go for it but I can understand if you didn't. If you are going to pay for parking, here is what I recommend. Buy it ahead of time on the Mariners website. This isn't a cheap option, but you are going to be parking as close to the stadium as you can get. There is also something to be said for have a spot basically reserved for you before you ever leave the house.
If you want to park in the garages closest to T-Mobile Field, I recommend purchasing a parking pass for the Mariners Garage. This garage connects to the field but you do pay for that convenience. Also, the closer to the field, the longer you will wait to leave. But for some people, that is just fine.
Another benefit of prepaying for parking at T-Mobile Field is that it costs less. According to the team website, this same garage can cost twice as much if you just drive up and park there on game day. I say that is a double whammy of goodness.
Another solid option for Mariners parking is using SpotHero. This site lets you pre-pay for a space in various garages/lots so you don't have to stress about where to park. It is a pretty cool concept and you can find some cheap deals for sure. It is especially helpful when you are going to a game that is supposed to be a big crowd. Check out what's available below.
Best Food At & Near T-Mobile Park
Save Money on Food
One of the best ways to save money on food is to bring your own food with you. Every field has their own rules about outside food and drink so always check before you go. At T-Mobile Park you can bring single-serving size food in a permissible bag. Bags permitted inside are Clear plastic or vinyl bags no larger than 12" x 6" x 12" and you can also carry in a one gallon clear plastic zip-top bags. So put a turkey sandwich in that clear bag, bring a clear water bottle no bigger than 32 oz and head inside. You cannot bring a bucket of KFC and a family-sized bag of flaming hot Cheetos with you.
Food You Shouldn't Miss at T-Mobile Park
T-Mobile Park is known for having a great variety in its concession stands. Yes, the prices are ungodly like every other stadium, but it's a nice ballpark to splurge in. The garlic fries are a hit with everyone. One reader suggested that they always buy the Moose Meal at T-Mobile. It is meant for kids, but the tipper tells me that they never ask… it includes a hot dog, drink, and Cracker Jack in a bucket. That sounds like a perfect lunch for watching a baseball game!
1. Hamburg+Frites: Located in 'The Pen', this burger joint offers the best Seattle flavors in the park. The Seattle Dog is authentic – a grilled dog topped with cream cheese and either onions or jalapenos. Also check out their Seattle Burger with cream cheese and pickled peppers.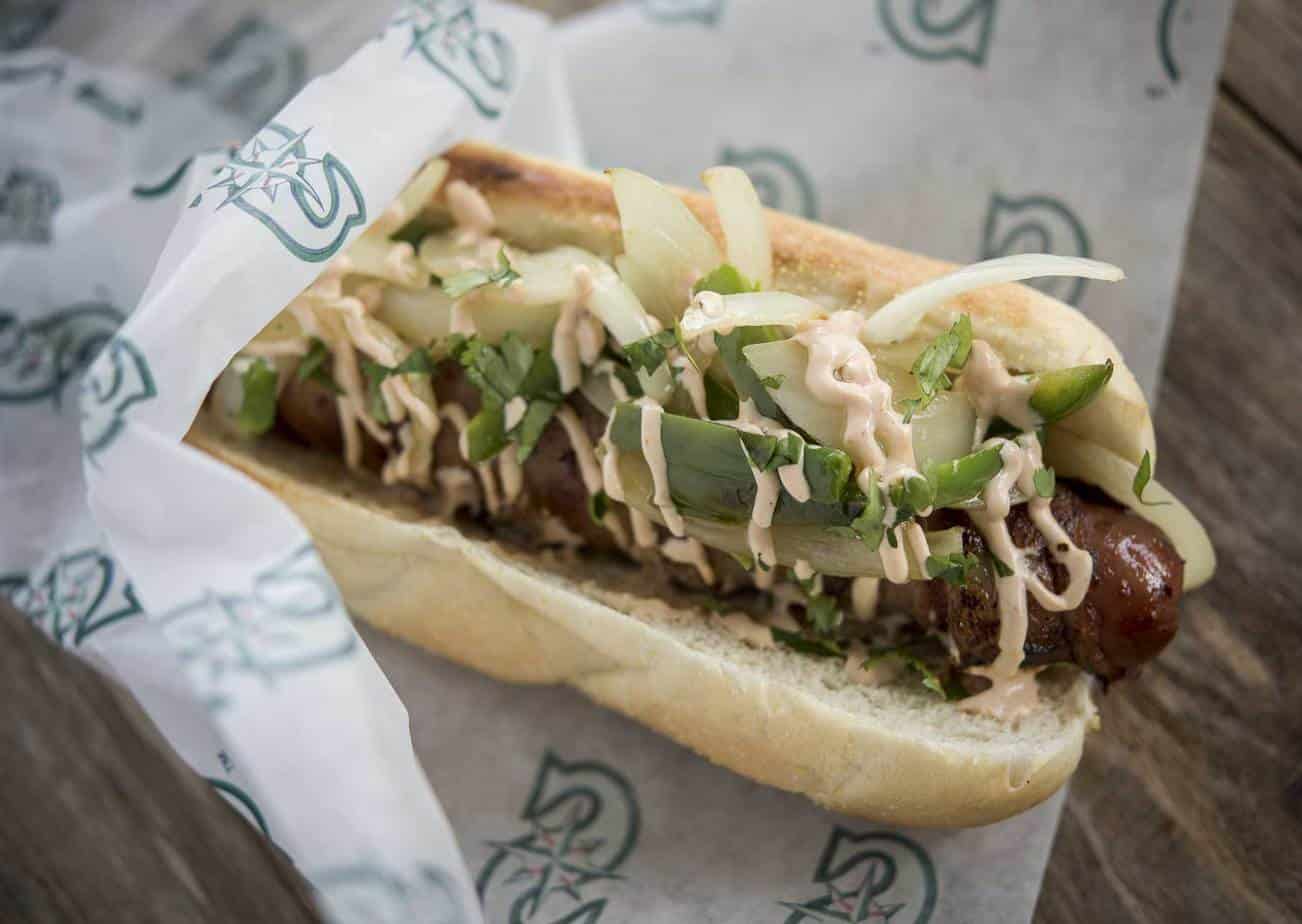 T-Mobile's Seattle Dog Features All the Cream Cheese Goodness
2. The Club Level: There are several decadent options here if you've decided to just ignore the saving money part. Hit It Here Café offers a wide variety of flavorful flatbread pizzas and dozens of draft beers. Club Bistro dishes out extraordinary pasta that you'd never expected at a ballpark.
3. Local Beer: Baseball and beer are best friends. I know when you think of Seatle you think of coffee but no one drinks coffee at baseball games and Seattle has some great breweries making ridiculously good beer. Try some when you visit T-Mobile Park. Anything by Silver City Brewery is on the top of my list. If you enjoy a hard cider, try the Washington brand Rambling Route, also available all over the park.
T-Mobile Park Seating Chart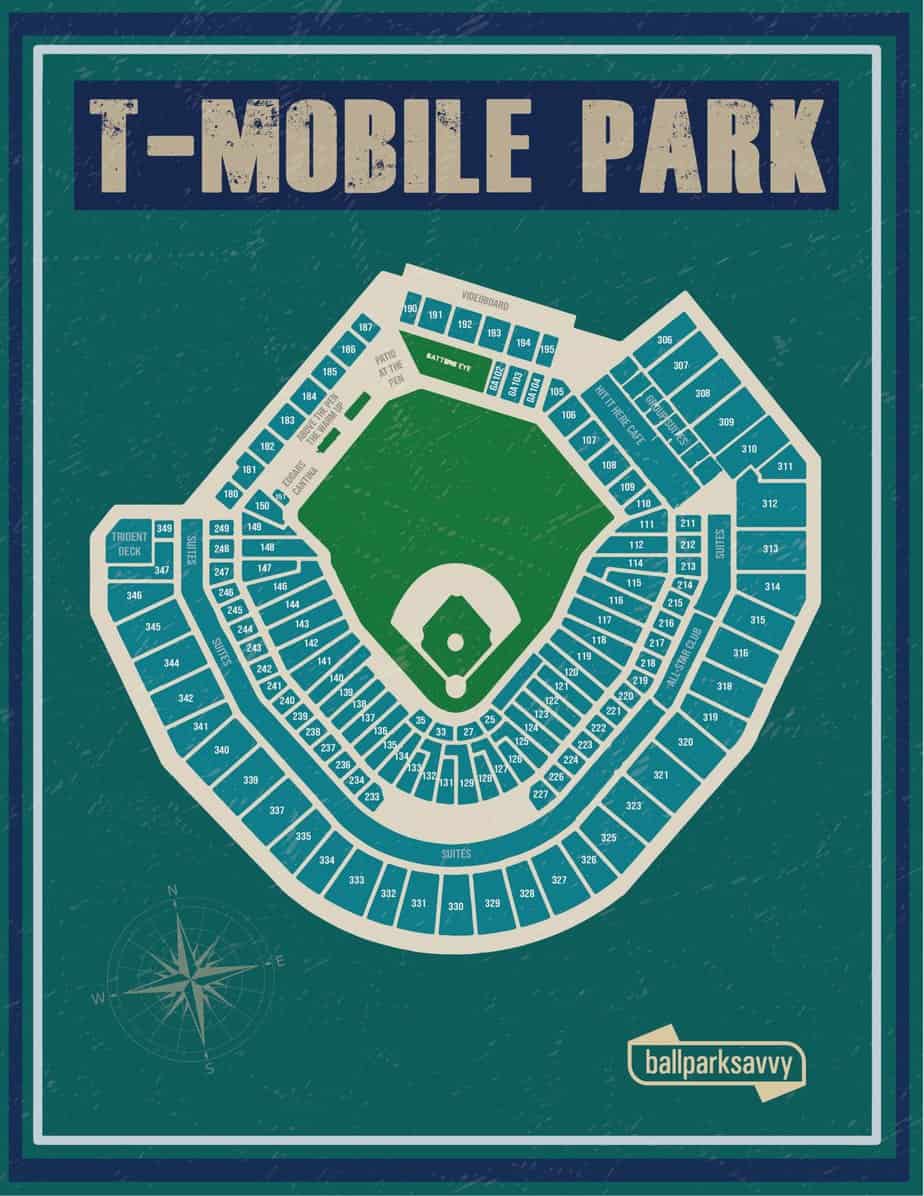 We've created the seating chart of T-Mobile Park above to help you better understand some of our recommendations below. Feel free to download this image and use it, we just ask that you credit Ballpark Savvy and link back to the page where you found the image.
Cheap Mariners Tickets
At this point, nearly every Major League team has some kind of variable pricing model where depending on how in-demand a game is, the ticket prices you'll pay at the gate may go up or down.
Sometimes pricing varies from day to day, other times it is a more formal "tiered" structure where when they are playing a big draw team like the Yankees, you'll pay a premium price compared to a perennial ​bottom-dweller who might be in the "budget tier."
So rather than focusing on specific prices and sections which tend to change fairly often, I want to talk about general rules and strategies for getting the best deals on tickets. ​
1. Compare 3rd Party Sites
SeatGeek is a big time ticket comparison site that lets you compare a bunch of different ticket brokers, marketplaces, etc. and find the best price for the game you want to go to. They also have a tool that projects whether ticket prices will go up or down – AKA whether you should buy now or wait.
Load more
Click here to view Mariners tickets on SeatGeek.
2. Buy Last Minute
If you've bought tickets online before, you've heard of StubHub. What you may not know however is that with the rise of print-at-home and tickets on your mobile phone via the Ballpark App you can usually buy tickets right up to a couple of hours before game time.
Save $5 On Last Minute Tickets: I recently learned about the Gametime app and it's legit. Save BIG on last minute tickets. Click here to get the app and you'll get $5 off your first order.
As someone who has sold a fair share of tickets on StubHub, I also know that sellers are encouraged to set a declining price for their tickets. This means they'll set a starting price and then their lowest acceptable price, and StubHub will auto-magically lower the price of those tickets as the event date gets closer.
So in many cases, a game that isn't sold out will have plenty of below face value deals on StubHub that you can snatch at the last minute and then either print at home, or just use the App on your phone to get scanned into the game.

Even Standing Room Seats Offer Great Views – via Flickr user Mike Tigas
3. Avoid Craigslist
It's not to say that you can't find ticket deals on Craigslist, you can. It is just more of a peace of mind, safety issue. I'm a Craigslist kind of guy, but I also know it's easy to get screwed buying baseball tickets there.
Remember when I mentioned selling on StubHub? When you list tickets there, all you need to know is the barcode number from that ticket along with the other details on section, row, etc. – So when I sell tickets I never mail them to the buyer, they just print them at home and my actual tickets become void.
If I was a shady character, I could go sell those void tickets to an unsuspecting buyer on Craigslist for cash. The tickets look real, they are "real" in a sense – but what that buyer will find out is when they go to enter the stadium, the ticket scanner will say "thou shalt not enter thy game."
Don't be that buyer.
Stick to buying tickets from SeatGeek, StubHub, or directly from the team. You can still get deals and you never have to worry about being scammed. 
Best Value Seats at T-Mobile Park
The Mariners now use dynamic pricing, which is more and more common. Simply put, this is where the ticket prices change based on a number of factors that determine how much demand there will be. If the opposing team is the Yankees, for instance, your upper deck ticket may cost $20 instead of $12. The day of the week is also a factor – weekends tend to cost more than weekdays. If you know this ahead of time, it can certainly work to your advantage.
Check the schedule for Mariners Value games. On these dates, View Level and Bleachers are only $10. For $20 you can sit on the Main Level and for $30 you get seats in the Terrace Level. Like a lot of teams, the Mariners also offer a Military discount.
Bleacher seats at T-Mobile Park are always the cheapest. I say that if you aren't a really diehard fan and you just kind of like being at a game, these are perfect. The reason I say that is because T-Mobile Park has tons of cool standing room spots around the stadium. Many of these are in Center and Left Field which is pretty convenient. It is a great stadium to roam around and find a picnic area or standing room spot to watch the game. T-Mobile also provides the closest access to bullpen pitchers in the MLB as you can stand right behind the catcher and get a unique view of the pitches. It's worth walking to left field for.
The disadvantage of the cheap seats in center field is that you have the video scoreboard right behind you. Being able to see the scoreboard is kind of a big deal. You can keep up with all the information during the game and a lot of the entertainment in between innings happens on the scoreboard.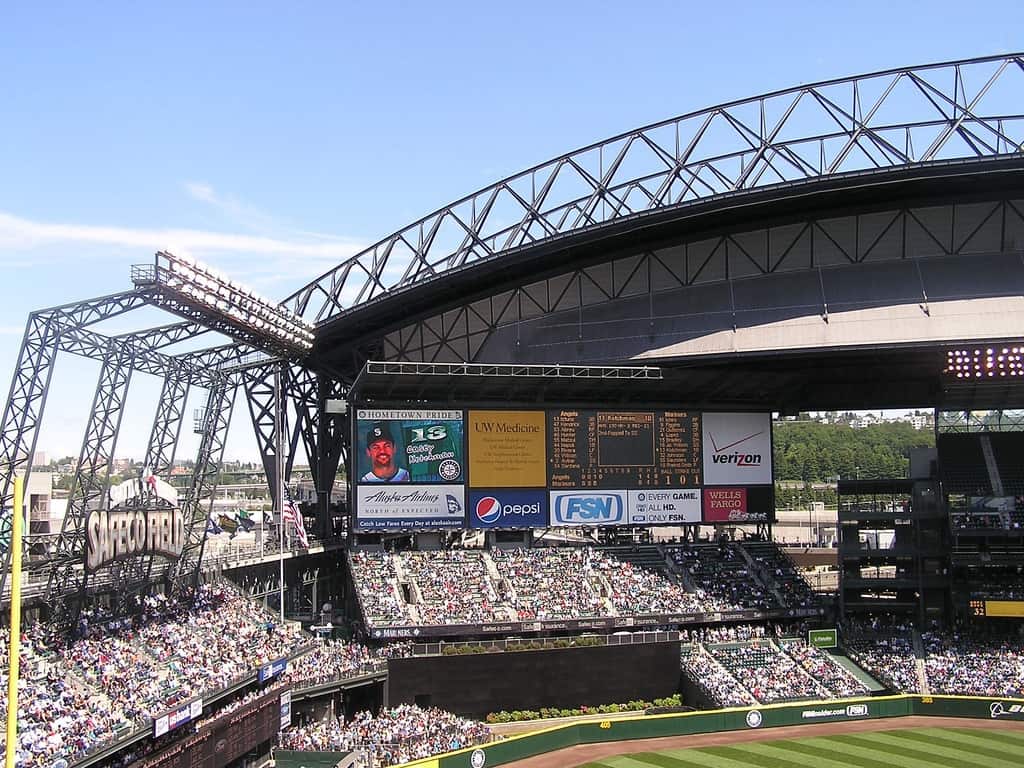 Center Field Bleachers Have a Good View of the Field But Not the Scoreboard – via Flickr user Chelsea Nesvig
If you are hoping to catch a foul ball, section 143 is statistically your best bet as a ball is almost always hit out there.
If you want to step it up a little you should still spend wisely. I think the field seats down the lines are overpriced, and you should avoid them. There is decent value in the view box seats between home and first base. You should look for the odd numbered sections between 321 and 327. These are a little pricey, but your view of the action is impeccable. Besides a great view of the game you have a nice view of the downtown skyline as well.
For an evening game you will see the sunset beyond left field as well and it's a pretty amazing sight. Definitely not the best value seats I have seen compared to other stadiums, but if I am going to pay to sit in the outfield upper deck, sign me up for the only slightly more expensive seats with an exponentially better view.
Seats with Benefits at T-Mobile Park
Skip the cheap seats and cheer on the Mariners like a rock star in the premium seats. Sometimes you really do get what you pay for and when you pay for the VIP seating at an MLB stadium, you get some pretty sweet benefits. Besides the best views of the game, suites in T-Mobile Park come with VIP parking, private entry, all-inclusive food and drink, and more. The best premium seats are in the Diamond Club. You sit in the first eight rows behind home plate and wait for service at your seats.
Where to Stay While Visiting T-Mobile Park
My favorite way to travel to a baseball game is to stay as close to the stadium as possible and walk or take an Uber so I don't have to fool with parking in a strange place. So many ballparks have great hotels within walking distance making it easy to stay nearby.
I use Tripadvisor to find a hotel with good reviews near any ballpark. I prefer this option over any other because I actually search for the park I am visiting and Tripadvisor gives me hotels, restaurants, and other attractions near there. T-Mobile Park is located in Seattle and the city is packed with stuff to do and see.
Obviously, there are a lot of hotels in Seattle, but I can search for T-Mobile Park here and get the 10 closest hotels to T-Mobile Park and then pick what I want based on ratings and prices. This saved me a lot of time and I didn't end up getting ripped off on the price or end up in a sketchy place where I didn't feel safe.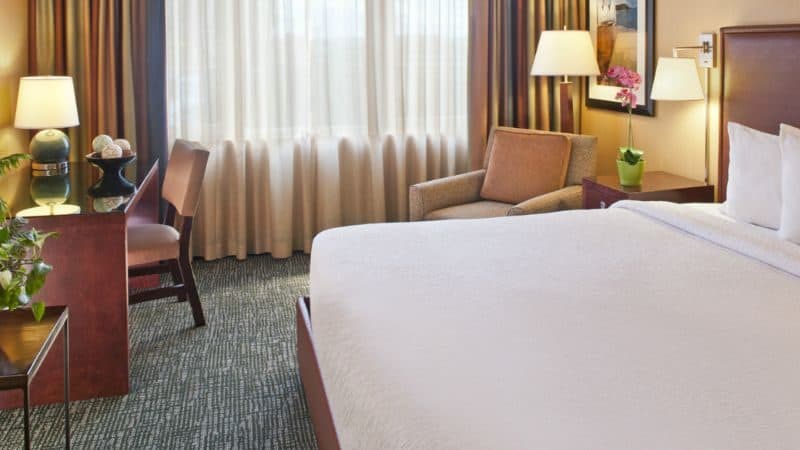 Silver Cloud Hotel – Seattle Stadium – image via Silvercloud.com
The closest hotels do not always come with the lowest cost but you get what you pay for when it comes to accommodations. Remember that you aren't paying for parking or transportation.
Silver Cloud Hotel is between T-Mobile Park and Lumen Field. The rooftop pool looks over the corner of T-Mobile Park. It is pretty amazing. The restaurant and bar here, Jimmy's On First, is really nice and also Mariners themed. The location is fantastic and so is the price.
W Seattle is freaking cool and a mile from the ballpark. Staying at a W is an experience! Everything in this hotel is unique from the moment you walk into the lobby. This place even has a private recording studio you can reserve!
If you want a reliable hotel chain with less flair, Best Western Plus Pioneer Square Hotel is for you.
Free Stuff at T-Mobile Park
1. Art at the Ballpark: Start by finding the giant mitt sculpture with the hole in the middle by Gerard Tsutakawa at the Left Field Gate. Then enter through the Home Plate Gate and check out the amazing chandelier in the Ebbet-esque lobby that features a thousand glass baseball bats. Thom Ross's "The Defining Moment" honors Edgar Martinez's double from the 1995 ALDS. Donald Fels' sculptures depict different pitch grips. Ross Beecher's work features recycled trash remade into baseball-themed quilts.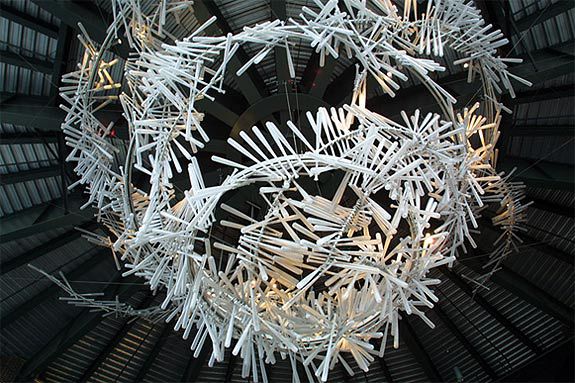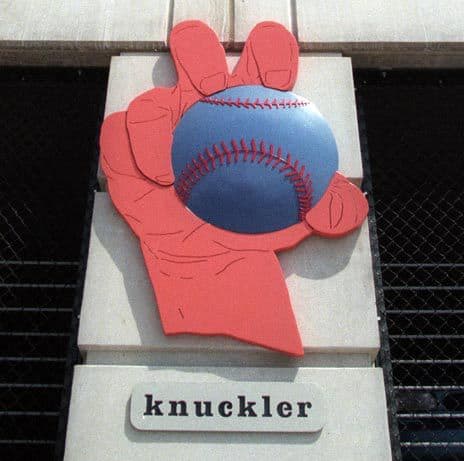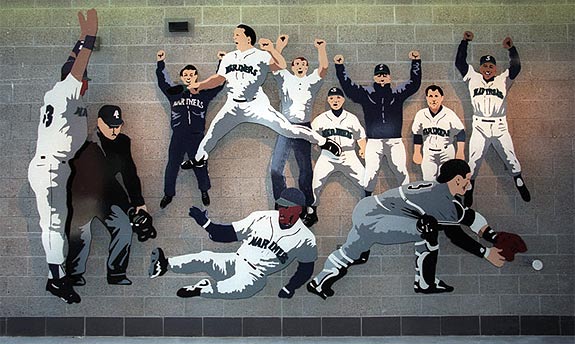 There is a Ton of Art Spread Throughout T-Mobile Park.
2. The T-Mobile 'Pen – No other park lets you get so close to pitchers in the bullpens. The pens can be viewed from every height and angle behind center field, and it's almost intimidating how close you can get. Heckling is considered very poor form and won't be tolerated – but you won't want to, you'll be so mesmerized being that close to the action. Besides being so close to the bullpens, the new T-Mobile experience includes AR features that let you pitch, hit, and turn yourself into a bobblehead. Print out a picture of your personalized Bobblehead and you've got a cool, free souvenir!
3. The Hall of Fame and The Baseball Museum of the Pacific Northwest: A fun and informative destination that you will want to visit is the Baseball Museum of the Pacific Northwest, which is the home of the Mariners Hall of Fame. Both are located on the Main Level along the Third Base line behind Sections 133 – 136.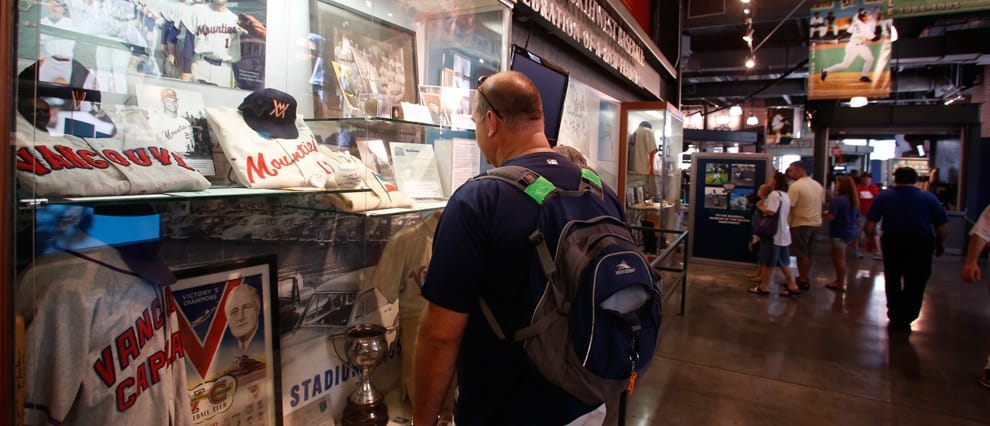 The Pacific Northwest Baseball Museum Features the Mariners Hall of Fame
4. Meet the Moose: You can take the kids to meet Mariner Moose at the Moose Den located in the center field on the Main Level at Section 191. The Moose comes out for meet and greets before and during the game. Check the schedule when you get there. If your kids are getting a little antsy sitting in the stands, head to level 300 for the Marineers playground.