Last Updated: September 6th, 2023 by Kristen Douglas
Note: this article may contain affiliate links. If you make a purchase using one of these links, I may be paid a referral fee at no expense to you.
The Cardinals opened Busch Stadium III in 2006 and christened it with a World Series Championship. They always seem to find a way to be hot, even when they completely lack talent. Was that a back-handed compliment? Nah! And the Cardinals are known for having devoted and knowledgeable fans, so it makes for a great baseball atmosphere.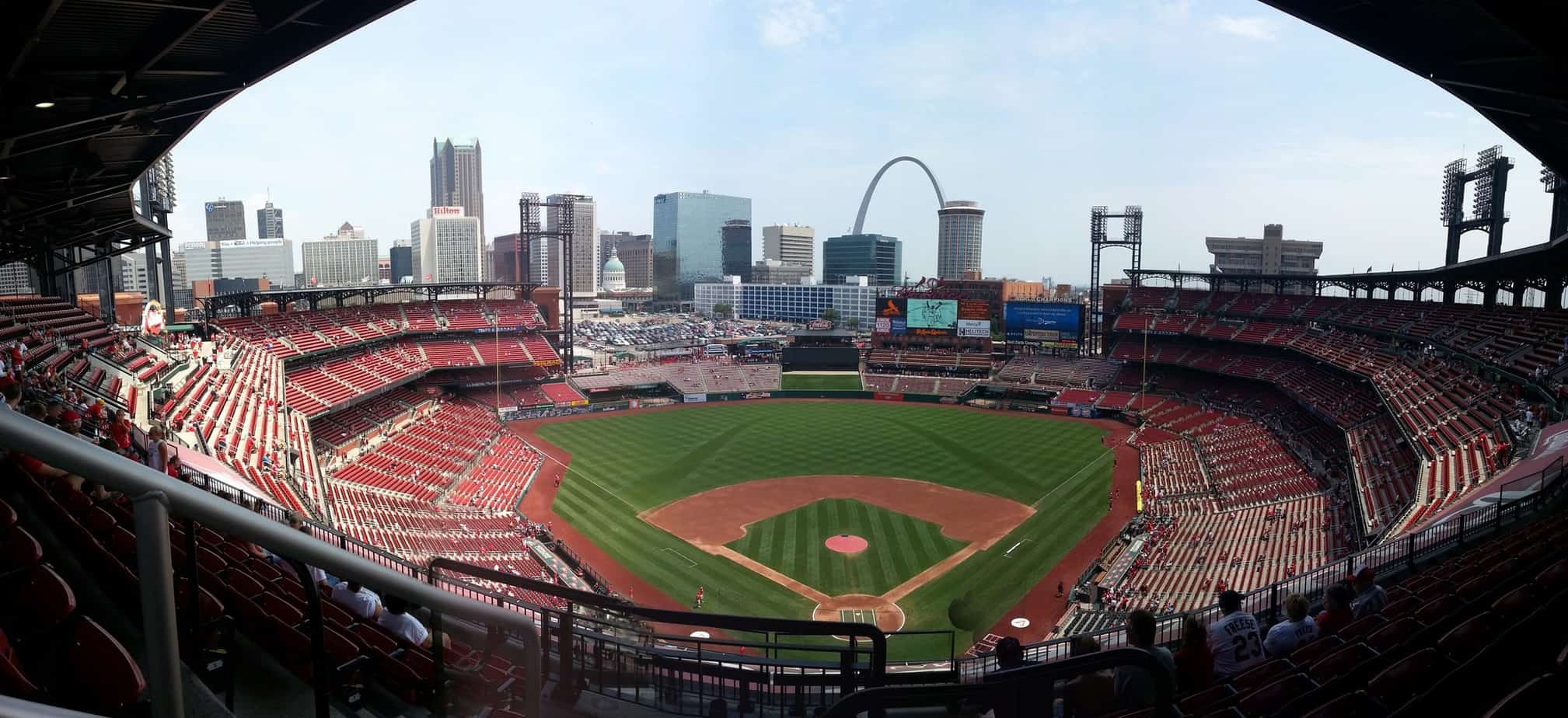 Enjoy a Great View of the Game and the Arch – via Flickr user Nikonian Novice
Things You Shouldn't Miss
Ballpark Village is a sports entertainment district practically connected to Busch Stadium where you can eat, shop, stay, and even visit The St. Louis Cardinals Hall of Fame and Museum.
Find the giant Stan Musial statue from the second Busch stadium, at the Third Base Entrance.
It's not a far walk from the park to the base of the Great Arch. No visit to St. Louis is complete without seeing it.
Ways To Save Money
Take Uber instead of parking. Click here to get a free ride.
Pack your own food and bring a bottle of water with you in a clear plastic bag.
Stay close by and walk to the stadium. Click here to see our favorite hotel near Busch Stadium.
Click here to reserve a cheap parking spot in advance.
There are a ton of different downtown parking options depending on how cheap you are willing to go. Always be aware of meter times. You can take the stress out of parking by reserving ahead of time at SpotHero.
Fridays and Saturdays are the toughest to find deals, but you can get excellent value on sites like SeatGeek or StubHub for a midweek game. The Cardinals also do a lot of promotions, so if you are flexible, keep an eye out.
There are a number of food options in the park at varying prices, though you won't be eating cheap. But you can always bring food and drink in with you, just follow the rules to get through security, like have your food in a clear bag. This stuff is ever-changing so check the team site before you go just in case.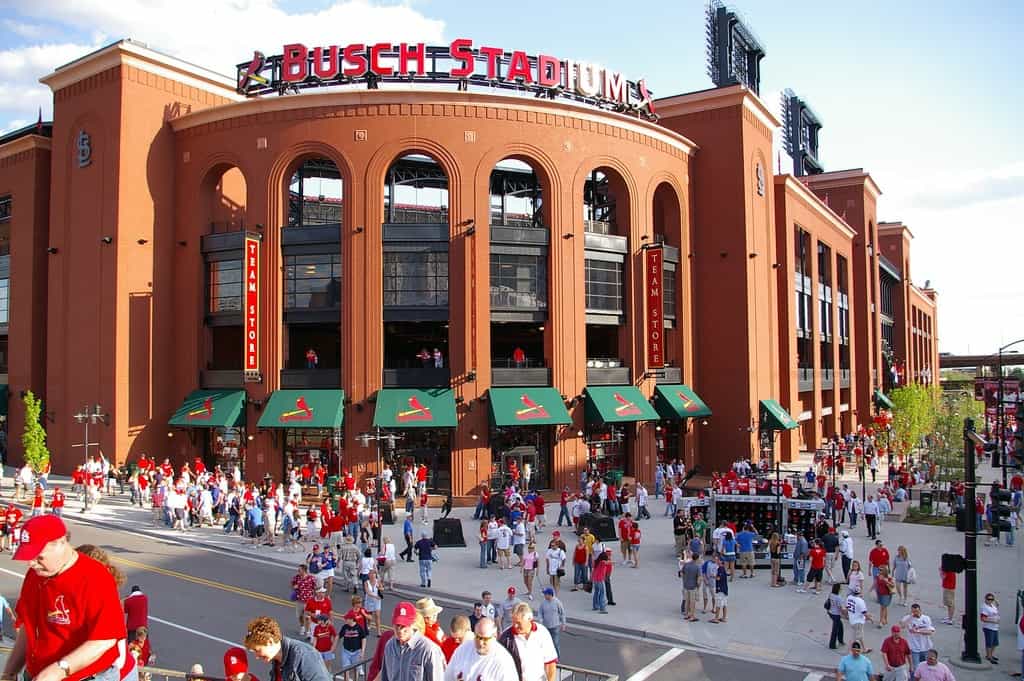 The Vibe Outside of Busch Feels Like Classic Summer Baseball – via Flickr user Mitch Bennett
Arriving at a Cardinals Game
Alternative/Public Transportation to Busch Stadium
Some people will tell you about taking the red or blue line of the Metrolink to the Stadium stop, but while it's an affordable option, it may not be the best option. It's so unpopular, the Cards don't even have a webpage recommending it. Every team has a webpage recommending the public transportation options except the Cards. That should say something.
The problem is after the game the station is typically packed out and it's tough to get on a train. The benefits are that you can usually park for free outside of the city at a station, and then you pay less than a beer per person roundtrip to take the train to and from the game.
A more creative way to find free parking at Busch Stadium is to visit various bars that offer free parking and a free shuttle to and from the game. This has big-time advantages because you can meet up with friends, eat/drink there (for cheaper than Busch Stadium), and then ride together without the stress of driving and finding a spot. Here are 2 places to check out:
Big Daddy's Soulard – Big Daddy lets you ride the shuttle to Busch Stadium for free. They have had their shuttle for over 20 years!
Click here for more information and details on the location of Big Daddy's Soulard.
Llywelyn's Pub – Another Irish Pub that offers a free trolley to the game. It takes off an hour before the game.
Llywelyn's Offers Great Drinks, Comfy Seating, and a Free Trolley to the Game
If you want to enjoy drinking and not worry about driving (always a great choice considering the many drinking options at the park), choose an Uber to get you there and back. If you've never used Uber, click here to get your first ride free.
Driving to Busch Stadium
Downtown St. Louis can provide some parking problems, and when going to Busch Stadium you should keep safety in mind. Leave with plenty of time to deal with traffic and find the parking situation you are comfortable with. Don't arrive at the last minute and end up stuck with limited options.
The main thing is just to use common sense, don't park somewhere if you feel like an armored vehicle would be useful – it's not worth saving $5. That being said, you can find free parking near Busch Stadium via metered parking.
Most meters are in effect Monday through Saturday until 7 pm. What that means is you will probably need to arrive early and then feed the meter until 7 pm; at which point you are home free. Parking is $2.00 an hour in high demand areas. Officially, "Parking meters are in operation Monday through Saturday from 8 am to 7 pm. Parking at all meters is free on Sundays and City Holidays." If you are wondering, this policy did change in 2013. It used to be where you could find meters on Saturday without having to pay, but that is no longer the case. Here is more parking information.
There is an area a few blocks south of the stadium where you might be able to find free street parking. Check out Chouteau Street between 1st and 2nd St. As always, pay attention to the street signs for clarification, but certainly worth a gander if you're headed to the game on a budget.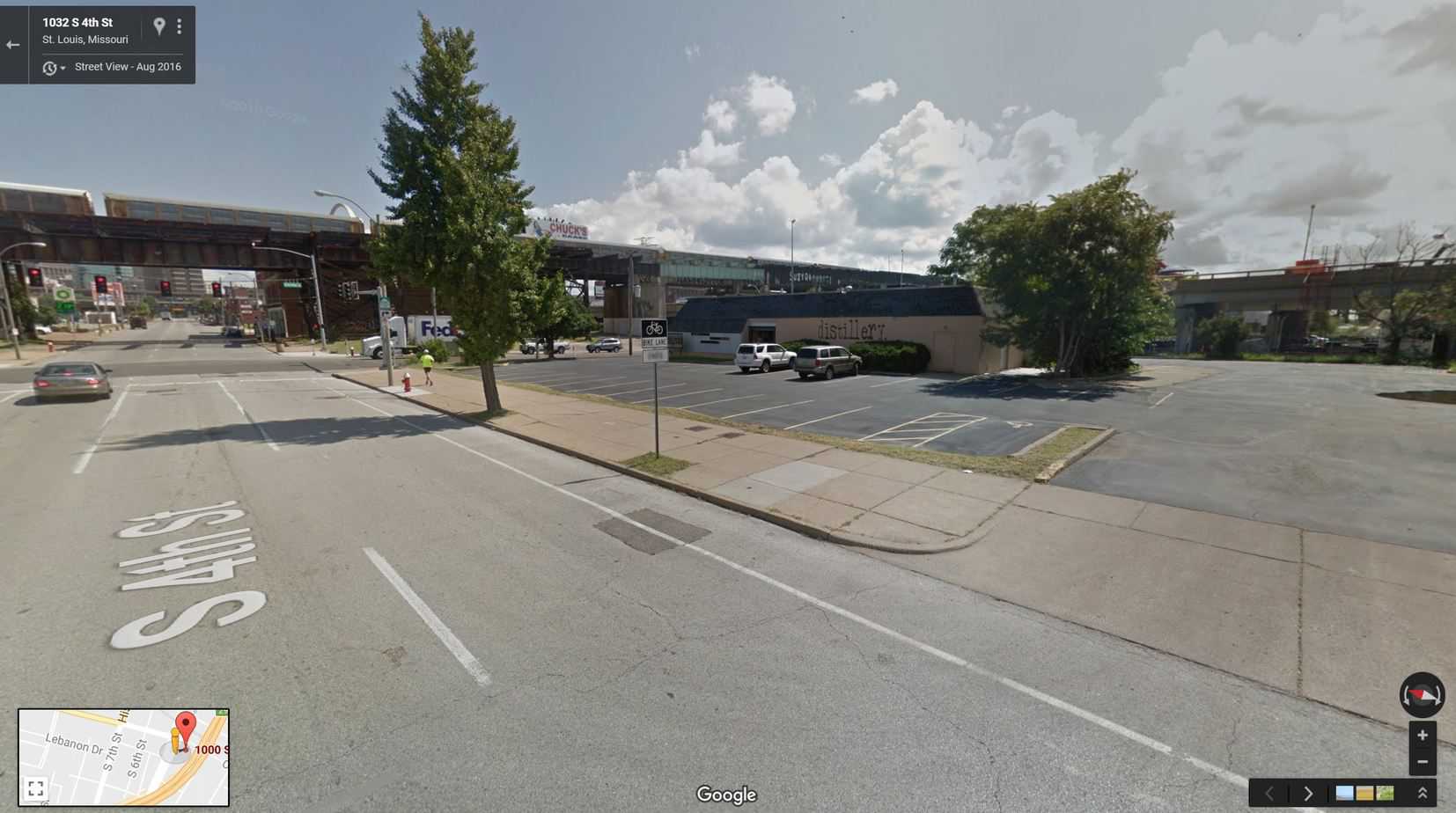 Within a Few Blocks Businesses Become Sparse and There's Some Parking
If it were me, I would take my chances arriving as early as I could and do some laps through downtown looking for metered parking. You can easily wait 20 minutes to get on a train after the game, which is a lot of wasted time.
I guess it's up to you to put a balance on time vs. money, but if you are going with several people to the game – splitting parking fees (if any) will probably be cheaper too.
If you're intent on driving to the game and parking at a garage or lot within walking distance of the stadium, it's best to be informed. A small amount of research can go a long way towards making sure you know exactly where the best garages are, and what they're going to be charging you.
Generally speaking, the best deal that you're going to find is a fairly cheap spot at a business that rents out their lot during games. Two that come to mind are Midas Mufflers at 720 South 4th Street and 630 Distillery at 1000 South 4th Street. I'm sure more could be found by scanning the area.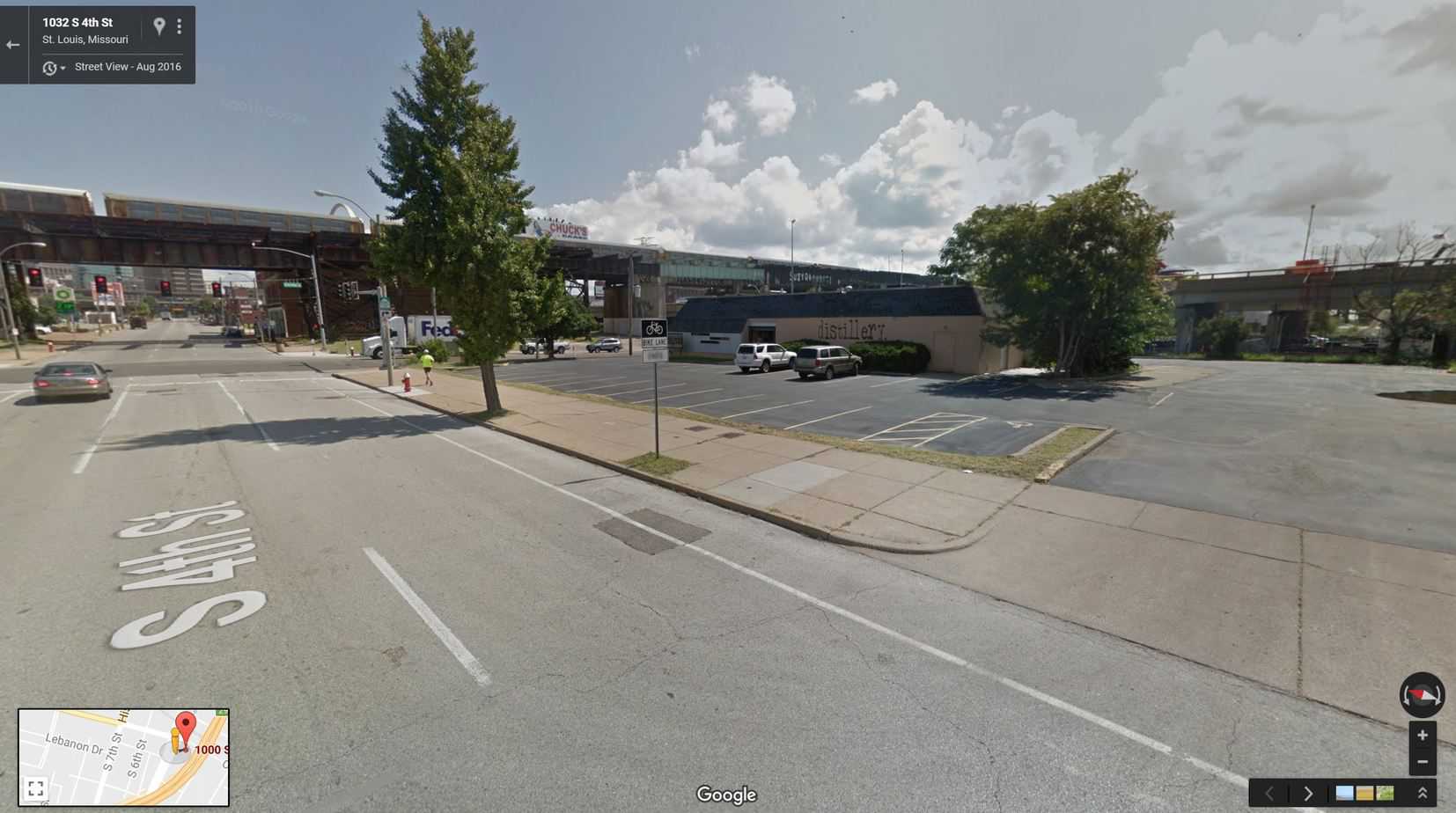 Local Businesses Like Distillery on 4th Street Open Their Lots for Cheap Parking
If you're looking for the most convenient parking option possible and willing to pay for it, a spot at the Ballpark Village is the move. A spot here runs closer to the $30 range. Ballpark Village is a huge family-friendly entertainment complex built on the grounds of the old Busch Stadium. You can hang out here before and after the game. It is such a nice venue.
SpotHero is a convenient way to find parking for Cardinals games. You can hop on their website and view a number of different parking options in the area. You can compare prices against location, select an option that works for you, and pay for a guaranteed spot ahead of time. They'll email you the parking pass and a spot will be waiting for you. Check it out here or view their options below:
Food At & Near Busch Stadium
Save Money on Food
Busch Stadium gives fans another opportunity to save money by allowing you to bring in clear bags with plastic bottles of water and also any type of food. No glass, no cans. While the ballpark concession prices at Busch Stadium are ridiculous – once again you are not a captive audience, so take advantage!
Food You Shouldn't Miss at Busch Stadium
Some MLB stadiums have put a lot of attention into their concessions. Busch Stadium is not one of those stadiums but lately, they have added some new options that are promising.
Topp Dogg – This is a build your own jumbo sausage or hot dog stand in Section 132. Make a St. Louis Dog. Take crispy potato chips, cover them with cheese and BBQ sauce… and then put the hot-dog underneath. It's a mess you'll be glad you conquered.
Decadence on a Hot Dog Never Ceases to Impress
"Pop Pop Hurray!" Gourmet Popcorn – Try out a flavored popcorn from this local, family owned popcorn company. Their stand is near Gate 1.
Island Freeze Frozen Drinks – Get a frozen drink in a 16oz Mason jar and 20oz Half Yard. You can mix and match the flavors to create your own drink. You get to take your Mason jar or Half Yard home with you. I am a sucker for any food or drink that doubles as a terrible plastic souvenir.
Busch Stadium Seating Chart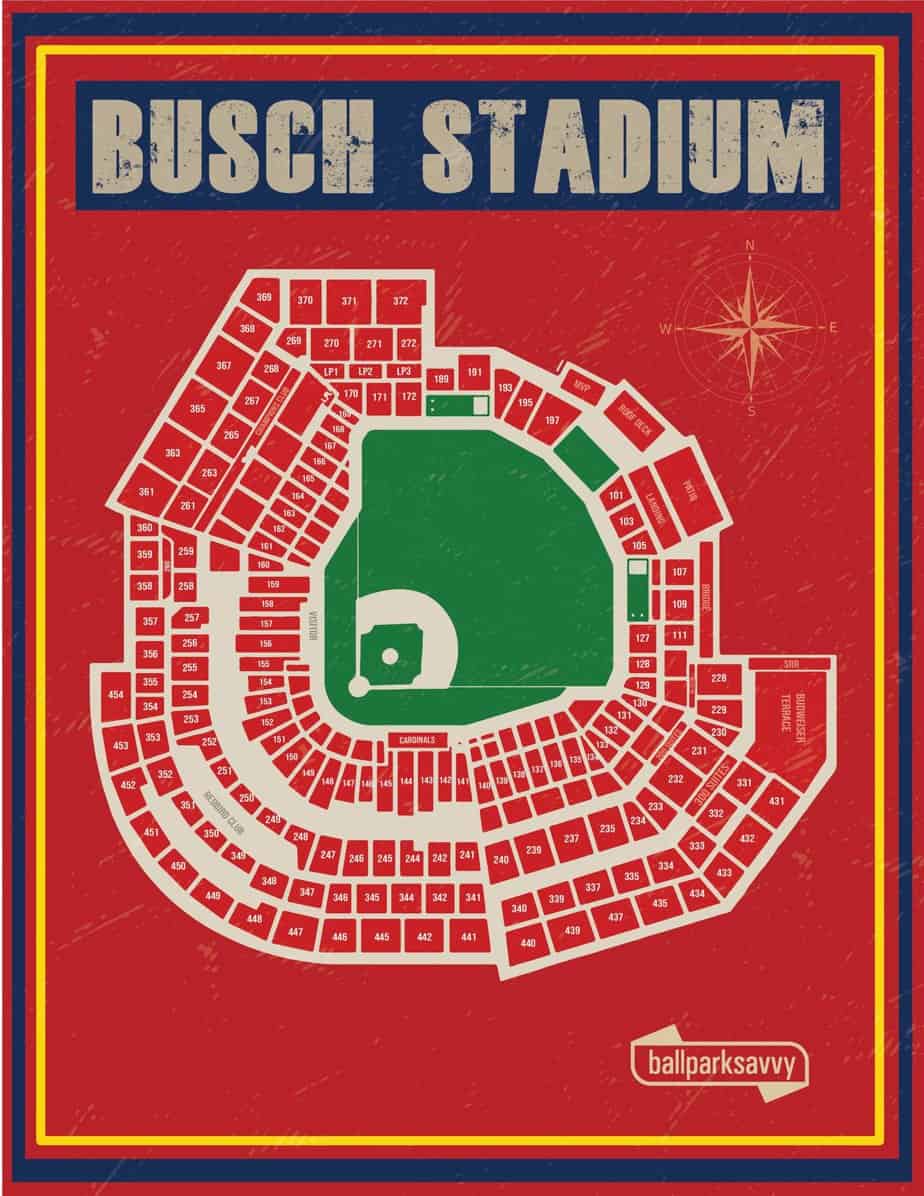 We've created the seating chart of Busch Stadium above to help you better understand some of our recommendations below. Feel free to download this image and use it, we just ask that you credit Ballpark Savvy and link back to the page where you found the image.
Cheap Cardinals Tickets
At this point, nearly every Major League team has some kind of variable pricing model where depending on how in-demand a game is, the ticket prices you'll pay at the gate may go up or down.
Sometimes pricing varies from day to day, other times it is a more formal "tiered" structure where when they are playing a big draw team like the Cubs, you'll pay a premium price compared to a perennial ​bottom-dweller who might be in the "budget tier."
So rather than focusing on specific prices and sections which tend to change fairly often, I want to talk about general rules and strategies for getting the best deals on tickets. ​
1. Compare 3rd Party Sites
SeatGeek is a big time ticket comparison site that lets you compare a bunch of different ticket brokers, marketplaces, etc. and find the best price for the game you want to go to. They also have a tool that projects whether ticket prices will go up or down – AKA whether you should buy now or wait.
Load more
Click here to view Cardinals tickets on SeatGeek.
2. Buy Last Minute
If you've bought tickets online before, you've heard of StubHub. What you may not know however is that with the rise of print-at-home and tickets on your mobile phone via the Ballpark App that you can usually buy tickets right up to a couple of hours before game time.
Save $5 On Last Minute Tickets: I recently learned about the Gametime app and it's legit. Save BIG on last minute tickets. Click here to get the app and you'll get $5 off your first order.
As someone who has sold a fair share of tickets on StubHub, I also know that sellers are encouraged to set a declining price for their tickets. This means they'll set a starting price and then their lowest acceptable price, and StubHub will auto-magically lower the price of those tickets as the event date gets closer.
So in many cases, a game that isn't sold out will have plenty of below face value deals on StubHub that you can snatch at the last minute and then either print at home, or just use the App on your phone to get scanned into the game.
Buying Via Craiglist Would Let Musial Down… And Who Wants to Do That? – via Flickr user Michael Patterson
3. Avoid Craigslist
It's not to say that you can't find ticket deals on Craigslist, you can. It is just more of a peace of mind, safety issue. I'm a Craigslist kind of guy, but I also know it's easy to get screwed buying baseball tickets there.
Remember when I mentioned selling on StubHub? When you list tickets there, all you need to know is the barcode number from that ticket along with the other details on section, row, etc. – So when I sell tickets I never mail them to the buyer, they just print them at home and my actual tickets become void.
If I was a shady character, I could go sell those void tickets to an unsuspecting buyer on Craigslist for cash. The tickets look real, they are "real" in a sense – but what that buyer will find out is when they go to enter the stadium, the ticket scanner will say "thou shalt not enter thy game."
Don't be that buyer.
Stick to buying tickets from SeatGeek, StubHub, or directly from the team. You can still get deals and you never have to worry about being scammed.
Best Value Seats at Busch Stadium
The Cardinals offer some pretty aggressive discounts on tickets, which is great news for fans on a budget. I think if you are truly in search of good value tickets at Busch Stadium, the key is flexibility. For instance; Sundays shape up to be a great time to go to a Cardinals game.
One incredibly cool thing the Cardinals currently offer is a KMOX first pitch ticket. Every game day, they release 275 random tickets (player returns, unused) for just $11.20 (for sponsor KMOX 1120 AM radio). They go for sale at 9 AM on game day at gate 3, near Clark. Then, about 15 minutes before the game, you show up at gate 5 with your ID and voucher, and they give you your 2 tickets.
Don't Forget to Pay Homage to KMOX Broadcaster Jack Buck – via Flickr user Josh Hallett
Most people don't really plan ahead, and they end up paying top dollar for everything – which is stupid if you ask me. In fact, I give the Cardinals a Ballpark Savvy Blue Ribbon for their ticket promotions. You might expect this from a crappy team, but the Cardinals are perennial winners and they give plenty of chances for everyone to make it out to some games. Click here for the current list of promotions.
I think the Cardinals regular seating is a little pricey for my taste, but I see a great value in sections 441, 442, and 445. These sections are labeled as Outfield Reserved seats, but they are actually more like infield reserved seats. In fact, they are right above the infield terrace box seats which are about double the price. I think if you are going for cheap seats, these are your best value tickets at Busch Stadium. Kids 12 and under are also able to get super-cheap seats in that same section.
Where to Stay While Visiting Busch Stadium
My favorite way to travel to a baseball game is to stay as close to the stadium as possible and walk, or take Uber so I don't have to fool with parking in a strange place. So many ballparks have great hotels within walking distance making it easy to stay nearby.
I use Tripadvisor to find a hotel with good reviews near any ballpark. I prefer this option over any other because I actually search for the park I am visiting and Tripadvisor gives me hotels, restaurants, and other attractions near there. Busch Stadium is located in Saint Louis and the city is packed with stuff to do and see.
Obviously, there are a lot of hotels in Saint Louis, but I can search for Busch Stadium here and get the 10 Closest hotels to Busch Stadium and then pick what I want based on ratings and prices. This saved me a lot of time and I didn't end up getting ripped off on the price or end up in a sketchy place where I didn't feel safe.
The closest hotels do not always come with the lowest cost but you get what you pay for when it comes to accommodations. Remember that you aren't paying for parking or transportation.
The Westin St Louis and Live! By Loews – St Louis are literally steps away from Busch Stadium. I bet you can guess that rooms here are not cheap. However, it is pretty sweet to have a room that overlooks the stadium so if it is in your budget to stay in one of these swanky hotels, do it. OYO Hotel St Louis Downtown City Center gets you within a 10-minute walk of the ballpark and you can get rooms for under $200.
Free Stuff at Busch Stadium
1. Baseball Village – across Clark from Busch is this area, dedicated to shops and sites related to baseball. The Cardinals Nation building has the official memorabilia store, the Hall of Fame, and the Cardinals Museum. While some of these require tickets, it's great to rub shoulders with the many Cards fans.
Baseball Village Offers Museums, Shops, and More
2. Plaza of Champions – this plaza, on the corner of 8th and Clark, holds statues of Redbird greats that once stood outside Busch Memorial. Get your selfie with any of the choices – Bob Gibson, Stan Musial, Dizzy Dean, Rogers Hornsby, Lou Brock, Ozzie Smith, Enos Slaughter, announcer Jack Buck and Negro League Player Cool Papa Bell.
Lou Brock Guards the Arch and the Park – via Flickr user Josh Hallett
3. Family Pavillion – This outdoor family area is so much fun. There is a batting cage, speed pitch, a soft play area, and free activities on game day. Take your kids here to keep them from getting bored. It is located on level 1 between Gates 5 and 6.
4. Cardinals Theme Nights – The Cardinals have a lot of really fun theme nights every season. There is something for everyone and themes you would not even have guessed they would have. Ever been to Shakespeare Night at a baseball game? Me either. Go check it out at Busch Stadium. You are already buying a ticket so pick a night with extra entertainment included at no extra cost.