Last Updated: September 6th, 2023 by Kristen Douglas
Note: this article may contain affiliate links. If you make a purchase using one of these links, I may be paid a referral fee at no expense to you.
This Stunning Park Opens to Face the City – via Flickr user Joey Gannon
On the north shore of Pittsburgh, Pirates fans return every spring to their beautiful home field. PNC Park opened in 2001 and has some of the best views in baseball, not just of the field but also of the city that surrounds it. The Buccos draw large and passionate crowds to their beautiful park. Join in and cheer on the Pirates, yell at the umpires, and root for your favorite stuffed dumpling during the Great Pierogi Race!
Things You Shouldn't Miss
Sitting on the Left Field side provides one of the best city skylines in all of Major League Baseball. The view over the river is spectacular.
You can't appreciate Pittsburgh without walking the Riverside. Start by crossing the Clemente bridge. Next to the park, also on the river is Allegheny Landing, a green space where you can hang out and take photos of the sculptures and just enjoy the area. Check out the great stone arches on the exterior of the park, a tribute to former home Forbes Field.
True baseball fans will want to create a day trip by visiting Pittsburgh's Roberto Clemente Museum. Tours are by appointment only, so check online. But this tribute to one of the sports' greatest men is deeply personal and packed with incomparable memorabilia. You can also visit an original Forbes Field Wall. Built in 1909, Forbes was the original home of the Pirates and is one of the most iconic fields in baseball history. The Left-Center Field fence is off of Roberto Clemente Drive.
Ways To Save Money
Take Uber instead of parking. Click here to get a free ride
Take a soft cooler of food & drinks with you
Stay close by and walk to the stadium. Click here to see our favorite hotel near PNC Park.
Click here to reserve a cheap parking spot in advance.
There are piles of cheap parking options available, and they are easy to book in advance via SpotHero.
Seats are cheap by baseball standards. This is a great opportunity to splurge and have a truly amazing view.
You can bring food into the park, but there are also a few worthwhile dishes to try that really speak to Pittsburgh's unique character. Trying local food while at a game is part of the experience!
As for the stadium setting and amenities, PNC Park is one of the best in all of baseball. You can pick up some great local food at the stadium, and really take in some phenomenal views of downtown Pittsburgh from the upper deck.
The Skyline and Views are Outstanding from Pittsburgh's Cultural District – via Flickr user David Fulmer
Arriving at PNC Park
Alternative/Public Transportation to a Pirates Game
Most locals will select from the various public transport options available for PNC Park. Coming in by boat is also a memorable experience.
The cheapest option is to take Pittsburgh's subway/light rail, known as the "T". The Northside Station directly across the street from PNC's home plate entrance connects to the various T stops just across the river in Pittsburgh's "Golden Triangle". Best of all? It's free, fast, and efficient.
But for a totally reasonable price, you can also start off on the southside of the river at the Station Square Dock and take the Gateway Clipper. This relaxing ferry ride crosses all three rivers and can be combined with cheap parking if you've driven from out of town and want the ultimate Pittsburgh experience.
Park on the South Shore, Then Take a Ferry Ride You Won't Forget
Pittsburgh Water Limo runs water limos, which are a bit more private, from the Lockwell One Marina. Book ahead on their website.
For Those Who Want to Arrive in Style…
Another option if you happen to be staying nearby is to avoid the crowded subway car and the stress of traffic and grab an Uber ride. ​If you've never used Uber, click here and get your first ride free.
Driving to a Pirates Game
Pittsburgh is a city with a lot of bridges. Heed your GPS well – a wrong turn over the wrong bridge can waste a lot of time.
Your selection of a parking location for PNC Park is reliant on two factors: where are you coming from, and how much are you willing to pay for proximity to the stadium?
Let's talk about where you can park for free on the South Shore. Most of the free parking is going to be on the street in and around the cultural district near the Clemente Bridge (renamed in 1998 for the celebrated Pirates' right fielder and beloved philanthropist Roberto Clemente).
Clemente Bridge and the Cultural District with Many Parking Choices – via Flickr user Brian
According to the Pittsburgh parking authority, their meters are only in effect until 6 pm, so after that, you are home free. You shouldn't have any problem driving around within a couple of blocks of the bridge and finding a spot if you are arriving before 6 o'clock.
If you're coming from the north, you almost certainly want to park on the North Shore. This will allow you to get in and out of the city as quickly as possible. There are a number of parking garages or lots with easy access to the stadium for varying prices, though they are slightly more expensive. But it's worth paying more to avoid the hassle of traffic – again, only if you are coming and going north.
The cheapest parking option on the North Shore can be found at the Carnegie Science Center's North Lot. Parking costs just over $10 for all Pirates games. The lot is over a half a mile from the stadium, but you can catch a free ride to the stadium on the "T" light rail system.
There are a few other midrange parking garages on the North Shore, conveniently located across the street from the stadium on W. General Robinson St.
If you're searching for the Cadillac of parking spots directly next to the stadium, look no further than Red Lot 6.
This is one of the Pirates' official parking lots, and it's located right across the street from the stadium down the third base line. Cross over W General Robinson St and you're at the stadium. Tailgating is allowed at this lot, and Pittsburgh fans do tailgating right. Parking at the lot costs around $25 if you just show up and pay, but spaces do sell out quickly.
Or you can ensure a spot in this popular lot with SpotHero. They charge a premium for this lot, but that ensures you have a space waiting for you no matter what time you arrive. The convenience of this lot might justify the cost for some. If you've got numerous kids or any folks with disabilities, this lot is worth the premium.
When it comes to parking garages, if you're coming to the stadium from any other direction than the north, things are much brighter (read: cheaper) for you. There are eight parking garages or lots scattered around the Pittsburgh downtown area that will allow you to park for less than the price of a beer on game day.
The garage at Fort Duquesne and Sixth Street might be the best of them all. For about $7 you can park right next to the Roberto Clemente Bridge. A quick 5 minute walk across the bridge separates you from the ballpark, and it might be one of the most picturesque entrances to a stadium in the country. The experience is a sight itself. The feeling you get walking across the bridge before the game is pretty cool, and it's a relatively short walk.
Elusive Entrance to the Garage on Fort Duquesne and Sixth
Elusive Entrance to the Garage on Fort Duquesne and Sixth There is a garage at Ninth and Penn St that costs about six bucks for Pirates games and also puts you within easy striking distance of the Roberto Clemente Bridge.
This brings us to, at the time of writing, six total $5 game day parking options. A thing of beauty indeed.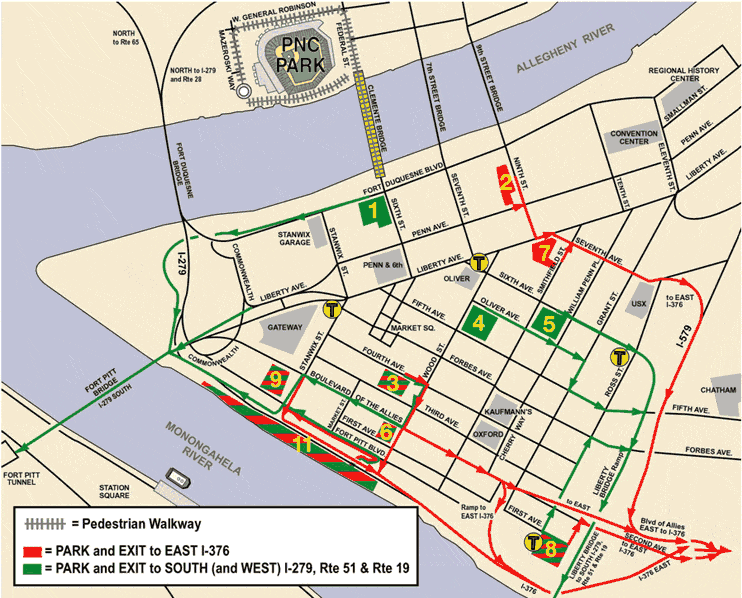 A Handy Guide to Cheap South Shore Parking, All Offering a Great Walk Over Clemente Bridge
Lots numbered 3 through 8 all cost $5 and are either within walking distance of the stadium or provide access to the local "T" light rail system, which drops you off right at the stadium. Easy.
The most stress-free choice for affordable parking at the Pirates game is using SpotHero. This lets you find a spot ahead of time and reserve it, so you know exactly where you are going before you ever leave your house. Here is a list of upcoming games, just click the date you need to find the cheapest spots:
Best Food At & Near PNC Park
Save Money on Food
Like many other stadiums, PNC Park allows you to bring your own food into the stadium with some rules to follow. First, you cannot bring in a cooler or big bag. Bags are not allowed if they are any larger than 8" x 5" x 1" with some exceptions for medical or diaper bags. You can bring a sealed drink but it has to be in a clear glass plastic bottle and cannot be carbonated or alcoholic. Basically, you can carry in a bottle of water and a snack. This is still a great way for a fan on a budget to save a few bucks at a Pirates game.
Thursdays are $1 Hot Dog nights inside PNC Park. Just find one of the concession stands participating and you can eat dinner for a buck! You can also buy a family pack of tickets for a Pirates game that includes hot dogs and sodas for any game.
PNC Park is cashless, meaning you have to pay with a card, google pay, or apple pay instead of cash. If you do bring cash, there are stations around the park where you can put that cash on a prepaid Mastercard. Get used to this policy because it seems to be the new normal for major league stadiums.
With Field Level Seats So Cheap, It's Worth Grabbing Food in the Park – via Flickr user Eric Beato
Food at PNC Park You Shouldn't Miss
1. Primanti Brothers – As Pittsburgh's leading deli, this local favorite with locations around the city also sells sandwiches behind section 110. Meat sandwiches are topped with fries and coleslaw, and are hearty. Come early to get the pre-made sandwiches.
A Delicious Reason to Stretch the Jaws – via Flickr user Lehigh Valley, PA
2. Pierogies – The Italians have ravioli. The Chinese have dumplings. The Polish have pierogies, which are little dough dumplings stuffed with potatoes, cheese, and onion. Eaten with butter, these are a unique treat that pays tribute to the countless Eastern European immigrants in the history of the Three Rivers City. They can be found all over, even on the field during the Great Pierogi Race.
3. Coop de Ville – This new addition to the restaurants inside PNC has unique offerings like the Pimento Fried Chicken Sandwich. They brine the chicken in sweet tea! This is not your normal chicken tender basket!
If you like to play with your food… play attention between innings for the Pierogies Race, where costumed-mascots of flavored pierogies run a race around the warning track.
You read that right. Polish dumpling races.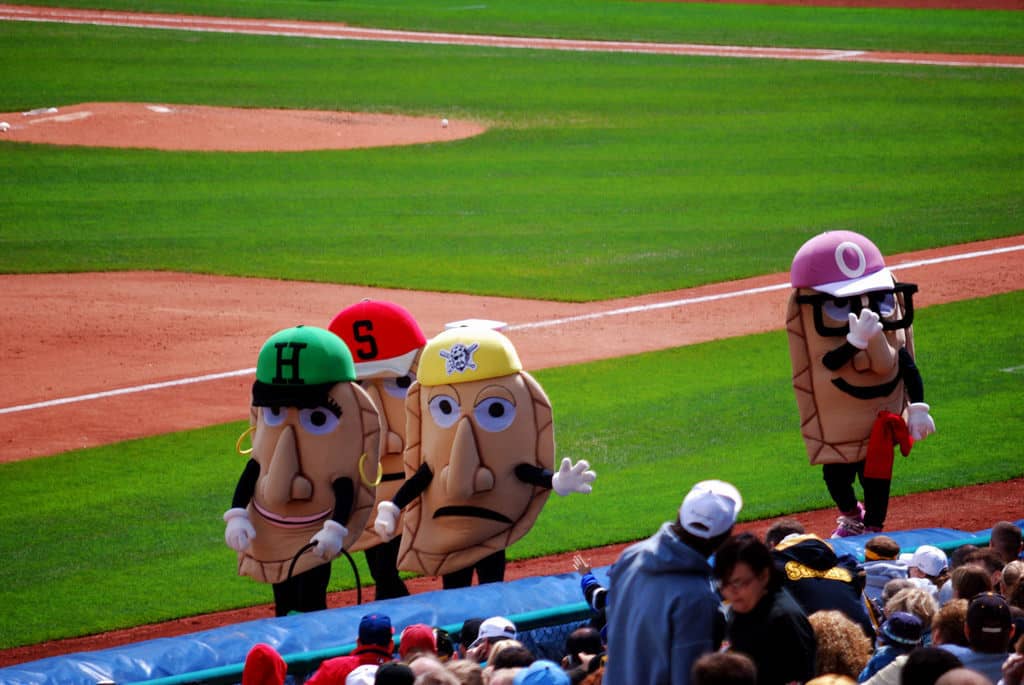 Yup. That's a Pierogies Race. Run, Dumplings, Run – via Flickr user Christopher Amrich
PNC Park Seating Chart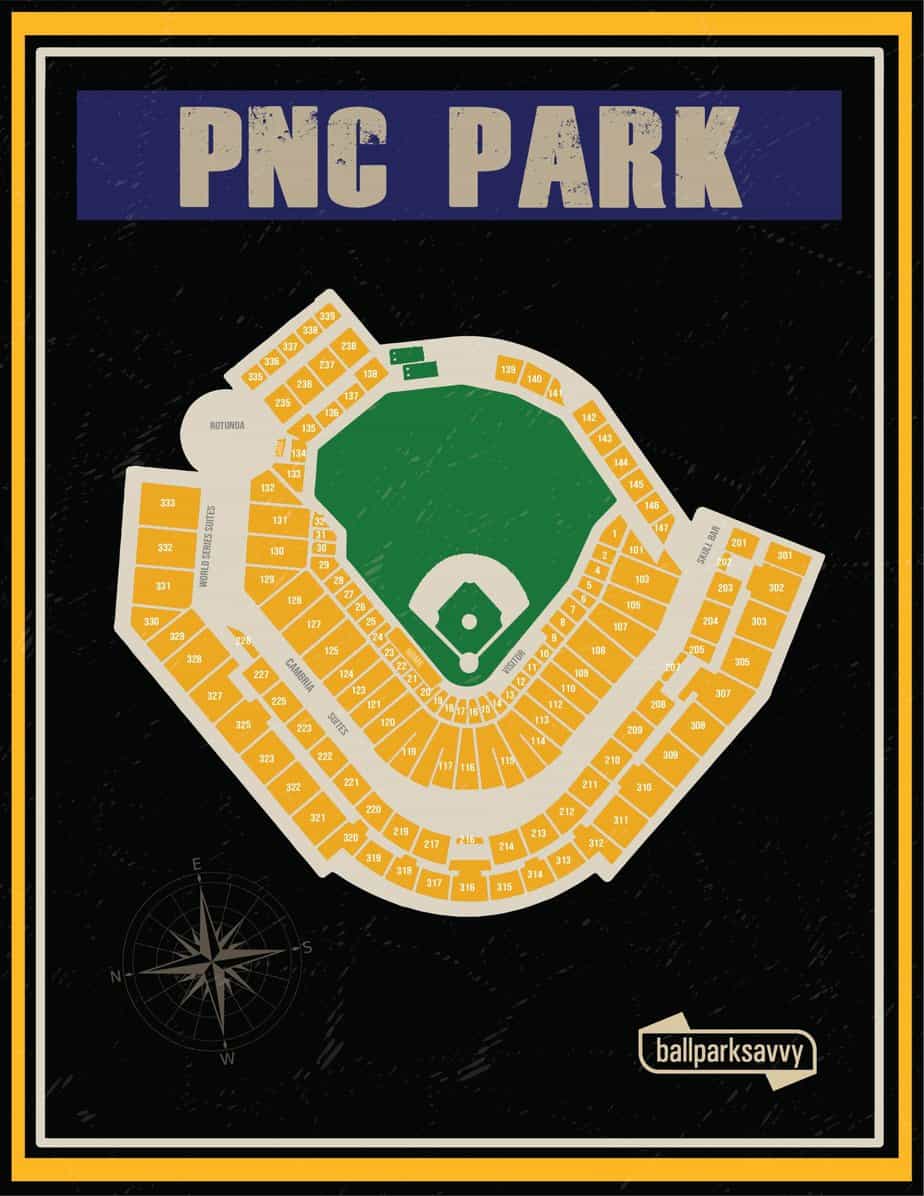 We've created the seating chart of PNC Park above to help you better understand some of our recommendations below. Feel free to download this image and use it, we just ask that you credit Ballpark Savvy and link back to the page where you found the image.
Cheap Pirates Tickets
At this point, nearly every Major League team has some kind of variable pricing model where depending on how in-demand a game is, the ticket prices you'll pay at the gate may go up or down.
Sometimes pricing varies from day to day, other times it is a more formal "tiered" structure where when they are playing a big draw team like the Cubs, you'll pay a premium price compared to a perennial ​bottom-dweller who might be in the "budget tier."
So rather than focusing on specific prices and sections which tend to change fairly often, I want to talk about general rules and strategies for getting the best deals on tickets. ​
1. Compare 3rd Party Sites
SeatGeek is a big time ticket comparison site that lets you compare a bunch of different ticket brokers, marketplaces, etc. and find the best price for the game you want to go to. They also have a tool that projects whether ticket prices will go up or down – AKA whether you should buy now or wait. 
Load more
Click here to view Pirates tickets on SeatGeek.
The Best View on a Sunny Summer Afternoon – via Flickr user Fen Labalme
2. Buy Last Minute
If you've bought tickets online before, you've heard of StubHub. What you may not know however is that with the rise of print-at-home and tickets on your mobile phone via the Ballpark App that you can usually buy tickets right up to a couple of hours before game time.
Save $5 On Last Minute Tickets: I recently learned about the Gametime app and it's legit. Save BIG on last minute tickets. Click here to get the app and you'll get $5 off your first order.
As someone who has sold a fair share of tickets on StubHub, I also know that sellers are encouraged to set a declining price for their tickets. This means they'll set a starting price and then their lowest acceptable price, and StubHub will auto-magically lower the price of those tickets as the event date gets closer.
So in many cases, a game that isn't sold out will have plenty of below face value deals on StubHub that you can snatch at the last minute and then either print at home, or just use the App on your phone to get scanned into the game.
3. Avoid Craigslist
It's not to say that you can't find ticket deals on Craigslist, you can. It is just more of a peace of mind, safety issue. I'm a Craigslist kind of guy, but I also know it's easy to get screwed buying baseball tickets there.
Remember when I mentioned selling on StubHub? When you list tickets there, all you need to know is the barcode number from that ticket along with the other details on section, row, etc. – So when I sell tickets I never mail them to the buyer, they just print them at home and my actual tickets become void.
If I was a shady character, I could go sell those void tickets to an unsuspecting buyer on Craigslist for cash. The tickets look real, they are "real" in a sense – but what that buyer will find out is when they go to enter the stadium, the ticket scanner will say "thou shalt not enter thy game."
Don't be that buyer.
Stick to buying tickets from SeatGeek, StubHub, or directly from the team. You can still get deals and you never have to worry about being scammed. 
Honus Wagner Cannot Be Missed – via Flickr user Britt Reints
Best Value Seats at PNC Park
PNC Park is known for having great sight lines wherever you sit. The view from behind the plate in the upper deck is tough to beat not only for a birds-eye view of the field but a breathtaking view of downtown Pittsburgh.
Another thought to keep in mind is that the right field side of the stadium is going to be the first in the shade for a summer evening game and may prove to be a little more comfortable than its left field counterpart.
If you are trying to catch a homerun ball, Section 135 in Left Field is statistically your best best. Sections 144 and 142 are also pretty good spots for home runs so bring a glove if you sit out here.
If I was going, I would buy upper deck seats close to right behind the plate. In fact, the outfield is so open you really get a nice view of downtown in the lower level behind the plate and down the 3rd baseline.
However, here is another way to look at this: if you are doing a baseball trip, or coming from out of town, PNC Park is also a great place to splurge on good seats without getting killed on price. Infield box seats are some of the cheapest in all of baseball and there will be plenty available.
The Press Box is Even Higher than the Highest Fan Seats – via Flickr user Roy Luck
If you are larger and tend to feel uncomfortable and cramped in stadium seats, the PNC Park has you covered. They have a fair number of seats that are on the aisle and don't have an armrest. So you can spread out a bit and not worry about trying to cram into a seat.
These are usually in the last couple rows of the section, but if you go to the ticket window and just ask about the seats with no armrests – they will know what you are talking about.
If you are military (active, retired, reserve, veteran), the Pirates offer a generous discount. Just get verified through GovX.com. A lot of major league teams offer military discounts and require verification through this site so if you want to benefit from military discounts, go ahead and get verified! Senior Citizens also get a discount at PNC Park. You just need a valid ID for this discount.
Seats with Benefits at PNC Park
If you are rolling up in Philly with cash to spare, treat yourself to the premium seating. There are exclusive private suites and clubs throughout PNC Park. Personally, I think the Home Plate Club is the way to go if you are purchasing individual tickets but want a VIP experience. You sit in an extra comfy seat behind a home plate with an exclusive dining area inside, food and drinks included. YOu also enter the park through a private street-level entrance. All the premium seating options in PNC Park come with amazing perks like this so just decide what tickles your fancy and start counting down the days until the game!
Where to Stay While Visiting PNC Park
My favorite way to travel to a baseball game is to stay as close to the stadium as possible and walk or take an Uber so I don't have to fool with parking in a strange place. So many ballparks have great hotels within walking distance making it easy to stay nearby.
I use Tripadvisor to find a hotel with good reviews near any ballpark. I prefer this option over any other because I actually search for the park I am visiting and Tripadvisor gives me hotels, restaurants, and other attractions near there. PNC Park is located in Pittsburgh and the city is packed with stuff to do and see.
Obviously, there are a lot of hotels in Pittsburgh, but I can search for PNC Park here and get the 10 Closest hotels to PNC Park and then pick what I want based on ratings and prices. This saved me a lot of time and I didn't end up getting ripped off on the price or end up in a sketchy place where I didn't feel safe.
Residence Inn by Marriott Pittsburgh North Shore – image via Marriott.com
The closest hotels do not always come with the lowest cost but you get what you pay for when it comes to accommodations. Remember that you aren't paying for parking or transportation
The Residence Inn Pittsburgh North Shore, next to PNC Park is surprisingly reasonably priced. Especially since it is such a nice hotel with great amenities like an indoor pool and free breakfast. SpringHill Suites Pittsburgh North Shore is also next to the ballpark and priced for well under $200 a night. Its cool that both these hotels are so centrally located and pretty reasonably priced for a big city. Breakfast is also free at Springhill Suites and kids stay for free.
Free Stuff at PNC Park
1. Statues of the Greats – Pittsburgh honors their greatest players with four statues scattered around the park, all worth finding. At the main gate stands the incomparable Roberto Clemente, looking to the skies that ultimately took his life. A statue of Bill "Maz" Mazeroski shows him in motion, rounding second after hitting the World Series winning home run in 1960. Wilver "Pops" Stargell is honored in bronze on Federal Street. And near the west entrance stands the greatest Pirate of all, baseball pioneer Honus Wagner, the Flying Dutchman.
The Greats Protect the Park – via Flickr users Scott Mosser, sglckgc, and David Brossard
2.Family Fun Zone on Kid Days – Every Sunday game at PNC Park, bring the kids and get there early for fun and free stuff in the Family Fun Zone on Federal Street. There are inflatables, games, and a giveaway just for kids on the way into the game.
Legacy Square Pays Homage to Pittsburgh's Negro League Past – via Flickr user David Wilson
3. Every single Friday home game during the regular season is a Free Shirt Friday! The first 20,000 fans entering the park receive a free Pirates T-shirt – some focusing on specific players, some advertising the team. Many are resold on Ebay as well, so combined with a cheap last-minute ticket buy, Friday home games can be very affordable.
4. This is not free but I had to include this because I love sending people to this ballpark! If you are ever near Bradenton, Florida during baseball season, go see the Bradenton Maruaders, and play a home game. The home field for the Marauders, where the Pirates play during spring training, is one of the coolest minor league fields in the country and is actually a historic park built in 1923. You will not be disappointed with the experience at LECOM Park cheering the Marauders.