Last Updated: September 6th, 2023 by Kristen Douglas
Note: this article may contain affiliate links. If you make a purchase using one of these links, I may be paid a referral fee at no expense to you.
Let Freedom Ring! – via Flickr user Bryce Edwards
Things You Shouldn't Miss
The Phillies Wall of Fame. Most teams have something like it, but the Phils have one of the better setups of MLB teams, in part because the team's history goes back to the 19th century.
The Phillie Phanatic is arguably the best mascot in baseball. The mascot is not only great on his own but often participates in original and creative skits. Check out the coloring books for kids sold around the park.
Take a walk around. Like most modern ballparks, Citizens Bank Park's concourses are open, allowing a nice view of the action no matter where you're standing. Taking a 360-degree stroll around the stadium is recommended for anyone going to a Phillies game.
Ways To Save Money
Take the Broad Street Line instead of driving, to avoid parking fees and postgame traffic. If you're staying in Center City, the city's subway is a straight shot down, along Broad Street, to the stadium complex, while also allowing an easy exit after the game.
Stay close by and walk to the stadium. Click here to see our favorite hotel near Citizens Bank Park.
Click here to reserve a cheap parking spot in advance.
Citizens Bank Park and the two other stadium venues near it are surrounded by a giant array of parking lots, which are rather pricey. Pricing for the 2022 season is $22, and payments are entirely cashless. However, cheaper lots are readily available via SpotHero. And it's easy to grab an Uber to and from the park.
You can buy tickets from the Phillies' official site, from SeatGeek, or from VividSeats. You can check all the sites and find the best deals, although Stubhub seems to have them.
With so many sections priced reasonably (especially compared to other parks), cheap tickets abound. Consider this an opportunity to see a Mets or Nats game on the cheap, if you're coming from other cities, but if so, be ready to hear from the hometown fans.
Inside Citizens Bank Park, there's a different food experience roughly every 50 feet. You can get standard ballpark fare like hot dogs and peanuts throughout the park. There are also more specialized offerings, including multiple types of Philly cheesesteaks and pizza, Bull's BBQ, and other choices.
Citizens Bank Park is unique in its out-of-the-ballpark food experience. The stadium is not located in a downtown area, but rather as part of a large complex in South Philadelphia. Therefore, it's not surrounded by a constellation of nearby bars like more urban ballparks.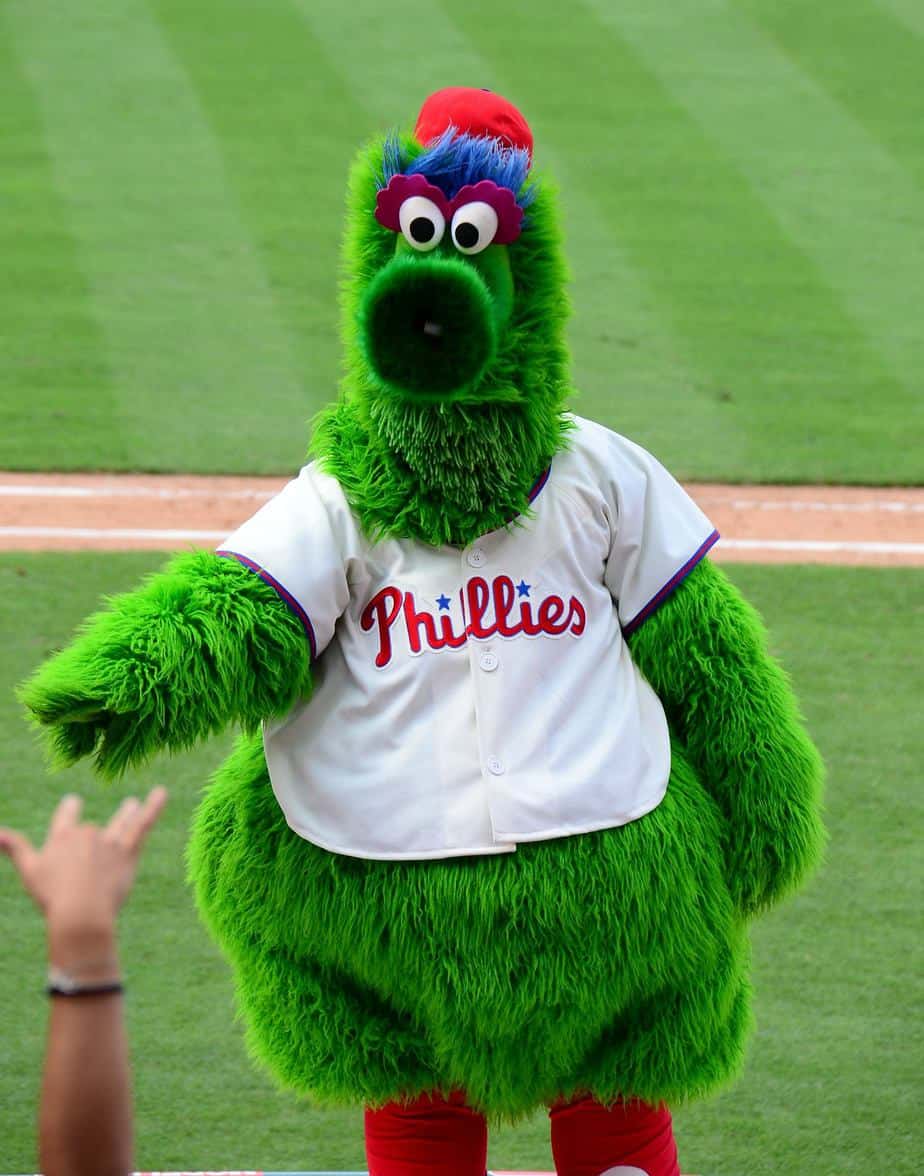 Citizens Bank Park is Full of Iconic Images – via Flickr users slgckgc and Jake
But that's begun to change a bit in recent years, with the arrival in 2012 of Xfinity Live! Philadelphia, an indoor complex of bars and restaurants located in the sports complex across the street from Citizens Bank Park. The Philly Live! Casino opened near the stadium in 2021, with restaurants and bars of its own. Philadelphia has been hyping up this overall area as "The Stadium District."
There's another big food-related tradition at Citizens Bank Park: Tailgating. The large parking lot area around the stadium is highly conducive to large groups hanging out for hours before the game and grilling, especially on warm summer days. However, tailgating isn't allowed everywhere; keep it west of Darien Street and south of Pattison Avenue. It requires some planning, but Philly offers one of the better tailgating scenes in baseball.
Arriving at Citizens Bank Park
Alternative/Public Transportation to a Phillies Game
There are few public transportation options for Citizens Bank Park. SEPTA offers sports express lines for Phillies games on the Broad Street Line, stopping at NRG Station.
AT&T Station is Just a 7 Minute Walk from the Park
You can also take a free shuttle to a Phillies game aboard the "Taxi Crab" which is provided by a popular local sports bar named Chickie & Pete's, famous for the Crabfries. This place is now a chain, but it was once voted the 3rd best sports bar in America by ESPN. You pay a small fee to park at the Packer Avenue restaurant, and then they shuttle you to and from the game. Chickie & Pete's crabfries are also available at a stand inside the ballpark.
Another option if you happen to be staying nearby is to avoid the crowded subway car and the stress of traffic and grab an Uber ride. Ubers can easily pull right up along the many streets around the park. ​If you've never used Uber, click here and get your first ride free.
Driving to a Phillies Game
The sports complex is right on I-95 and not very far from I-76, so it's not difficult to get to by car. If you're driving from other parts of the city and wish to avoid highways, you can head straight down Broad Street or take side streets.
There are places to park for free near Citizens Bank Park, although they can be difficult to find. Probably your best opportunity for free parking at a Phillies game is on Lawrence St. You will find this street about 2 blocks east of the stadium, and there is a decent amount of on-the-street parking available.
The most stress-free choice for affordable parking at the Phillies game is using SpotHero. This lets you find a spot ahead of time and reserve it, so you know exactly where you are going before you ever leave your house. Here is a list of upcoming games, just click the date you need to find the cheapest spots:
Best Food At & Near Citizens Bank Park
Save Money on Food
You are allowed to take food into a Phillies game. You can take a small soft-sided cooler in as well, so pack some ice or whatever. You don't have to pay ballpark prices when you can bring stuff with you. There are, however, a few things worth splurging on food-wise at Citizens Bank Park. Any non-alcoholic beverages must be brought in sealed plastic bottles as well.
Another great way to save money at Citizens Bank Park is to arrive early for food. Ashburn Alley, which is the hub for food and drink in the stadium, offers certainly reduced price specials for the first hour they are open (the hour before the main gates open).
PHILLIES PRO-TIP: The "Schmitter" is an iconic sandwich made by McNally's, consisting of steak, salami, veggies, and cheese, all fried and smothered in a special sauce. It has always been a must-eat at Citizens Bank Park, one of only three locations in all of Philly where the sandwich was sold. Report this ad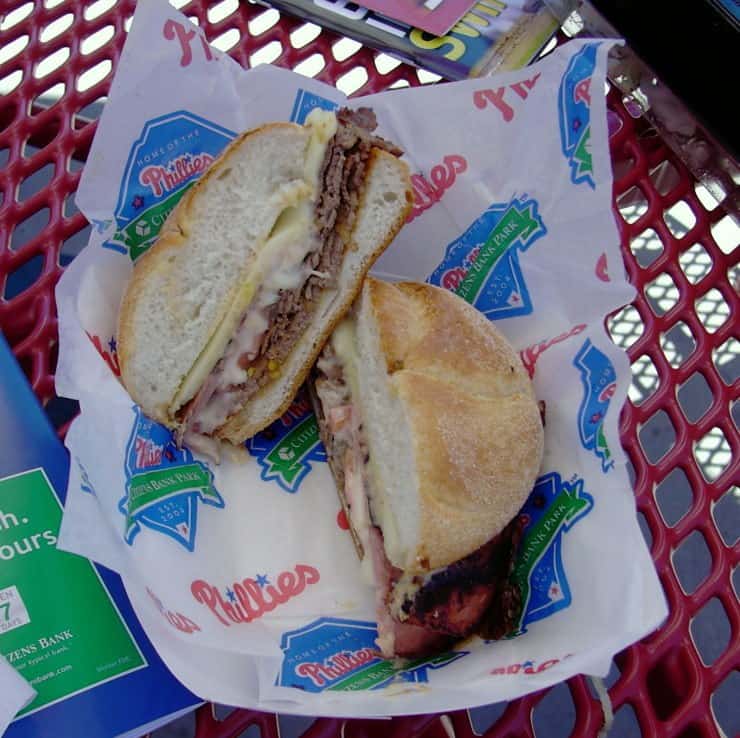 The Legendary Schmitter is Gone for Now, But You Can Still Hunt One Out – via Flickr user Bryce Edwards
However, when park management moved the kitchen to new facilities, the quality of the sandwich dropped. In 2016, McNally's owner decided to stop selling the sandwich in Citizens Bank Park rather than let the quality suffer. It is unclear if it will return in 2017. Until then, it is available at McNally's, as well as at Lincoln Financial Field during the Eagles' season.
Food in Citizens Bank Park You Shouldn't Miss
1. Tony Luke's Cheesesteak – you're in Philadelphia. Even if you go to both Pat's and Geno's (and you should), it's worth having one in the park. The quality is superb. Get there early, though – the secret is out and everyone is in line. Campos also has a great Philly Cheesesteak and both places are in Ashburn Alley. Arrive early and get your cheesesteak during batting practice.
Tony Luke's is Your Route to the Philadelphia Promised Land – via Flickr user Bryce Edwards
2. Chickie and Pete's – they argue that they invented "Crabfries", which are crinkle cut and sprinkled with Old Bay seasoning. Whether they did or not, they are a fantastic side, especially with the cheese.
Some argue these are "the reason to go to Phillies games…"
3. Federal Donuts. The Philadelphia-based donut and fried-chicken chain, owned by famed Philadelphia chef Michael Solomonov, arrived at Citizens Bank Park a few years ago.
4. Pass and Stow – Citizens Bank Park opened this new beer garden in 2019. It is near the Third Base Plaza and opens 90 minutes before the first pitch and stays open until post-game. It connects the park to Philly with a Liberty Bell sculpture in the outdoor beer garden. When you are here try a beer that you have never had before and order one of the pizzas fresh from the brick oven.
Citizens Bank Park Seating Chart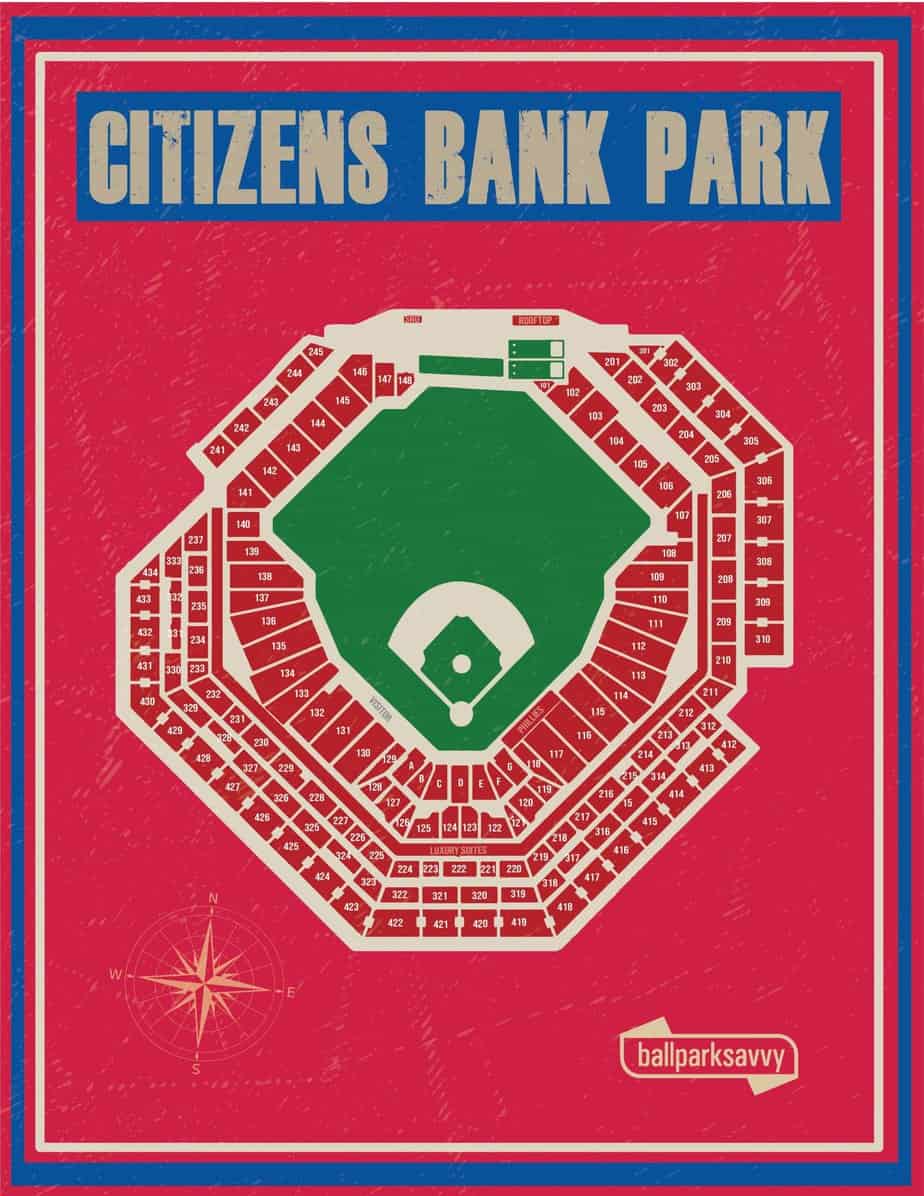 We've created the seating chart of Citizens Bank Park above to help you better understand some of our recommendations below. Feel free to download this image and use it, we just ask that you credit Ballpark Savvy and link back to the page where you found the image.
Cheap Phillies Tickets
At this point, nearly every Major League team has some kind of variable pricing model where depending on how in-demand a game is, the ticket prices you'll pay at the gate may go up or down.
So rather than focusing on specific prices and sections that tend to change fairly often, I want to talk about general rules and strategies for getting the best deals on tickets. ​
1. Compare 3rd Party Sites
SeatGeek is a big-time ticket comparison site that lets you compare a bunch of different ticket brokers, marketplaces, etc., and find the best price for the game you want to go to. They also have a tool that projects whether ticket prices will go up or down – AKA whether you should buy now or wait.
Load more
Click here to view Phillies tickets on SeatGeek.
2. Buy Last Minute
If you've bought tickets online before, you've heard of StubHub. What you may not know however is that with the rise of print-at-home and tickets on your mobile phone via the Ballpark App you can usually buy tickets right up to a couple of hours before game time. In a post-pandemic era, the Ballpark app also holds your actual tickets.
Save $5 On Last Minute Tickets: I recently learned about the Gametime app and it's legit. Save BIG on last minute tickets. Click here to get the app and you'll get $5 off your first order.
On StubHub, it's well-known that sellers are encouraged to set a declining price for their tickets. This means they'll set a starting price and then their lowest acceptable price, and StubHub will auto-magically lower the price of those tickets as the event date gets closer.
So in many cases, a game that isn't sold out will have plenty of below face value deals on StubHub that you can snatch at the last minute and then either print at home or just use the App on your phone to get scanned into the game.
When the Bell Lights Up, It's Pure Magic – via Flickr user Jay Reed
3. Avoid Craigslist
Remember when I mentioned selling on StubHub? When you list tickets there, all you need to know is the barcode number from that ticket along with the other details on section, row, etc. – So when I sell tickets I never mail them to the buyer, they just print them at home and my actual tickets become void.
If I was a shady character, I could go sell those void tickets to an unsuspecting buyer on Craigslist for cash. The tickets look real, they are "real" in a sense – but what that buyer will find out is when they go to enter the stadium, the ticket scanner will say "thou shalt not enter thy game."
Don't be that buyer.
Stick to buying tickets from SeatGeek, StubHub, or directly from the team. You can still get deals and you never have to worry about being scammed.
Best Value Seats at Citizens Bank Park
Many stadiums boast "great sightlines" but I think the Phillies actually deliver. Even the cheapest seats have a pretty nice view of the action. I would not be afraid to buy cheap seats and stick with them here. This can not be said at every ballpark.
There aren't many bad seats in the house. I'm partial to the center-field upper deck but have also sat for my fair share of games in the lower decks in both rights and left field.
If you want to sit in the outfield, I would avoid the right field in the summertime. The way the sun sets, you will have the sun in your face for the first half of the game which leads to 2 things; sweating and sneezing. However, sitting in right does give Phillies fans the chance to cheer on Bryce Harper close-up.
Bring your mitt if you get seats in sections 129-132 on the 3B side and 115-118 on the 1B side. These sections have the best chance of catching foul balls. The line on the 3B side is also where you will find shade at the earliest time in the afternoon.
The Phillies Massive Scoreboards Provide Entertainment – via Flickr user Peter Bond
Where to Stay While Visiting Citizens Bank Park
My favorite way to travel to a baseball game is to stay as close to the stadium as possible and walk or take an Uber so I don't have to fool with parking in a strange place. So many ballparks have great hotels within walking distance making it easy to stay nearby.
I use Tripadvisor to find a hotel with good reviews near any ballpark. I prefer this option over any other because I actually search for the park I am visiting and Tripadvisor gives me hotels, restaurants, and other attractions near there. Citizens Bank Park is located in Philadelphia and the city is packed with stuff to do and see.
Obviously, there are a lot of hotels in Philadelphia, but I can search for Citizens Bank Park here and get the 10 Closest hotels to Citizens Bank Park and then pick what I want based on ratings and prices. This saved me a lot of time and I didn't end up getting ripped off on the price or end up in a sketchy place where I didn't feel safe.
The closest hotels do not always come with the lowest cost but you get what you pay for when it comes to accommodations. Remember that you aren't paying for parking or transportation.
Live Casino & Hotel Philadelphia is as close as you can get but you do pay a premium for this very nice hotel. Honestly, staying near the Phillies is not cheap. City center Philadelphia is going to cost you. This hotel in the Stadium district gives you tons of entertainment and amazing dining options as well.
Fairfield Inn & Suites Philadelphia Downtown/City Center has rooms for under $200 and is also close to other Philly attractions like the Liberty Bell. I prefer little boutique hotels like this one. Holiday Inn Express Philadelphia-Midtown has good rates and includes breakfast. You know what to expect with a Holiday Inn, right?
Free Stuff at Citizens Bank Park
1. Batting Practice – Arrive early and wait for the gates to open 2 hours before the first pitch. 3B and Left field are the gates that open. You can catch the end of the Phillies batting practice and then watch the visitors. This is a good time to snag a souvenir ball hit into the stands.
2. Ashburn Alley – This area of the park behind the batter's eyewall has the Phillies Wall of fame and replicas of their World Series trophies. This is one of the areas that open 2 hours before game time. There are concessions out here and a cool merch shop as well. But really, it's just a fun place to hang out and take some cool Phillies photos.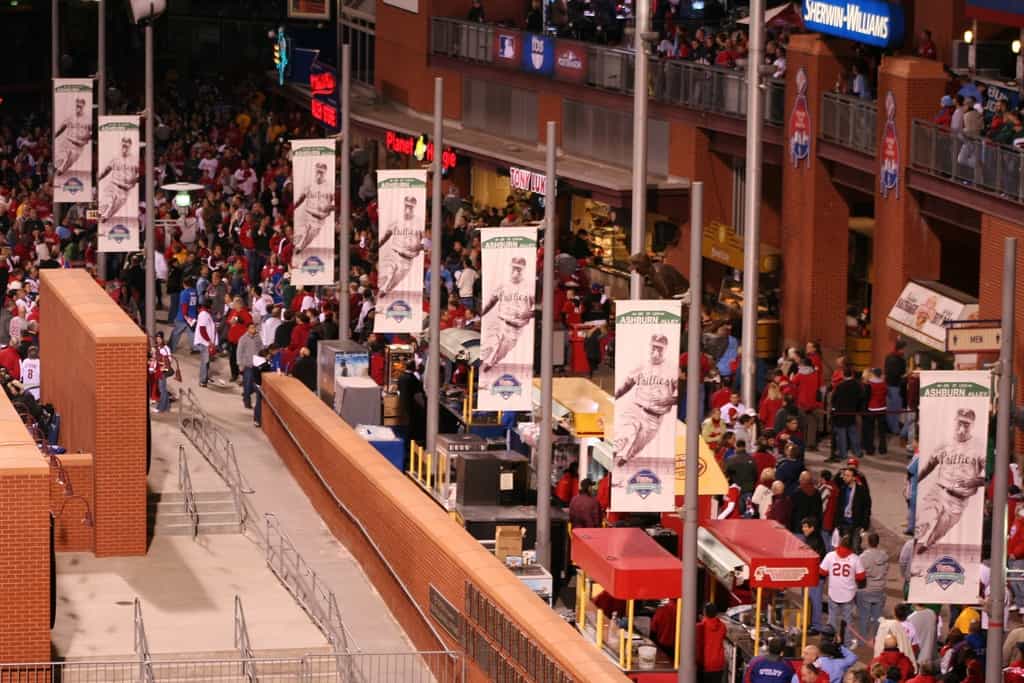 Have a Rousing Good Time in Ashburn Alley – via Flickr user Peter Bond
3. Promotional Games – Pick games with giveaways. They have some of the nicest promo giveaways I have seen at Citizens Bank Park. Check the schedule and pick what you want. Always arrive early on giveaway game days, they do run out of the free stuff!
Steve Carlton Statue Outside the Park – via Flickr user Peter Bond
For a special bonus, check out the pitching placards at the viewing railing overlooking the bullpens. With clear and concise explanations of different pitch types, complete with bronze balls allowing you to practice different grips, this is a fabulous way to explain different pitches to newbies.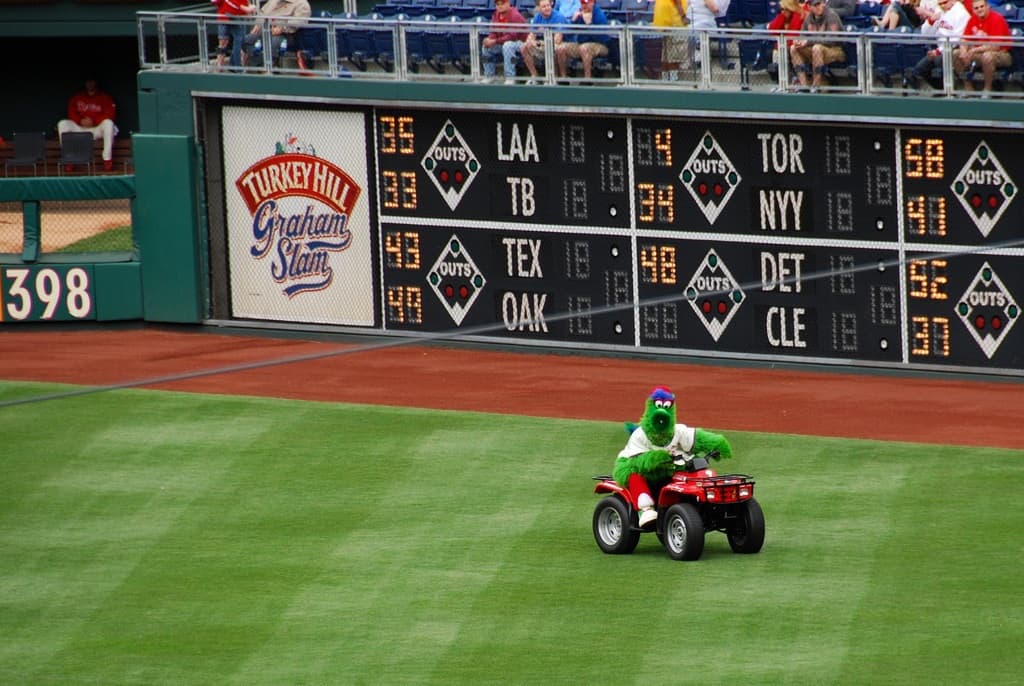 The Phanatic is the Icing on the Cake! – via Flickr user slgckgc