Last Updated: September 6th, 2023 by Kristen Douglas
Note: this article may contain affiliate links. If you make a purchase using one of these links, I may be paid a referral fee at no expense to you.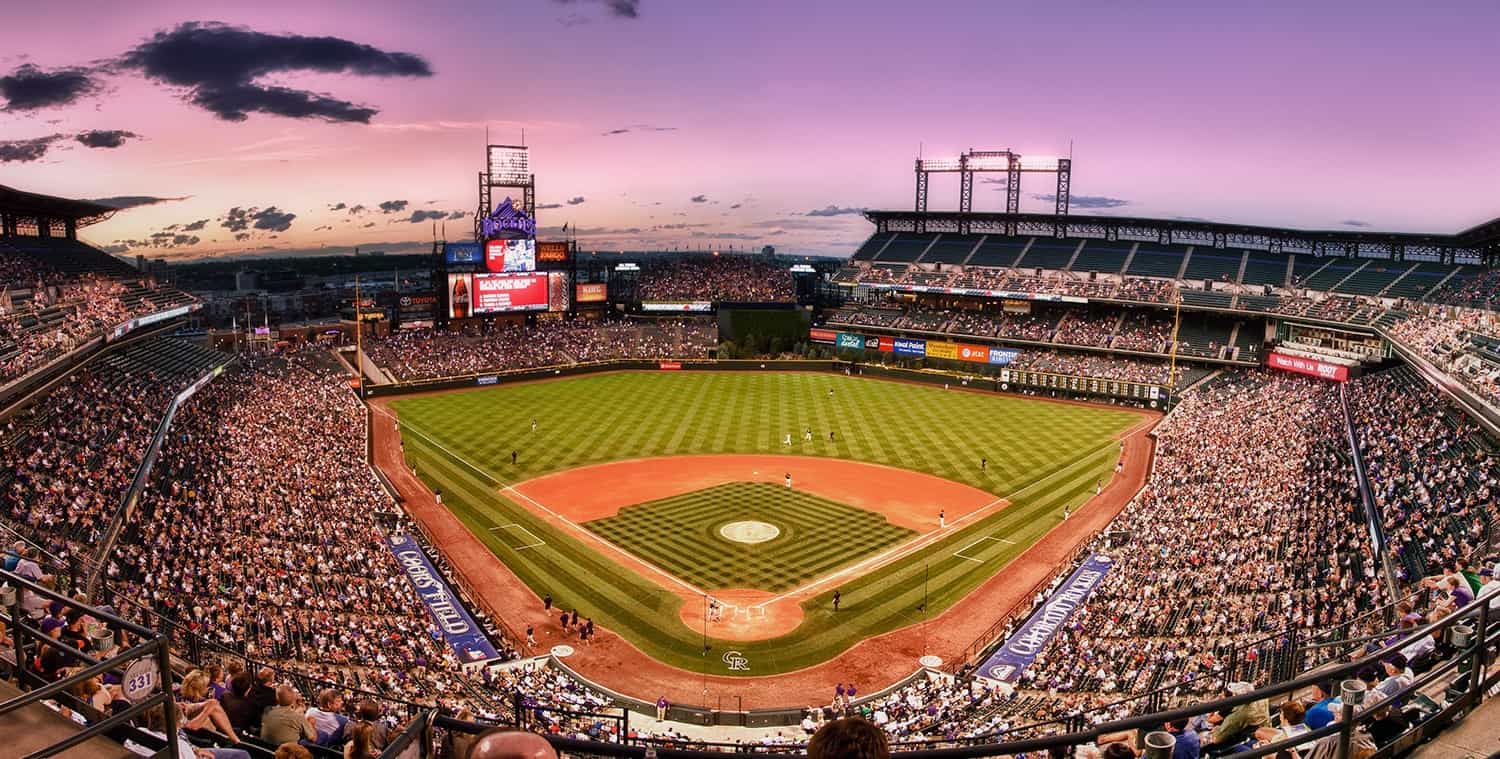 The Rockies Purple is Very Fitting – via Flickr user Max and Dee Bernt
Since 1995 the Rockies have called Coors Field home. Historically it has been a ballpark that boasts great attendance, and a fan-friendly environment. The park is architecturally beautiful, built with 1.4 million bricks and each brick was engraved with the words "Coors Field." You will find lots of special details like this at Coors Field. There are a select few seats that have a view of the Rocky Mountains which is a unique feature of this ballpark. It is now time to learn some ways to be smarter on your next trip to Coors Field.
Things You Shouldn't Miss
Enjoy the exterior, modeled after old Ebbets Field. The clock tower at the home plate entrance pays homage as well, but the numbers are Rockies' purple.
The seats in the upper deck at all green except for one purple row (20), which is at exactly 5,280 feet above sea level. Sit in the purple row to be exactly one mile high.
Fried bulls' testicles. Section 144.
Ways To Save Money
Take Uber instead of parking. Click here to get a free ride.
Take a soft cooler of food & drinks with you.
Stay close by and walk to the stadium. Click here to see our favorite hotel near Coors Field.
Click here to reserve a cheap parking spot in advance.
There are not really public transportation options, and the Rockies Ride shuttle, while not too expensive, is very limiting. Parking isn't cheap, and is limited; save yourself the trouble by using SpotHero to plan ahead.
Rockies tickets are cheap. Though they ramp up in price quickly if you buy them from the Rockies website, where the extra fees are obscene. Go straight for SeatGeek. If you are dead broke, go for Rockpile bleacher seats.
The LoDo district is bursting at the seams with bars, restaurants, and food carts. There's really no reason to show up to the park hungry at all. Still, the drink options are diverse and delicious.
Coors Field is set in Denver's Lower Downtown or "LoDo" neighborhood. Since the stadium was built in the 1990s, the neighborhood has flourished and turned into one of the trendiest areas in the entire city. There are a ton of restaurants and bars surrounding the stadium and it's worth it to spend a few hours checking out the scene before game time.
There's a Classy Vibe at Coors, with its Emulation of Ebbets – via Flickr user blaineattacks
Arriving at Coors Field
Alternative/Public Transportation to a Rockies Game
If taking the light rail, you can drive to the Broadway stop which has a good amount of parking; from there you can catch a train to Union Station or to 18th and Stout which would leave you with about a 9 block walk to Coors.
The "Rockies Ride" bus and rail service is a great public transportation option to get you to the game relatively cheap. This service will pick you up at essentially any "park and ride" location surrounding Denver and drop you off just blocks from the stadium.
Eat at Rock Bottom Brewery before or after the game and get low cost validated parking (around $5) at the Independence Plaza garage which is underneath the restaurant. I personally like this option best as it provides affordable parking and a good place to eat with unique local beer selection.
Rock Bottom Brewery is a Groovy Place to Dine Before Heading to the Game
Of course, its also a ballpark sponsored by a beer company: you might have some drinks at the park. Avoid the issue of driving entirely by using Uber to do the hard work for you. If you haven't used Uber before, click here and get your first ride free.
Driving to a Rockies Game
The setting of Coors Field in lower downtown Denver, which means there is a fair mixture of parking options. Of course, you have the team garage, which is a little expensive, but there are some places to park for free near Coors Field, or at least really cheap.
Usually, I like to touch on the prospects of free or cheap metered street parking near the stadium. Unfortunately this is largely not possible for Coors Field due to the operating hours of the meters in the area.
The Rockies have three official parking lots surrounding the stadium containing 4,300 total spaces. Prices here are the same for every game, pricier for the closest lot and a little bit cheaper for the two that are a bit further. Still, you are really paying for it.
There Are Few Parking Options with the Rockies Themselves
There are also a bunch of off street parking lots and garages within easy walking distance of the stadium. Two of them that I'm familiar with charge just around $10 depending on the game. The first one is located at 16th St and Wewatta St, less than a 10 minute walk to the stadium. The second is at 1794 Wazee St, also a quick 5-10 minute walk to the stadium.
I did pick up on a tip on Reddit about free street parking in a neighborhood about four blocks to the north east of the stadium. Check out the area around the intersection of Walnut St and 27th St. Of course, pay attention to signage on the streets before leaving your car for a few hours.
Intersection of 27th & Walnut via Google Maps
Another great way to do parking for Coors Field is to reserve a spot online ahead of time. A service called SpotHero lets you do just that. Simply hop on their website or download their app to compare prices and locations of available parking options. Pay for a spot that works for you, they'll email you the parking pass, and you can drive to the stadium knowing exactly where you're going to park and that a spot will be waiting for you. Take a look at their options in the window below:
Best Food At & Near Coors Field
Save Money on Food
Coors Field lets you take quite a bit into the stadium. They have one of the most generous outside food and drink policies in the MLB. You can bring "food items" into a Rockies game, so feel free to save some money by buying from a street vendor and take it in. Obviously, this means you can also pack some hot dogs in foil at home, or bring snacks and sandwiches for the kids and save a bundle. You can also bring non-alcoholic beverages in a plastic bottle into Coors Field.
I want to come back to a place I mentioned earlier, Rock Bottom. This is another great double whammy value when going to Coors Field. Their menu is a little pricey, but pretty much on par with the millions of other middle-of-the-road restaurants. The big benefit is you get validated parking for free, which saves you $10 or more in most cases and the walk is about 15 minutes. The dinner itself will be nicer than the food at Coors Field and you will probably come out with more food for a similar price.
Prices in the ballpark are typical. If you are going to eat in the Rockies ballpark plan to pay typical ballpark prices. If you are looking for a place to eat/drink near the ballpark, try the Falling Rock Tap House. It is pretty popular and probably something you will enjoy.
Food You Shouldn't Miss While at Coors Field
1. Rocky Mountain Oysters – yeah, bull testicles. You wanted to know the local dish, huh? Sure, there is Blue Moon at the brewery on the main concourse. There's Coors all over. But no, this is Colorado, the edge of the frontier. You want bull testicles, you want them battered and deep fried, and you want them with your home run, right now. Go get them at the stand by section 144. Go get those testicles.
Give Them to the Kids, Tell Them They're Chicken, and Clue Them in on the Ride Home
2. #17 Helton Burger Shack – this old-timey burger joint behind section 153 serves up the best hand-whipped milkshakes, along with killer onion rings. But you go the Helton burger, a mix of brisket and sirloin smothered in special sauce named after the Rockies first basemen Todd Helton. There is a brand new shake offered at this stand called The Elvis Shake made with crème de banana, soft serve ice cream, peanut butter sauce, Cracker Jacks and candied bacon. That sounds ridiculous and amazing. Maybe get that shake to wash down the Rocky Mountain Oysters.
Whew! Much Better! Thick Shakes, Thick Onion Rings, Thick Burgers! No Testicles!
3. Berrie Kabobs – if you were bold enough to try the oysters, reward yourself with some of the best sweet treats in all of MLB, out by section 132. Strawberries and bananas dipped in decadent chocolate are a must for any romantic date.
Coors Field Seating Chart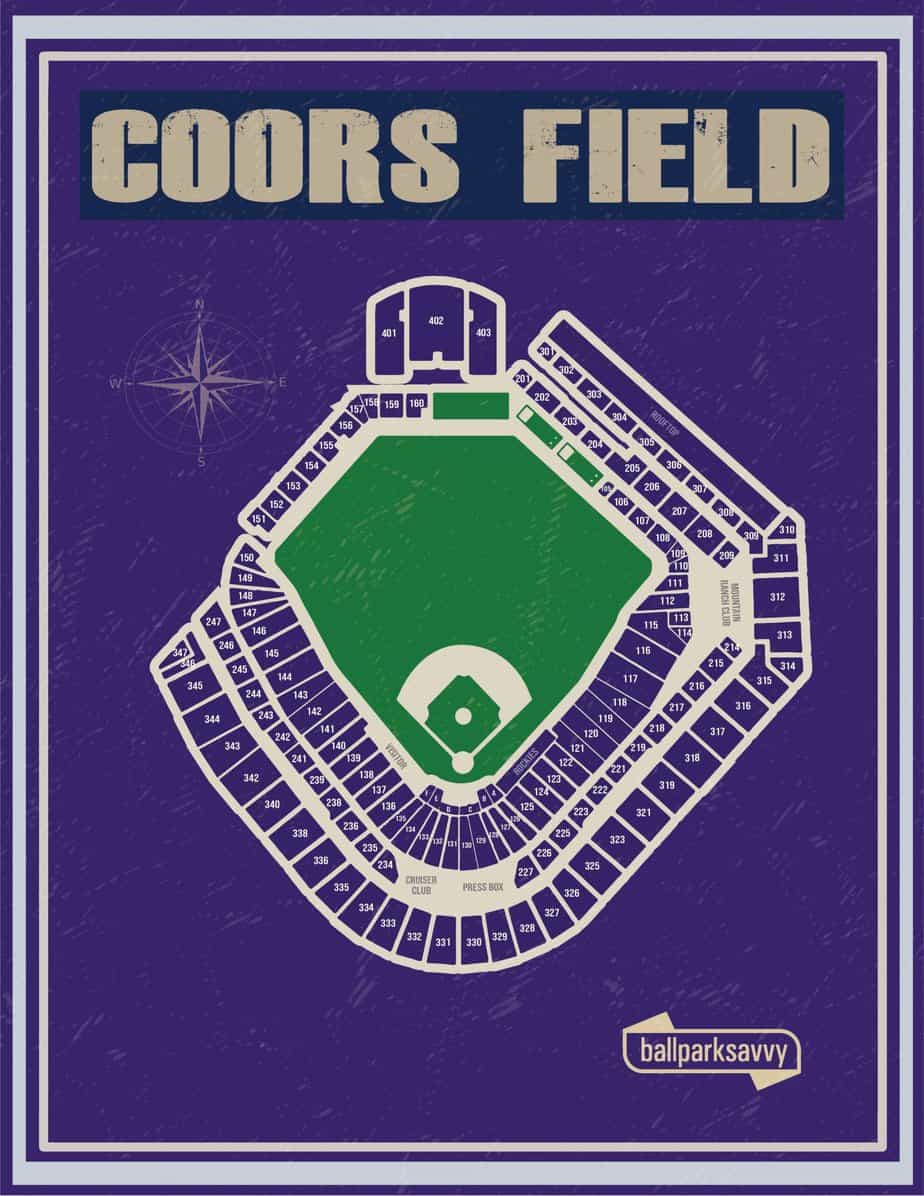 We've created the seating chart of Coors Field above to help you better understand some of our recommendations below. Feel free to download this image and use it, we just ask that you credit Ballpark Savvy and link back to the page where you found the image.
Cheap Rockies Tickets
At this point, nearly every Major League team has some kind of variable pricing model where depending on how in-demand a game is, the ticket prices you'll pay at the gate may go up or down.
Sometimes pricing varies from day to day, other times it is a more formal "tiered" structure where when they are playing a big draw team like the Yankees, you'll pay a premium price compared to a perennial ​bottom-dweller who might be in the "budget tier."
So rather than focusing on specific prices and sections which tend to change fairly often, I want to talk about general rules and strategies for getting the best deals on tickets. ​
1. Compare 3rd Party Sites
SeatGeek is a big time ticket comparison site that lets you compare a bunch of different ticket brokers, marketplaces, etc. and find the best price for the game you want to go to. They also have a tool that projects whether ticket prices will go up or down – AKA whether you should buy now or wait.
Load more
Click here to view Rockies tickets on SeatGeek.
2. Buy Last Minute
If you've bought tickets online before, you've heard of StubHub. What you may not know however is that with the rise of print-at-home and tickets on your mobile phone via the Ballpark App that you can usually buy tickets right up to a couple of hours before game time.
Save $5 On Last Minute Tickets: I recently learned about the Gametime app and it's legit. Save BIG on last minute tickets. Click here to get the app and you'll get $5 off your first order.
As someone who has sold a fair share of tickets on StubHub, I also know that sellers are encouraged to set a declining price for their tickets. This means they'll set a starting price and then their lowest acceptable price, and StubHub will auto-magically lower the price of those tickets as the event date gets closer.
So in many cases, a game that isn't sold out will have plenty of below face value deals on StubHub that you can snatch at the last minute and then either print at home, or just use the App on your phone to get scanned into the game.
Rocky Mountain High in the Purple Row – via Flickr user Paul Thompson
3. Avoid Craigslist
It's not to say that you can't find ticket deals on Craigslist, you can. It is just more of a peace of mind, safety issue. I'm a Craigslist kind of guy, but I also know it's easy to get screwed buying baseball tickets there.
Remember when I mentioned selling on StubHub? When you list tickets there, all you need to know is the barcode number from that ticket along with the other details on section, row, etc. – So when I sell tickets I never mail them to the buyer, they just print them at home and my actual tickets become void.
If I was a shady character, I could go sell those void tickets to an unsuspecting buyer on Craigslist for cash. The tickets look real, they are "real" in a sense – but what that buyer will find out is when they go to enter the stadium, the ticket scanner will say "thou shalt not enter thy game."
Don't be that buyer.
Stick to buying tickets from SeatGeek, StubHub, or directly from the team. You can still get deals and you never have to worry about being scammed.
Best Value Seats at Coors Field
Let me first say this; the Rockies gouge your eyes out when it comes to fees for buying tickets online. If you can, buy at the gate. Or use Ticket Network. If you bought tickets for a family of 4 of the Rockies website, you could almost pay for the 5th ticket in fees. Outrageous! The best value package for Rockies games is the Family Value Pack. There are a few of these value games spread throughout the year, but it includes 4 lower-level tickets, a parking pass, and a $40 concession credit for $59 in the upper level or $79 in the lower level.
That being said the Rockies do offer one of the cheaper tickets in baseball with their "Rockpile" tickets in center field. For about the price of a beer you have entrance to Coors Field and a view of all the action. You can also get tickets for kids 12 and under and old folks 55 and over for only a buck each at the gate for this section.

Rockpile Seats Offer a Decent View for Pennies – via Flickr user Eric Kilby
While the seats may not be the best (bleachers with no backs) many fans will just get up and walk around to another area of the outfield and watch from there. You can hang out by the bullpens or just roam around and look for another seat to take. Your best odds of getting a different seat are generally done in the upper deck, or other cheap seats which tend to be less sought after from seat poachers.
Another thing that makes Coors Field unique is the seats with a view of the Rocky Mountains. This is only true on a clear night, and most of these seats are in the right field upper deck. Although the view is distant, it's still pretty cool. Sections 325 – 316 boast the best views of the mountains in the distance, and you can sit there for a reasonable price depending on the section and on the game.
Sometimes the Rockies offer deals on Club level seating. If you want to experience that upgrade, get in on this deal. Club level seating in Coors Field is nice! The Club level is on the seating level and you have your own Club concourse that is climate controlled. The seats are much more comfortable and the views are fantastic. If you haven't experienced premium seating at an MLB game, getting it at 50 percent off is the way to go!
Another cool, budget-friendly space inside of Coors Field is the Rooftop which was added in 2014. Here is Jake's experience buying standing room only tickets for the Rooftop:
Rooftop "Seating"
Several years ago the Rockies decided to eliminate a bunch of seats in their upper deck behind the right field fence and replace it with a double decker party area called the Rooftop.
We took our family to Coors Field on a particularly busy night, which was July 3rd when they were doing an Independence Day fireworks show after the game. We ended up paying $30 each to get access to the Rooftop, rather than paying $50+ to sit in really bad upper deck seats down the lines.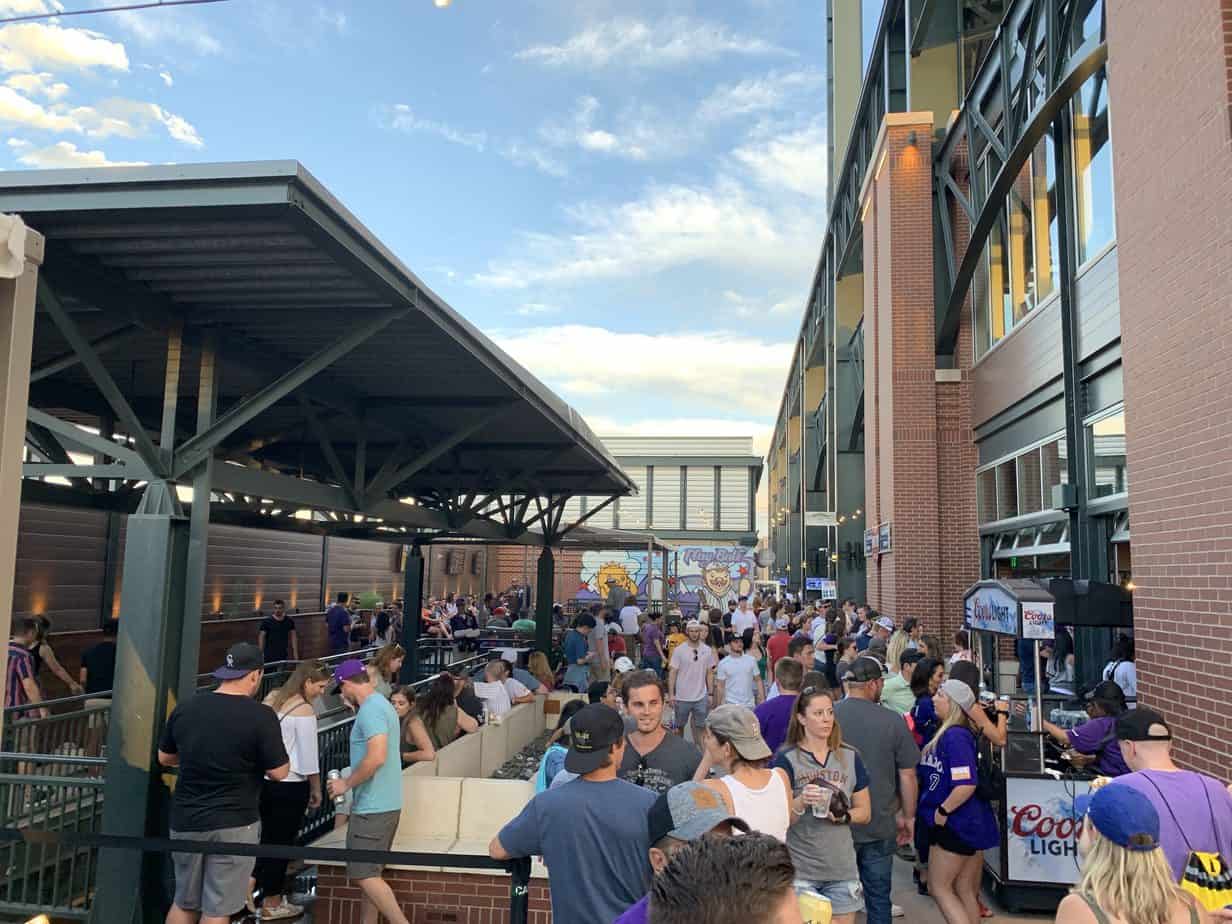 There are several bars and a few food options as well – including Smash Burger (which was quite tasty)
The tickets to get Rooftop access are standing room only, but there are standing bars on 2 levels where you can set your food/drink down and watch the game while at least leaning on something.
They've also got a fair amount of table seating in the restaurant areas and even some more comfortable couches and patio furniture to hang out on – but you won't have a view of the game from there.
If you've got a ticket to elsewhere in the stadium, you can get access to the Rooftop as well – just walk on in. In our case, the game was nearly sold out so we just bought SRO tickets for the Rooftop.
Another bonus about buying a Rooftop ticket was that each one came with $8 in credit for the concession stands. So with our family of 5 we had $40 to spend – which went a long way.
If you're looking for "cons" to the Rooftop, one would be that it's generally very crowded. We got there early and secured a table and a spot on the bar to watch the game, but because it was such a well-attended game there were rows of people behind you and just lingering around you – so if you're a big personal space person, you'd want to try the Rooftop on a night with low attendance.
(Think a Tuesday night vs. a losing team instead of a Saturday vs. the Yankees)
As far as being "kid-friendly" as you might expect, it's kind of a party atmosphere on the Rooftop. It wasn't rowdy by any means – but the general demographic was folks in their 20's – 30's who are there to drink beer and hangout more than watch the baseball game.
I'd say there are a good percentage of people on the Rooftop who never watch an inning of baseball – they just catch bits and pieces on one of the many TVs around the bars.
That said – our kids (ages 5 – 8) had a lot of fun, and it didn't feel unsafe at all. Perhaps the only exception to that was because of the big crowds of people, you really have to keep an eye on a kid who might wander off and get lost.
Overall – the Rooftop is a unique experience and if you've got a big group of friends and care more about hanging out than watching every pitch of the game – it's probably perfect for you.
Have more questions about the Rooftop? Click here to view an FAQ on the Rockies site.
Where to Stay While Visiting Coors Field
My favorite way to travel to a baseball game is to stay as close to the stadium as possible and walk or take an Uber so I don't have to fool with parking in a strange place. So many ballparks have great hotels within walking distance making it easy to stay nearby.
I use Tripadvisor to find a hotel with good reviews near any ballpark. I prefer this option over any other because I actually search for the park I am visiting and Tripadvisor gives me hotels, restaurants, and other attractions near there. Coors Field is in the LoDo area of Denver and it is packed with stuff to do and see.
Obviously, there are a lot of hotels in Denver, but I can search for Coors Field here and get the 10 Closest hotels to Coors and then pick what I want based on ratings and prices. This saved me a lot of time and I didn't end up getting ripped off on the price or end up in a sketchy place where I didn't feel safe.
The closest hotels do not always come with the lowest cost but you get what you pay for when it comes to accommodations. Remember that you aren't paying for parking or transportation. The Hilton Garden Inn Denver Union Station is highly rated and less than half a mile away. This hotel has a nice pool and if you like traveling with man's best friend, it is pet friendly. Also, check out the Westin Denver Downtown. It is about half a mile away on foot and is an extremely nice hotel. There is a rooftop pool here! Ask for a room with a mountain view to get a true Colorado experience. You are just steps from Coors Field.
Free Stuff at Coors Field
1. Evolution of the Ball – LoDo, Denver is well known for its street art, and there's a piece fitting for baseball fans. Find the arch crossing Wynkoop Street by the West entrance, decorated by local artist Lonnie Hanzon. It is covered with every type of ball imaginable. Kids, in particular, will have a… cough… ball!… picking out all the different examples.
Local Artist Lonnie Hanzon Connects Sport, Culture, and History in Her Work
2. Rock Gardens – in one of the best blends of facility and nature, the rock garden and fountains just past center field make Coors Field feel uniquely Coloradan. The fountain shoots up like a spring, while granite boulders and Navajo sandstones frame a mini-ecosystem of pines, mahoganies, spruces and oaks. In terms of making a park truly represent its hometown and environment, Coors earns a 10/10.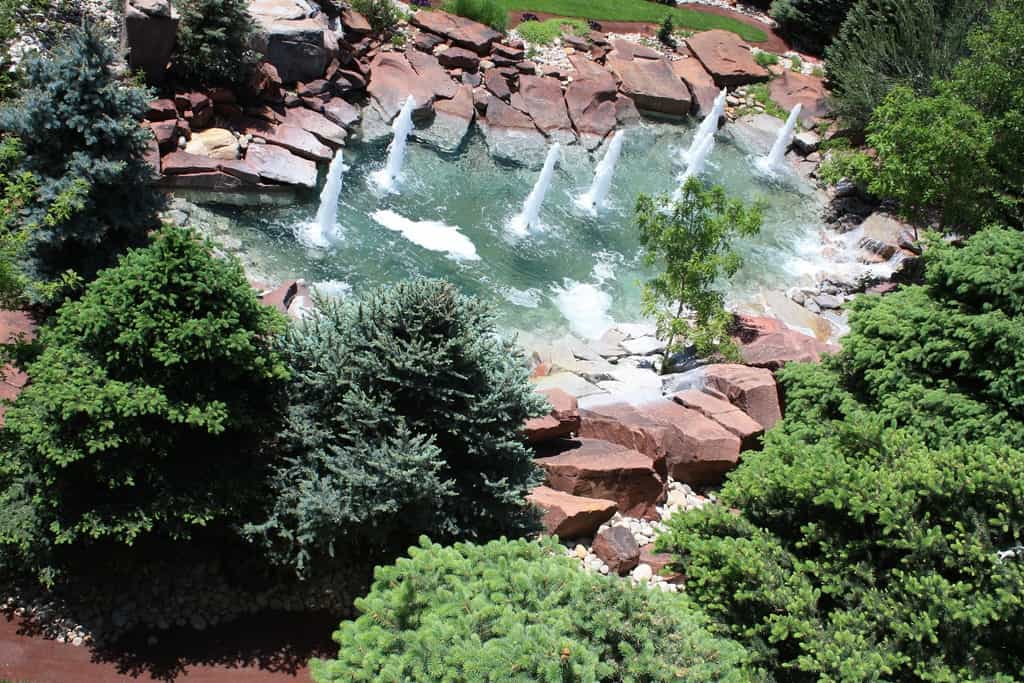 Nature Finds its Place in this Ballpark Behind Center Field – via Flickr user David Herrera
3. The Player – go to almost any ballpark these days, and you'll find bronzes of the team's greats. Except… well… the Rockies haven't exactly had anyone great yet (Larry Walker fans just spit on their screens). So instead, Coors Field is guarded by the 9ft tall Player, representing the enchantment of the game and the honor of the sport.
The Player, Dedicated by the Rotary Club of Denver – via Flickr user Marlon E
4. The Water Fountain Feature – Check out the water fountains in center field. There are seven actually. While the Rockies are not the only team with a water feature that celebrates home runs, this one is unique. The area around the fountains includes seven types of native Colorado trees, Navajo ruby sandstone and granite marble boulders were used, and the water is all recycled. Making this part of the park "all Colorado" is a nice touch so don't miss it!
5. The Holding Cell – There is actually a holding cell inside the stadium for fans who get arrested during the game. If you want to visit this part of Coors Field I guess you could have too many beers and get too rowdy, which is easy to do if you are not used to the altitude and lack of oxygen. Make good choices, people!