Last Updated: September 6th, 2023 by Jake Cain
When I first got an email from the good people at Tourism London asking if I'd want to come visit the oldest baseball grounds in the world, I was filled with questions.
Canada has a London?
London, Ontario has the world's oldest baseball field?
It turns out, the answer to both questions is yes.
In fact, London, Ontario is situated directly in between Detroit and Toronto – about a 2-hour drive from either city. That meant from my hometown of Cincinnati, it was an easy 6-hour drive to go check out a piece of baseball history that I didn't know existed.
Better yet, one of my best friends and fellow baseball fan Derek flew up from Austin, Texas to join me on this trip.
I'm happy to report the trip was amazing, and here's why you should add Labatt Memorial Park and the city of London to your next baseball road trip.
Things You Shouldn't Miss
The official Labatt Park Tour gives you the story behind the history and a look inside the 1937 clubhouse full of old photos and memorabilia about the history of baseball in London.
The Canadian Baseball Hall of Fame is a short 45-minute drive from London and a must-visit if you're in the area.
If you missed the tour, walk around the park before the game and check out the signs with photos and stories of nearly 150 years of baseball history at Labatt Park.
Ways To Save Money
Labatt Park is a public park, so you can take your own snacks into the game.
Stay in downtown London and you can walk to virtually everything, rather than paying for parking at various lots around town.
There's limited parking on the third base side of the stadium, but you're definitely in foul ball territory. Instead, park in the lot across the street or downtown near a pre-game restaurant and walk to Labatt. That'll make sure you don't get a baseball through the windshield.
London Majors tickets are generally available without needing to buy in advance for an affordable price. Seating is open, so get there an hour or so before the game you can grab seats right behind home plate.
We didn't try any ballpark food besides peanuts, but in the area, we loved our burger at Milo's and our ice cream from Haven's Creamery. If you only have one meal and a dessert, that would be my recommendation.
Labatt Park History Tour
As we drove from downtown London over to Labatt Park, we crossed over a river, and then behind the trees, we could see the diamond from the road. Tucked away in a little neighborhood, with mature trees behind the outfield walls – you really do get the feeling that you're headed somewhere special.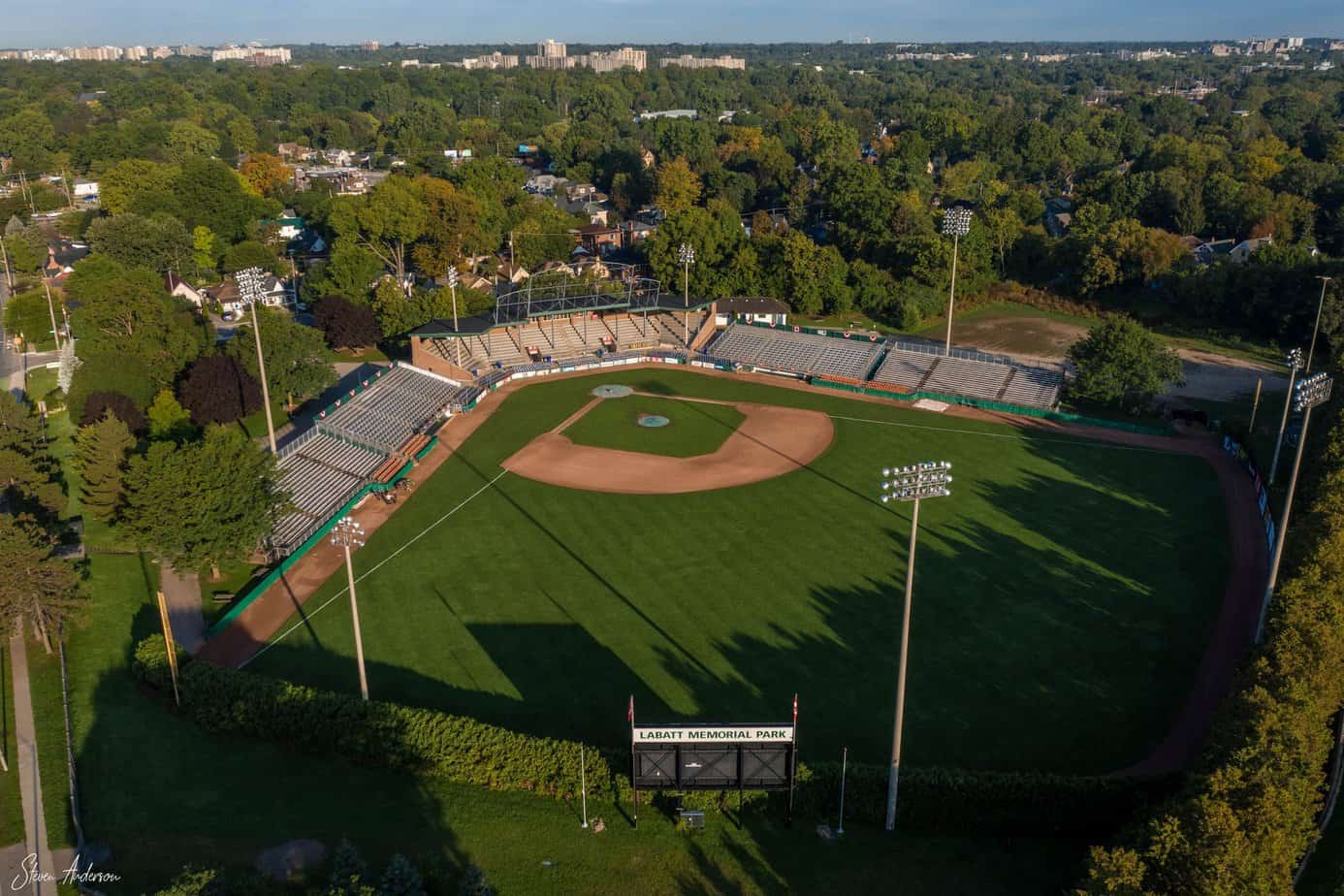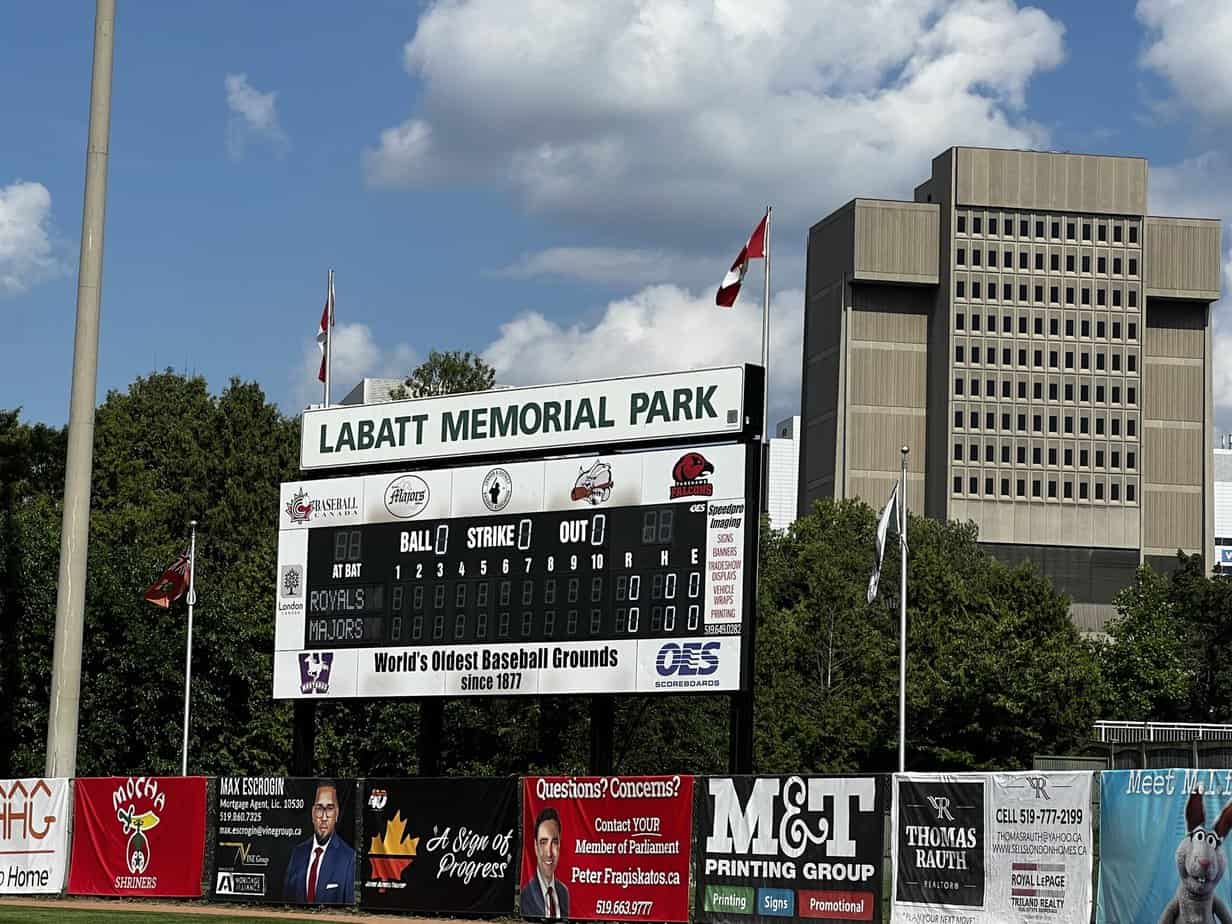 Pulling into the grounds felt unique as well since the park is open to the public. There were people just hanging out casually in the area as we pulled in and parked in a gravel/grass lot on the left field side of the park.
Labatt Park opened in 1877, and despite being around for that long, they only recently added an official history tour of the ballpark.
(Tour spoilers ahead)
We were toured around by a local college student, majoring in history. In 2020, they added a bunch of signs around the ballpark that tells the story from the early days of the park, all the way up to modern times.
For a period of time, Labatt Park was home to a Tigers minor league team which meant that notable players like Deion Sanders, Jeff Bagwell, and others played here.
Ty Cobb's Going To Play…
If the older generations of baseball are more your thing, you'll love the stories of Ty Cobb coming up with the Tigers to play an exhibition game, only to sit on the bench the whole game.
Obviously, the fans of London weren't particularly excited that they showed up en masse to watch the game's best player and he didn't actually play.
Feeling the outrage, the London club made arrangements to get the Tigers to come back and play another game. This time, the local paper assured fans that Cobb would be in the lineup:
Have a Catch
If you come to London, you have to take the tour. It's full of interesting tidbits about the various leagues, teams, and players that have played at this little quaint ballpark.
When you go, make sure to take a couple of gloves and a ball as you'll get to walk out on the field and play a little catch in the middle of the tour. It's not every day that you can "have a catch" on a baseball field that's been around since 1877.
The 1937 Clubhouse
At the end of the tour, you visit what's the oldest remaining structure on the property – the McKay clubhouse that's been around since 1937.
Unfortunately, due to a couple of major floods, the grandstands and clubhouse have had to be rebuilt a couple of times. The last flood was in the '30s so the clubhouse has served as a locker room and is now a bit of a museum just behind the third base dugout at Labatt Park.
It was here I learned that 2 legendary baseball figures were actually from Canada.
Fergie Jenkins and the San Diego Chicken.
The Oldest Baseball Diamond?
On display during the tour was the certificate from Guinness that certifies Labatt Memorial Park as the oldest continually used baseball grounds in the world.
We learned there was a little bit of controversy over the technicalities of "baseball grounds" vs. a "baseball diamond"
Because of the major flooding in London, the actual infield had to be moved over a little bit to a new position inside of the stadium.
Some party poopers in Massachusetts, who had a baseball diamond that opened one year after Labatt park, protested that these Canadians shouldn't be able to call themselves the world's oldest continuously used baseball diamond, since the "home plate had moved."
So, in the end, the official record reads "baseball diamond" but I guess they aren't supposed to say it?
I brought up this little controversy to the director of the Canadian Baseball Hall of Fame the next day, and I think he's still a little bitter about it. I'll share his comments a little later when I recap our visit to the Hall of Fame.
About the time we wrapped up the tour, the London Majors were coming out to start taking batting practice for their upcoming 7:00 game. We hung out and watched for a bit, then we headed off for a pregame meal at a nearby Brewpub.
(This was our favorite meal in London, so don't miss the "Where To Eat" below).
Click here to learn more about Labatt Park Tours.
The London Majors Game
Labatt Park seats around 5,000 people, and on this beautiful August night, my friend Derek and I joined about 3,000 Londoners for a game between the IBL Champion London Majors and the second-place Guelph Royals, who thought nobody would notice if they stole the Colorado Rockies logo and changed the "C" to a "G."
As Americans, we quite enjoyed a few of the differences that reminded us we weren't in Kansas anymore, Todo.
First was the tradition of "Please rise for the national anthem."
Then the next thing you hear is "Oh Canada…" and you suddenly remember – oh yeah, we're in Canada.
Also, Labatt park concessions were cash only and I got to use a Canadian ATM and get a bunch of colorful Canadian dollars to spend.
Then of course, throughout the trip, my GPS was talking in kilometers, the gas station's sign said $158.6, and our forecasts were in degrees celsius – so like any good American, we had no idea what was going on half the time.
Canadian Tour Guide: "Should be a beautiful night for a game! Should be 20 degrees by first pitch…"
Me: "So should I buy a coat at the gift shop? Or am I good in shorts?"
Labatt Park Environment
Seating is all first come, first serve. We arrived about 15 minutes before the first pitch and grabbed some sweet, traditional stadium-style seats right behind the visitors on deck circle. Most of the rest of the seating was metal bleachers with backs that extend down both baselines into the outfield.
The crowd at the game was pretty into the action and everyone was super friendly. Overall, the place just has a great vibe of a small, neighborhood baseball park.
In fact, the only opposing player that the crowd seemed to really boo loudly was a guy named Sean Reilly.
We looked this guy up during the game and found out he was drafted as a pitcher by the Twins in 1995.
1995.
He was born in 1977, has been in the IBL for 12 years and last year batted .442 during the summer league as a DH.
This guy is like the Tom Brady of the IBL.
By Sean's third at-bat, Derek turned and asked another fan "Why does everybody boo this guy?"
His response: "Because he's a jackass."
Fair enough.
For ballpark fare, we were pretty full from dinner but we did grab a bag of peanuts. They also have a specialty beer, with a really cool can designed just for Labatt Park that's made by Railway City Brewing in Ontario.
As mentioned earlier, Labatt Memorial Park is a public park space so there was seemingly no restriction on bringing your own snacks, etc. with you to the ballpark if you want to save a few bucks.
Best Food Near Labatt Park
Again, we took this trip as guests of Tourism London and so they helped us plan out where to eat for virtually every meal during our 2+ day visit.
I'm super thankful they did that because London was a decent-sized city with plenty of options. So it saved me hours of reading Google reviews and having to pick for ourselves.
Here's a rundown of some of the places we tried and what we liked:
Milo's Craft Beer Emporium
You might hear that name and assume that they are known for beer, and the food is an afterthought.
You would be assuming incorrectly.
Do you remember earlier when I said our pregame dinner was the best meal we had? That was at Milo's. I immediately respected the fact that their menu looked like somebody in the kitchen just opened up a Google Doc and started typing.
No pictures. No particular order to speak of. Just an ongoing list of random food options.
First off, the hostess and waitress were incredibly nice. I've probably said this before, but everybody in Canada was super nice.
We ordered the burger and the chicken sandwich and decided to cut them in half and split them. The server said they prep the ground beef in-house, etc. and whatever the heck they do – the burger was out of this world.
We ended up just leaving our car parked on the street (meters were in effect only until 6:00) and taking an Uber to the game, which was just a mile or so away.
Technically, we could have walked it, but with temperatures in the 20s we didn't want to risk walking into a pop-up blizzard.
I actually would highly recommend this strategy, as it avoids any traffic getting in and out of the parking lot after the game. Either way, if in London eat at Milo's.
Haven's Creamery
I'm not a snob about hardly anything, but I'm a little on the snobby side when it comes to ice cream.
Don't get me wrong, I'll eat it just about anywhere. But, when you're on vacation and you walk into a "local" ice cream place and they are serving that crappy Hershey's ice cream you find in most tourist trap style ice cream shops, I get bothered.
We travel quite a bit, and no matter how full I am from dinner, I try to eat ice cream everywhere I go.
#Dedication
So I don't just give out superlatives to ice cream shops willy-nilly.
That said, Haven's Creamery had the best coffee ice cream I've ever tasted. Derek was actually the one that ordered it, and he let me "taste of it" and I was blown away.
("Taste of it" is a subtle way to make fun of some of the weird phrasings Derek uses. Like when normal people would ask "Can I taste it?" Derek would say "Can I taste of it?")
They also had some seasonal flavor that sounded weird – like "brown sugar bourbon peach cobbler" or something along those lines, and it was nearly as amazing as the coffee flavor.
As a proud Cincinnatian, I'm still giving Graeter's Ice Cream my award for the best quality ice cream I've ever had.
However, I'm officially putting Haven's in my top 5.
The Early Bird
We walked from our hotel over to The Early Bird, where the London Tourism folks suggested we get there by 9 to beat the crowd.
We decided to walk through the town of London, which has a charming look to it.
We showed up at 8:50 and found out the restaurant named The Early Bird doesn't open until 9.
Derek and I shared a good laugh about that, then we were the first people in the place for breakfast. The decor is a little interesting, but the service was great and we both enjoyed our French toast.
Derek went with the Elvis Presley version which came with peanut butter and fried bananas layered inside of french toast slices that were at least a kilometer thick.
Joe Kool's
We went to Joe Kool's on our first night in London and grabbed seats on their second floor patio.
We tried to order whatever they were known for, so we went with the kitchen sink pizza and the Irish nachos and shared them.
Both were tasty and something we'd definitely order again. The setting up on the patio with the lights overhead and some views of the park across the street really made this a nice first stop on our trip.
Black Walnut Bakery & Cafe
Our final breakfast in London was at the Black Walnut. I had the pastry that's baked with a runny egg and ham on top, which was a filling and tasty start to the day.
Derek went with a puff pastry of some kind and we both enjoyed our breakfasts, particularly our coffee/espresso selections.
We also tried a flat white, mocha, and drip coffee – all of which were excellent. The bakery items were beautiful, but I'd recommend this place even if you're just looking for a quiet coffee shop to start your day in London.
Red & Ko
Ok, this one is cheating a little bit as it's not really close to London.
That said, Derek found this sandwich shop called Red & Co in Point Edward, ON which was right next to the border when we were headed back from the hall of fame in St. Marys.
After chatting with the owners about which sandwich to order, we both ended up ordering something off-menu that they said are common orders from a few regulars.
The sandwiches were a perfect choice for lunch, as were the house-seasoned pretzels that came with them.
The best part though was spending 10 minutes swapping stories with the owners, who were just the nicest people you could imagine. The shop is just a little side business for them, and they love visiting with random passers-by like us.
So if you're crossing back near Point Edward, Ontario – stop by for a sandwich and tell them Jake says "Hey!"
Where To Stay Near Labatt Park
We stayed at Marriot London Armouries by Delta Hotels and I'd highly recommend it. We probably could have walked to the ballpark, but we didn't. However, it was centrally located to virtually everything we did and walkable to a lot of the places I've mentioned in this guide.
As the name suggests, the main building is an old armoury and contains a lot of Canadian history from the WW2 era. In fact, you can see various artifacts, uniforms, etc. as you walk around on the second floor on the way to the pool.
They even had a little makeshift putting green and a small gym with a couple of basketball hoops in the basement. It would certainly be a hit for families. Here are a few photos:
The other place I'd recommend technically doesn't exist yet, but it leads me into the final part of the story. It's Canada's first Hard Rock Hotel – which is being developed at The Factory.
"What's The Factory?"
I'm glad you asked.
Things To Do Near London
Besides eating constantly and touring the stadium and watching a baseball game, we did get to check out a few other area attractions.
One of them was the perfect compliment and a "can't miss" if you're coming to London primarily to experience baseball history.
The other is so unbelievable and is a dream come true for kids, and even a couple of dads who still feel like kids on the inside.
Let's start with that one.
100 Kellogg Lane
The 100 Kellogg complex is home to The Factory which we had the pleasure of touring with the director of corporate partnerships, Luca.
As the names allude to, the building has been around for a century or so and was the long time home of Kellogg's cereals. After they left in 2014, a group of people reimagined this space and put just about everything you can think of under one roof.
From the highest indoor ropes course in North America, to a ninja warrior course, trampoline park, escape rooms, arcade, VR experiences, and an indoor playground.
That's all just in the first part of the building.
We particularly loved the all-sports simulators on the second floor at The Clubhouse which let you play golf, hockey, football, baseball, and about 10 other sports in a private bay with waiter service for food and drinks.
The furniture in the area feels kind of like a Restoration Hardware store with premium leather couches and upscale-style furnishings all around.
After we played every simulated sport we could think of, we moved over to the mini golf course – which includes a sweet visor that doubles as a souvenir for your kids.
Luca also took us to the courtyard area where they've got Powerhouse Brewery a distillery and construction underway for Canada's first Hard Rock Hotel.
I'm skipping past some things because the scale of this place has to be seen to be believed. A conference center coming soon, an art display, another food hall, and a section of retail and office space.
The long and short of it is, if you're in London (with kids or not) you've got to come to check this place out.
The Canadian Baseball Hall of Fame
Another place that I didn't really realize existed prior to this trip is the Canadian Baseball Hall of Fame in St. Mary's. It was a peaceful, 40 minute drive through farmland to get from London to the Hall of Fame.
We were fortunate to get a little bit of a behind-the-scenes tour from the Director of Operations, Scott Crawford.
The museum is a place where you could spend a couple of hours and is more similar to the size of an MLB team hall of fame than it is the MLB Hall of Fame in Cooperstown.
While it's not huge like Cooperstown, it's full of rare memorabilia and stories about the history of baseball in Canada.
I learned that you don't have to be Canadian-born to get into the hall of fame, but about 70% of the members are Canadian. The other 30% were players and managers who had impactful careers playing for a Canadian team like the Expos or Blue Jays.
So you'll see lots of Larry Walker, regarded as the greatest Canadian hitter of all-time, and he double dipped by playing part of his career in Montreal:
Behind the Scenes
Scott did take us into the private archives room (not open to the public), which I found particularly fascinating. Here they keep and catalog all kinds of game-used gear, books about baseball, and other odd baseball artifacts that people donate.
I particularly loved their wall of bats, which were all tagged so they can keep track of what is what. Many were used by notable players and record breaking moments. However, some of them were just super old and quirky – which was a lot of fun to see.
Another perk of walking around with Scott is that he was pointing out some of the unique highlights and interesting stories that go along with the hall of fame displays.
Those Darn Southerners…
When Scott mentioned Labatt Park, I brought up the controversy I mentioned earlier where a field in Massachusetts claims to be the oldest "baseball diamond" while Labatt holds the record for the oldest "baseball grounds."
Scott scoffed and jokingly said something to the effect of "You know, every time we Canadians have a record of some kind, some people from down south have to come in and try to take it away."
I cracked up laughing because, for most of the US, the state of Massachusetts epitomizes what we think of as a northerner. But to my new Canadian friend, they're just a bunch of southerners trying to spoil Canada's fun.
Canadian HOF Highlights
The Hall of Fame has a new addition that features a video playing highlights and interviews of hall of famers, as well as rotating displays that include gear from modern Canadian players like Joey Votto and Vlad Guerrerro Jr.
Inside the older part of the museum, there's a ton to read about the history of baseball in Canada and plenty of artifacts on display. A few of my favorites were:
Jackie Robinson signed ball from his time with Montreal (Dodgers' AAA team)
Babe Ruth signed ball and game used bat
Blue Jays World Series rings
Fergie Jenkins Cy Young Award
They pack a ton of unique and interesting stuff into a modestly sized footprint. If you're a baseball history fan, you've got to check this place out.
Wrap Up
We had the best time in London.
Look, if you're a baseball road tripper then Labatt Park and the Canadian Baseball Hall of Fame have to be on your list.
The best part is, they are smack dab in the middle of Detroit and Toronto (About a 2-hour drive from each).
So the next time you're planning a trip up that way, add London to the itinerary and thank me later.