Last Updated: September 6th, 2023 by Kristen Douglas
Note: this article may contain affiliate links. If you make a purchase using one of these links, I may be paid a referral fee at no expense to you.
The home field for the Florida Marlins, LoanDepot park is an interesting piece of art built in 2012 by one of baseball's most colorful (and loathed) owners in the sport, art dealer Jeffrey Loria. Loria pushed for a stadium that was innovative and modern and that is what he got. This uniquely Miami setting is actually a ton of fun and easy to enjoy. This is a retractable roof stadium, something everyone appreciates in the heat of southern Florida. With very few outfield seats and great views, this park feels intimate and energized, just like the city it crowns.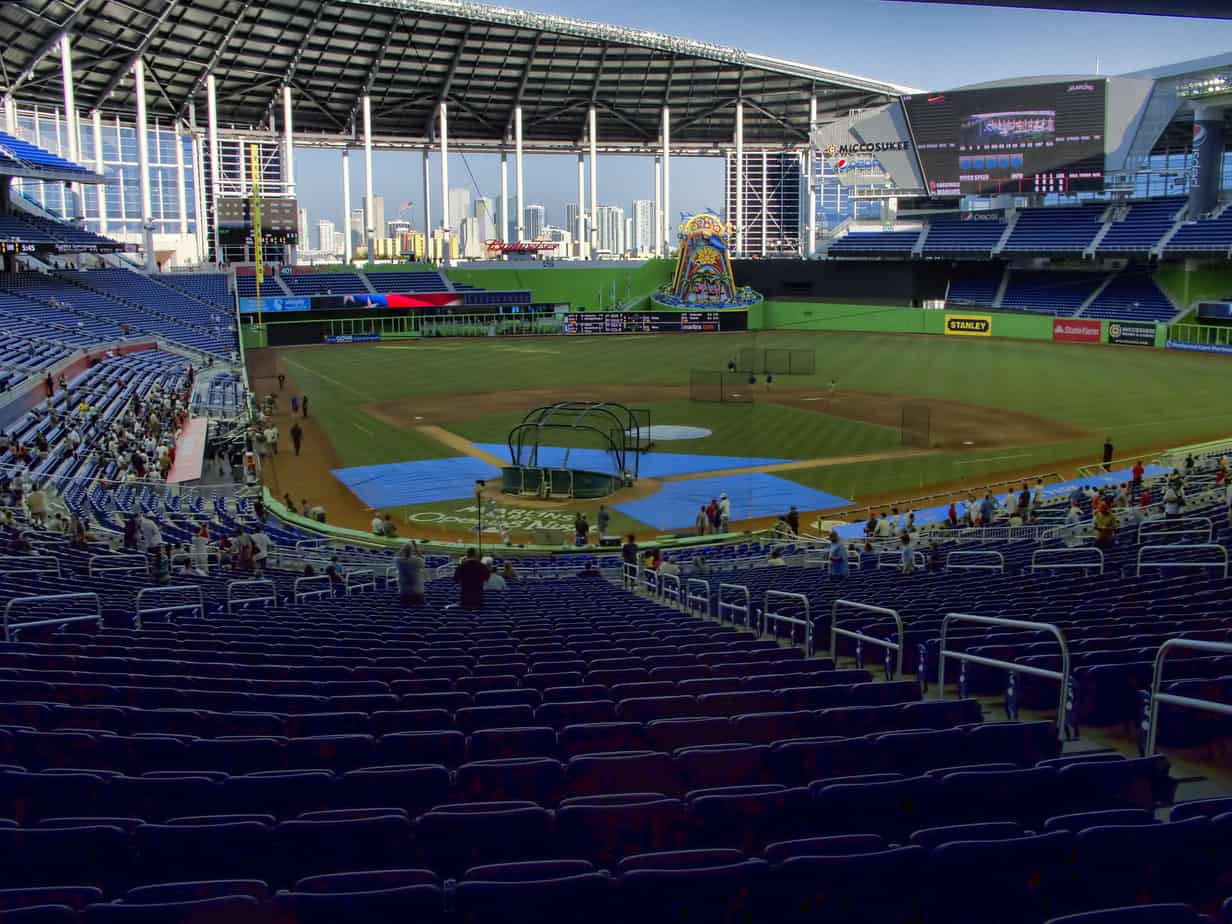 loanDepot Park is a Colorful Dream – via Flickr user Dan Lundberg
Things You Shouldn't Miss
The Clevelander, a mini-party city complete with bars, a DJ, and a pool, is behind left-field. You have to be part of a group to use it during a game, but it opens up to the public after.
When a Marlin hits a home run, the home run sculpture turns on. It's a… ummmm… it's… well… it's… an artistic rendering of the spirit of Miami? Just don't look directly at it, to avoid Indiana Jones Raiders face-melting. I think it scared Derek Jeter because it was moved outside in 2021.
Ways To Save Money
Take Uber instead of parking. Click here to get a free ride.
Take a soft cooler of food & drinks with you.
Stay close by and walk to the stadium. Click here to see our favorite hotel near loanDepot Park.
Click here to reserve a cheap parking spot in advance.
The park lets you pre-pay for the nearby official parking lots, but cheaper lots are readily available via ParkWhiz. But Miami is a city for partying, so consider using Uber to stay safe while enjoying the nightlife after the game.
Tickets are always pretty cheap and readily available. Keep an eye out for days with promos to make your ticket even more worthwhile. SeatGeek is also an option for big games.
Outside food is not allowed in loanDepot Park which is a bummer since so many MLB parks allow at least one small clear bag of snacks to be brought in. You can only carry in one 20 oz bottle of plain water that is unopened. However, Miami is known for its vibrant food scene and that is true inside the stadium as well so it's not all bad news.
loanDepot Park is so Miami – colorful, full of energy, super-friendly, a little over the top… but beautiful. The worst part about the park is that there are never enough fans filling the stands. But with this guide to a cheaper visit, you can make maximize your experience at this modern, one-of-a-kind baseball stadium in south Florida.
The Home Run Statue is Either a Work of Art or a Burning Man Reject – via Flickr user slgckgc
Arriving at loanDepot Park
Alternative/Public Transportation to a Marlins Game
There are several public transportation options for loanDepot Park in Miami. If you are coming from Palm Beach or Broward County, you can take the Tri-Rail and connect to the metrorail.
If you are staying in an AirBnB close by, you could go green and bike to the game. This option lets you avoid traffic altogether and it is super cheap. Miami has a Citi Bike Bike Share program with a station at loanDepot Park. You can rent a bike from any station and return it to any other station, riding all over the city if you want.
There are a number of Metrorail (subway) lines in Miami that connect to the Culmer Station or the Civic Center Station.
If you are traveling in from Fort Lauderdale or Palm Beach, you can take the Brightline to the Virgin MiamiCentral station and take Bus #55 for direct drop off at loanDepot Park or catch a ride share like Uber. YOu are only about 10 minutes from the Park from the Virgin MiamiCentral station.
For games, the Miami metro runs a shuttle from the Culmer Station to Marlins Park. The shuttle will run 90 minutes prior to the event start time and 60 minutes following the event.
The Metrorail Express is Ideal for Getting to the Park
If you are at Civic Center Station, you can take the City of Miami Trolley, which is a fun way to get to the game. The Health District line loops down to the Stadium on game days.
The Trolley Drops You Off Right Near the Park
Now, if you're looking for a party bus, Rally Bus offers a great choice. You ride the same bus back and forth, so you can leave stuff on the bus, and it's a great way to travel with friends for cheap.
Another option if you happen to be staying nearby is to avoid the crowded subway car and the stress of traffic and grab an Uber ride. Loand Depot Park has a designated drop off/pick up area for ride shares in East Lot 1. If you've never used Uber, click here and get your first ride free.
Driving to a Marlins Game
You are in Florida. There will be road construction. There will be traffic. Expect it and leave early. With gates opening 90 minutes before the first pitch, there is no reason to wait until the last minute. Keep in mind, that you are driving down into a busy neighborhood in the middle of Miami, and plan for delays.
loanDepot Park is in the middle of Little Havana, which means that a lot of the area around the park is residential. Head south of the park, just below Flager St. to look for street parking. All metered parking is seven-days-a-week. Also, keep an eye out because many local businesses and residents in the area will rent out their parking spaces and driveways on game days. There are street parking spots and businesses that rent out spots.
There are Both Street Parking Spots and Businesses that Rent Out Spots
You can always park in the official parking lots around loanDepot Park. While this is definitely a pricier option, it is easier. You can book online beforehand, and the proximity to the park might be a big plus for some. loanDepot Park has a new parking system called Free Flow Parking and it's actually pretty cool. There is no stopping to pay and check in to get a pass to get into a lot. The license plate on your car is your credential to park. You buy your pass before you get to the venue with ParkingWhiz and enter and exit the parking lot without an attendant. If you don't reserve a spot ahead of time, you can also pay touch-free at the parking lot with the PayByPhone App.
Several Lots are Available Near the Park
Parking in the official lots really isn't a bad deal. Weekday games are $15, and Weekends are $20 but still $15 if you reserve in advance. These prices are for the four lots on site.
The most stress-free choice for affordable parking at the Marlins game is using ParkWhiz. This lets you find a spot ahead of time and reserve it, so you know exactly where you are going before you ever leave your house. Here is a list of upcoming games, just click the date you need to find the cheapest spots:
"
loanDepot Park's Modern Exterior is Elegant, Festive, and Thoroughly Miami – via Flickr user Steve and Dan Lundberg
Best Food At & Near loanDepot Park
Save Money on Food
Unlike a lot of MLB parks, the Marlins are no longer allowing fans to carry in their own food. In fact, all bags being carried into loanDepot Park must now be clear, so no sneaking it in a bag either. You can only bring in one sealed, unflavored water no bigger than 20 oz. These stricter policies are new so I am not sure how they will all be enforced at the security gates.
Fear not. Just because you can't bring a PB&J into the game with you doesn't mean you have to spend your retirement on food at the Marlins game. There are concessions options starting at $3 and $5 and they're not terrible.
Because loanDepot Park is located in Little Havana, there are a number of delicious Cuban options within a mile of the park. Pinolandia, a nearby takeout place at the corner of 12th and 1st, is perfect for cheap Cuban grub after the game.
La Camaronera Fish Market is one of the best seafood restaurants in all of Miami. If the kids begged for ice cream all game and you never gave in, treat them to the outstanding Azucar Ice Cream Azucar Offers Amazing Flavors and a Cool Vibe
Azucar Offers Amazing Flavors and a Cool Vibe
Food in loanDepot Park You Shouldn't Miss
loanDepot Park has a lot of flavorful food options. The Marlins have a great page with locations and highlights. As I said, you can eat on the cheap inside the park. There are options like a small popcorn, nachos, pretzels, and Nathan's Hot dogs for $3. You can also get a bottled Pepsi or water for $3 and a domestic draft beer for $5. Lunch or dinner won't break the bank and those choices are some classic baseball park choices. You can't go wrong, really.
Though Pricey and Requiring Reservations, the Clevelander is Miami Cool – via Flickr user Manish Vohra
1. Taste of Miami – by section 27 is Taste of Miami, and it is pretty much criminal to visit Miami and not enjoy good Cuban food. This food court has several restaurants and cafes, serving up Cuban sandwiches, ceviche, empanadas, and coffees. Highlights include arepas (deep-fried cornbread stuffed with cheese) and lechon nachos (nachos topped with pulled pork, avocado cream, and red cabbage).
2. MIA BBQ – by section 24, MIA BBQ is dedicated to Southern cuisine. If they don't win you over with their brisket mac & cheese, pulled pork, or mega "picnic dog", they'll get you with the peach cobbler a la mode.
3. The High Cheese – this food-truck style stand near section 13 carries 4 different grilled sandwiches, and all are ooey, gooey, and pricey. But all are worth the splurge, especially the Fluffernutter Grilled Marshmellow Melt: a glorious hot-mess dirty pleasure, just like that crazy home run statue.
Sweets are all about the desserts. Get a bubble waffle if you want to try something new!
You'll Feel So Dirty, But So Glad – The Fluffernutter Marshmellow Melt
LoanDepot Park Seating Chart
We've created the seating chart of LoanDepot Park above to help you better understand some of our recommendations below. Feel free to download this image and use it, we just ask that you credit Ballpark Savvy and link back to the page where you found the image.
Cheap Marlins Tickets
At this point, nearly every Major League team has some kind of variable pricing model where depending on how in-demand a game is, the ticket prices you'll pay at the gate may go up or down.
Sometimes pricing varies from day to day, other times it is a more formal "tiered" structure where when they are playing a big draw team like the Yankees, you'll pay a premium price compared to a perennial ​bottom-dweller who might be in the "budget tier."
So rather than focusing on specific prices and sections that tend to change fairly often, I want to talk about general rules and strategies for getting the best deals on tickets. ​
1. Compare 3rd Party Sites
Site SeatGeek is a big time ticket comparison site that lets you compare a bunch of different ticket brokers, marketplaces, etc., and find the best price for the game you want to go to. They also have a tool that projects whether ticket prices will go up or down – AKA whether you should buy now or wait.
Load more
Click here to view Marlins tickets on SeatGeek.
Palm Trees and Miami Cool – via Flickr user Eric Kilby
2. Buy Last Minute
If you've bought tickets online before, you've heard of StubHub. What you may not know however is that with the rise of print-at-home and tickets on your mobile phone via the Ballpark App that you can usually buy tickets right up to a couple of hours before game time.
Save $5 On Last Minute Tickets: I recently learned about the Gametime app and it's legit. Save BIG on last minute tickets. Click here to get the app and you'll get $5 off your first order.
As someone who has sold a fair share of tickets on StubHub, I also know that sellers are encouraged to set a declining price for their tickets. This means they'll set a starting price and then their lowest acceptable price, and StubHub will auto-magically lower the price of those tickets as the event date gets closer.
So in many cases, a game that isn't sold out will have plenty of below face value deals on StubHub that you can snatch at the last minute and then either print at home, or just use the App on your phone to get scanned into the game.
3. Avoid Craigslist
It's not to say that you can't find ticket deals on Craigslist, you can. It is just more of a peace of mind, safety issue. I'm a Craigslist kind of guy, but I also know it's easy to get screwed buying baseball tickets there.
Remember when I mentioned selling on StubHub? When you list tickets there, all you need to know is the barcode number from that ticket along with the other details on section, row, etc. – So when I sell tickets I never mail them to the buyer, they just print them at home and my actual tickets become void.
If I was a shady character, I could go sell those void tickets to an unsuspecting buyer on Craigslist for cash. The tickets look real, they are "real" in a sense – but what that buyer will find out is when they go to enter the stadium, the ticket scanner will say "thou shalt not enter thy game."
Don't be that buyer.
Stick to buying tickets from SeatGeek, StubHub, or directly from the team. You can still get deals and you never have to worry about being scammed.
Best Value Seats at loanDepot Park
Because the park is so modern, there are no obstructed views, and even the nose bleeds feel close and intimate. Ticket prices are low and crowds are small, so even if you don't buy til the day of, you'll have a great selection at each price point.
On Fridays, buy the special Ticket+ and $10 in food & beverage credit to use at any concession stand, plus at least 20% savings on your game ticket. On Marlins Senior days, you get a free ticket to Thursday home games if you are 65 and older!
Seats with Benefits at loanDepot Park
You're in Miami! Treat yourself to the premium seats in loanDepot Park if your budget allows. This stadium has taken VIP baseball seating and given it the Miami treatment. Get seats with access to the PNC Club and you will be sitting behind home plate. Throughout the game, you have access to the all-inclusive, ultra-posh PNC Club with gourmet food and premium beer, wine, and cocktails. This is a totally different way to experience a Marlins game.
There are a number of suites in different locations and in different sizes around loanDepot Park. If you want to attend a Marlins game with a group, your best bet to rent a suite for a single game is to go through SuiteHop. It's like StubHub but for premium seating!
With So Few Seats in the Outfield, Practically Everyone Gets an Infield Seat – via Flickr user Eric Kilby
Where to Stay While Visiting loanDepot Park
My favorite way to travel to a baseball game is to stay as close to the stadium as possible and walk or take an Uber so I don't have to fool with parking in a strange place. So many ballparks have great hotels within walking distance making it easy to stay nearby.
I use Tripadvisor to find a hotel with good reviews near any ballpark. I prefer this option over any other because I actually search for the park I am visiting and Tripadvisor gives me hotels, restaurants, and other attractions near there. loanDepot Park is located in Miami and the city is packed with stuff to do and see.
Obviously, there are a lot of hotels in Miami, but I can search for loanDepot here and get the 10 Closest hotels to loanDepot Park and then pick what I want based on ratings and prices. This saved me a lot of time and I didn't end up getting ripped off on the price or end up in a sketchy place where I didn't feel safe.
SpringHill Suites by Marriott Miami Downtown – image via Marriott.com
Spring Hill Suites by Marriot Miami Downtown is less than a mile away. There is a really nice patio outside. Sit out there and eat breakfast. Breakfast is free! There is a nice bar and restaurant on-site also. The pool is really small though.
Comfort Inn & Suites Downtown Brickell – Port of Miami is about 2 miles from the park. In the Miami heat and humidity, you can take a very short Uber ride instead of a longer, hotter walk from here. That is still a lot better than driving in from a lot farther away. You get free breakfast and there is a small pool here.
The closest hotels do not always come with the lowest cost but you get what you pay for when it comes to accommodations. Remember that you aren't paying for parking or transportation.
Free Stuff at loanDepot Park
1. Bobblehead Museum – on the Promenade level behind home plate is a display case with Marlins owner Jeffrey Loria's bobblehead collection. The collection on display changes occasionally and exhibits nearly 600 bobbleheads at a time. One side shows off National League bobbles; the other, American League.
Who Doesn't Love Bobbleheads? – via Flickr user slgckgc
2. Go Fish! – before the game starts, swing by the area near the batter's circle. Between the dugouts are the massive saltwater aquariums, featuring beautiful coral and truly spectacular fish, built into the walls. If you have kids, this is just about the coolest side attraction at a ballpark on the East Coast.
3. On Sundays get there early to enjoy free entertainment on the beautiful West Plaza. There is usually live entertainment like a local band, giveaways, and games. Plus it is family-friendly. Your kid can see how fast she can throw with Speed Pitch and even get in the batting cage! After the game, kids run the bases at loanDepot Park!