Last Updated: September 6th, 2023 by Kristen Douglas
Note: this article may contain affiliate links. If you make a purchase using one of these links, I may be paid a referral fee at no expense to you.
Formerly known as Jacob's Field, Progressive Field is now the official home of the Cleveland Guardians. With their new mascot name, Cleveland's home baseball team is ready to welcome fans into their home field. You can come to a game at Progressive Field and have a great time without spending an unreasonable amount of money. And as an added plus, Cleveland isn't as bad as people make it out to be. There are some other cool things to do and see while you are in town as well.

The Scoreboard Disrupts the Downtown Vibe of the Park – via Flickr user Erik Drost
Things You Shouldn't Miss
It's almost impossible to miss, but check out the massive scoreboard, which blocks out much of the city skyline beyond the park. The scoreboard just got a makeover with the new team name and it looks really cool.
Over right field are the retired numbers – check out #455, which has been retired to honor the fans who ensured that Jacob's Field was sold out for its first 455 games.
While in Cleveland, there are a lot of unique places to visit. Check out the Rock and Roll Hall of Fame or Ralphie's actual house from A Christmas Story! You can get an Uber to take you to either one.
Ways To Save Money
Take Uber instead of parking. Click here to get a free ride
Take a soft cooler of food & drinks with you
Stay close by and walk to the stadium. Click here to see our favorite hotel near Progressive Field.
Click here to reserve a cheap parking spot in advance.
Because Progressive is so close to the Q, there are a lot of cheap parking options nearby. Check out SpotHero to get an idea of what's available. If you'd rather get picked up, get your first Uber ride free.
Believeland is alive and well, and the fan base is excited. Still, ticket prices are reasonable, and there are plenty of deals to be had. Splurge a little for the upgrade.
The area surrounding Progressive is full of food and drink options. There are also good options inside the park. But for the thrifty, no need to fret: you can also bring in your own bottled water and snacks.
Arriving at Progressive Field
Alternative/Public Transport to an Indians Game
When we went to Cleveland, we just stayed in a hotel downtown and walked to the game. If you are coming from out of town, that is a great option. There are several hotels within walking distance of the field that are very reasonably priced. The location is outstanding. If you do stay within a mile of Progressive Field, you can call for a Pedi-Cab or wave one down. The number to call for one is 216-577-6240 and they operate off tips only.
If you are outside of the city center, you can take the Red, Blue, or Green "Rapid" train to the Tower City Station. From there, it's just a quick walk through the walkway to the Quicken Arena across the street from Progressive Field.
There are free downtown trolleys that run to and from Progressive Field. Depending on where you are coming from, you can take the E line trolley or the B line trolley. This works better for day games as the trolley lines stop running at 7pm. They are free though so even if you only take it one way, you saved some money for sure.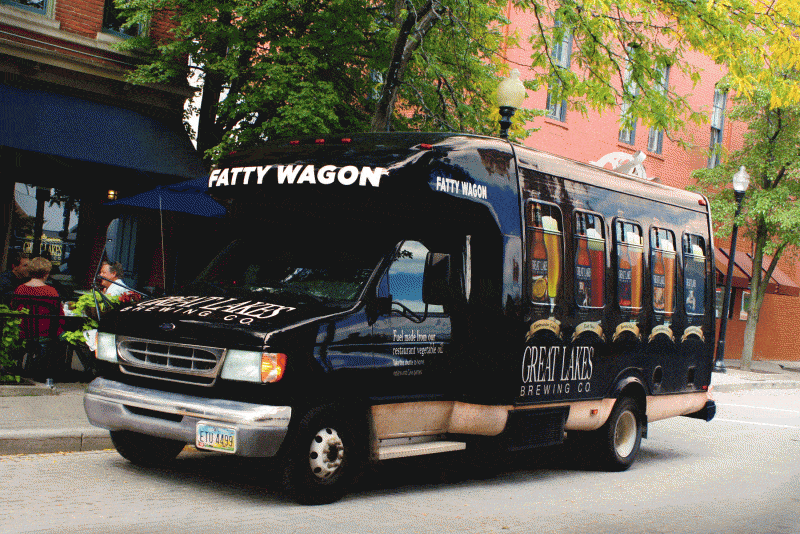 The Great Lakes Brewing Company Fatty Wagon
Driving to an Indians Game
Cleveland is proud of the fact that there are enough parking spots downtown for Progressive Field and the Q to be sold out at the same time. With that many parking spots it can get overwhelming.
It's not difficult to find parking in the area immediately surrounding Progressive Field in the $5-$15 range. Premium locations closer to the stadium could reach over $20, depending on the game. The further away you get from the stadium, the better your chances are of finding a cheap lot.
The Guardians recommend you use SpotHero to purchase parking before you arrive downtown. You can find that by clicking here For example, for around $10, the lot at 740 Euclid Avenue is a quick two block walk to the stadium and positions you well to access gates B and C.
Parking on Euclid Avenue is a Great Option Near the Park. The Tower City Center shopping area has a ton of cheap parking and is a quick walk to the stadium. Cleveland State's Wolstein Center has an affordable parking garage as well and is located 10 minutes on foot from the stadium.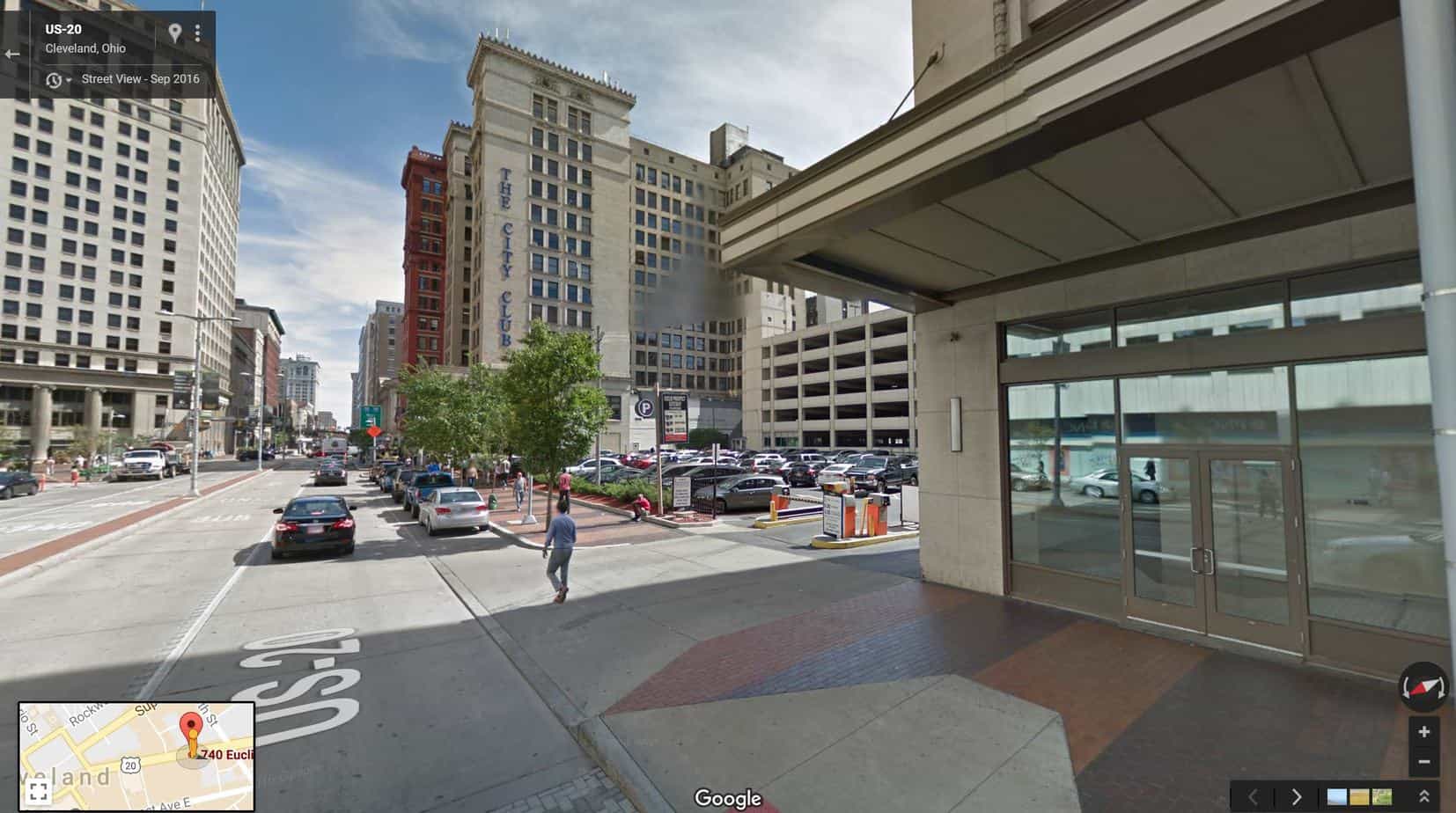 Parking on Euclid Avenue is a Great Option Near the Park
I do want to offer a word of warning on these prices I mentioned. The lots around Progressive field have been known to jack up the prices depending on the magnitude of the game. So when competitive teams come to town, these are going to go up. You can also expect that if the Guardians happen to be in a playoff run.
If you are driving to any baseball stadium, you really need to use SpotHero. It will save you time and money in Cleveland and most other cities as well. This site allows you to pay for parking ahead of time, and you're guaranteed a space when you book a reservation. You'll know exactly where you're going to park and how much you're going to pay before you even leave the house. That can save a lot of stress when you're headed to the ballpark.
Check it out here, or view all of their options below:
Food At & Near Progressive Field
Save Money on Food
You can bring some outside food and a bottle of water into Progressive Field. It just has to fit in a small bag and the water bottle must be sealed. This is a great way to save money as always. If you are looking for a cool local place before or after the game, check out AJ Roccos. You can grab a pizza and a drink and hang out for a little bit before walking to the game.
Purchase seats to the Discount Drug Mart Club Lounge and you get all-you-can-eat food and non-alcoholic beverages. There is also a bar inside the lounge where you can purchase adult beverages. The buffet and other food stations serve you until the end of the seventh inning and then you get ce cream, popcorn, and peanuts until the top of the ninth. You will not leave hungry.
Food at Progressive Field You Shouldn't Miss
While there are food and drink options for every taste outside the park, there are a few gems worth spending the dough for inside the park and Progressive Field updates their concession offerings every year making sure that fans have something new to look forward to.
1. Melt: Cool evening games are made ooey-gooey warm with a visit to Melt, a grilled-cheese stand by section 113. And these aren't your mom's grilled cheese – you can choose options with sauerkraut, mushrooms, chorizo, and more.

Melt Offers a Fun Vibe for Fans at Progressive
2. Barrio: the folks behind this beloved Cleveland food truck bring innovative tacos and burritos to Progressive, section 109. The excellent beer and tequila selection is matched with build-your-own tacos.
3. Happy Dog – Hot Dogs seem like an obvious and somewhat boring choice of food at a ballgame but Happy Dog inside Progressive Field has dogs with wild toppings like froot loops!
4. Terrace Club: This restaurant inside Progressive Field requires reservations but the cool thing about that is it opens before the game begins. You get early admission and can eat a really nice meal before going to your seats.
Progressive Field Seating Chart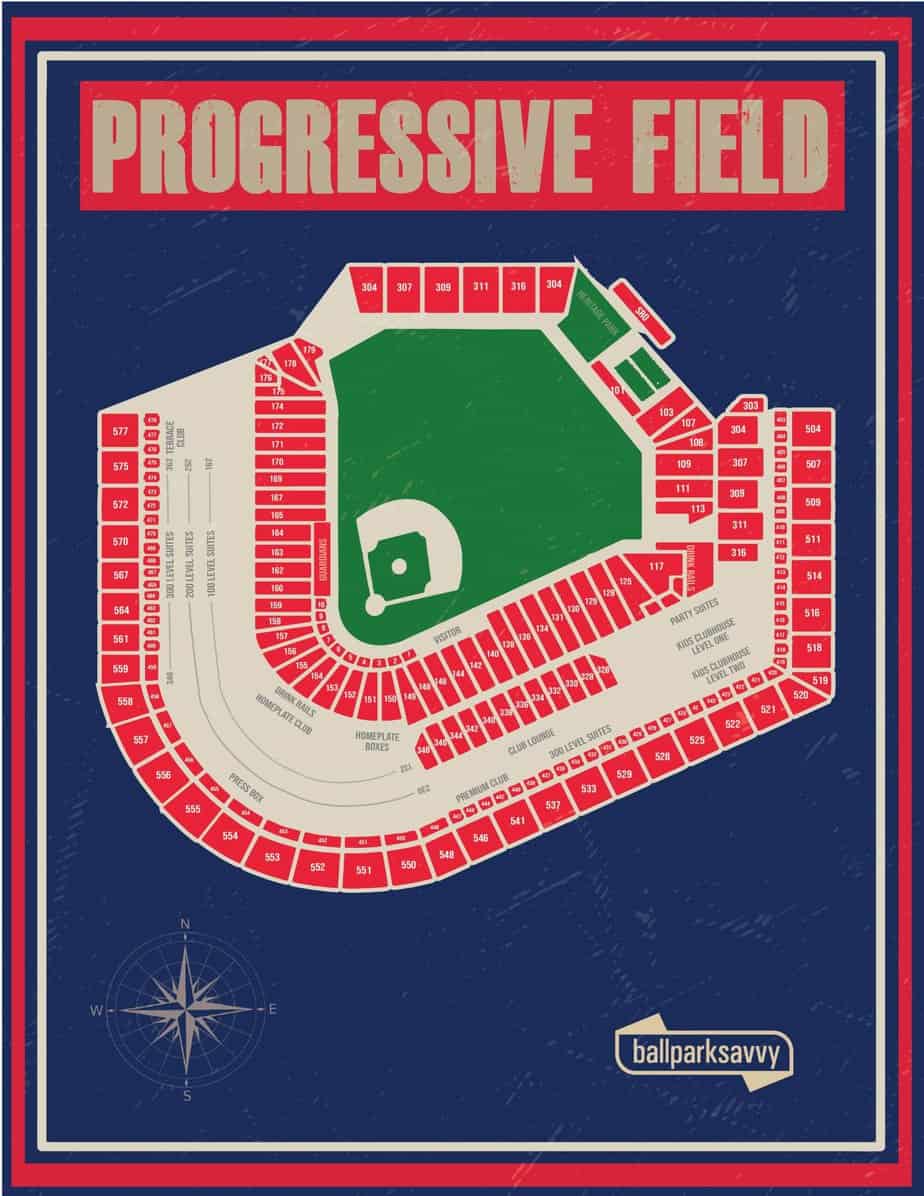 We've created the seating chart of Progressive Field above to help you better understand some of our recommendations below. Feel free to download this image and use it, we just ask that you credit Ballpark Savvy and link back to the page where you found the image.
Cheap Indians Tickets
At this point, nearly every Major League team has some kind of variable pricing model where depending on how in-demand a game is, the ticket prices you'll pay at the gate may go up or down.
Sometimes pricing varies from day to day, other times it is a more formal "tiered" structure where when they are playing a big draw team like the Yankees, you'll pay a premium price compared to a perennial ​bottom-dweller who might be in the "budget tier."
So rather than focusing on specific prices and sections which tend to change fairly often, I want to talk about general rules and strategies for getting the best deals on tickets. ​
1. Compare 3rd Party Sites
SeatGeek is a big time ticket comparison site that lets you compare a bunch of different ticket brokers, marketplaces, etc. and find the best price for the game you want to go to. They also have a tool that projects whether ticket prices will go up or down – AKA whether you should buy now or wait. 
Load more
Click here to view Indians tickets on SeatGeek.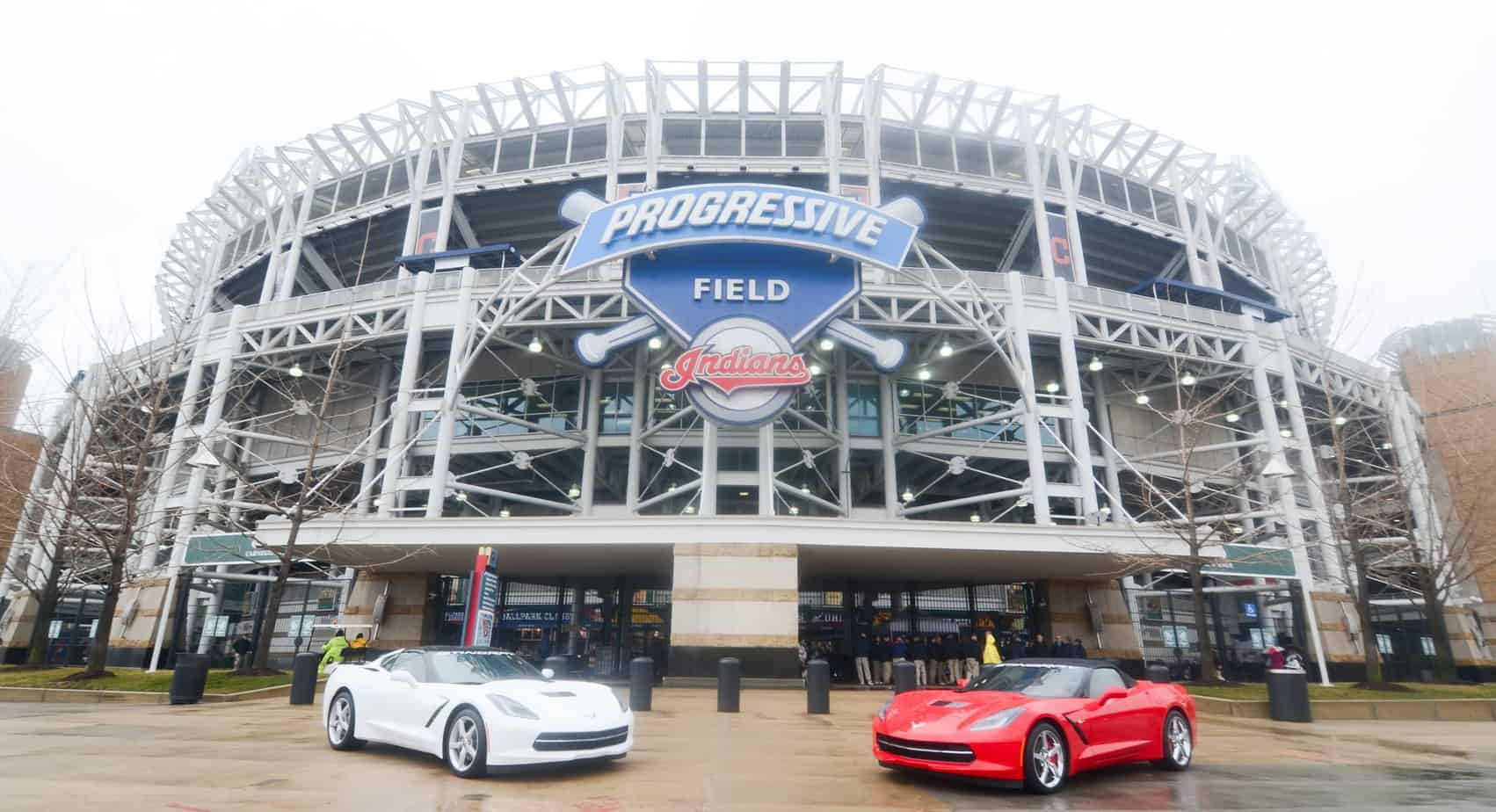 Progressive Field Boasts a Bright White Exterior – via Flickr user Erik Drost
2. Buy Last Minute
If you've bought tickets online before, you've heard of StubHub. What you may not know however is that with the rise of print-at-home and tickets on your mobile phone via the Ballpark App that you can usually buy tickets right up to a couple of hours before game time.
Save $5 On Last Minute Tickets: I recently learned about the Gametime app and it's legit. Save BIG on last minute tickets. Click here to get the app and you'll get $5 off your first order.
As someone who has sold a fair share of tickets on StubHub, I also know that sellers are encouraged to set a declining price for their tickets. This means they'll set a starting price and then their lowest acceptable price, and StubHub will auto-magically lower the price of those tickets as the event date gets closer.
So in many cases, a game that isn't sold out will have plenty of below face value deals on StubHub that you can snatch at the last minute and then either print at home, or just use the App on your phone to get scanned into the game.
3. Avoid Craigslist
It's not to say that you can't find ticket deals on Craigslist, you can. It is just more of a peace of mind, safety issue. I'm a Craigslist kind of guy, but I also know it's easy to get screwed buying baseball tickets there.
Remember when I mentioned selling on StubHub? When you list tickets there, all you need to know is the barcode number from that ticket along with the other details on section, row, etc. – So when I sell tickets I never mail them to the buyer, they just print them at home and my actual tickets become void.
If I was a shady character, I could go sell those void tickets to an unsuspecting buyer on Craigslist for cash. The tickets look real, they are "real" in a sense – but what that buyer will find out is when they go to enter the stadium, the ticket scanner will say "thou shalt not enter thy game."
Don't be that buyer.
Stick to buying tickets from SeatGeek, StubHub, or directly from the team. You can still get deals and you never have to worry about being scammed. 
Best Value Seats at Progressive Field
I guess it depends on your preference but if you tend to get a little claustrophobic in small seats, you can improve your view a little bit and have some room to maneuver with a slight ticket upgrade. Its also worth mentioning that the 300 level Mezzanine seats in right field have a pretty great view at a good price. You definitely won't be disappointed there if you want to fork out about $10 -12 more per person to sit there.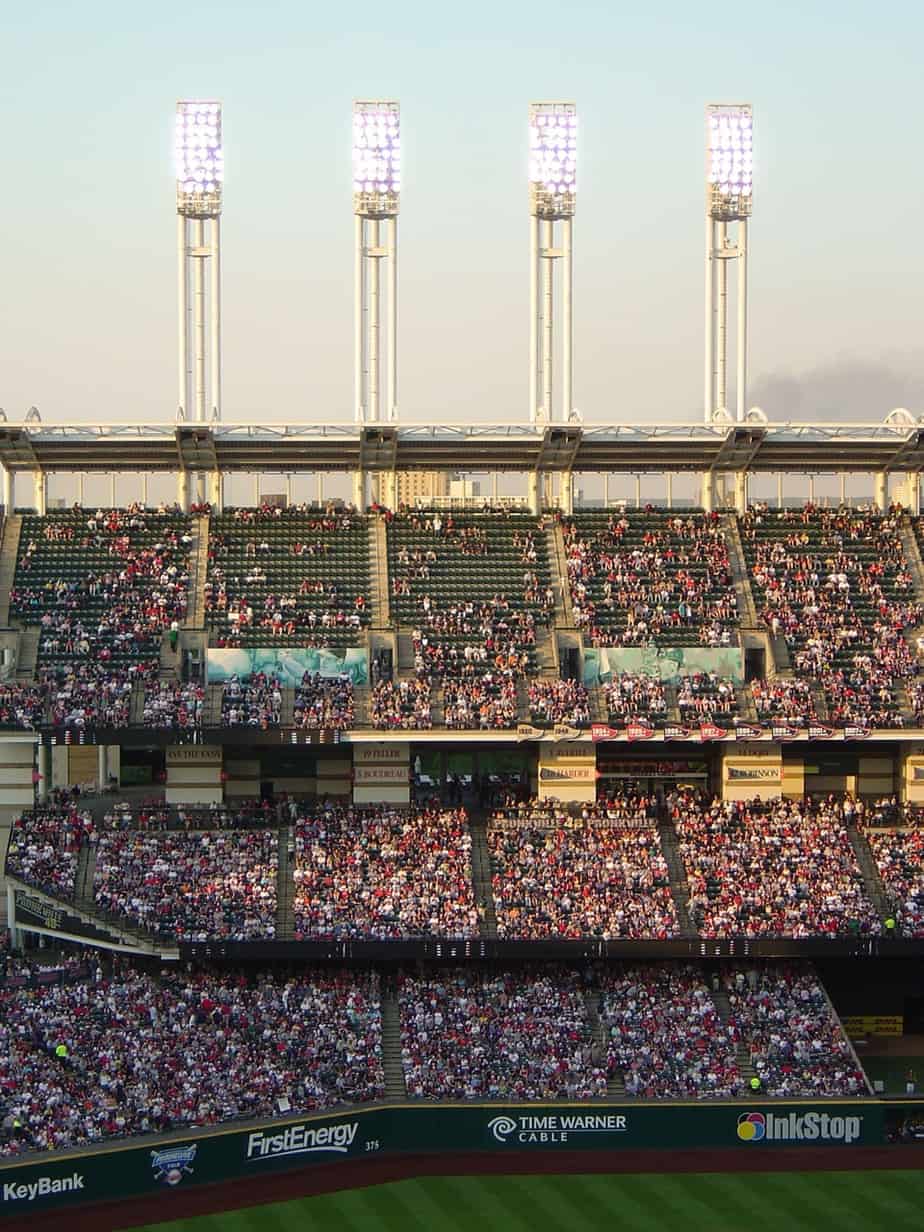 Be Careful of Overhangs – via Flickr user Chris Metcalf
If you're all the way up in 500-level, there are some sections which have not-so-great, bordering on If you're all the way up in 500-level, there are some sections that have not-so-great, bordering on obstructed views. Sections 564-572 have some overhang issues, and section 533 loses the right outfield corner.
Two more items worth considering: Remember the scoreboard and jumbo screen are in left field, so don't sit in the outfield seats in left if you care about seeing the screen. I personally think that is a big deal because the screen provides good entertainment and stats during the game.
Secondly, the shade comes to those down the third baseline first. You will be in the sun for a while in the summertime in the right field seats that I mentioned above.
Seats with Benefits at Progressive Field
If you really want to upgrade yourself, go for the premium seating at a Guradians game. DOes this save you any money? Absolutely not. Is it fun to sit directly behind home plate or in a fancy suite and pretend you own the team? Yes, yes it is. Most of the premium seating here is sold by the season but Progressive Field does sell individual game suites.
Also, if you don't find what you want on the field's site, check on SuiteHop. Season suite/club pass owners will sell their tickets to games they don't want to attend through SuiteHop and you can get a pretty good deal sometimes.
Where to Stay White Visiting Progressive Field
My favorite way to travel to a baseball game is to stay as close to the stadium as possible and walk or take an Uber so I don't have to fool with parking in a strange place. So many ballparks have great hotels within walking distance making it easy to stay nearby.
I use Tripadvisor to find a hotel with good reviews near any ballpark. I prefer this option over any other because I actually search for the park I am visiting and Tripadvisor gives me hotels, restaurants, and other attractions near there. Progressive Field is located in Cleveland and the city is packed with stuff to do and see.
Obviously, there are a lot of hotels in Cleveland, but I can search for Progressive Field here and get the 10 Closest hotels to Progressive Field and then pick what I want based on ratings and prices. This saved me a lot of time and I didn't end up getting ripped off on the price or end up in a sketchy place where I didn't feel safe.
Hotel Indigo Cleveland Downtown – image via IHG.com
The closest hotels do not always come with the lowest cost but you get what you pay for when it comes to accommodations. Remember that you aren't paying for parking or transportation.
Hotel Indigo Cleveland Downtown is a good option. You only walk about a block from here to get to Progressive Field. You are right in the center of the entertainment district. Headliner Bar + Eatery inside the hotel is a good spot for a craft beer.
Residence Inn Cleveland Downtown is less than half a mile from the ballpark. Residence Inn is a fairly reliable hotel chain. Here you get a room in a great location for a good price and they throw in breakfast.
If you are feeling extra fancy on your trip to Cleveland, the Ritz Carlton is half a mile from Progressive Field.
Free Stuff at Progressive Field
1. Feller Plaza – Make sure to check out Feller Plaza outside Gate C, named for the massive statue commemorating the former Indians' greatest pitcher, "Rapid Robert" Feller. For a bit of fun, look at the benches in the plaza – many are marked with large letters. These letters spell out "Who's On First", paying homage to the famous Abbott and Costello routine.
Bob Feller Guards Holds Down the Plaza – via Flickr user Erik Drost
2. Heritage Park: This is located between the bleachers and markey pavillion, past center field, behind the batter's eye. Heritage Park is a great tribute to Cleveland baseball history. Plaques and busts honor a number of famous players from all eras of their long history, including favorites like Sandy Alomar Jr. and "Shoeless" Joe Jackson.
3. Sundays are Kid Fun Days. There are free activities and entertainment for kids before, during and after the game. Kids are chosen to work on the grounds crew, make the play ball announcement, take the field with the starting line up and even announce over the PA. Kids also run the bases when the game is over. Progresssive Field has a Family Deck that includes the Kids Clubhouse with lots of baseball themed play areas and activities. On Sundays the Clubhouse has even more going on. THe Cleveland Guardians might have the best set up for kids out of all the professional ballparks.