Last Updated: September 12th, 2023 by Jake Cain
Note: this article may contain affiliate links. If you make a purchase using one of these links, I may be paid a referral fee at no expense to you.
Welcome to Cincinnati! You are ready to visit the Great American Ballpark but you aren't sure how to get the best experience out of your trip. For starters, know that you are visiting the team that started it all for professional baseball. The Reds predecessors, the Red Stockings were actually the first professional baseball created in 1869. There is a lot of baseball history here and it is all honored in this very nice park. There is good local food to try and seats with great views.
Things You Shouldn't Miss
Skyline Chili. If it's your first time here, go with the legendary cheese coneys.
Reds Hall of Fame is also a must-see, arguably the best team hall of fame in all of baseball.
Come early or stay late for food and drinks at Moerlein Lager House and see the spot where Pete Rose stood after hit #4,192.
Ways To Save Money
Take Uber instead of parking. Click here to get a free ride
Take a soft cooler of food & drinks with you
Stay close by and walk to the stadium. Click here to see our favorite hotel near Great American Ballpark.
Click here to reserve a cheap parking spot in advance.
The most you'll pay is about $15, but cheaper lots are readily available via SpotHero. For a unique experience, you can also park uptown and ride the street car to GABP.
Fridays and Saturdays are the toughest to find deals, but you can get excellent value on sites like SeatGeek or StubHub for a midweek game. If possible, splurge for better seats like the Champions Club.
Many local favorites have been added to the ballpark, but as always the best trick is to carry your own food in, which is totally something you're allowed to do, no need to stuff pretzels in your cargo pockets.
Great American Ballpark is my home park. Referred to by locals as "The GABP", You can grab the specs on Great American Ballpark here After you are bored with that, I am going to make you aware of the smartest ways to catch a game in Cincinnati.
Arriving at Great American Ballpark
Alternative/Public Transportation​ to a Reds Game
In 2017, the long awaited Cincinnati street car known as the Cincinnati Bell Connector opened. The above-ground streetcar makes downtown feel much smaller, opening up park & ride options for Cincinnati that previously didn't exist. For instance, Rhinegeist brewery in Over-the-Rhine (Call it "OTR" if you're from out of town and want to sound like you're cool…) ​is one of the hottest craft breweries around with tons of space to hang out and pre-game with corn hole, ping pong, and a rooftop bar with excellent city views.
In previous years, plenty of people still pre-gamed in OTR but they'd typically have to park once in Over-the-Rhine and then get in their car and drive down to the stadium (or Uber or walk forever). Now, the streetcar picks up directly in front of Rhinegeist and will drop you about a block away from Great American Ballpark for $1-$2 each way.
Another choice you now have if you're feeling a little more active is to rent bikes for the day and cruise around downtown Cincinnati. The price is about $8 for the day and there are locations all over downtown, including right across the street from Great American Ballpark where you can drop your bike off and leave it.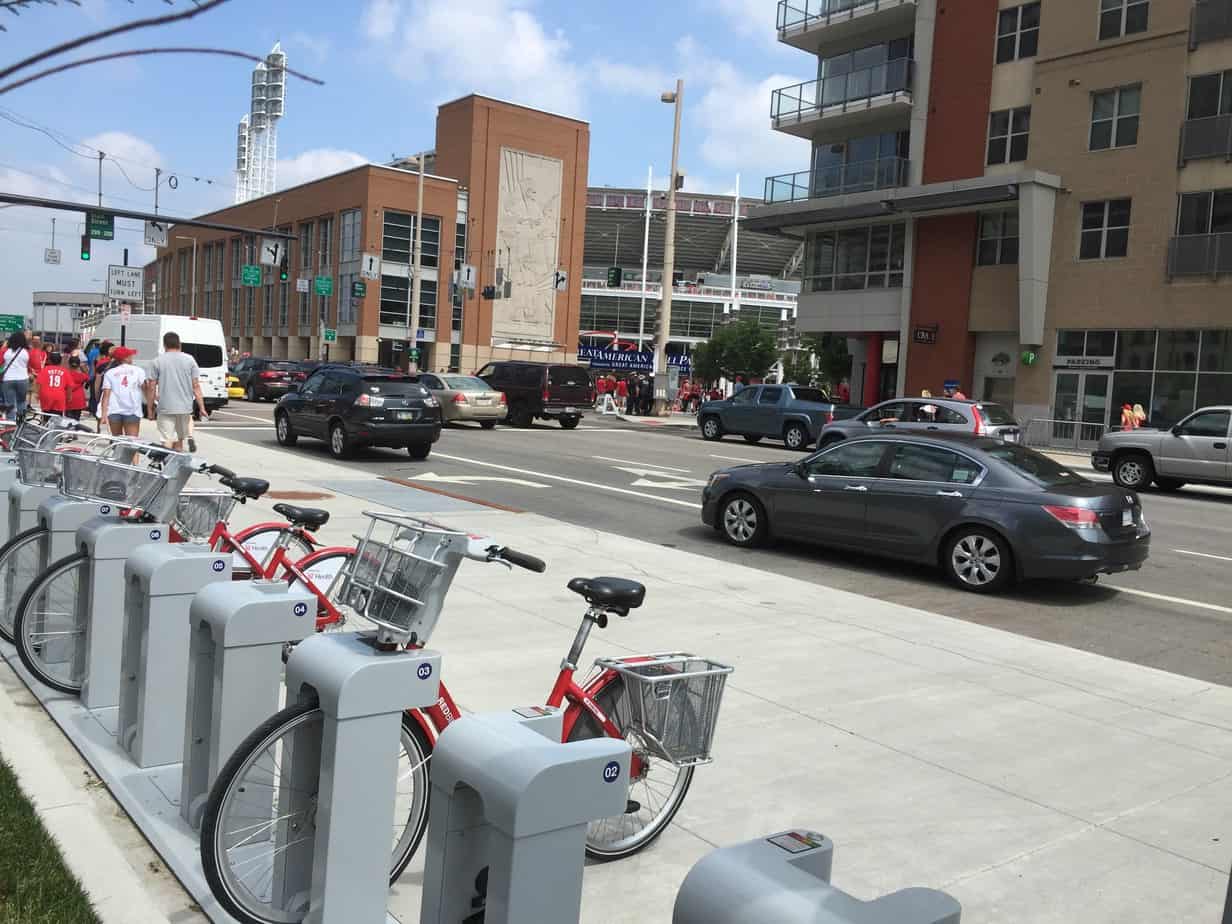 The bike rental rack across from GABP – Image Source: CincinnatiUSA.com
Another option, if you happen to be staying nearby, is to grab an Uber. If you've never used Uber, click here and get your first ride free.
Driving to a Reds Game​
When going to the GABP, you will find parking is readily available in both Cincinnati and Northern Kentucky. For years I said that the best place to park is the garage on 6th st. between Broadway and Sycamore. It used to be only $2 to park, but unfortunately, that has raised to $5 – making it not-so-great when there are other $5 lots around.
I've also used to talk about parking at meters, particularly the ones on 3rd street (pictured above.) However, 2015 has brought some sad changes to the meter enforcement in Cincinnati.
Now, downtown meters are in effect until 9PM, instead of 6 PM – except on Sunday. So on a week night, you realistically can't expect to park at a meter for free unless you want to risk getting a ticket.
If you don't care to walk awhile to Great American Ballpark, there is much more free parking available in Covington and Newport KY. On street parking in Covington usually isn't metered at all, but if it is they usually aren't monitored after 6 either. We used to live in the 600 block of Greenup St. and just walk from our apartment. Your best bets for on street parking are probably Greenup, Scott, and Garrard which all run North to South.
From there you can walk across the blue suspension bridge and enter through the right field gate. If you are walking that way, you want to take the side of the bridge closest to the stadium (right), you will get there quicker. That side gives you stairs down to the street level by the Great American Ballpark right field gate.
Due to the rise in popularity of Newport, free parking is tougher to find. In fact, the last time I was over there, they have added more meters and they are in effect until 9 pm or even midnight. I like to eat at Dixie Chili, and leave my car there on the street and walk. The yellow bridge you walk across from Newport will drop you off by the US Bank Arena. Again on that bridge, walk across the side closest to Great American Ballpark for the shorter route (left). It will give you a stairway to the left-field gates.
The distance from Dixie Chili to GABP is 1.1 miles, so if you think that is comfortably walkable – which I do – go for it. The metering on streets like York and Monmouth starts right about 6th street. So to park un-metered in Newport, you will have about a mile walk. You now have plenty of options so you can stop complaining about expensive parking.
You can also find some free parking in Newport like setting your GPS for 201 E 5th St. Newport, KY, and end up here: ​
The signs on the left say that it's for residents only from 8 PM to 5 AM (overnight) so this is a safer play for a day game. For a night game, you might be risking a ticket, though I'm not sure how they confirm who is a resident and who isn't (or how closely they monitor it).
However, for a day game, you can park there for free, walk to the Levee and wait for the Southbank Shuttle which runs every 15 minutes and only costs $1. We did this and found it very simple, safe, and cheap!
The final option I'll mention is parking at Fountain Square. After 4 PM they go to a flat rate of $6, and it is a very modern facility that is set in the heart of the city.
You can pay at the pay station prior to leaving, and you are still a reasonable walk to the ballpark. You are surrounded by places like Starbucks, Rock Bottom, Graeters, etc. so there are plenty of places to go before and after the ballgame. If no other option works out, this is a nice, safe place to park.
If you are going to a weekday – day game, forget everything that I just told you about fountain square. You will want to head straight to Kentucky and park and ride the shuttle or walk using spots like the free one mentioned above. Downtown has so many garages that are employees only that it can be tough to find something.
If you don't go to many games and want to avoid the anxiety of driving around looking for a parking space, I'd strongly recommend using TicketNetwork. This site lets you pre-pay for a space in various garages/lots so you don't have to stress about where to park. It is a pretty cool concept and you can find some cheap deals for sure. It is especially helpful when you are going to a game that is supposed to be a big crowd.
Best Food At & Near Great American Ballpark
Save Money on Food​
If you are cheap like me, ballpark food and your wallet probably don't get along too well. But I am going to let you in on a secret that very few people take advantage of: You can bring your own food into Great American Ballpark!
So please never complain again about ballpark prices! You are not a captive audience. There are tons of options around the stadium, so walk around a little. This is especially true with the Banks, which I'll talk more about in a minute.
The Reds will let you bring almost anything. I always bring my own peanuts, and I have carried in Skyline, Pot Belly, etc. many times. I have found that the "yellow shirts" of security at Great American Ballpark are pretty friendly. If you forget to bring your own snacks, everything is not lost.
There is a little business called "Walgreens." You may have heard of this place before, must be a local joint. I got a 24 oz bag of peanuts for $3.99 which seemed fair to me. The other thing I liked about it was they had the typical ballpark snacks right in the front of the store. Easy in and easy out. 406 Main St. – just a couple of blocks from the ballpark.
You can also bring your own non-alcoholic bottled beverages into the stadium. This of course is only plastic bottles, and those bottles have to be unopened.
Sometimes you just need ballpark food. It's the American thing to do.
One of the best value options is the All You Can Eat option. For $20, any ticket holder can get an all-you-can-eat wristband and get unlimited peanuts, popcorn, chips, pop, and up to 5 hot dogs. The stand you pick up from is near section 428, which is in the upper deck down the right field line.
If you've got a family with kids, having a dedicated runner to go load up on snacks and drinks for your crew will quickly become a great deal after just a couple of trips. This all-you-can-eat stand has basically replaced what used to be the popular $1 stand at Great American Ballpark.
Here is my favorite "full size" value option; Penn Station. This local east coast sub shop first opened booths in 2007, and they serve only their steak sandwich and fries at the stadium. The restaurant is hugely popular in the area, and the sandwich and fries will cost you about $11 at Great American. But the thing is a medium sandwich and fry at the restaurant costs about $8, so the mark-up isn't as outrageous as other food options.
If you do want to eat Skyline, I suggest stopping by the one on 4th & Sycamore before the game. It's decorated in a Reds theme and is just a few blocks from the stadium (right next to the big building with the "tiara" on top.) This Skyline even serves beer, if that's your thing – which is not normally served at other Skyline locations.
Another new-ish development that is great for pre and post-game dining is the Banks. The "Banks Project" is a term known by most Cincinnatians as a project that seemed like it would never happen. The Banks is located in the same place that used to have a big empty pit of dirt next to the first base side of the stadium.
Food You Shouldn't Miss​ at Great American Ball Park
Places like Skyline and Larosa's are good, but their ballpark mark-up is about double. For instance, Larosa's pizza is about $6 a slice in the park and you can get an entire large pizza at their restaurant for about $12.
The Reds have stepped up their concessions game with some new options that sounds crazy but fans swear all taste amazing.
Have you ever had dessert french fries? Me either. Apparently the Rookie Cookie Frybox is a must try at a Reds Game. It is a big basket of fries covered in Crushed Oreos and chocolate chip cookies, chocolate sauce, caramel sauce and marshmallows.
Ballpark food should be handheld or at least in an easy to hold container. Try the Bar-B Cone: Montgomery Inn pulled pork, white cheddar mac & cheese, cole slaw and Montgomery Inn barbecue sauce served in a waffle cone.
The Great American Ballpark Seating Chart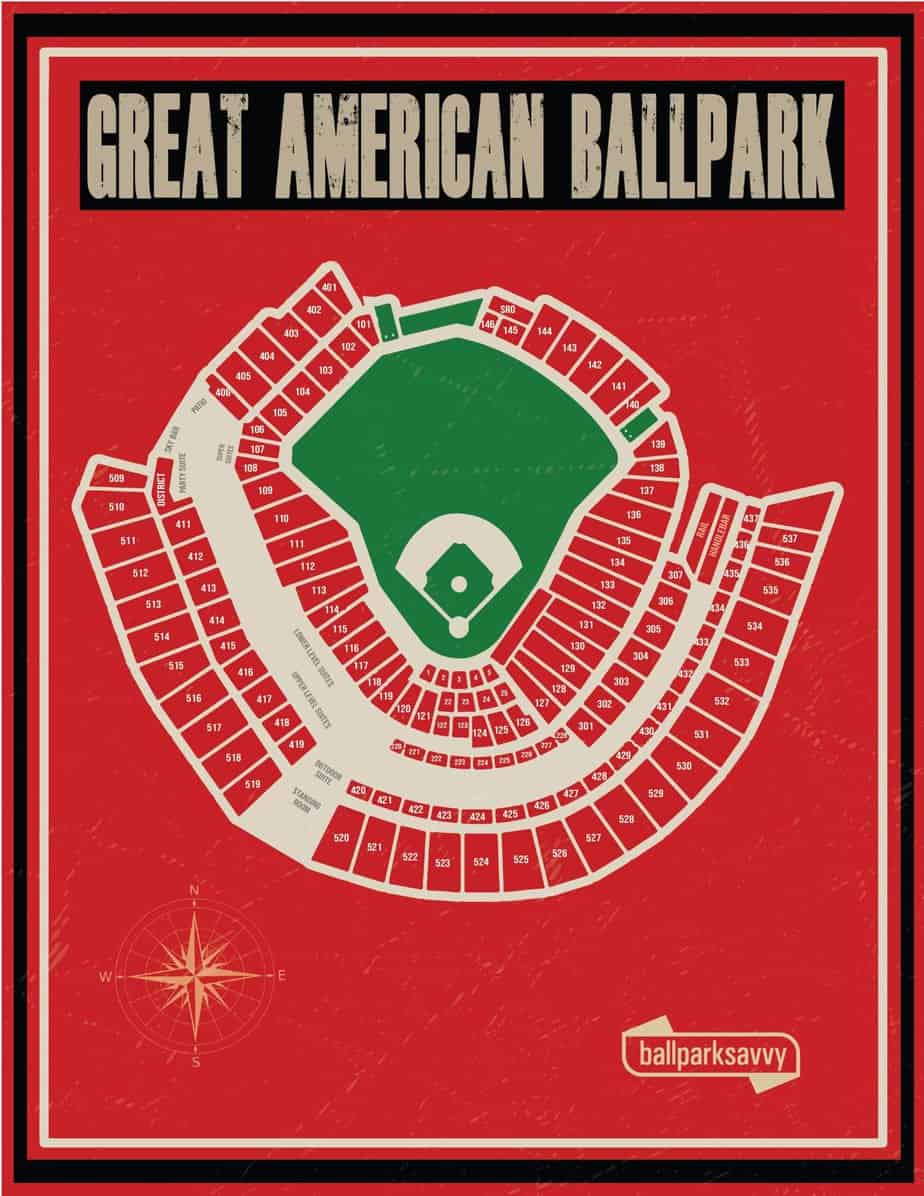 We've created the seating chart of The Great American Ballpark above to help you better understand some of our recommendations below. Feel free to download this image and use it, we just ask that you credit Ballpark Savvy and link back to the page where you found the image.
Cheap Reds Tickets
At this point, nearly every Major League team has some kind of variable pricing model where depending on how in-demand a game is, the ticket prices you'll pay at the gate may go up or down.
Sometimes pricing varies from day to day, other times it is a more formal "tiered" structure where when they are playing a big draw team like the Yankees, you'll pay a premium price compared to a perennial ​bottom-dweller who might be in the "budget tier."
So rather than focusing on specific prices and sections which tend to change fairly often, I want to talk about general rules and strategies for getting the best deals on tickets. ​
1. Compare 3rd Party Sites
SeatGeek is a big time ticket comparison site that lets you compare a bunch of different ticket brokers, marketplaces, etc. and find the best price for the game you want to go to. They also have a tool that projects whether ticket prices will go up or down – AKA whether you should buy now or wait.
Load more
Click here to view Reds tickets on SeatGeek.
2. Buy Last Minute
If you've bought tickets online before, you've heard of StubHub. What you may not know however is that with the rise of print-at-home and tickets on your mobile phone via the Ballpark App that you can usually buy tickets right up to a couple of hours before game time.
Save $5 On Last Minute Tickets: I recently learned about the Gametime app and it's legit. Save BIG on last minute tickets. Click here to get the app and you'll get $5 off your first order.
As someone who has sold a fair share of tickets on StubHub, I also know that sellers are encouraged to set a declining price for their tickets. This means they'll set a starting price and then their lowest acceptable price, and StubHub will auto-magically lower the price of those tickets as the event date gets closer.
So in many cases, a game that isn't sold out will have plenty of below face value deals on StubHub that you can snatch at the last minute and then either print at home, or just use the App on your phone to get scanned into the game.
3. Avoid Craigslist
It's not to say that you can't find ticket deals on Craigslist, you can. It is just more of a peace of mind, safety issue. I'm a Craigslist kind of guy, but I also know it's easy to get screwed buying baseball tickets there.
Remember when I mentioned selling on StubHub? When you list tickets there, all you need to know is the barcode number from that ticket along with the other details on section, row, etc. – So when I sell tickets I never mail them to the buyer, they just print them at home and my actual tickets become void.
If I was a shady character, I could go sell those void tickets to an unsuspecting buyer on Craigslist for cash. The tickets look real, they are "real" in a sense – but what that buyer will find out is when they go to enter the stadium, the ticket scanner will say "thou shalt not enter thy game."
Don't be that buyer.
Stick to buying tickets from SeatGeek, StubHub, or directly from the team. You can still get deals and you never have to worry about being scammed. 
Best Value Seats at Great American Ballpark
Anybody can look at a team website and find out what the cheap seats are. As I said before; I like a good deal. That doesn't always mean buying the cheapest seats available. I am going to give you a lesson in value as it pertains to Great American Ballpark seating. The bleacher seats at Great American Ballpark are generally the least expensive, but at an evening game you are the last people to get shade.
For the majority of the season that is not a good thing, you will be baking until about 9:00. Usually, seats are available in every section. In most cases, you can buy the bleacher seat, and then move over to the upper deck in right field. If you want to move any lower than that, you will probably run into an usher checking your ticket until about the 4th inning. If you are moving down, for some reason the field seats between third base and the left field foul pole are usually pretty empty. That is a good area to shoot for later in the game.
Keys to moving down:
Get a birds eye view and scout empty rows, and usherless sections.
Wait at least 3 innings, people are always late
Once you have found the area to invade, WALK CONFIDENTLY.
Half the battle is looking like you know exactly where you are going.
If there are ushers around, act like you're on the phone. They are less likely to stop you.
In the lower sections, move to the middle of the row. It is preferable if you don't have to get folks to stand up and let you in. The less you inconvenience people sitting there, the less likely they are to say something.By being the middle you decrease the odds of somebody coming in with those seats, (people like aisle seats) and you give yourself options to move in the same row if somebody does show.
If the game is pretty crowded, or you just don't want the adventure/hassle of moving around, here are other value options.
View Level Right Field – These are going to set you back about $14 a piece, and personally I think that sometimes the higher up, the better. I know that is contrary to most ticket logic, but it gives you a better breeze, shade on a day game, and a better view of the river and Mt. Adams. Besides that, the crowd tends to be thinner up there, and less late people walk in front of you.
To me it is important to be in the shade for summer games. Anything in on the first base side is preferable in that regard.
Sun/Moon Deck Right Field – Great value for a night game. In this section, you want to be as close to row A as possible, which would have you hanging over the outfield fence. This area of Great American Ballpark is more crowded than the upper deck, but you still get in the shade around game time (night games) and are very close to the field for around $20 – $30.
If you are a bigger person and tend to feel uncomfortable and cramped in stadium seats, the GABP has you covered. They have a fair amount of seats that are on the aisle and don't have an armrest, or the arm rest flips up. So you can spread out a bit and not worry about trying to cram into a seat. These are often in the last couple rows of the section, but if you go to the ticket window and just ask about the seats with flip-up arm rests – they will know what you are talking about.
Sometimes they are considered handicapped rows, but that certainly isn't a requirement. We have had season tickets at Great American Ballpark for years with one of these seats; it's nice for a big man.
A nice 'splurge' section is the Champions Club, which is basically the entire second deck down the first base line. Particularly using the StubHub strategy I mentioned earlier, you can get these tickets for $50 or so for a low-demand game, which is about half of their face value. The seats are padded and all the food and soft drinks are included – and there is typically an excellent variety of options including local favorites like Larosas and much more (not just your typical hot dog and pretzel fare).
​If you want to really splurge, check out the Fujitec Super Suite. If you have a ticket to sit here, you have an amazing view down third base line, and a buffet and two beers per person is included.
Where to Stay Near Great American Ballpark
My favorite way to travel to a baseball game is to stay as close to the stadium as possible and walk or take an Uber so I don't have to fool with parking in a strange place. So many ballparks have great hotels within walking distance making it easy to stay nearby.
I use Tripadvisor to find a hotel with good reviews near any ballpark. I prefer this option over any other because I actually search for the park I am visiting and Tripadvisor gives me hotels, restaurants, and other attractions near there. Great American Ball Park is located in Cincinnati and the city is packed with stuff to do and see.
Obviously, there are a lot of hotels in Cincinnati, but I can search for Great American Ball Park here and get the 10 Closest hotels to Great American Ball Park and then pick what I want based on ratings and prices. This saved me a lot of time and I didn't end up getting ripped off on the price or end up in a sketchy place where I didn't feel safe.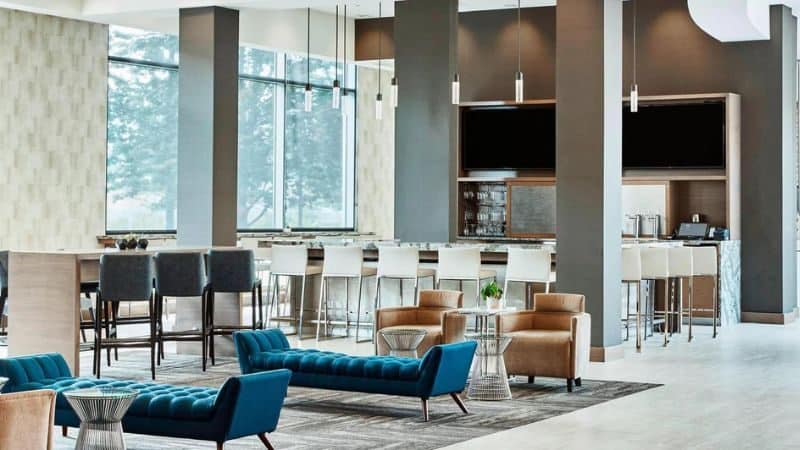 AC Hotel by Marriott Cincinnati at The Banks – image via Marriott.com
The closest hotels do not always come with the lowest cost but you get what you pay for when it comes to accommodations. Remember that you aren't paying for parking or transportation.
AC Hotel by Marriott Cincinnati at the Banks is right across the street from the ballpark. This hotel is gorgeous. You can get a room with a balcony with a view of the park or of the river.
There are several hotels within less than a mile of the Great American Ballpark but none of them are super cheap. Remember when you stay close, you don't have to pay for commuting and parking and you remove that stress from your day! There is a Holiday Inn about a half-mile from the park and rooms run around $170. Hyatt Regency Cincinnati is just as close and you can get deals for just under $200 a night.
Free Stuff at Great American Ballpark
Below is a list of some freebies you'll find at a Reds game. Click here to view the team's A-Z guide for more information on any of these (and more.)
1. The Fan Zone – The Reds have a Wiffle Ball field in their Fan Zone. How cool is that? This is located on the Terrace level on the west side of the ballpark. There is also a carnival game area but that part isn't free.
2. Free Fun for Little Kids – Great American Ball Park has a new area designed just for families called the TriHealth Family Zone. There is fun for kids who get bored from sitting in the stands for too long like toddler-sized batting cages and a playhouse. Nursing moms will find a comfy suite here and there is also a sensory room for those who need a break from sensory overload. One really cool area is the lounge which features tables, swings, and a bar serving kid-friendly snacks and parent-friendly drinks.
3. 1869 Red Stockings Pavilion – Take time to visit this new memorial dedicated to the Red Stockings, the first major league baseball team started in 1869. It was dedicated and opened in 2019 to celebrate 150 years of baseball in Cincinnati. The original players are sculpted in bronze and it is a beautiful way to honor the beginning of the American pastime when it was just beginning professionally.